Did Your Family Member Get Injured Inside a
Las Cruces, NM Facility?
Our Narrowly Focused Las Cruces Nursing Home Attorney Can Help Get Answers, and Justice
Senior Justice Law Firm focuses on one practice area: elder abuse and neglect. The majority of our caseload involves negligence cases against nursing homes and assisted living facilities when they abuse, neglect, or ignore vulnerable residents. If your loved one was wrongfully injured or killed inside a New Mexico facility, contact our Las Cruces nursing home abuse lawyer today for a free case consultation. We can help your family along the journey to justice.
Free Case Consultation
New Mexico law protects vulnerable residents inside nursing homes and assisted living facilities. Knowledge is power. Understand your legal rights. Call our New Mexico nursing home abuse attorney today for a free case consultation: 505-375-1658
Understanding Las Cruces Nursing Home Negligence
Las Cruces, New Mexico is known for its gorgeous architecture, rich cultural festivities, and beautiful art events. With its aesthetic diversity and fertile agriculture, it's no wonder that the city has a reputation as a wonderful place to settle down––especially among the elderly. Despite this popularity, Las Cruces is only serviced by six nursing homes. Of these, four are rated as below average or well below average. While 26 facilities service Las Cruces thanks to its proximity to El Paso, those who need to rely on the closest locations are put into a difficult situation when choosing the facility that's right for them.
The below-average benchmark for most of the nursing homes in the area means that families must be particularly vigilant. Nursing home abuse and neglect can occur anywhere, even in five-star facilities. That being said, those with below average ratings are more likely to pose problems.
If you or someone you love has been a victim of nursing home abuse, exploitation, or negligence in a Las Cruces nursing home, what you do next matters. In addition to reaching out for legal assistance, you can report the facility and ensure that the relevant authorities are aware of the trouble. Here's what you need to know to get started.
How Do I Identify Nursing Home Abuse in Las Cruces?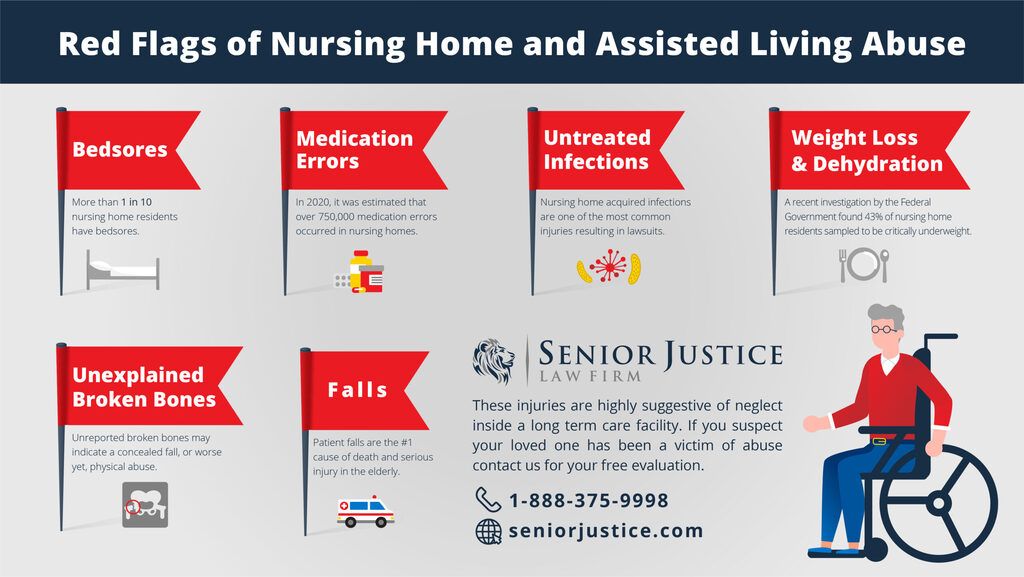 Nursing home abuse can come in many forms. Not all of them are obvious, and some might not even leave visible marks. First and foremost, identify whether the patient's life is in danger. If you have any reason to believe that the current situation is life-threatening, reach out to emergency services immediately. You are not obligated to inform the nursing home first or ask them what to do.
In cases in which you're not sure if abuse is happening, it's helpful to know that there is more than one type to keep an eye out for. Physical abuse often (but not always) leaves marks. They might not look like you expect. It's certainly true that hand prints on someone's neck or significant bruises can be a sign of abuse. However, so can frequent falls and using sedative medication that a doctor hasn't prescribed.
Most of our neglect related cases involve bedsores, falls, untreated infection, or wrongful death.
Many times, nursing homes will do whatever they can to make residents more pliant and easy to work with. If that means giving them calming medicine—even if their doctor didn't say so—then they might try to. Failing to follow resident's care plan or give them dignity and a role in decisions that affect them can count as negligence.
Mental abuse is trickier to identify, so it's important that you remain observant. If you notice your loved one displaying common symptoms of depression, anxiety, or PTSD, there is a chance that they are undergoing mental abuse. This is especially true if they did not struggle with these challenges before their placement in the home. If your loved one appears to be withdrawn, agitated, or shows sudden and unpredictable changes in behavior, there is also a chance that mental abuse is at play. It might come from being yelled at by staff or even having scary or upsetting interactions regularly.
Las Cruces Nursing Home Ratings and News
Out of the six nursing homes directly in Las Cruces, as of July 2023* four have been rated below the average benchmark according to Medicare. Calibre Post Acute and Good Samaritan Society Las Cruces Village have both achieved Medicare's lowest rating of one out of five stars. At Calibre, health inspections indicated that multiple residents did not have the dignity that they were owed, as their catheter bags did not have appropriate covers.
Similarly, the facility failed to establish a care plan to handle the side effects of a medication that a resident was taking. Another resident who required soft, chopped foods was returned to a standard food diet without input from medical professionals. This was deemed to be a danger, as the resident's ability to eat at all was compromised.
In addition to these two facilities that are ranked at the lowest rating on Medicare's rubric, other nursing homes in the area that have been deemed to below average per Medicare as of July 2023 include:
Las Cruces of Cascadia, LLC
175 N Roadrunner Parkway
Las Cruces, NM 88011
Casa Del Sol Center
2905 East Missouri Avenue
Las Cruces, NM 88011
Casa DE Oro Center
1005 Lujan Hill Road
Las Cruces, NM 88005
Remember, abuse and neglect can occur at any facility, even a 5-star rated nursing home. Remain vigilant and always inspect your loved one for negligence-related injury.
Disclaimer

*The inspection results are provided from public government agency surveys. The state Department of Health conducts a survey of all nursing home facilities at least once every 15 months. The deficiencies listed on this page may have been corrected after the date of the inspection and date of publishing this material. Citations, ratings, statistics, and deficiencies are current as of the date of this post and will change later on. The inspection findings published are not complete. You may find the most up to date information at medicare.gov. This material is not endorsed by the facility noted or by any governmental agency. Speak with an attorney immediately if you believe you have a viable case against a nursing home, assisted living facility, or medical facility.
New Mexico Laws That Protect Nursing Home Residents
How are families and legal teams supposed to know that a resident's treatment is not okay? In the end, this judgment comes down to laws—both in New Mexico and nationwide—that determine how nursing homes should treat people.
The laws in New Mexico that protect the residents of nursing homes are overseen by the New Mexico Department of Health. These laws aim to maintain the psychological, social, and physical well-being of residents by protecting their basic rights. In general, residents have the basic rights to privacy, individual care, communication, filing grievances, and the freedom from restraints.
More specifically, nursing home residents have the right to physical and psychological privacy, which include the confidentiality of their healthcare matters. Everything from their living space arrangement to how their documents are handled are supervised by New Mexico state.
The state also requires that nursing home residents have access to direct and personal communications with family members, doctors, caregivers, and attorneys. Of course, an individual can rely on a power of attorney to make decisions for them. However, even in this scenario, their right to communication cannot be abridged.
Nursing home residents are entitled by both federal and state regulations to receive individual care that corresponds to their conditions and needs. They should not be subjected to any kind of mental, physical, or verbal abuse. Similarly, they should not be subjected to involuntary restraints. Any use of restraints should be based on a physician's written authorization and cannot go beyond a prescribed amount of time.
New Mexico is strict on how residents' personalized care plans are created, too. These plans outline what physicians and specialists recommend for the resident. In other words, they are documents explaining how to take care of someone well, such as what they eat and the medicines they take. In NM, personalized care plans must be completed and put into use within two weeks of a person moving into a nursing home.
These are just a few of the many nursing home-specific laws that New Mexico has put into place to protect its residents alongside federal guidelines. Full coverage of all the rules and regulations can be found in N.M. Code R Section 7.9.2.22 and the National 1987 Nursing Home Reform Law.
What to Do About Breach of Rights, Abusive Behavior, and Negligence in a Las Cruces Nursing Home
There are many reasons why a person may choose to file a lawsuit against a nursing home. Sometimes, a family member may be injured or even killed due to actions taken by staff. Other times, it is their lack of appropriate action that causes harm. In many cases, both abuse and negligence violate a resident's rights. Based on these elements, families can sue to recover damages and even levy penalties against the facility.
Attorneys who focus on nursing home abuse cases are equipped with the skills and experience necessary to help. They can collect evidence that may be difficult to procure and guide you through the litigation process.
However, filing a lawsuit is not the only action that families can take if their loved one has been injured or killed in a nursing home. In New Mexico, the toll free number 1-800-752-8649 was specifically created to field complaints about long-term health facilities and hospitals.
In addition, you can talk to the state's long-term care ombudsman. An ombudsman is a person whose job is to defend people in care facilities who cannot otherwise defend themselves. Every state is required to have an ombudsman, and the one for New Mexico can be contacted at 1-866-451-2901 or (505)476-4799. Las Cruces has a local office reachable at 647-2095 or 800-762-8690 (toll free).
If you need to share physical documentation, it can be mailed to:
State LTC Ombudsman
New Mexico Aging & LTC Services Dept.
2550 Cerrillos Road
Sante Fe, NM 87505
In Las Cruces, Molly Wallsteadt is the regional ombudsman coordinator located at the NM Aging & LTC Services/Southwestern Area office. You may send questions or documents to her directly at:
Long Term Care Ombudsman Prog.
2407 W. Picacho
Suite B2
Las Cruces, NM 88005-4166
Work: (505) 647-2023
Fax: (505) 647-2062
Besides the ombudsman program, there are a number of other departments in New Mexico that would like to hear about the treatment that your loved one received. The Office on Aging is one of them, headed by Debbie Armstrong. You can reach this office at:
New Mexico Aging & LTC Services Dept.
Toney Anaya Building
2550 Cerrillos Road
Sante Fe, NM 87505
Work: (505) 476-4799
Fax: (505) 827-7649
In addition, the Board of Examiners for Nursing Home Administration, which is headed by Carmen Payne, can hear more information about what happened. They can be reached at:
NM Board of NHA
PO Box 25101
Santa Fe, NM 87504
Work: (505) 476-7121
Fax: (505) 476-7095
It is perfectly acceptable to reach out to more than one—or all—of these resources simultaneously. Do not hesitate to get in touch for help alongside a legal investigation so that the nursing home can be held liable for its misbehavior.
Ultimately, our narrowly focused nursing home abuse attorneys can help you investigate your loved one's injury, and hopefully provide justice for what you are going through.
Call our New Mexico nursing home abuse attorney today for a free case consultation: 505-375-1658