A Highly Experienced, and Compassionate, Illinois Nursing Home Abuse Attorney
Our Illinois nursing home abuse attorneys can assist your family after a tragedy occurs inside a nursing home or assisted living facility. At Senior Justice Law Firm, nursing home negligence cases are our firm focus. This is all that we do. If your loved one was injured or killed inside an Illinois healthcare facility, do not go it alone. Let our law firm help.
Our experienced Illinois nursing home abuse attorney works on contingency fee, which means we require no out of pocket payment to begin investigating your case. We also offer completely free case consultations, so do not hesitate to contact us if you are unsure if you have a potential case. Illinois law affords families like yours vast legal protections to safeguard a vulnerable resident from abuse, neglect, and negligence in long term care facilities.
If you suspect neglect caused your loved one's injuries, do not keep silent.
Submit your case facts below, live chat with our office, or call us now at 888-375-9998. We want to help your family on the journey to justice.
Offices
Our nursing home abuse attorneys accept cases across the Midwest. Unable to visit one of our offices? We can do a virtual appointment, or come to you. Call us to set up a free telephone consultation at 888-375-9998. Appointments only.
Spotting Neglect in Illinois Nursing Homes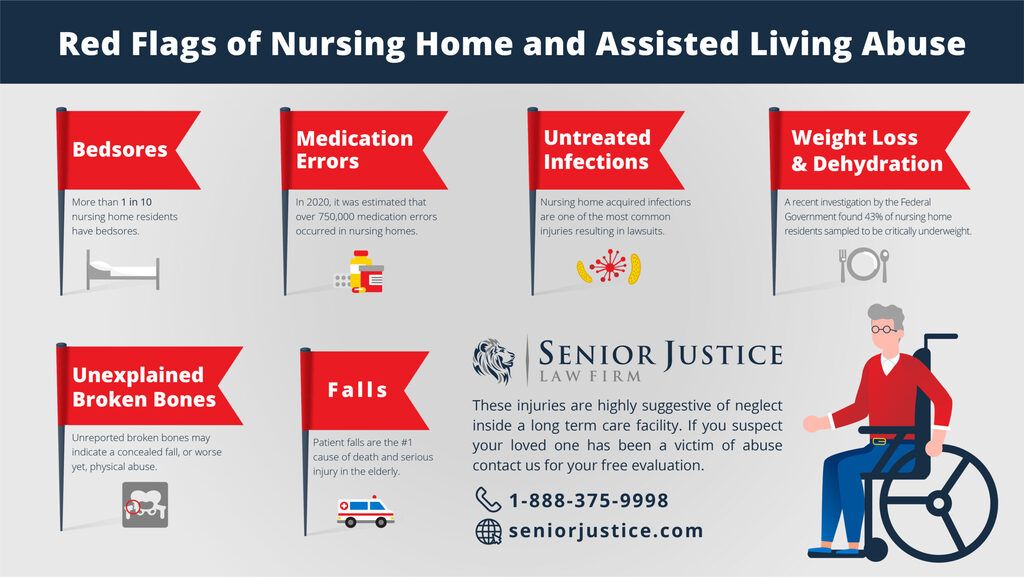 Abuse in an Illinois nursing home may not take the form that you expect. While the term "abuse" often conjures up images of physical violence—which is certainly a possibility in a nursing home—it also covers failure to provide adequate care to residents. Oftentimes, we use the term "nursing home abuse" to really mean "nursing home neglect."
Common injuries such as bedsores, unwitnessed falls, and urinary tract infections can result from negligent staff supervision, and you should always demand answers if your loved one developed any of these red flag injuries inside a healthcare facility.
In Illinois specifically, residents appear to be especially prone to falls. Illinois nursing home falls are significantly higher than the national average. While falls are some of the most common injuries sustained in nursing homes, the way in which the state approaches (or rather, fails to approach) its fall prevention has led to upwards of 20% of all fatalities in Illinois nursing homes resulting in some way from a fall. This could be from the fall itself, which causes immediate trauma like a brain bleed, or due to long-term decline following injuries such as a broken hip.
Understanding Illinois Nursing Home Abuse & Neglect Cases
Illinois is a thriving state home to more than 12.5 million people. In fact, just the Chicagoland area alone contains almost a quarter of the state's residents—which means that nursing homes are often hard-pressed to keep up.
Whether you live in Chicago, Aurora, Naperville, or further away from the metro areas, your loved ones may face less than stellar care in a nursing home.
At Senior Justice, we have spent a combined 50 years defending the rights of the elderly and vulnerable in long-term care facilities. If you suspect that you have a case for abuse or negligence, reach out to discuss your situation. Our Illinois nursing home abuse attorney is uniquely qualified to assist your family get justice after a bad experience in a facility.
The Root Cause of Illinois Nursing Home Abuse & Neglect: Understaffing
The root cause of most nursing home abuse in Illinois is staffing. Low staff numbers across Illinois equates to less hands to help and less eyes to supervise high risk residents. This causes more accidents and negligence inside the facility.
While this issue remains a problem across the country, Illinois is particularly vulnerable because it is one of only a few states that does not allow nurses from outside the state to come in and work under their existing licenses. Thus, Illinois nursing homes rank last in the country in terms of total staff hours spent per resident.
Nursing Home Survey: Illinois
Illinois is the sixth most populous state in the US, and of its more than 12 million residents, 16.1% are over the age of 65. To serve this many people, the state has seen continued expansion of its nursing homes to accommodate more beds than ever before.
Despite this attempt at growth among the approximately 1200 facilities in Illinois, more and more residents are seeing declines in the quality of their care. As many as 10% of all facilities in the state rank at a 1 out of 5 star rating, with a large portion of these bearing the "red flag" mark granted by Medicare.
This indicates that facilities across the state have been cited for confirmed cases of abuse. This means that Illinois has more 1 star facilities per capita than 90% of US states.
Injuries such as falls and bedsores are not "just a part" of getting older. If someone you love has suffered abuse or neglect in an Illinois nursing home, the attorneys at Senior Justice Law Firm would be happy to help you understand your options and potential next steps.
While any nursing home can find itself under scrutiny for abusive behaviors, here are some of the facilities with the most notable track records of subpar care. Some facilities that have a 1 star CMS rating as of June 2022 include:
Accolade Healthcare of East Peoria 500 Centennial Drive East Peoria, IL 61611

Accolade Healthcare of Pontiac 300 West Lowell Pontiac, IL 61764

Alden Estates-Courts of Huntley 12140 Regency Parkway Huntley, IL 60142
Aledo Rehab & Health Care Center 304 S.W. 12th Street Aledo, IL 61231
Aperion Care Forest Park 8200 West Roosevelt Road Forest Park, IL 60130
Belhaven Nursing & Rehab Center 11401 South Oakley Avenue Chicago, IL 60643
Champaign Urbana Nursing & Rehab 302 West Burwash Savoy, IL 61874
Chicago Ridge Nursing and Rehabilitation 10602 Southwest Highway Chicago Ridge, IL 60415
City View Multicare Center 5825 West Cermak Road Cicero, IL 60804
Fair Havens Senior Living 1790 South Fairview Avenue Decatur, IL 62521
Forest City Rehab & Nursing Center 321 Arnold Avenue Rockford, IL 61108
Gardenview Manor 14792 Catlin Tilton Road Danville, IL 61834
Landmark of Richton Park Rehab & Nursing Center 22660 South Cicero Avenue Richton Park, IL 60471
Loft Rehabilitation & Nursing 700 North Main Street Eureka, IL 61530
Pleasant Meadows Senior Living 400 West Washington Chrisman, IL 61924
Salud Wellness 306 North Larkin Avenue Joliet, IL 60435
Symphony of Chicago West 5130 West Jackson Boulevard Chicago, IL 60644
Tower Hill Healthcare Center 759 Kane Street South Elgin, IL 60177
Warren Barr South Loop 1725 South Wabash Chicago, IL 60616
Willow Rose Rehab & Health 410 Fletcher Jerseyville, IL 62052
Woodbridge Nursing Pavilion 2242 North Kedzie Chicago, IL 60647
Disclaimer
*The above does not mean your loved one would be in harm at this facility. Each facility gets inspected often. Almost all facilities have deficiencies. Many face civil lawsuits. You should not make a facility placement decision based solely on the above information. Each case is different. Prior results do not guarantee a similar outcome or indicate an expected outcome on your particular case. The above prior lawsuit information is for informational purposes only and does not constitute legal advice. The information is not provided in the course of an attorney-client relationship and is not intended to substitute for legal advice from an attorney. This individual case information above is publicly filed information gathered from the publicly filed complaint. This information and these cases are not the work of this law firm. The inspection results are provided from public government agency surveys. The state Department of Health conducts a survey of all nursing home facilities at least once every 15 months. The deficiencies listed on this page may have been corrected after the date of the inspection and date of publishing this material. Citations, ratings and deficiencies are current as of the date of this post and will change later on. The inspection findings published are not complete. You may find the most up to date information at medicare.gov. This material is not endorsed by the facility or by any governmental agency. Speak with an attorney immediately if you believe you have a viable case against a nursing home, assisted living facility or medical facility.
In the News: Nursing Home Abuse Lawsuits in Illinois
Negligence and abuse behavior in nursing homes across the state of Illinois have made news on multiple occasions. Norridge Gardens, located in Norridge, Illinois outside of Chicago, was recently forced to pay $360,000 in fines after being accused of incorrectly billing for medical procedures. The facility allegedly provided treatments that were not necessary, even against the best interests of residents, and upcharged for procedures in order to secure more money from Medicare.
Shortly before this incident, a resident at Attleboro Nursing & Rehabilitation Center passed away following a fractured hip that he sustained from a fall in the facility. His family settled with the nursing home for $120,000 (Smith v. Attleboro Nursing & Rehabilitation Center) after his loved ones alleged that the Attleboro location failed to properly mitigate fall hazards for what was, in the end, a preventable fall.
An almost identical event occurred at Silver Lake Nursing & Rehabilitation Center (Davis v. Silver Lake Center), with family claiming that their loved one's fractured hip and eventual passing was preventable. The facility allegedly did not adequately address fall risks and settled before trial in the amount of $262,500.
Elsewhere in Illinois, a resident at a long-term care facility in Cook County fell from a fifth floor window to his death. His family alleged that the window fixture was not secure, seeking more than $500,000 in damages and compensation as a result of his wrongful death.
These are just a few of the many incidents that the state of Illinois has contended with in recent years. If you suspect that something is not right in your loved one's nursing home, you should reach out to an Illinois nursing home abuse attorney as soon as possible and make a report.
How to Report Nursing Home Neglect in Illinois
Like all states in the US, Illinois is required to maintain certain programs to protect the rights and safety of vulnerable people such as the elderly. If you have reason to believe that someone you love one is being mistreated or not cared for properly in an Illinois nursing home, it is wise to reach out to your state's resources to file a report.
In Illinois, the best place to start is by contacting your regional ombudsman. Exactly which person you contact will depend on where the nursing home is located. More specific details can be found here. Choose the ombudsman branch that serves the area closest to or including the county where your loved one lives. For example, to report a Chicago nursing home for abuse, call (312)-746-7490 for the Cook County Ombudsman.
The ombudsman is a great place to start, but you need not stop there. You can also reach out to the Senior HelpLine at 1-800-252-8966. These professionals are available to help you direct your report to the proper parties and provide information about services that may be able to help.
The Illinois Department of Public Health also maintains an interest in nursing facilities and will follow up on reports of locations that have received complaints via their Central Complaint Registry. While the hotline for the nursing home segment of the complaints line is 1-800-252-4343 or 1-800-547-0466 (for TTY), it is best to submit an online report using this tool due to the high number of calls that they receive.
Illinois also operates a dedicated helpline at 1-800-226-0768 called the Healthcare and Family Services for Supportive Living Facility Complaints line. Calls are kept confidential, but they can be a powerful tool to equip you with the knowledge you need to make a report. As always, remember that these resources are not a substitute for emergency services. If your loved one is injured and in need of medical attention, call 911 immediately.
That being said, the state police can help on a non-emergency line. They operate an Illinois Nursing Home Medicaid Fraud Control Unit that is specifically geared toward investigating suspected fraud in the Medicaid billing in nursing homes. If someone you love has been assaulted or has not received the care they need, this unit may be able to help.
They can be particularly useful if your loved one is scheduled for appointments such as physical therapy and do not receive them, or if they are prescribed medications but those medications are not administered properly or at all. You can reach the fraud division of the state police at 1-888-557-9503.
Learn more about where you can report nursing home abuse in Illinois.
Illinois Nursing Home Abuse Lawsuits Impact Care Quality for the Better
With all of these resources available to report the nursing home neglect that your loved one suffered, you may wonder if it is worth your time or effort to file a lawsuit at all. However, while the ombudsman and other organizations can help you, they are not responsible for securing monetary compensation and justice for your family.
An Illinois nursing home lawsuit does not need to be expensive, stressful, or time-consuming. It is important to realize that any lawsuit you file goes well beyond your family. If you succeed in securing damages from a negligent nursing home, you have penalized that facility in a way that is effective: by targeting its profit margins.
This is one of the most effective ways of getting a facility to change its practices. By filing an Illinois nursing home negligence lawsuit, you can improve the living conditions of all of the other residents who live at that location. You can make a positive difference through the civil justice system.
Available Damages in an Illinois Nursing Home Abuse Lawsuit
In addition to your influence on the facility itself, securing compensation for your loved one's suffering can keep your family protected too. Any medical bills, funeral bills, or other expenses incurred as a result of the injury can be paid off using the money recovered in your case.
As you can see from the examples cited above, many nursing home abuse and neglect cases in Illinois settle in the six figures ($100,000+). While this money can never undo the pain that your family member endured, it can prevent your family from suffering the unfair financial burden caused by the nursing home's behavior.
There are many things that you can sue a nursing home for when trying to recover money. Some of the most common are:
Pain and suffering
Loss of consortium (when someone is deprived of the family benefits of having a loved one, such as affection and relations)
Loss of enjoyment of life
Emotional and mental distress
Medical bills
Loss of earnings
Funeral costs (if applicable)
These are called compensatory damages, because they seek to compensate your family for losses or expenses that you have suffered. However, if the nursing home has gone beyond mere negligence and committed "gross negligence" instead, you can also use the power of your lawsuit to potentially recover punitive damages.
These are damages levied against the facility specifically for the purpose of punishing that location and dissuading it from behaving similarly in the future. An Illinois nursing home abuse attorney can help you to understand your options, and what kind of damages your family is entitled to pursue.
Free Consultation with an Illinois Nursing Home Abuse Attorney
If you have any reason to believe that someone you love is being mistreated or neglected in a long-term care facility in Illinois, it is important that you act as soon as possible. Your regional ombudsman and other resources can provide some guidance, but it is wise to speak with a legal professional at the same time to begin gathering evidence.
Make sure to retain an Illinois nursing home abuse attorney that narrowly focuses on this niche practice area.
At Senior Justice Law Firm, we are proud to stand with families to seek justice for the treatment of their loved ones. Even where other law firms have failed, we find success thanks to our more than 50 years of collective experience in this type of case.
Many people interested in bringing a suit against a nursing home hesitate because they are leery of the potential cost and time commitment—which is why we operate on contingency. This means that you will never owe us money for our services unless we secure compensation for you. At that point, you may pay us a percentage of your recovered amount. This way, a lawsuit is never out of reach, no matter your financial situation.
We are available by phone or via our online chat tool at a time that is convenient for you. Reach out to schedule a consultation free of charge to discuss your situation. Let us help you seek the justice that you deserve.
Speak with an Illinois nursing home abuse attorney today by calling us now at 888-375-9998 or submitting your case facts below.