Lawyers Pursuing Justice for Nursing Home Abuse Victims in Utah
At Senior Justice Law Firm, nursing home negligence claims are the focus of our firm. Let our Utah nursing home abuse attorney guide your family along the journey to justice. Live chat with our office now or call us at 888-375-9998 to receive your free Utah nursing home abuse lawyer consultation.
Utah's Seniors Deserve Protection in Long Term Care Facilities
Utah is renowned for providing high-quality healthcare across a variety of categories, but it ranks among the worst states in the country when it comes to caring for its elderly population. The prevalence of nursing home abuse in Utah is staggeringly high and the resources available for Utah's elderly residents who face mistreatment is far less compared to what is available in other states. Utah's elderly population deserves better.
At Senior Justice Law Firm, pursuing justice for wrongfully injured residents of nursing homes is our sole focus. If you or your loved one has experienced abuse or neglect at a nursing home in Utah, then you are certainly not alone. We are here to help you get the answers you need and the justice you deserve. We are available for a live chat or you can call us today to learn more about your legal rights following a nursing home injury in Utah.
How Will I Recognize Nursing Home Abuse or Neglect in a Utah Facility?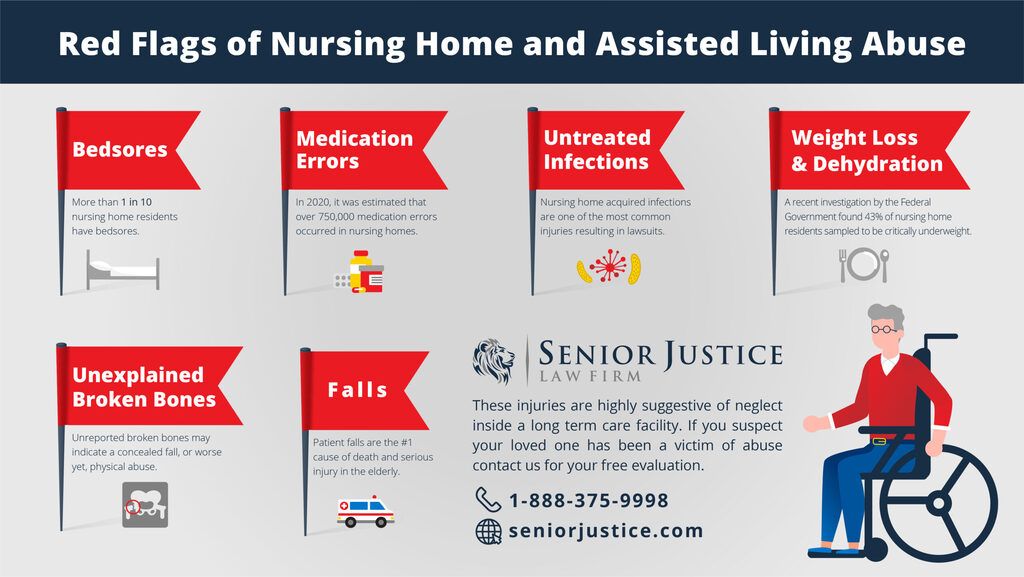 The most common injury claims brought against Utah nursing homes involve bedsores, patient falls, unreported broken bones, sexual assault, untreated infection, and wrongful death.
If your loved one suffered any of the above 'red flag injuries', contact our Utah nursing home abuse lawyer immediately to learn more about your legal rights: (888) 375-9998.
Recognizing Physical and Sexual Abuse in Utah Facilities
Physical and sexual abuse is what people tend to worry about most when assisting a loved one transition into the care of a nursing home. Some examples of physical abuse are obvious, such as hitting, pushing, shaking, pinching, and burning an elderly person, while less perceptible forms include the inappropriate administration of drugs and physical restraints. Common red flags for physical abuse are:
Multiple bruises in different stages of healing
Unexplained fractures, abrasions, lacerations, or other wounds
A withdrawn, passive, or fearful attitude
A sudden lowering of self-esteem or self-determination
Sexual abuse can involve non-consensual sexual contact of any kind, unwanted touching, and coerced nudity. It also includes the production or distribution of pornographic material involving a vulnerable or elderly adult who lacks the capacity to consent. Common red flags for sexual abuse are:
The development of unexplained STDs
Bruising and bleeding or pain in the genitals, thighs or breasts
Torn, stained, or bloody undergarments
Sudden onset of anxiety or discomfort related to certain parts of the body
Recognizing Emotional and Verbal Abuse in Utah Facilities
Emotional and verbal abuse can be extremely traumatizing psychologically for nursing home residents. Such abuse typically involves a vulnerable or elderly adult being intimidated, threatened, isolated, coerced, humiliated, or harassed in some way. Treating a nursing home resident disrespectfully, isolating them from their loved ones, or enforcing social isolation of any kind are all examples. Common red flags for emotional and verbal abuse are:
Low self-esteem or loss of self-determination
A withdrawn, passive, or fearful attitude
Avoiding eye contact or not openly communicating
Recognizing Financial Abuse in Utah Facilities
Financial abuse or exploitation is the improper use of a vulnerable or elderly adult's money, credit, property, power of attorney, or guardianship for the benefit of someone else. Examples of financial abuse include cashing checks without permission, forging a signature, misusing or stealing money, and deceiving an individual into signing a document. Be aware of the following red flags for financial abuse:
Changes to bank accounts
New names added to bank accounts
Lost or misplaced money or other valuables
Past due bills
Little or no money for basic necessities or social activities
Recognizing Caretaker Neglect and Self Neglect in Utah Facilities
Mentally or physically impaired seniors rarely have the full capacity to care for themselves or provide their own necessities. Self neglect is the result of these individuals not receiving the help that they need. Unfortunately, the caregivers that step in to assume responsibility for such individuals may fail to provide adequate support as well. Red flags for caregiver neglect and self neglect include:
Malnourishment or dehydration
Lack of glasses, dentures, or other aides if usually worn
Over or under medicated
Untreated infections or other health issues
Soiled bedding or clothes
Worsening bed sores
Unsafe living conditions such as inadequate heating or a lack of electricity
In general, you should also be wary of any nursing home staff member that prevents your loved one from speaking freely. The staff member may have excuses as to why they cannot allow such communication, but in truth, they may simply be afraid of their mistreatment being uncovered. Of course, Nursing home staffs can be severely overworked, and it is not uncommon for well-intentioned nurses to struggle to keep up with the demands of their residents. Improper care is often more the result of inadequate resources versus an intentional act of cruelty. But at the end of the day, nursing homes have a duty to provide their residents with the care that they need and for preventing any type of abuse or neglect. Those that fail to do so must be held accountable.
Utah Law Protects Vulnerable Nursing Home Residents
Utah legally defines individuals who are 65 years or older in the state as elderly. Those who are at least 18 years old and are unable to care for themselves due to a physical or mental disability are considered vulnerable adults. There are state laws in place that are meant to protect vulnerable and elderly adults from abuse and exploitation. Utah law (62A-3-305) also requires that any person with a reason to believe that a vulnerable or elderly adult is being abused, neglected, or exploited must immediately report it to Adult Protective Services or a nearby law enforcement office.
Familiarizing yourself with the most common red flags for abuse and neglect is vital for ensuring you do not miss any potential warning signs. Identifying any of the red flags highlighted below does not guarantee that abuse is taking place, but being aware of them is one of the most important things you can do to protect your elderly loved one from undue suffering or harm in a Utah nursing home.
If you do suspect abuse, then you can contact the Utah Department of Adult Protective Services by phone at 1-800-371-7897 (available Monday – Friday, 8:00 am – 5:00 pm), or file an online report 24 hours a day, 7 days a week using the online abuse reporting form.
All You Need to Know About Utah Nursing Home Abuse and How to Achieve Justice
Utah's population is on average the youngest of any state in the US. But at the same time, the percentage of children in Utah is shrinking while the percentage of elderly people is growing, which means that Utah's population is aging quickly. According to US Census Bureau estimates, the population of adults ages 65 and older will increase by 145% between 2000 and 2030. And while this age group only comprises about 10% of the population today, that number is expected to double by 2065, meaning that there will be over one million retirement-aged people living in Utah by that time.
It is not hard to understand why Utah attracts senior citizens and retirees from all walks of life. Utah is home to some of the most iconic natural beauty in the country and cities such as Salt Lake City, Provo, and St. George provide an abundance of cultural activities to enjoy. For those interested in skiing, hiking, boating, and other outdoor activities, few destinations rival Utah.
As older Utahns begin needing support to maintain their health, nursing homes often appear to be the best option available. Unfortunately, preventable injuries and neglectful care in nursing homes across Utah are rampant problems that have persisted for years. Given these circumstances, it is more important than ever for the guardians and loved ones of Utah's nursing home residents to understand the signs of nursing home abuse, how to report it, and what they can do to prevent it from happening in the first place.
Residents' Rights in Utah Assisted Living Facilities
The 1987 Nursing Home Reform Law decreed that nursing homes across the country must meet federal residents' rights requirements to participate in Medicare or Medicaid. In Utah, residents' rights for assisted living facilities throughout the state are cemented into state law as well. Resident rights in Utah include, but are not limited to:
The right to be treated with respect, consideration, fairness, and full recognition of personal dignity and individuality
The right to be transferred, discharged, or evicted by the facility only in accordance with the terms of the signed admission agreement
The right to be free of mental and physical abuse, neglect, and chemical and physical restraints
The right to privacy during visits with family, friends, clergy, social workers, ombudsmen, resident groups, and advocacy representatives
The right to participate in religious and social activities of the resident's choice
All Utah facilities are required to develop a written residents' right statement, and new facility residents are entitled to a written description of their legal rights upon admission. Facilities must also provide residents with a statement that they may file a complaint with the state long term care ombudsman (LTCO) and other advocacy groups concerning any suspected violation of their rights.
The following items must also be posted in a public area of Utah nursing homes or assisted living facilities where they are viewable by residents and the public:
The LTCO's notification poster
Information on Utah protection and advocacy systems
A copy of the residents' rights
If you are unfamiliar with the LTCO, it is a resource that any Utah nursing home resident can use to help resolve problems they may be experiencing or to get questions answered regarding their care. If mutually agreed upon, then the LTCO will assist Utah nursing home residents who need help, and can even represent and intervene on behalf of the resident if necessary. You can think of your loved one's ombudsman as their "first responder" when it comes to issues as seemingly minor as poor food quality to life-and-death situations such as physical abuse.
In Utah, the county you live in determines who your Ombudsman is, and you can use the Utah Department of Health and Human Services Ombudsman locator to find a complete list of contact information in the state.
Utah Ombudsman County Phone Numbers:
Salt Lake County: (385) 468-3255
Utah, Wasatch, Summit Counties: (801) 229-3809
Davis County: (801) 525-5060
How to Report Personal Rights Violations in Utah Nursing Homes
The LTCO in Utah is responsible for handling reports of nursing home residents' personal rights violations. Given the fact that vulnerable or elderly adults are often unable to file reports themselves, anyone, including relatives, friends, and nursing home staff members, may file a complaint on behalf of a resident. Once a complaint is made the LTCO will begin an investigation into the matter with three business days.
Report Utah nursing home resident rights violation using the online complaint form on the Department of Health and Human Services website.
How to Select a Nursing Home in Utah and Access Inspection Reports
Choosing a nursing home for your loved one is not easy, but taking advantage of the resources that are available to assist you with your decision can help. Determining the specific levels of service that your loved one needs is an important step in finding the right facility for them. You can learn about the different types of senior care facilities in Utah and what they offer by using this "Levels of Care" PDF document provided by the Utah Department of Health. The document provides details on the differences between Utah's Type I Assisted Living Facilities, Type II Assisted Living Facilities, Skilled Nursing Facilities, and more.
The state of Utah's Health Facility Licensing, Certification, and Resident Assessment site provides a Health Facility Information Tool with several features that can also be valuable for those helping their loved ones transition into nursing home care. The tool allows you to search for Utah nursing homes and other health care facilities alphabetically or by county. You can find out how many licensed beds are in the facility, when the facility was licensed, whether it is owned by a for-profit corporation or a non-profit, and contact information for the facility administrator.
For details on the performance of Medicare and Medicaid certified facilities in Utah against metrics such as health inspections, staffing quality measures, you can use the Centers for Medicare and Medicaid Services (CMS) nursing home compare tool. This tool provides access to facility inspection reports, penalty details, COVID-19 vaccination rates of residents and staff, and more. You can save specific facilities as favorites to return to them later or compare them with others that you may be considering. Combining your knowledge from all the aforementioned tools will give you the best chance at ensuring your loved one finds the right facility that meets their needs and that you feel most comfortable with.
Inadequate Care in Utah Nursing Homes
Recent estimates from the United States Department of Justice indicate that over 10% of adults 65 years and older experience some form of abuse each year. Utah is by no means immune to elder abuse, with one recent study ranking Utah 51st in the US after reviewing elder abuse and fraud reports, long-term care availability, nursing home quality, and shelter across all 50 states and Washington DC.
The Utah Department of Aging and Adult Services (DAAS), which has not uploaded an annual report to its website since 2020, reported that the Utah Ombudsman received 1,683 complaints over the course of the year in 2020. The department did not publish an annual report in 2019 or 2018, but in 2017 it reported that the Ombudsman received 1,795 complaints, showing that complaints were reduced by less than 1% over the course of three years. Clearly, vast improvements need to take place across Utah's nursing home facilities to provide residents with the level of care they need and to put a stop to the disturbing trend of elder abuse and neglect that continues to pervade facilities throughout the state.
Speak with a Utah Nursing Home Abuse Lawyer Today
Those who commit acts of nursing home abuse or neglect in Utah may be subject to criminal charges under Utah law. Charges for individuals can range from misdemeanors to felonies, depending on the level of harm caused by their actions. In the case of medical malpractice, which occurs when a healthcare facility or healthcare professional causes injury or death to a patient by a negligent act or omission, a claim must be filed within two to four years, depending on the facts of the case.
Victims of nursing home abuse or neglect in Utah may also be entitled to compensation. Although no amount of money can reverse the trauma of abuse, it is important to hold negligent facilities accountable for the damages they have caused to prevent it from happening again. Nursing homes in Utah are commonly run by for-profit corporations, which are highly motivated to prevent financial losses. It is an unfortunate reality that many of these organizations prioritize shareholder profits over patient health, but if enough are brought to justice then perhaps this can change.
Do not hesitate to contact our experienced attorneys at Senior Justice if your loved one has been subjected to nursing home abuse or neglect in a Utah facility. Our team can help build the strongest case for your loved one possible. We can assist with gathering evidence, reviewing medical and treatment records, filing your complaint, and much more. Contact us today for a free consultation.
Contact Our Utah Nursing Home Abuse Attorney
You can submit your case facts below, or live chat with our office. We will promptly get back to you regarding your potential case.
If you prefer to speak with someone at our law firm now, give us a call at (888) 375-9998.
All consultations are 100% free. If we accept your case, we only get paid if we recover money for your family. There is never any out of pocket payment required from you.
If your loved one was injured or killed inside a Utah healthcare facility, do not let their suffering go unpunished. Speak with our Utah nursing home abuse lawyer today to learn more about how the law can help your family get answers, and justice, for the nursing home neglect.