Georgia Nursing Home Abuse Attorneys, Singularly Focused on Combatting Neglect and Negligence in Nursing Homes
Receive a completely free Georgia nursing home abuse attorney consultation today.
Learn more about your right to file a Georgia nursing home negligence lawsuit. Call Senior Justice Law Firm, a narrowly focused nursing home abuse law firm, today for your free consultation: (470) 598-1515
An Experienced & Focused Elder Abuse Attorney Can Make the Difference
At Senior Justice Law Firm, elder abuse cases are our firm focus. This is all that we do. We accept cases in Atlanta, Augusta, Savannah, Macon, and across Georgia.
If you are searching for the right Georgia nursing home abuse lawyer for your case, experience matters. Make sure to speak with a lawyer that focuses his or her practice on claims involving nursing home negligence, abuse and elder neglect. You only have one opportunity to bring a nursing home abuse lawsuit in Georgia, so make sure you have an experienced and qualified elderly negligence legal practitioner in your corner.
Senior Justice Law Firm attorneys Tom Pleasant, Esq. and David Brevda, Esq. focus on these kinds of cases. At Senior Justice Law Firm, elder abuse and neglect cases are all that we do. Contact our Georgia nursing home abuse attorneys today to learn more about your rights, and how we can hold a negligent facility accountable.
Free Georgia Nursing Home Abuse Attorney Case Consultation
Senior Justice Law Firm
1201 W Peachtree St NE Suite 2335, Atlanta, GA 30309
(470) 598-1515
Recognizing Patient Neglect in Georgia's Most Vulnerable
Victims of nursing home abuse cannot advocate for themselves. This means we must be on the look out for signs and symptoms of nursing home abuse.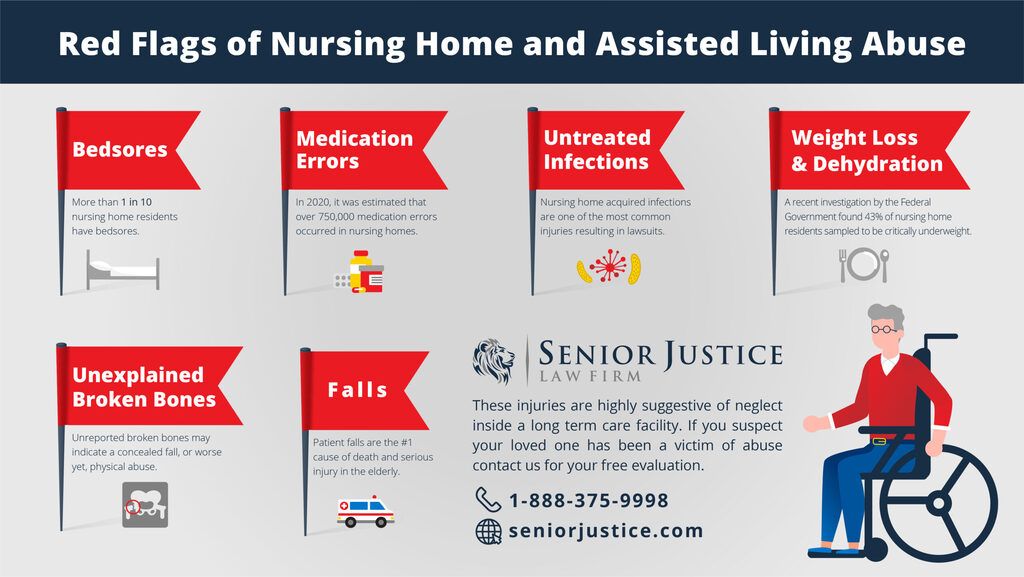 The above injuries are suggestive that a resident suffered neglect. Sadly, a Georgia nursing home will not concede that it neglected one of its residents, so it is critical that the family remain vigilant in looking for the above injuries.
If you noticed one of the above "red flag" injuries in a family member, contact a Georgia nursing home abuse attorney immediately.
Georgia's Historic Nursing Home Abuse Problems Plague the Peach State
Thanks to its beautiful weather and vast array of senior-friendly attractions, more and more people are choosing Georgia nursing homes and long-term care facilities to live out their retirement. Because of this, the number of nursing homes and long-term care facilities for older citizens to choose from in the area is growing by leaps and bounds.
Sadly, those who are reliant on the care of nursing home or long-term care staff are not free from a subpar quality of life—or worse, abuse. Negative experiences in these facilities are more common than you may think, as the combination of overpopulated facilities and understaffing has led to neglect, abuse, and even death in Georgia nursing homes.
Our law firm focuses on cases of abuse and negligence in nursing homes around the country, including in Georgia. Whether your family member experienced a severe injury, medical emergency as a result of a fall, or even passed away wrongfully, demand Senior Justice Law Firm. We understand what it takes to hold the nursing home accountable and achieve the justice and compensation you deserve.
The Statistics: Georgia Nursing Homes and Quality of Care Concerns
Georgia's geography and climate make the state—the ninth biggest in the nation—a prime location for retirees. Because of this, nursing homes stay consistently full, as the growing local population decides to stay in Georgia to retire and others come from other states to enjoy the warmer weather in areas like Atlanta and Augusta.
Yet, according to the AARP, only one-third of Georgia nursing homes and long-term care facilities rate above average in yearly inspections. Despite the growing need for well-run care facilities, inspectors visiting nursing homes reveal that the care that is both needed and expected is not nearly as common as it should be. Sadly, Georgia ranks in the bottom 25% nationally in terms of overall nursing home quality.
With over 300 nursing homes in Georgia and over 160 with a rating of below average or worse, it becomes very difficult to avoid nursing homes with lackluster care. The best facilities—which are not immune from scrutiny either—tend to be run by non-profits; however, 68% of Georgia's nursing homes are for-profit. This means that they are more prone to making decisions for the sake of earning money, such as making space for too many residents or cutting their staffing to avoid paying so much payroll. Unsurprisingly, this behavior results in negative outcomes more often than smaller facilities with fewer beds and more staff.
Staffing is another concern, both in Georgia and nationwide. Studies have indicated that more than half (54%) of nursing homes and long-term care facilities employ too few staff, and so are unable to fulfill the U.S. Department of Health and Human Services' requirement that residents receive a minimum of two hours of care daily. Even more shocking: of these understaffed nursing homes, 31% have been unable to meet the standard that residents receive a minimum of 12 minutes of care daily from nurses. Put another way, many residents do not see a nurse at all in their day-to-day lives at long-term care facilities, compromising their care and wellbeing.
Benefits of Bringing a Georgia Lawsuit Against a Nursing Home for Abuse
Georgia law protects its vulnerable nursing home residents from neglect and abuse. If your family member is neglected and suffers injury, Georgia statutes provide an avenue of justice by way of monetary damages. This means, if a nursing home facility harms your loved one, you can sue the nursing home corporation for damages.
Why bring a lawsuit against a nursing home? No amount of monetary compensation or feelings of justice being served will undo the pain that your loved one suffered. However, filing a lawsuit against abusive and negligent nursing homes is one of the most powerful tools that you have at your disposal, not only to seek remuneration for your own case but to protect other families in the future.
Because of the state of nursing home care in Georgia, the need to ensure that your loved one is protected against neglect and abuse becomes vital. If you believe that your loved one has experienced abuse and neglect, contacting a Georgia nursing home abuse lawyer enables you to ensure that your loved one receives justice for past wrongdoings and safer care in the future, while also keeping facilities accountable. A legal practitioner can also help you seek damages for the harm against you and your loved ones. Damages help to ensure that future families do not have to experience the pain you and your loved one have been put through.
What Damages Look Like in GA Nursing Home Abuse Cases
Punishments and damages present themselves in several ways, but the most common type is monetary restitution, where a jury will allot money to a family based on how severe they believe the damages against the victim and their family were. Of course, monetary compensation does not erase the suffering that you and your loved one experienced, but it is one way to help future recovery.
Monetary penalties against nursing homes, however, are an effective way to punish abusive negligent behavior. Because the majority of nursing homes are for-profit organizations, having to pay out damages hurts their bottom line and incentivizes reform of how they run their nursing homes. This can result in long-term change that improves health and wellbeing outcomes for all the residents who live there.
Within Georgia, there are two broad categories in which Georgians can seek compensatory damages for nursing home care mistreatment: pain & suffering and medical expenses. The first category, pain & suffering, describes anything from physical pain to emotional and mental distress that stem from the long-term care facility's actions. This can be evidenced in needing to seek medical treatment for an injury or illness caused by the negligence or direct abuse of staff members, as well as mental anguish, depression, anxiety, and stress as a result of mistreatment. It is a jury's job to determine a monetary value for this type of suffering.
The amount of money awarded in damages is usually determined by factors such as time in recovery or the severity of the resident's injuries. Medical expenses, on the other hand, will be determined by the cost of the medical care and any other loss of income as a result of the need for medical care.
The actual lawsuit damages against a nursing home in Georgia will vary from person to person, but it is important to know the potential avenues for seeking justice for your loved one.
Reporting Elder Abuse or Nursing Home Neglect in Georgia
If you suspect that someone you love was abused or neglected at a Georgia nursing home, you have a number of options for reporting the behavior and seeking help. It is important to remember that it is alright—and even encouraged—to reach out to multiple resources simultaneously. Basically, if you suspect Georgia nursing home abuse, reach out to the authorities immediately.
One of the first things that you should do when you discover that your family member has been abused in a nursing home is to secure legal representation. Attorneys skilled in nursing home abuse cases have resources that you may find valuable, such as long-standing relationships with experts who can analyze a nursing home's business documents to discover evidence of chronic understaffing or incorrect recordkeeping practices.
Once you have found a Georgia nursing home abuse lawyer you should also report what you know to Georgia's statewide and local elder abuse resources. The best place to start is with the state's long-term care ombudsman. These ombudsmen are individuals charged with advocating on behalf of elderly residents of long-term care facilities to ensure that they receive the attention that they need.
The Division of Aging Services in the Department of Human Services is the body that manages Georgia's State Long-Term Care Ombudsman program. You can reach the statewide ombudsman program online to file a complain electronically at the Georgia Ombudsman. However, you may also file complaints at offices that are nearby. You can view the contact information for any offices in your area by visiting their website.
Reporting Nursing Home Abuse in Augusta, Athens and East Georgia
If you are located in eastern Georgia, your main ombudsman office can be reached at (706) 549-4850 or by fax at (706) 608-8291. The East Ombudsman office maintains a mailing address at the Community Council on Aging at 135 Hoyt Street, Athens, GA 30601-2646. The primary coordinators are Liz Schulze at lschulze@accaging.org and Keith Adams at kadams@accaging.org. Smaller cities in eastern Georgia can reach out using these contact details; however, be aware that Augusta has its own office at 706-369-3002 or at fax number 706-608-8362.
Reporting Atlanta Nursing Home Abuse
Reporting nursing home abuse in an Atlanta area nursing home is quite easy. The Atlanta/capitol area has its own individual ombudsman office located at 225 Cameron Road, McDonough, Georgia 30253. Representatives at this location can be reached at (404)-627-1057 or by fax at (404)-627-1064. For other areas of Georgia, regional centers are available to assist with any reports.
Reporting Nursing Home Abuse in North Georgia
If you need to report nursing home abuse in North Georgia, call 706-369-3003.
Reporting Nursing Home Abuse in Middle Georgia and Savannah
To report nursing home abuse in Savannah, Richmond Hill, Hinesville or any other city in Mid-Georgia, call (912) 367-4866.
Reporting Nursing Home Abuse in South Georgia
To report a negligent nursing home in Albany, Valdosta or South Georgia, call (229) 432-1124 for the South Georgia Ombudsman.
Confused on Where to Report a Nursing Home Neglect Incident in GA?
Need more assistance reporting Georgia nursing home injuries? Our dedicated Georgia nursing home abuse lawyer can guide you on how best to contact Georgia's administrative agencies to investigate your family member's injury or wrongful death.
Work with Experienced Georgia Nursing Home Abuse Attorneys
Discovering that someone you love and care for has been abused or neglected can be shocking. The experience may leave you unsure about what to do next.
The Georgia nursing home abuse lawyers at Senior Justice Law Firm understand that this is a challenging time, and the last thing you want to think about is the financial and time commitments of filing a lawsuit. This is why we are always happy to meet during a free consultation to offer guidance about the next steps to take.
We encourage you to submit an inquiry, either by live chat or the case submission box below. Please share as much case details as possible. After reviewing your submission, we will get back to you to let you know if we can assist you and your family on your journey to justice.
At Senior Justice Law Firm, we want to be your Georgia nursing home abuse lawyer. Call us now at (470) 598-1515. You can also live chat with our office or submit your case facts below.