Nationally Recognized Pennsylvania Nursing Home Abuse Attorneys, Creating a Difference With Every Case
If your loved one was mistreated, injured, or killed inside a healthcare facility, our top-rated Pennsylvania nursing home abuse lawyers can help your family along the journey for justice. From Philadelphia to Pittsburgh with all towns and counties in between, our Pennsylvania nursing home lawyers can help. Senior Justice Law Firm narrowly focuses on elder neglect cases and our Pennsylvania nursing home attorneys have extensive experience litigating claims involving bedsores, falls, medication errors, dehydration, infection cases, physical and sexual abuse, and wrongful death.
We work exclusively on contingency fee, so there is never any out of pocket payment. We only get paid if we recover money for your family. Speak with a qualified and compassionate Pennsylvania nursing home abuse lawyer today. Live chat with our office or call us at 888-375-9998.
Elder Abuse & Neglect Cases are All That We Do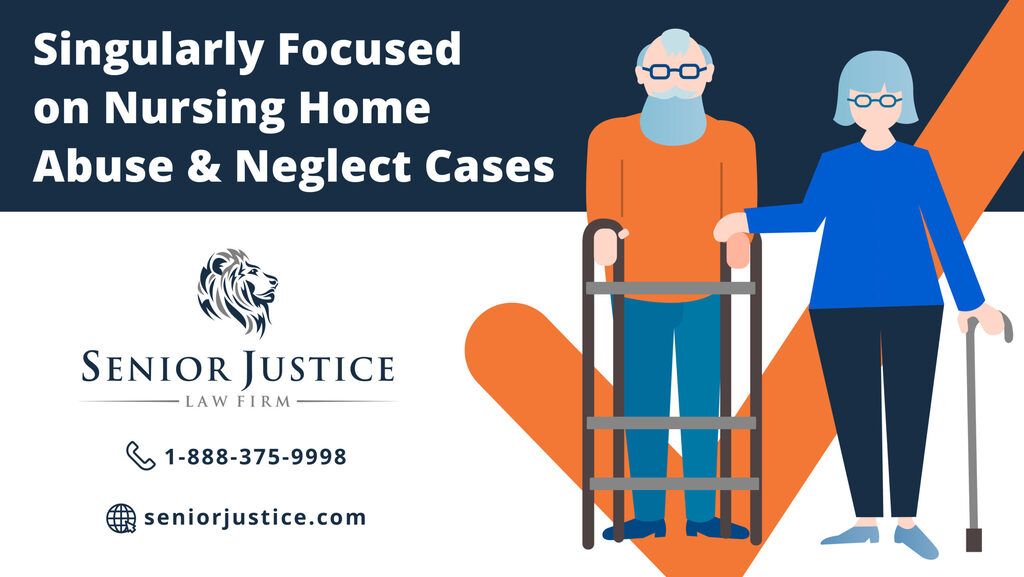 Pennsylvania Offices
Our Pennsylvania nursing home abuse attorneys accept cases statewide. Unable to visit one of our offices? We can do a virtual appointment, or come to you. Call us to set up a free telephone consultation at 888-375-9998. Appointments only.
Pennsylvania Nursing Home Abuse and Neglect is Rampant
Like many other states across the country, Pennsylvania is home to a growing number of elderly residents in need of care in professional facilities. Whether they are no longer able to support themselves at home or would benefit from the interventions that skilled nursing staff can bring, many people rely on long-term care facilities to meet their needs in their older years.
Unfortunately, Pennsylvania's nursing homes are not always the bastions of high-quality care and compassion that many people assume them to be. From staff stealing personal property to failing to provide medications or directly harming residents physically or psychologically, nursing homes across the Keystone State are facing challenges providing the quality of life that each individual person deserves.
If you suspect that someone you love may be suffering from negligent care or abuse in a nursing home anywhere in Pennsylvania, it is important that you reach out for help—not just from the administration of the nursing home itself, but also from local resources and legal professionals.
Does Nursing Home Abuse Occur Often in Pennsylvania?
When people consider the care that their family member is receiving in a nursing home, they generally assume the best in the facility. Although most Pennsylvanians are familiar with stories of abuse and neglect — the kind that makes the news — they assume that this must happen "somewhere else." Unfortunately, Pennsylvania is full of nursing homes that barely meet the minimum standards of care set by Medicare. Medicare rates facilities on a scale of one to five, with five being the highest rating. These poor ratings indicate systemic problems in Pennsylvania's nursing homes, and not one off incidents or mistakes.
While a five star rating from Medicare indicates that a location is likely doing well in its treatment of residents, even these locations are not immune to less than stellar behavior. Citations for breaches in the standard of care, quality of life violations, staffing issues, and lack of infection control measures are ubiquitous with Pennsylvania's long term care surveys. Even five star Pennsylvania nursing homes regularly receive citations and deficiencies during government inspections.
Most Pennsylvania Nursing Homes Are Rated 'Below Average' by the Government
Out of the approximately 700 nursing homes in Pennsylvania as a whole, a total of 139 are rated at just one out of five stars by Medicare, which is a "much below average" rating. An additional 261 see ratings that are considered just two out of five stars, or "below average."
This means more than half of Pennsylvania's nursing homes are rated below average by the government. If your loved one lives in a nursing home in Pennsylvania, the odds are better than not that they live in a location that has faced multiple citations on their mandatory annual health inspections, as well as lawsuits for violating Pennsylvania's nursing home residents' rights.
This can be distressing news for anyone who is trying to keep the best interests of their family members at heart. Thankfully, you have options for what to do if you suspect that someone you love has been neglected or abuse—but first, you must be able to identify warning signs that this behavior is occurring.
Common Injuries Resulting in a Pennsylvania Nursing Home Abuse Lawsuit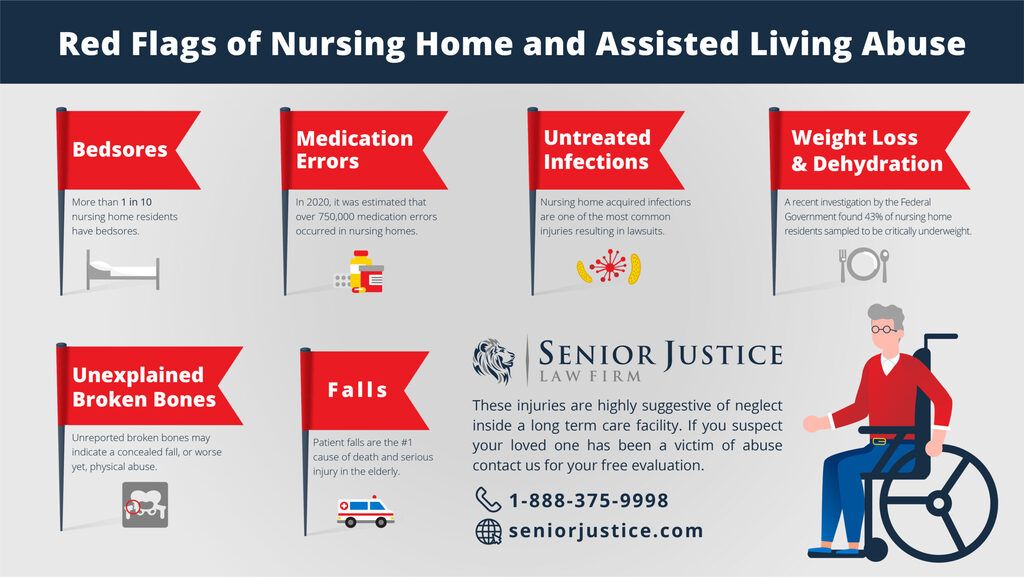 Nursing home abuse can take a variety of forms, not all of which may be readily apparent when you go to visit your family member. However, you may be eligible to file a lawsuit if you can demonstrate that your loved one was harmed, regardless of whether that harm was intentional, or just an accident.
Fractures and Head Injuries
Of course, many times, physical damage may be apparent. This could occur if your loved one falls often, sustaining injuries like broken bones or even brain bleeds. Broken hips, femur fractures, and closed head injuries are usually caused by patient falls, or worse, the dropping of a resident during a transfer.
Sometimes, understaffed nursing homes may handle your family member roughly or fail to follow proper protocol for activities like transferring from a wheelchair to a bed. When staff are shorthanded, they unfortunately ignore fall risk residents and allow them to suffer preventable falls. Regardless of the cause of the physical injury, both falls and drops are actionable cases under Pennsylvania law and should be investigated immediately.
Failure to Diagnose and Treat Infection
A nursing home resident may also show signs of recurring infections (especially related to external equipment, like catheters and feeding tubes), or they might have unexplained bruising. If a patient is exhibiting signs of infection (fever, high white blood count, mental changes, or change in appetite), Pennsylvania law mandates that the nursing home send the patient to the hospital, or at least receive a doctor consultation.
Untreated UTI, wound infections, and sepsis are all caused by a lack of cleanliness. If a nursing home allows an infection to fester, they might be legally responsible for the harm caused. Nursing home infection lawsuits are common in Pennsylvania.
Pressure Injuries and Bed Sores
Pressure injuries, also called decubitus ulcers or bed sores, are almost always indicative of neglect. Pressure injuries and bed sores account for more than 50% of the cases our Pennsylvania nursing home abuse attorneys litigate.
State and federal regulations require that nursing homes turn and reposition bed bound residents every two (2) hours in bed, and more frequently in a wheelchair. When facilities neglect this legal duty and cause the vulnerable patient to develop stage 3, stage 4, or unstageable bed sores, the family can file a Pennsylvania nursing home negligence lawsuit.
Physical Attacks, Sexual Abuse, and Mental Torment
Patient on patient attacks are all too common in PA's long term care system. These are usually preventable by screening out dangerous residents and keeping them out of a nursing home.
Beyond the physical manifestations of lackluster care, it is also important that you remain vigilant for less obvious signs of mistreatment. The person you love may become less talkative or seemingly depressed as they cope with trauma. They may be nervous around staff, or they may get agitated and upset when a certain staff member is around. All of these can be signs that employees are mistreating your loved one when you are not there. However, your family member may be unwilling to discuss any problematic behavior, either for fear of retaliation or because they have a hard time remembering the events.
Sadly, sexual abuse is not uncommon in Pennsylvania nursing homes either. This behavior can be perpetrated by staff themselves, or it can come from other residents if they are not properly monitored or are allowed to wander.
Any form of abuse, albeit from other residents or from staff, is never OK inside a nursing home.
What Should I Do if I Suspect Neglect Inside a Pennsylvania Facility?
Once you have an indication that someone you loved may be suffering from neglect or abusive behavior, your first instinct may be to confront the nursing home staff. This can be worthwhile; while negligence is not excusable, some mistakes are just that—mistakes. You can still seek damages even in the event of accidents, but oftentimes the facility will give you the runaround.
Much more commonly, however, little will change if you report the behavior or suspicions to staff or even administration. This is why you should tackle neglect with a multifaceted approach.
First, if your family member is alive but injured, reach out to any emergency services if necessary.
If your loved one is in immediate danger, such as if they are actively injured and need assistance, do not hesitate to contact emergency care. The nursing home cannot stop you from calling an ambulance or the police, even if they feel your family member is fine. Once your family member is being treated, you can pursue secondary options.
These secondary options should always include reaching out to the ombudsman in the area, as well as any location-specific services like the local branch of the Department of Health. These contact numbers will be different depending upon which part of Pennsylvania you live in, but the list below can get you started with where to look and how to open a case.
After you have reached out to the organizations that already exist to support at-risk and vulnerable nursing home residents, be sure to discuss what has happened with a legal professional as well. Even if you have no interest in securing monetary damages from the case, your Pennsylvania nursing home lawsuit can still force the nursing home to change its behavior so that other residents are protected from the suffering that your loved one experienced. And if you do need financial compensation to help cover medical bills, funeral bills, and pain and suffering as a result of the nursing home's treatment, a lawsuit can help.
A select few attorneys dedicate the bulk of their attention specifically toward cases of nursing home abuse and neglect. Our Pennsylvania nursing home abuse attorneys are singularly focused on these cases. This means we have the experience, expert witnesses, and knowledge of the defendant corporation, to help maximize your case's impact.
Call us today to learn more about how Senior Justice Law Firm can help your family pick up the pieces: (888) 375-9998.
Pennsylvania's Nursing Home Negligence Laws
In Pennsylvania, nursing homes are required by the state to follow a number of laws surrounding how they conduct their business. Failure to abide by these rules can constitute the legal grounds for a lawsuit. In order to succeed, you will need to be able to prove that:
The nursing home was indeed in charge of caring for the person in question
The nursing home failed to reasonably assist, supervise, or provide care for the person
This failure to care resulted in injury or wrongful death
The law stipulates that negligence can constitute both acting in a manner that is not appropriate or failing to act when it is necessary. This negligence can occur at any point during the engagement with the nursing home, from their hiring practices, to their staffing numbers, to how those staff are trained, and obviously, how the staff cared for your family member.
The law also indicates that the statute of limitations for nursing home abuse allegations is two years. This means that you must make your report and begin legal actions within two years of the abusive event. However, it is in your family's best interest to act as soon as possible so that evidence can be gathered while it is still fresh and new. Additionally, it takes our Pennsylvania nursing home attorneys time to obtain the records and raise an estate, so please do not delay if you intend on investigating a PA nursing home abuse lawsuit.
How to Report Nursing Home Abuse in Pennsylvania
Once you suspect that nursing home abuse or negligence is occurring in the facility where your family member lives, your first step—as mentioned above—is to contact emergency authorities if there is immediate danger. If not, or if the danger has already been resolved, the next thing you should do is look to local support sources like the ombudsman.
In the words of the Pennsylvania ombudsman program itself, the long-term care ombudsman program "works to resolve complaints and issues on behalf of individuals residing in long-term care settings, such as nursing homes, assisted living facilities, and personal care homes." Each state is federally required to maintain an ombudsman program, so this resource is available to anyone in the state, no matter where they live. If you would like to reach out to the ombudsman program, you can contact them directly via email at LTC-ombudsman@pa.gov or by phone at 717-783-8975. This will put you in touch with the statewide office; however, your local Area Agency on Aging will be able to provide you with options that are close by. Check your local resources at the Department of Aging's website.
For a listing of all agency contacts based on region, visit How to Report Nursing Home Abuse in Pennsylvania.
Once you have made a report with the ombudsman, reach out to a PA nursing home abuse attorney as well. They can help you to navigate the lawsuit portion of an abuse or negligence report so that your family can receive the justice and compensation that they deserve.
Pennsylvania Nursing Home Abuse & Neglect News
Nursing homes across Pennsylvania regularly face citations for health inspection violations, but sometimes, their care is so far below an acceptable standard that they even appear on the news. ABC news reported that Brighton Rehabilitation and Wellness Center in Beaver, PA were implicated in a joint lawsuit from 10 separate families after their loved ones passed away as a result of COVID-19. The allegations state that the facility did not comply with state and federal health regulations, including separating infected residents from the rest of the population. Their "botched" handling of the situation cost 73 residents their lives, the Pennsylvania nursing home lawsuit claims.
In another facility in Philadelphia, administration has come under fire following the suicide of an elderly resident. Allegedly, Cheltenham Nursing & Rehabilitation Center neglected patients for multiple years, during which the facility was riddled with pests. The lawsuit claims that residents were provided antibiotics and anti-psychotic medication that they were not prescribed, and multiple residents suffered from verbal abuse and declining mental health—which was a contributing factor for the resident who took their own life.
In response to an investigation launched into Cheltenham, which has been described as a "problematic" facility in the past, regulators levied a fine of $824,213—the second-largest penalty faced by any nursing home in the United States that year. At the time of reporting, the Centers for Medicare & Medicaid Services indicated that Cheltenham had not paid this fine.
Unacceptable patient care is not the only reason that nursing homes sometimes find themselves in hot water. Saunders House, located in Wynnewood, Pennsylvania, settled in July 2022 after years of disputes related to false claims liability. In other words, Saunders House was billing for physical therapy services that they did not actually conduct, allegedly defrauding Medicare and Medicaid in the process. The legal resolution saw Saunders House pay more than $819,000 in the case of United States et al. ex rel. Carson v. Select Rehabilitation, Inc., et al. It is now considered resolved and settled but the Pennsylvania nursing home admitted no wrongdoing.
Free Pennsylvania Nursing Home Abuse Attorney Consultation
Receive your completely complimentary Pennsylvania nursing home abuse lawyer consultation.
We accept cases statewide, from Philadelphia to Pittsburgh. If you cannot come into our offices, that is perfectly fine. Complete an initial intake with our office, and if the case meets our acceptance criteria, we can communicate with you via Zoom, Facetime, or by phone.
Submit your case facts below, or call us at 888-375-9998.