Searching for a Dedicated, Narrowly Focused West Virginia Nursing Home Abuse Attorney? Demand Senior Justice!
We Want to Help Your Family Get Justice After a Nursing Home Tragedy in West Virginia.
At Senior Justice Law Firm, nursing home negligence is more than just a practice area. This is our sole focus. Our elder abuse focused law firm can assist you with your West Virginia nursing home neglect case. We work on a contingency fee, which means you pay nothing out of pocket. We advance all fees and costs and we only get paid if you win.
Call us now for a completely free, no obligation West Virginia nursing home abuse lawyer consultation: 304-915-2255
West Virginia Nursing Home Abuse & Neglect is Inexcusable
How Will I Recognize West Virginia Nursing Home Abuse and Neglect?
As nursing home abuse lawyers, we never hear stories about the facility coming out and admitting they neglected a resident. Instead, sadly, it is usually the family that discovers odd injuries or suspicious signs of abuse. Because these victims are often non-verbal, it is so important that you vigilantly inspect your loved one for signs of neglect.
Be on the lookout for these red flags of facility negligence:
Soiled or stained clothing and bedsheets
Dirty appearance
A foul smell coming from your family member
Dirty diapers
Broken bones from falls
Infections and UTI's
Significant weight loss
Significant change in cognitive status, or strange behavior
Unexplained fractures, bruising, or injury
Any of the above injuries may indicate neglect. If you notice injury on your family member, contact our West Virginia nursing home abuse lawyer immediately. Our law firm can investigate your potential nursing home negligence action.
Two Highly Experienced, Narrowly Focused West Virginia Nursing Home Abuse Lawyers
With more than two decades of combined nursing home negligence litigation experience, our West Virginia nursing home neglect lawyers have the requisite experience needed to maximize your case's impact.
West Virginia Nursing Home Abuse Lawyer Ryan Duty
Senior Justice Law Firm partner Ryan Duty has litigated nursing home cases throughout West Virginia and Western Pennsylvania. He has some of the largest verdicts and settlements in these venues, and he has dedicated his professional life to advocating for families impacted by abuse, neglect, and negligence inside West Virginia healthcare facilities. Ryan has represented families impacted by elder abuse in Charleston, Huntington, Wheeling, Morgantown, and small towns across West Virginia. He has successfully recovered millions of dollars for West Virginia families in the wake of preventable nursing home mistakes.
West Virginia Nursing Home Abuse Attorney Avery Adcock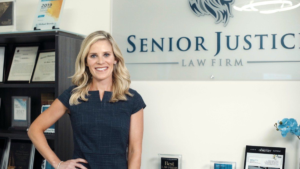 Attorney Avery Adcock, also a partner at Senior Justice Law Firm, devotes her professional practice to nursing home negligence cases as well. Ms. Adcock regularly lectures and teaches other lawyers about litigation tactics and techniques in the nursing home negligence field. She represents families across West Virginia impacted by bed sores, broken bones, or wrongful death inside local skilled nursing or assisted living facilities.
Understanding Nursing Home Abuse Law in WVA
The West Virginia Department of Health & Human Services has adopted the federal regulations on what is considered nursing home abuse in West Virginia. This extends the definition of nursing home abuse beyond intentional physical abuse, to also include neglect or withholding resident care and supervision:
Abuse also includes the deprivation by an individual, including a caretaker, of goods or services that are necessary to attain or maintain physical, mental, and psychosocial well-being [of the long term care resident]. §483.5
West Virginia law allows for lawsuits against nursing homes and their parent companies for injuries such as bedsores, falls, broken bones, infections, and other types of abuse and neglect. These lawsuits are governed by West Virginia Code 55-7b-1 et seq.
Time is of the Essence When Bringing a West Virginia Nursing Home Abuse Lawsuit
Importantly, West Virginia has a one (1) year statute of limitations on claims against nursing homes as well as other similar claims. Many other states have two (2) year statutes of limitations for these types of claims. Accordingly, if you do not make your claim within the 1 year statute of limitations period, it can never be brought. As such, if you believe that you or a loved one has been injured or abused by poor care in a West Virginia nursing home or health care facility, it is very important that you contact a West Virginia nursing home abuse lawyer as soon as possible.
Because there is a considerable pre-suit work up required, our firm needs time to request medical records, open an estate for the deceased victim, and consult with experts on the case. This can take months. Since West Virginia only has a 12 month statute of limitations period on nursing home claims, time is of the essence to speak with a lawyer.
Delay in consulting with a qualified West Virginia elder abuse attorney can result in the loss of your legal rights. If you even suspect your loved one was neglected or injured in a healthcare facility, consult with a qualified West Virginia nursing home abuse attorney today. Do not let time run out on your case.
Report Nursing Home Negligence in West Virginia
Elder abuse and neglect festers if left unchecked. If you believe your loved one was neglected in a West Virginia nursing home, report the incident to the Bureau for Children and Families by visiting their site or calling APS at 1-800-352-6513.
You should also contact the Ombudsman which oversees West Virginia nursing homes at 1-800-834-0598. The Ombudsman program in West Virginia was established by the Older Americans Act. The Long-Term Care Ombudsman Program's purpose is to "enhance the quality of life, improve the level of care, protect individual rights, and promote the dignity of each senior citizen and/or person with a disability, of any age, housed in a long-term care facility."
If you need assistance exposing the harm caused to your loved one, contact our West Virginia nursing home abuse attorneys today. We can assist you in reporting the abuse or neglect to the appropriate state agencies.
Speak with our West Virginia Nursing Home Neglect Lawyer Now
Our West Virginia nursing home injury attorneys approach each case with passion, and compassion. We want to help you and your family through this difficult chapter. Let our experienced West Virginia nursing home abuse lawyers guide you along the journey to justice.
For your free WVA nursing home abuse case consultation, live chat with our office now, submit your case facts below, or call us at 304-915-2255. We look forward to hearing from you.