Florida Nursing Home Abuse Attorneys Representing Victims Statewide
Our Attorneys Explain FL Nursing Home Negligence & Wrongful Death Cases
Florida nursing home abuse cases are the focus of our law firm. Over the past decade, our Florida nursing home abuse attorneys have pursued justice for victims in almost every county in Florida. With some of the largest verdicts and settlements in the state, our Florida nursing home abuse lawyers have recovered millions of dollars for families affected by neglect inside Florida facilities.
If your loved one was injured inside a Florida nursing home, contact Senior Justice Law Firm today. With 7 Florida offices across the state, we are Florida's nursing home negligence law firm.
Best of all, our Florida nursing home neglect attorneys work on contingency fee. This means we only get paid a percentage of what we recover for your family. We never charge any out of pocket fees or costs to you.
Receive your free case consultation today by calling (888) 375-9998 or live chatting with our office now. Your journey to justice begins today.
Narrowly Focused Nursing Home Abuse Litigators
Specific cases require specific lawyers. Be wary of entrusting your nursing home abuse case to a law firm that focuses on car accidents. Nursing home abuse and neglect litigation is the focus of our law firm. This is what we do.
Questions on your Florida nursing home abuse claim? Unsure if you have a case?
Our Florida nursing home abuse lawyers are here to help get you answers.
Share your case details now using the Live Chat feature on our site. If you would like to speak with someone from our office, call us now for your free Florida nursing home abuse case consultation at 888-375-9998. The consultation is free and we only get paid if we make a recovery on your case.
Let our caring and experienced attorneys help you get justice following your family tragedy. Speak with our Florida nursing home abuse lawyers today and see why we are different. By taking action against a negligent facility, you are standing up for the voiceless residents in Florida's facilities and ensuring that this kind of harm does not happen again.
Common Florida Nursing Home Abuse Injuries
Florida Offices
Our Florida nursing home abuse attorneys accept cases statewide. From Orlando to Tampa, Miami to Jacksonville, Senior Justice Law Firm can help.
Unable to visit one of our offices? We can do a virtual appointment, or come to you. Call us to set up a free telephone consultation at 888-375-9998. Appointments only.
The Florida Nursing Home Industry at a Glance
To understand Florida nursing home abuse cases, you must first analyze the long term care industry in the Sunshine State.
Florida has almost 700 nursing homes statewide.
Over 75% of Florida's nursing home residents said they had been neglected in their facility or had witnessed another resident suffer abuse.
The most commonly litigated nursing home abuse injuries are bedsores, falls, and wrongful death.
Most of Florida's skilled nursing facilities are corporate, for-profit facilities.
Florida's nursing home industry has dedicated lobbyists that work in Tallahassee to create laws that favor the industry, not the resident.
Most of Florida's nursing homes are part of a larger 'chain' of nursing homes.
The individually owned 'mom and pop' nursing homes are quickly disappearing and being replaced by corporate-owned, corporate-controlled nursing home conglomerates.
Elderly residents in for-profit nursing homes are more than twice as likely to suffer neglect or abuse injuries versus non-profit facilities.
In late 2022, the Federal Government announced a strengthening of oversight into Florida's poorest performing nursing homes.
If you have a question or concern please contact our committed Florida nursing home abuse lawyers to discuss the matter.
A Law Firm Specializing in Florida Nursing Home Abuse Cases

Our Florida Nursing Home Abuse Lawyers Get Results
The attorneys at Senior Justice Law Firm narrowly focus on Florida nursing home negligence litigation. This means we have helped thousands of families like yours recover money damages, and more importantly, accountability, from negligent facilities.
We have recovered tens of millions of dollars in verdicts and settlements against Florida's many nursing home corporate chains. In fact, if your family member was harmed in a Florida facility, there is a very strong chance we've sued that nursing home and/or its ownership.
We do not say this to brag about our prior successes. We bring this up because it underscores our ability to make change. We understand that elder abuse cases are about much more than money. These cases are about making an impact and having your voice heard.
Our extensive experience and history of success winning Florida nursing home claims grants us a unique opportunity to maximize your case's impact, and value. We can amplify your voice, and make your complaint heard at the highest levels of the nursing home.
This means a bigger financial recovery for you which means a bigger impact up the corporate ladder. Most importantly, we hope that your case's impact brings change, so that this kind of harm will not happen to the next resident.
Our Florida Nursing Home Abuse Attorneys Get to the 'Why'
Senior Justice Law Firm specializes in nursing home abuse litigation. We are Florida nursing home abuse lawyers and we only represent victims and their families.
Elder abuse cases cannot be analyzed like traditional malpractice cases. It is not enough to establish that an individual resident was injured due to neglect. A Florida nursing home abuse claim can only be successful if the lawyer exposes why the neglect occurred.
Exposing the 'why' requires a deep understanding of the long-term care industry, years of experience litigating against corporate nursing home chains, and a team of seasoned expert witnesses. The lawyers at Senior Justice Law Firm regularly employ expert nurses and forensic accountants to analyze facility staffing levels and corporate budgets.
With Florida Nursing Home Abuse, It Is All About the Money…
In most cases of Florida nursing home negligence, we find that the 'why' explanation for the injury is simple; greed. Nursing home chains are notorious for slashing staff numbers in fully occupied facilities in order to make more money. Overcrowded, understaffed facilities are a recipe for disaster.
When corporate owners put their profits over the interests of their patients, the result is a pattern of preventable injuries. This pattern represents systemic nursing home neglect that must be stopped.
Experienced Florida Nursing Home Abuse Attorneys, Creating Change with Each Case

Our firm mission is to end the systemic cycle of nursing home neglect that plagues Florida's nursing home facilities. Senior Justice Law Firm is dedicated to holding negligent Florida nursing homes accountable for wrongdoing.
If you suspect your loved one was a victim of nursing home abuse in Florida, retain our law firm to investigate what happened. Nursing home injuries and deaths require answers from the facility.
Let our decades of focus and experience with Florida nursing home abuse lawsuits help you get the justice you deserve. The call is free and there is no charge to you unless we recover money on your case. Speak with our Florida nursing home abuse lawyers now for your no-obligation case evaluation by calling 888-375-9998.

The Effect of the Corporatization of Florida's Nursing Homes:
Understaffed, Undertrained, Negligent Nurses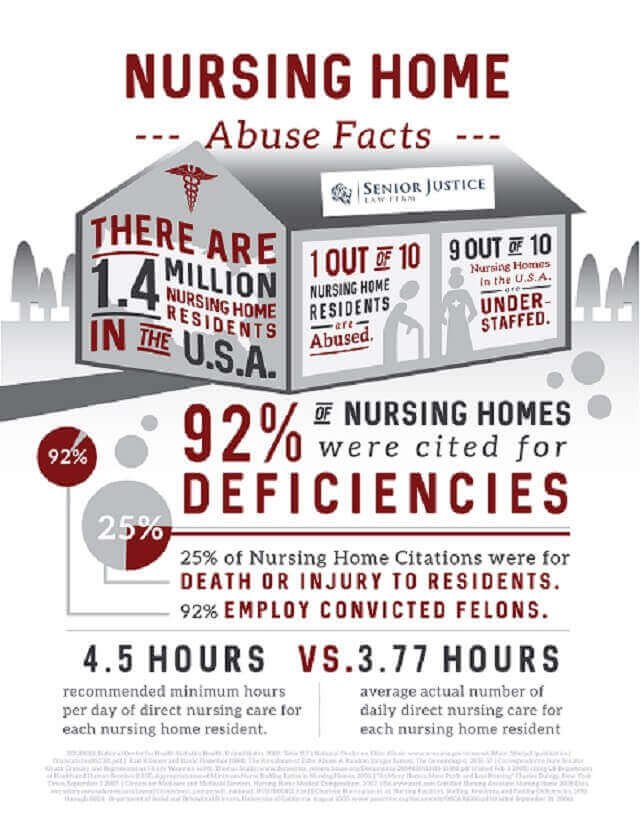 Florida Nursing Home Abuse: Corporate Profits Over People
Large corporations care about their bottom line, whether they are selling cans of soda or boxes of widgets. Unfortunately, when corporations assume control of nursing home chains, the desire to maximize profits takes over.
To achieve this, Florida's nursing home industry must pack its facilities while minimizing overhead and expenses. Our Florida elder abuse lawyers have taken thousands of nursing home employee depositions across the state of Florida. We have decades of experience litigating against Florida's nursing home chain corporations.
Our Florida nursing home abuse attorneys have sued almost every nursing home chain operating in the state. Although each facility operates differently, their budget sheets all appear similar. When we depose a nursing home's Business Office Manager and ask under oath, "What is your largest expense on your budget?", the answer is always the same: labor. When facilities want to maximize profits, they cut labor. The results are deadly.
Skeleton Staff Numbers + 'A Head in Every Bed' = Patient Care Disaster
Hiring enough skilled caretakers is always the most expensive item on the balance sheet. It is no surprise that these staffing numbers fall short. Unqualified, improperly trained nurses that are sparsely staffed throughout the nursing home creates chaos.
Too many residents left without adequate caretakers means that your most vulnerable family members are not getting the attention they deserve and require. This toxic environment creates pervasive and systemic neglect in the nursing home, which leads to injury and wrongful death to nursing home residents.
The Center for Medicare Advocacy, a national non-profit advocacy group, recently analyzed the difference in care between non-profit nursing homes and for-profit nursing homes. The findings of deficiencies in the for-profit chains were overwhelmingly more prevalent than in the nonprofit chains.
The for-profit chain nursing home facilities had the lowest staff/nurse numbers, the most amount of state agency deficiency citations, and the most amount of deficiencies for resident harm or injury.
Everything You Want to Know About Florida Nursing Home Abuse Cases (and Probably More)
Click on a Florida nursing home abuse lawyer drop down topic to learn more about the subject matter.
Florida has one of the largest nursing home resident populations in the US. As Florida's population continues to age, this number will continue to grow larger. Due to widespread systemic neglect throughout the Florida nursing home industry, the legislature in Tallahassee enacted a Nursing Home Resident's Bill of Rights in Chapter 400, the statutory section governing Florida nursing home abuse. In order to understand Florida nursing home abuse lawsuits, it is important to examine the formation and development of Chapter 400 and the subsequent case law interpreting it. This nursing home Residents' Bill of Rights set forth in §400.022, Fla. Stat. was expanded to its current form in the wake of two critical Miami-Dade County Grand Jury reports and the proliferation of wrongful death and injuries to Florida nursing home residents.
"Inadequate Care and Dehumanizing Conditions for Frail Older People"
The first official Dade County Grand Jury investigation into rampant Florida nursing home neglect found "rats in patients' beds and roaches in their food", and "lack of social, leisure, rehabilitative and therapeutic services; disregard for the personal dignity of residents; the use of chemical and physical restraints; and the lack of privacy". This shocked the public for obvious reasons. Florida's legislature and lawmakers had to act. The existing regulations and laws governing nursing homes dealt only with the structure and reimbursement for nursing home care. The laws on the books at the time did little to nothing for wrongfully injured Floridians in negligent nursing homes.
The 1980 amendments to Florida's nursing home laws were adopted to remedy the problem of "inadequate care and dehumanizing living conditions for frail older people". The law was changed to protect elderly residents from a widespread systemic abuse that resulted from substandard nursing home care and an ineffective regulatory scheme. Significantly, before the amendment, negligent nursing homes could be fined minimal amounts by the State of Florida. This amounted to a slap on the wrist of the corporate owners. However, the nursing home laws in Tallahassee were changed to add §400.023, which allowed for civil lawsuits brought on behalf of the victim or the victim's survivors, to enforce the resident's rights. This meant that Florida's nursing homes could be held accountable in a court of law before a judge and jury. Contact our Florida elder abuse attorneys to fight for the rights of your loved one.
A Rude Awakening to Florida's Problem with Nursing Home Neglect & Elder Abuse

The legislative history of the bill creating section 400.023(1) in 1980 cited the Dade County Grand Jury report describing outrageous living standards existing for years in nursing homes across the state. See Fla. S. Comm. on HRS, CS/SB 1218 (1980) Staff Analysis 1-2 (rev. June 10, 1980). This took our lawmakers and voters by surprise. No one was aware that more than 7 out of 10 Florida nursing homes had serious violations of state and federal regulations potentially causing harm to residents. The Florida Legislature stated in Florida Statutes § 400.0061:
The Legislature finds that conditions in long-term care facilities in this state are such that the rights, health, safety, and welfare of residents are not ensured by rules of the Department of Health and Rehabilitative Services or the Agency for Health Care Administration, or by the good faith of owners or operators of long-term care facilities.
Arming victims to take justice into their own hands, the Florida legislature enacted the protections in sections 400.022 and 400.023(1) precisely because the rights and remedies afforded in traditional common law negligence actions were inadequate to protect elderly nursing home residents. The laws dealing with injuries from a car crash were insufficient in dealing with unique nursing home neglect injuries. The Nursing Home Act's purpose is clearly stated in its enacting legislation — to establish "basic standards for the health, care, and treatment of persons in nursing homes and related health care facilities" as well as to "ensure safe, adequate, and appropriate care, treatment, and health of persons in such facilities." § 400.011; see Beverly Enters.-Fla., Inc. v. McVey, 739 So. 2d 646,648 (Fla. 2d DCA 1999). The Nursing Home Act "evinces a legislative plan to protect the interests of the citizens of this state who use" nursing homes. Garcia v. Brookwood Extended Care Ctr., 643 So. 2d 715 (Fla. 3d DCA 1994).
Chapter 400's Purpose: To Keep Florida Nursing Home Residents Safe Through Nursing Home Lawsuits
The policy behind the enactment of Chapter 400 was clear and was set forth with specificity in §400.001 — to improve the quality of care in Florida nursing homes. The policy behind creating the civil enforcement procedure was to add some 'muscle' into the statute, to provide a further incentive for nursing homes to meet the applicable standard of care. Prior to Chapter 400 and its civil enforcement procedure, there was little or no incentive to nursing home victims and their families to sue a skilled nursing facility in Florida. Similarly, there was little financial punishment a Florida nursing home would face if it wrongfully neglected its resident and caused the injury. To improve nursing home care in our state, the legislature sought to provide an abused elderly resident with access to the civil justice system, thereby granting power to individual people to right the wrongs of elder abuse and neglect.
Contact Senior Justice and speak with our Florida elder abuse lawyers to discuss your concerns.
The Residents' Rights guarantees each Florida nursing home resident:
The right to be free of nursing home abuse and neglect;
Have access to private and uncensored communication like mail, phone calls and visits with family;
The right of family members to visit the resident unannounced;
The right of a resident to refuse treatment, if able to make medical decisions;
To access and see the recent facility inspection upon request;
The right to manage his/her own financial affairs; and,
The right to be treated courteously and with dignity.
Violations of the Resident Rights may be considered Florida nursing home abuse. Negligent facilities may be held accountable for related injuries in a Florida nursing home abuse lawsuit.
If a resident is neglected or abused in a Florida nursing home, the aggrieved can seek justice through a Florida nursing home abuse lawsuit. If the Residents' Rights are not met, the resident or their guardian can sue the nursing home under §400.023. This section of the Florida statutes states,
"Any resident whose rights as specified in this part are violated shall have a cause of action. The action may be brought by the resident or his or her guardian, by a person or organization acting on behalf of a resident with the consent of the resident or his or her guardian, or by the personal representative of the estate of a deceased resident regardless of the cause of death."
This is considered a Florida nursing home abuse lawsuit. Speak with a Florida elder abuse attorney or FL nursing home abuse law firm to discuss your situation.
Compensatory damages in a lawsuit compensate the victim or their family for losses. These typically include:
Medical bills (past and future),
Missed income,
Funeral bills,
Loss of ability to enjoy life, mental anguish, loss of consortium,
Pain and suffering of the victim, if still alive,
Pain and suffering of the survivors, if the claim was for wrongful death.
The Florida Legislature created a private cause of action in section 400.023 to protect frail and elderly residents of nursing home residents. To accomplish this purpose, the Legislature specifically authorized personal representatives to bring nursing home actions and recover "actual and punitive damages" and attorney's fees for a violation of resident's rights. See § 400.023(1). The attorney's fees provision of Chapter 400 was later taken away, but the availability of punitive damages in outrageous cases of nursing home abuse remains. Punitive damages are awarded in addition to compensatory damages. These 'extraordinary' damages are made to punish and deter a defendant's wrongful behavior. Punitive damages are only available in Florida nursing home cases where there exists a willful, wanton, or gross deviation from the standard of care. See Garcia, 643 So. 2d at 717; Mang, 559 So. 2d at 673-74, Blankfeld v. Richmond Health Nursing Home.
For a nursing home victim to recover punitive damages, this requires wrongdoing "evincing willful, wanton, and intentional misconduct sufficient to sustain a conviction for manslaughter." Key West Convalescent Ctr., Inc. v. Doherty, 619 So.2d 367 (Fla. 3d DCA 1993). The Supreme Court has described this wanton wrongdoing as:
The character of negligence necessary to sustain an award of punitive damages must be of a "gross and flagrant character, evincing reckless disregard of human life, or of the safety of persons exposed to its dangerous effects, or there is that entire want of care which would raise the presumption of a conscious indifference to consequences, or which shows wantonness or recklessness, or a grossly careless disregard of the safety and welfare of the public, or that reckless indifference to the rights of others which is equivalent to an intentional violation of them". White Constr. Co. v. Dupont, 455 So.2d 1026, 1029 (Fla. 1984) (quoting Carraway v. Revell, 116 So.2d 16, 20 n. 12 (Fla. 1959)).
Recent Florida cases have moved away from this older line of cases on Florida punitive damages in the nursing home context. The more recent case law on punitive interprets Sect. 400.0237 literally, meaning a Plaintiff must only prove 'gross negligence' to seek punitive damages. Gross negligence is defined as the conduct was so reckless or wanting in care that it constituted a conscious disregard or indifference to the life, safety, or rights of persons exposed to such conduct.
For more information on this unique statutory damage category, click the link to learn more about punitive damages in Florida nursing home negligence cases.
In the early years of Chapter 400, the Nursing Home industry's lawyers attempted to stop causes of actions for deceased residents. In other words, the industry took the position that if a resident died from the abuse, the family should not be able to maintain a nursing home abuse lawsuit. The legislature, sensing the ridiculousness of this proposition, amended the statutory language in 1986, so that an action may be brought "by the personal representative of the estate of a deceased resident when the cause of death resulted from the deprivation or infringement of the decedent's rights."
The amended section 400.023(1) makes it clear that the estate is the proper vehicle to pursue a wrongful death claim on behalf of a deceased victim of nursing home neglect. The plain language of the statute allows personal representatives to recover actual damages from the infringement, not the more limited remedy of the Wrongful Death Act. Considering this unambiguous language, the courts in Somberg and Spilman concluded that the Legislature "did not intend for damages under section 400.023 to be limited by the Wrongful Death Act where the nursing home's infringement or deprivation of the patient's rights resulted in the patient's death."
Under Florida's statutory laws governing nursing home negligence, the claim does not 'die' with the victim. It may be pursued by the victim's survivor(s), by and through the decedent's estate.
Florida's nursing homes are typically underinsured with phony self-insured policies. When facing a large settlement or verdict, these facilities 'cry poor' and shield their assets in sister companies. Imagine a shell game, except with corporate entities. For this reason, it is critical that a nursing home neglect lawsuit involving underinsured defendants names not only the facility licensee but also the individuals who actively manage and control the facility, if they acted negligently.
Florida case law had interpreted Florida Statutes Chapter 400 to be liberally not strictly construed, so that individual owners and active managers can be held liable for resident harm. In Mang v. Country Comfort Inn, Inc., 559 So.2d 672,673 (Fla. 3d DCA 1990) the court held that the "Florida legislature deemed it necessary to make certain designated individuals are responsible for the day-to-day operations of facilities caring for the elderly and the infirm." In Mang, one of the issues was whether the administrator of an assisted living facility could be sued in his individual capacity. Florida's Third District Court of Appeal affirmed that individuals can be named, explaining that the public policy is that these "individuals" shall be responsible for their actions and "not become faceless entities." See also, Estate of Cutchin v. Hilltopper Holding Corporation, wherein the Plaintiff sued the nursing home's management company for having actual control over the facility budgets and staffing levels.
Understanding the complex corporate structure of a nursing home chain is integral to prevailing in litigation.
---

Let Our Florida Nursing Home Abuse Lawyers Help You on Your Journey to Justice
Experience Matters. Our Nursing Home Abuse Attorneys Have It.
Florida has a long, ugly history of nursing home abuse and neglect. As our legislature recognized in the 1980s, the only way to stop the cycle of nursing home neglect is to do something about it.
At this point, you may be unsure if you have a case. That is perfectly normal. Most nursing home negligence cases are subtle, and often undetected. However, if you have suspicions that your loved one's injury was due to poor care or supervision, contact Senior Justice Law Firm now. At no cost, we can investigate what happened and determine if your family member's injury was due to nursing home negligence.
Share your story with our experienced Florida nursing home abuse lawyers today by live chatting with us now, or by calling us at 888-375-9998 for a free, no-obligation consultation.