The Nursing Home Abuse Attorneys at Senior Justice Law Firm
Attorneys focused on cases involving nursing home negligence. This is all that we do.
Representing Victims of Nursing Home Abuse, Neglect, Negligence and Wrongful Death
Senior Justice Law Firm is one of the few law firms in the nation that focuses on nursing home abuse cases. We are not car accident lawyers who occasionally handle a nursing home negligence case. Nursing home abuse lawsuits are what our attorneys do. Our lawyers have helped bring healing, closure and justice to thousands of families impacted by nursing home abuse and neglect.
We are not a lawyer referral service. You will not see us on a billboard. We are an elder abuse focused law firm uniquely concentrating on this very narrow practice area.
Let our nursing home abuse attorneys' decades of experience and compassionate approach guide you on your journey to justice. Call us today for a free case consultation to learn why we are different from general personal injury law firms.
Free consultation with an experienced and compassionate nursing home attorney:
888-375-9998

Nursing Home Abuse Injuries – Indicators of Nursing Home Negligence
Keep a watchful eye on your loved one in the facility.
Remember, most victims of nursing home abuse cannot self-report injuries. Many cannot speak at all. Therefore, it is the duty of the family to monitor your loved one's health and skin conditions. If you even suspect nursing home negligence, make your concerns known.
If your family member suffered any of the following injuries, contact our nursing home abuse attorneys immediately.
Our skilled nursing home lawyers have extensive experience handling cases involving the above injuries. The above injuries are strongly suggestive of nursing home abuse or neglect. Begin your investigation into the truth behind your family member's injury today. Call our legal team now at 888-375-9998 or submit a written inquiry to our lawyers via our website.
Frequently Asked Questions of Our Nursing Home Lawyers
What is nursing home abuse?
Nursing home abuse is a wide-ranging definition. It can mean intentional physical harm, but the term encompasses much more than hitting an elderly patient.
"Abuse" also means the withholding of medical care or supervision to a nursing home resident. Ignoring a resident's needs and allowing them to suffer falls, pressure sores, weight loss or death is also considered "abuse". Allowing preventable injury constitutes "nursing home abuse".
I need a nursing home attorney but cannot afford one. What do you charge as attorneys fees for nursing home negligence cases?
We only get paid attorneys' fees if you win your case. Traditionally, our attorneys' fees range from 33 1/3rd through 40% of the gross recovery, depending on when the case settles. You pay nothing out of pocket.
What are normal compensation amounts for broken bones? Bedsores? Wrongful death claims?
Each case is different, and the value of your case is based on a multitude of factors. That being said, most of our nursing home abuse cases fetch settlements in the six figures ($100,000+). A jury may award you much more at trial.
In terms of calculating your damages, ultimately, a jury could potentially compensate you for pain, suffering, mental anguish, loss of services, medical bills, funeral bills and out-of-pocket expenses.
What good will money damages do?
Money is the remedy our civil justice system provides in order to balance the harm done to your loved one. Granted, no amount of money will make this horrifying nursing home experience "worth it". However, you must understand that money is the root cause of the negligence problem in American nursing homes. When corporations place their own profits ahead of patient safety, neglect-related injuries are bound to occur.
Many nursing homes purposefully understaff their facilities to save money. Generally, the highest expense on a nursing home's budget is compensating direct caregivers. By understaffing, these facility chains (and their corporate owners) make more money but increase the risk of residents suffering grave injuries.
If you take the corporation's money via a nursing home negligence lawsuit, you will create a natural deterrent to this wrongdoing in the future. Our nursing home lawyers sue for monetary damages because taking money from negligent nursing homes makes these nursing homes provide better care.
Many victims of nursing home abuse are unable to communicate what happened to them. Worse, some are afraid to speak up out of fear. Be the voice of the vulnerable and hold the negligent facility accountable. Stop the cycle of nursing home negligence by taking action and bringing a claim against the at-fault facility.
I'm scared that we signed an arbitration agreement with the nursing home. Can I still sue them for damages?
Yes. Arbitration agreements are painfully common in long term care liability cases. We see them in about half of our cases. Our nursing home attorneys have successfully invalidated some of these arbitration agreements. Further, even if the agreement is enforceable, we litigate nursing home negligence cases in arbitration routinely.
Will you handle my nursing home negligence case in my state?
If the case merits our firm's involvement, yes. We have lawyers admitted to practice in venues across the United States. Additionally, if we are not admitted to your specific state, we can appear in your state pro hac vice as your attorney. We can also associate with local counsel if need be, at no additional cost to you.
I'm not sure whether I have a case or not; is it worth calling Senior Justice Law Firm?
Of course. Our team has vast experience in dealing with potential elder abuse claims and will be able to provide helpful information on whether you have a case. All consultation calls are free of charge. If you do not have a case, we can provide helpful guidance on identifying future issues.
How can I report a negligent nursing home?
Our nursing home law firm can help you report the negligent nursing home to the appropriate state agencies. Additionally, we have compiled a comprehensive resource on how to report a nursing home.
Is It My Fault Since I Put my Parent in a Nursing Home?
Many of our clients struggle with the decision to place their parent or loved one inside a facility. When something terrible happens in the facility, they blame themselves. However, this kind of guilt is misplaced entirely. Here's why.
Your parent needed to be in a nursing home. America's skilled nursing facilities are 24 hour care facilities. They are legally required to be adequately staffed to provide round the clock care, assistance and supervision to high acuity residents. This means, if your parent was "a handful" or "combative", they belong in a professional facility like a nursing home.
Most facilities are for-profit, and are paid handsomely to care for your parent. Do not believe the hype. Running a skilled nursing facility chain is quite lucrative. These for-profit owners take much needed tax-payer revenue, in the form of Medicaid and Medicare dollars, and siphon it to related companies. Nursing home companies are literally paid tens of thousands of dollars per month to care for patients like your parent.
Many of these for-profit facilities are intentionally understaffed with unqualified workers, in order to make more money. The majority of for profit nursing facilities have a hard time providing appropriate levels of care and supervision for patients, because they operate on low staff numbers. When a facility understaffs to make more money, inevitably, injuries occur. Although bed sores, falls, medication mistakes and untreated infection are all very different injuries, the root cause of these injuries is usually the same; understaffing.
Placing your parent in a nursing home does not excuse the facility from abusing or neglecting your parent. It is time to let go of the guilt! It is not your fault that your parent was neglected inside a long term care facility. It is exactly this kind of mentality that allows nursing home corporations to get away with neglecting residents while avoiding consequences. Channel your guilt into more positive avenues like advocacy to ensure this does not happen again. Contact a nursing home abuse attorney and report the facility for it's neglectful care.
Our Nursing Home Attorneys Explain the Legal Process Behind a Claim for Nursing Home Abuse
Many of the questions potential clients ask us pertain to the legal process behind a nursing home negligence lawsuit. Our nursing home lawyers have compiled a fairly exhaustive timeline of what to expect when bringing a claim against a skilled nursing facility.
Setting Up Your Free Case Consultation
Unsure about moving forward with your claim? That's OK. We provide completely free case consultations. There is no cost for speaking with us and there is no obligation to move forward with your claim. We can coordinate a convenient time to go over your legal options. From there, the decision is yours.
Logistically, to begin the investigation, you would call our nursing home law firm toll-free at 888-375-9998. There, our intake department would gather some basic information from you about your potential case. After we gather this information, if this is a case we can help you with, one of our nursing home attorneys will call you at a time convenient for you. We understand that you are busy!
Signing Up Your Case
If we believe we can help on your case, we will send you a contract. Alternatively, if it is more convenient for you, we can schedule an in-person meeting in one of our offices.
The contract will contain the terms of the contingency fee agreement, as well as medical authorizations. The contingency fee agreement will contain the terms which explain, among other things, that we only get paid if we obtain money for you. The medical authorizations allow us to request your family member's medical records.
The Pre-Suit Period Before Litigation
Our nursing home lawyers must complete a number of tasks to get your case off the ground before the filing of a lawsuit. Typically, we will request complete copies of your family member's medical records (unless you can provide these records to us). Once we gather your loved one's records, we may have them reviewed by an expert witness. This allows us to verify the merits of your nursing home negligence lawsuit. Additionally, we may work with a probate lawyer to open an estate of the deceased. This will give you standing to bring a wrongful death lawsuit on behalf of your loved one who passed away. Lastly, we may engage in pre-suit discovery with the negligent nursing home.
Our nursing home lawyers handle these pre-suit tasks on your behalf.
A Quick Discussion on Settlement
We prepare every nursing home abuse case as if it were going to trial. That being said, the overwhelming majority (95%) of our caseload settles without going to trial.
Because of our vast experience suing negligent nursing homes, we have developed relationships with many of the large corporate chains. Due to these relationships, many cases settle early. Some even settle without the filing of a lawsuit.
Although we continue discussing the litigation process below, it is important to note that your case can settle at any time. Our nursing home lawyers are trial lawyers by definition. However, we place our client's wishes as the top priority. If your desire is to settle your nursing home case without going to trial, we can typically accomplish this.
Filing the Lawsuit and Suing the Nursing Home
The lawsuit allegations usually contained in a Complaint detail what the nursing home did wrong and what happened as a result. A normal nursing home lawsuit complaint will allege breaches in the standard of care, resident's rights violations and/or negligent actions on the part of the nursing home staff.
The Defendant(s) will typically file an Answer to the Complaint, or a Motion to Dismiss. This begins the litigation process.
Litigation Discovery
Once we have a case number in the court system or an arbitration case style, we can begin sending subpoenas. This means we can subpoena medical records, death certificates, police investigations, state department of health reports and other documents. We can also send discovery requests to the Defendant facility. Through discovery, we can request documents, records, incident reports, photographs, and other pertinent documents.
Additionally, this gives us the power to set witnesses for deposition.
Depositions
Your nursing home case can be won or lost in depositions. Depositions are the sworn testimony of witnesses in your case. For example, your nursing home lawyer may depose the aide that saw your loved one fall in the facility. It may mean that the other side may depose the medical examiner in order to establish the official cause of death.
Regardless, through deposition, our nursing home abuse attorneys elicit testimony that can be used in the underlying trial or arbitration.
Mediation
Assuming your case has not settled yet, before trial, most Judges compel the parties to attend mediation. This means you are forced to sit down in a room with the other parties and try to settle your case.
Expert Disclosure and Discovery of Nursing Home Expert Witnesses
Expert witnesses are vitally important in the trial of a nursing home negligence lawsuit. Expert witnesses are retained at the costs of the parties. These hired experts opine on the case and offer opinions to the jury.
As nursing home lawyers, we utilize the nation's foremost long-term care expert witnesses in order to make our case as strong as possible to the jury or arbitrators.
Trial
If your case does not resolve prior to trial, our nursing home lawyers will try your case. This may mean we try the case before a jury of your peers or before an arbitration panel. Nursing home abuse trials may be as quick as four days or may go as long as four weeks. This all depends on the injuries, corporate misconduct, and evidence in the record.
More About Senior Justice Law Firm
Senior Justice Law Firm is composed of lawyers hungry for justice. Our nursing home abuse attorneys devote their professional careers to fighting nursing home abuse in multiple states and venues. With decades of experience focusing on this very niche practice, our attorneys can help you achieve justice for your wrongfully neglected loved one.
Our nursing home lawyers are licensed in various states. We currently have attorneys barred in Florida, New York, New Jersey, Maryland, Pennsylvania, Virginia and the District of Columbia. In addition to these states, our attorneys have appeared pro hac vice in specific nursing home cases in other states across the U.S. We regularly co-counsel with attorneys in other states in order to assist in nursing home negligence cases of magnitude. If we are unable to appear on your behalf in your state, we may be able to refer you to a local nursing home lawyer who can help you with your case.
Experience Matters. Our Nursing Home Abuse Attorneys Have It.
Dedicated Nursing Home Abuse Attorneys, Tirelessly Advocating for Our Clients
Most important of all, we care. This is not lip service. We mean it. Nursing home abuse is disgusting. Our elderly deserve to age with dignity, free from abuse and neglect. When we accept a nursing home abuse lawsuit, we fight like the victim was our family member.
Our lawyers have forgone specializing in other areas because we genuinely want to make a difference in America's long-term care problems. Because of our narrow niche practice, we pride ourselves on being able to dig deeper than most other firms.
You wouldn't go to a spine surgeon who also dabbles in brain, foot, ankle and eye surgery. Shouldn't you demand the same specialization in your attorney?
If you need an aggressive, compassionate and narrowly focused nursing home abuse attorney, demand Senior Justice.
Caring for Nursing Home Residents is Big Business
The skilled nursing facility industry is estimated to generate $312 billion annually by the year 2027. Almost all of this revenue is taxpayer money. Most of the facilities are corporate-owned and part of a large, nationwide chain of nursing homes.
This may be true of your parent's nursing home, even if it is not marketed as part of a large corporate chain.
Finding Corporate Misconduct
This may surprise you, but your nursing home negligence case is about much more than just your loved one's injury. You may view the case as an individual act or omission on the part of one bad aide or a single negligent nurse.
However, our nursing home abuse lawyers understand that most nursing home neglect cases derive from a much deeper form of wrongdoing. Corporate greed, misconduct and systemic understaffing are the cancerous roots of most instances of nursing home abuse.
When a corporation understaffs or under-budgets a facility, the result is mayhem in the nursing home. Inattentive and undertrained staff cannot safely complete their duties. As a result, patients fall, get bed sores, go unsupervised and get ignored. The tragic underbelly of all this is that most instances of patient injuries could have been prevented if the facility hired the right staff.
Our Nursing Home Abuse Attorneys Dig Deep into Corporate Wrongdoing
For this reason, it is crucial that your nursing home lawyer understands the inner workings of the parent company of the facility. Senior Justice Law Firm has nursing home lawyers with accounting and taxation backgrounds specifically to audit the offending facility and follow the money. We have databanks of corporate depositions of executive vice presidents and administrators. We are actively involved with various US Attorneys' offices in prosecuting qui tam cases for fraud and abuse in nursing homes.
Our nursing home lawyers have diagrams of complex webs of shell companies and corporate structure on large nursing home chains. This helps us win nursing home negligence cases nationwide. We do all this because we want to maximize your case value and establish who really makes the decisions at your specific facility.
Let Our Nursing Home Attorneys Help You and Your Family
You have nothing to lose by calling our firm today. We are here to help pick up the pieces following a family tragedy. At the very least, speak with our nursing home lawyers to learn your legal rights in bringing a nursing home abuse lawsuit.
Call to speak with us now to see why we are different: 888-375-9998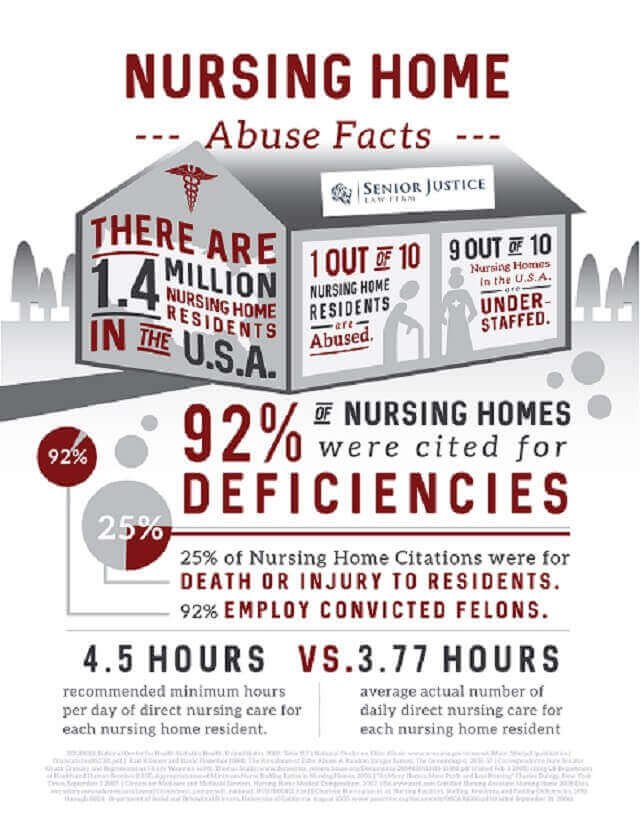 Q. How do I know if my family member was abused/neglected in a nursing home?
A. If you believe your loved one was injured through nursing home negligence, you should conduct a thorough investigation. If your family member can communicate, ask them what happened. If they are unable to speak for themselves, speak with an outside doctor who is not affiliated with the facility. You can also try speaking with the director of nursing as to what happened, but you may run into more questions than answers. If you feel like you are getting the run around,
report
the potential abuse to the appropriate state agency and call our
nursing home abuse attorneys
to investigate the incident.
At Senior Justice Law Firm, all of our attorneys and staff exclusively focus on nursing home negligence cases. Let our years of experience help you get answers to your questions as to what happened at the facility. Call us toll free now at
1-

888-375-9998
to speak with our experienced and compassionate nursing home abuse lawyers for your free case consultation. We are here to help you and your family get justice for the facility's wrongdoing.
Q. What are red flag injuries that are commonly associated with nursing home abuse?
A.
Nursing home abuse
is a broad category which encompasses lots of potential scenarios. The more common nursing home abuse injuries we encounter are:
The above injuries are highly suggestive of neglect inside a long term care facility. If your loved one suffered from one or more of the above injuries inside a nursing home or assisted living facility, contact our nursing home abuse law firm right away.
Q. My loved one was injured in a Rehab facility. Is a Rehab facility a nursing home? Or something else?
A. Most 'rehab facilities' are classified by law as skilled nursing facilities. Colloquially, these long term care facilities are known as nursing homes, care homes, old folks homes and convalescent centers. They all mean the same thing. The term 'rehab facility' is used primarily for marketing purposes, as the term 'nursing home' has a negative stigma with potential residents.
Q. My family member was neglected and died. Can I still sue the negligent nursing home for elder abuse?
A. Yes. In almost all venues, the decedent's survivors or representative can bring a civil action for wrongful injury to the now deceased nursing home resident. This involves opening an estate for the deceased party and appointing one of the family members as the personal representative or executor. From there, the appointed representative can bring the claim on behalf of the victim's estate, as well as the survivors of the victim.

Q. I don't care about receiving money for my loved one's injury or wrongful death. So why sue the nursing home?
A. Money damages are the only remedy allowed by our civil justice system to right the wrongs committed by the nursing home. Most families are unaware that nursing homes are typically owned by large corporate conglomerates. These companies usually generate millions of dollars in revenue. Their main focus (arguably, sole focus) is to make money.
So even if you do not care about getting awarded money for your loss, they care about money. A nasty letter, a negative online review, or even a state investigation means little to these large for-profit companies. But taking their money gets their attention. Taking a nursing home corporation's profits makes the company change its behavior. We have seen negligent caretakers get fired, policies get changed and facilities get closed; all because of nursing home negligence lawsuits.