Your Kentucky Nursing Home Abuse Attorney
Bed sores, falls, broken bones or wrongful death in a healthcare facility? A Kentucky nursing home abuse attorney can help your family secure compensation, right a wrong, and make sure this kind of harm does not happen again.
Kentucky Nursing Home Abuse Lawsuit Information
Are you searching for legal representation after you discovered that someone you love has been injured, or even killed, as a result of nursing home negligence and abuse? Kentucky laws protect vulnerable nursing home residents and afford a legal cause of action for families whose parent or spouse was negligently injured due to nursing home negligence.
It is important to put your best foot forward when filing a lawsuit. Be sure to work with a law firm with years of experience in Kentucky elder abuse lawsuits.
Kentucky Nursing Home Abuse Statistics are Shocking
Over 12% of Kentucky's population is over the age of 65. Additionally, a study conducted in 2009 showed that the expected population of people over 85 in Kentucky was expected to grow 50% over 20 years. With a burgeoning elderly population, it would only make sense that more and more Kentuckians are choosing nursing homes or long-term care facilities to help them live out their retirement years with some assistance. Advancing cognitive conditions, like dementia and Alzheimer's, also require some elderly Kentuckians to enter nursing homes, regardless of where they want to live.
Unfortunately, Kentucky rates as below average in terms of quality care according to Families for Better Care, a non-profit citizen advocacy group. In 2009, AARP found that only 1/3 of nursing homes in the state rated as above average in their health inspections, while over 40% of nursing homes rated as below average or worse.
Sadly, the odds of you or your loved one receiving subpar care in a Kentucky nursing home is rather high. When nursing homes overfill and understaff, not only do the chances of subpar care and poor sanitary practices rise, but the chances of an elderly resident being neglected or abused rise as well.
How to Identify Abuse or Neglect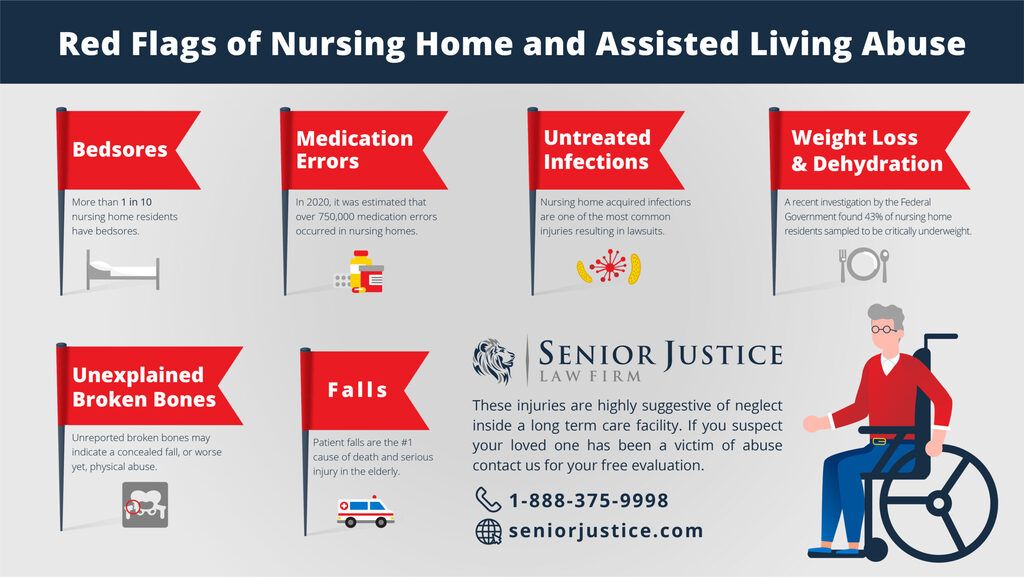 It can be difficult coming to terms with the fact that a loved one has been the victim of abuse or neglect. Although each case is different, there are several signs or "red flags" indicating that an individual has not received sufficient care, either due to abuse or negligence.
Neglect can be defined broadly, ranging from a failure to provide necessary care to failing to react when an emergency occurs. These failings can be defined as neglect whether the wrongdoer intentionally acted or not. Here are a few examples of neglect:
Failing to properly provide nutrition (including serving food that does not align with the resident's dietary restrictions)
Ignoring the resident's need to maintain hygiene and grooming
Failing to assist residents who need help with daily activities, from bathing to walking
Not monitoring a resident's health needs, which can lead to a dangerous decline in the resident's health
Not providing the necessary medication that the resident is required to take to maintain a healthy life
Abuse, on the other hand, is defined as intentional wrongdoing that causes the victim physical harm, pain, mental anguish, or any combination of the three. Abuse is sometimes more obvious because of physical signs, but physical indications are not the only signs of abuse. Examples of abuse are:
Assault and battery (which includes any form of malicious physical harm)
Any form of sexual assault or battery, including rape
Restraint or seclusion, including the use of chemicals to subdue a resident for any reason that is not authorized by a medical professional
Abuse and neglect can overlap, but it is important to understand the distinctions between the two. If neglect and/or abuse has occurred, there are numerous signs that you can look for. While physical injuries are the most obvious sign of abuse, there are several other common signs you can look for:
Dehydration stemming from the failure to provide proper hydration
Falls and the breaking of bones
Severe changes in weight, whether in gains or losses, which occurs due to lack of proper nutrition
Infections that arise out of a lack of proper hygiene
Emotional agitation or withdrawals, occurring when providers have verbally abused residents
Reluctance to speak when staff members are present
Unexplained injuries, like severe bruising
Poor sanitary conditions in living quarters
Bedsores or pressure ulcers resulting from staff failing to turn a resident in bed
Unexplained death
If you believe that your loved one has been a victim, contact an attorney. Remember, this is only a list of common signs. Each case is different, and your loved one exhibiting other worrisome indicators that do not align with the ones mentioned here should still be investigated.
Benefits of Bringing a Kentucky Nursing Home Abuse Lawsuit
It can be difficult knowing what to do if you believe you or someone you love has been a victim of nursing home mistreatment. It can also be scary pursing a lawsuit against the nursing home that is in charge of keeping your loved one safe and cared for. However, if you believe there has been abuse or neglect caused by the nursing home or long-term care facility, contacting an attorney will help you through the process of seeking justice.
It is vital to make sure that the negligent parties and abusers are held accountable for their actions. By exercising your right to a lawsuit, you can not only rectify the wrongs against you or your loved one, but also disincentivize future bad behavior, sparing future families from the pain you experienced. Senior Justice Law Firm can help you to bring a lawsuit against a nursing home that has mistreated someone you love.
Securing Civil Damages
In addition to holding the nursing home or long-term care facility accountable for their actions, a civil suit can help to mend the pain that the neglect or abuse caused. The victims can receive compensation for damages that include:
actual compensatory damages, like recovering the cost of medical treatment
pain and suffering or wrongful death damages, which include funeral expenses
punitive damages, which seek to both punish and deter wrongdoers
Additionally, in Kentucky, there are no caps on the amount that can be awarded in punitive damages, which means there are no limits to how much can be awarded to the victim of abuse or neglect.
How Do I Report Nursing Home Abuse or Neglect in Kentucky?
While it is wise and necessary to contact an attorney to explore your options for holding a nursing home liable, you should not stop there. Reporting the abuse is also incredibly important. However, it can be confusing to figure out what to report and to who. Here is a list of various contacts to report nursing home neglect and abuse in Kentucky:
1-800-752-6200 or 1-877-228-7384 connects you to the office of the Elder Abuse & Neglect Hotline. This hotline is available 24/7 and is used to report suspected elder mistreatment in nursing homes or long-term care facilities. Additionally, if you are uncomfortable calling, the office has also set up an online complaint form for you to access, allowing you to stay anonymous.
1-800-372-2973 is a hotline that reaches the Office of the Ombudsman and Administrative Review. The Office of the Ombudsman "aims to be conscientious and responsive and provide meaningful feedback." Additional numbers to reach the Office of the Ombudsman are: 1-800-372-2991 (for calling from out of state) and 1-800-627-4702 (for TTY access).
1-800-200-3633 is the number for the Legal Helpline for Older Kentuckians, which provides legal advice and can help to resolve issues with Medicare and Medicaid, which may be related to the mistreatment that your loved one received.
Low-ranking Kentucky nursing homes
Any nursing home can be guilty of negligence or abuse, no matter how well rated. However, these incidents occur with the greatest frequency at locations that are ranked poorly or achieve low scores on their inspections. As of 2021 and according to CMS, some of the Commonwealth's lower rated facilities include:
Landmark of River City Rehabilitation and Nursing

1015 West Magazine Street
Louisville, KY 40203

Highlands Nursing and Rehabilitation

1705 Stevens Avenue
Louisville, KY 40205

Landmark of Iroquois Park Rehab and Nursing Center

900 Gagel Avenue
Louisville, KY 40216

Nicholasville Nursing & Rehabilitation

100 Sparks Avenue
Nicholasville, KY 40356

Harborview Dover, LLC

112 Dover Drive
Georgetown, KY 40324

Madison Health and Rehabilitation Center

131 Meadowlark Drive
Richmond, KY 40475

Mayfair Manor

3300 Tates Creek Road
Lexington, KY 40502

Frankfort Rehab and Care, LLC

117 Old Soldiers Lane
Frankfort, KY 40601

Harborview Dover, LLC

112 Dover Drive
Georgetown, KY 40324
The best way to avoid nursing home abuse is to research the best providers in your area. Typically, nursing homes that are run by non-profits rate higher in terms of quality of care because their residencies are smaller, allowing the staff to better care for the residents. In 2007, however, only 27% of nursing homes in the state were non-profits.
One way to research the quality of care of nursing homes in your area is to use Medicare's care compare tool, which allows you to search by city or zip code and then sort the nursing homes by rating.
KY Elder Abuse Statistics
Kentucky, unfortunately, has no uniform system of reporting elder abuse. Because of this, many cases go undetected each year. Roughly 24 cases of abuse are unknown for every case that is known, according to the National Center on Elder Abuse. Despite the grim nature on reporting, some statistics are known.
In 2015, there were over 30,000 calls that concerned elder abuse. Of those calls, around 40% passed the criteria for an investigation. In another study that lasted over a two-year period, 1 in 3 nursing homes were cited for violations that pertained to potential abuse. 10% of nursing homes had violations related to actual harm. Kentucky, unfortunately, had the highest rate of deficiencies per nursing home in the country. 44% of residents reported abuse at some point in their residency. Almost every resident had seen neglect of some kind.
According to ProPublica, despite having only 285 homes, Kentucky ranked 2nd in serious deficiencies, despite the fact that Texas, the only state to rank worse, had more than four times the number of nursing homes. Kentucky nursing homes also rated 5th in the country for the sum of fines. North Carolina, the state with the least amount of nursing homes in the four states that had more fines than Kentucky, still had 1.5 times the number of homes as Kentucky, even though they only paid 1.25 times more in fines.
A Kentucky Nursing Home Abuse Attorney Can Help Your Family
Sadly, nursing home abuse and neglect is not a rare phenomenon in Kentucky. If you or a loved one has been a victim of mistreatment, it is vital to ensure there are consequences for those who wronged you. While the prospect of bringing a lawsuit against the facility that is in charge of caring for you or a loved one is scary and difficult, Senior Justice Law Firm is here to help. From guiding your first steps and exploring your options to representing you to ensure you receive the compensation you deserve, we are dedicated to helping you each step of the way.
The experience our team has can help you bring your case against the Kentucky nursing home that has wronged you. We are available through our chat feature or by calling us at 888-375-9998. You may also use our online form to reach out.