Nursing Home Abuse Attorney in New Mexico
When searching online for a New Mexico nursing home abuse lawyer, you are probably looking for an attorney that understands all the nuances of this specialized practice area. At Senior Justice Law Firm, our firm focus is on nursing home negligence. This is all that we do. Let our narrow focus on this sub-specialty help maximize your case's impact. We want to serve as your New Mexico nursing home abuse lawyer, guiding your family on your journey to justice.
Submit your case facts below via the online form, live chat with our office now, or call us today at (505) 375-1658 for a completely free New Mexico nursing home negligence case consultation.
Senior Justice Law Firm
1202 Central Ave SW Suite 18, Albuquerque, NM 87102
(505) 375-1658
We accept nursing home negligence cases all across New Mexico, Colorado, and Arizona.
Experience Matters. Our Nursing Home Abuse Attorneys Have It.
How to Spot Neglect in NM Nursing Homes
If your loved one resides in a New Mexico nursing home, you may question the quality of care they are receiving. This doubt becomes even stronger after a family member suffers a serious injury, or hospitalization. Sadly, some families only realize their loved one was neglected after they pass away.
Regardless of when you begin suspecting abuse or neglect, it is your job to be a voice for the voiceless and do something about it. Do not let the negligent nursing home get away with the poor resident care. If your gut instinct tells you something was wrong, contact our New Mexico nursing home abuse attorney and let our firm investigate the matter.
Nursing home abuse and neglect can be difficult to spot, especially in non-verbal patients. However, there are some common warning signs, which include:
Physical injuries: Elderly people are often more vulnerable to injury, so you may be surprised to note that repeated injury can actually be a sign of abuse. If your loved one has endured multiple falls, broken bones, or other unexplained injuries like cuts or bruises, this may indicate negligence on the part of staff.
Emotional changes: Do you notice that a loved one seems nervous around particular staff members? Or you may notice increasing anxiety or depression. This too may indicate improper levels of care, as well as abusive behavior such as physical or sexual assault.
Neglect related injuries: Poor hygiene, bed sores, repeated falls, or rapid weight loss can also indicate larger neglect issues. By law, nursing home staff must ensure that residents receive proper nutrition, hydration, supervision, and are kept clean.
Suspect Neglect? Do Something About It
Often, neglect goes unnoticed for long periods of time. One reason for this is that older residents may have dementia, or they may simply be afraid to speak up. As the patient's family member, you are their advocate. You play a powerful role in their wellness. If you suspect something is amiss with their care, you should speak up.
In New Mexico abuse cases, some historically common issues raised continue to be pressure sores, malnutrition, weight loss, and failure to receive medication on time. If you notice things like this happening, speak to nursing home staff about resolving these issues. In addition to speaking with the staff of a facility, it is also wise to reach out for legal advice as soon as possible. A nursing home often has a vested interest in continuing their negligent practices, and a lawyer may be necessary to compel them to change their policies. Additionally, a New Mexico nursing home abuse lawyer can secure your family compensation for the pain, suffering, and wrongful injury your loved one endured due to the neglect.
If your loved one suffered any of the below Red Flag injuries, contact our New Mexico nursing home abuse lawyer today for a free case consultation.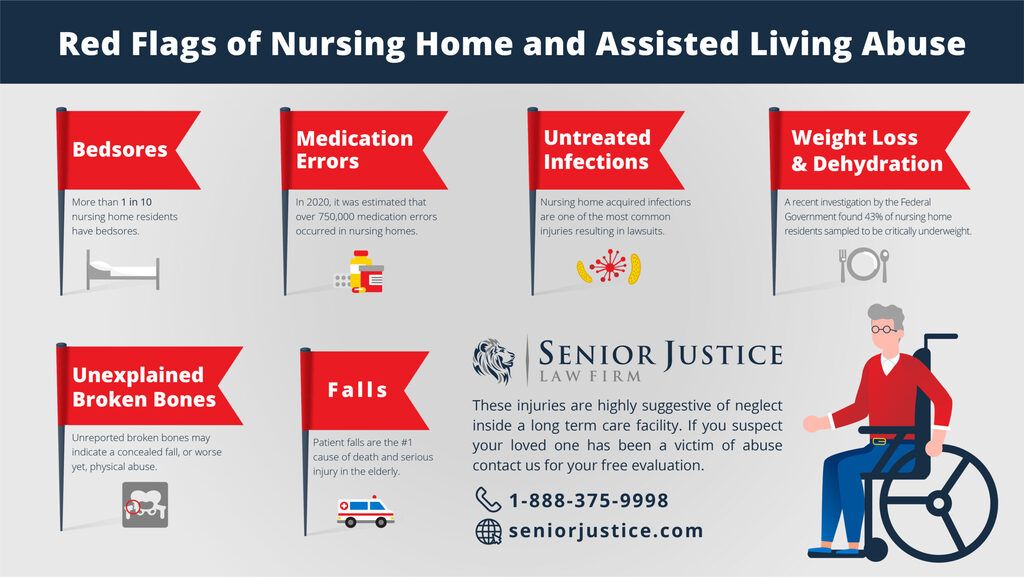 You can also report nursing home negligence to the New Mexico Department of Health Facility Complaints Hotline at (800) 752 8649. If you need assistance with this, contact our law firm first and we can guide you through the process of reporting a New Mexico nursing home for abuse or neglect.
All New Mexico Nursing Home Abuse Lawyer Work is Done on a Contingency Fee
Our New Mexico nursing home abuse cases are all done on contingency fee. This means there is no out of pocket payment from you, and we only get paid if we win the case for your family. There are no hourly rates or retainer fees. You do not write us a check, ever.
If we win, we take a percentage of the settlement or verdict as our attorneys fees. This allows us to represent all New Mexico families impacted by nursing home neglect, since there is no out of pocket payment for our attorneys' fees or costs.
New Mexico's Aging Population is Experiencing an Uptick in Nursing Home Residencies
In the past ten years, New Mexico has seen an increase in nursing home residencies, and an increase in private investors buying up New Mexico nursing homes.
When it comes to retirement, New Mexico is a popular choice. The state has beautiful views and exciting destinations in every region. The climate also increases appeal for those looking to escape cold winters and humid summers. With low humidity, lots of sunshine, and average temperatures around 64 degrees, the state offers pleasant weather year-round. It seems that many elderly people take advantage of all New Mexico has to offer; after all, 18 percent of residents are 65 or older.
Despite these exciting prospects, retiring to a New Mexico nursing home may not always be a positive experience. The state only offers around 70 nursing homes, which means that options are limited when choosing a facility for yourself or a loved one. Many of these New Mexico nursing homes are operated by Private Equity groups, concerned primarily with making money.
These tight options may lead to lower standards of care—as nursing homes fill with higher numbers of residents than ever before, staff are unable to keep up with resident needs.
When a nursing home fails to adequately provide for a resident's needs, this qualifies as abuse. The abuse may or may not be malicious in intent, but in the realm of the law, it does not matter. New Mexico nursing home abuse can put your loved one at risk of injury or even death.
Speak to a New Mexico nursing home abuse lawyer if you feel that your loved one has endured unsafe treatment in their nursing home. The attorneys at Senior Justice Law Firm can discuss the case with you and assist you in fighting for compensation. Bringing lawsuits against nursing homes is an important way to hold these corporate healthcare companies accountable for elderly care and prevent cases of neglect against other residents in the future.
FREE New Mexico Nursing Home Abuse Lawsuit Consultation
If you or a loved one suffered abuse or neglect inside a New Mexico nursing home or assisted living facility, call our experienced and knowledgeable attorney today. Dial (505) 375-1658 now.
Rates of Abuse in New Mexico Nursing Homes
You may think that your loved one thrives at the nursing home they live in, or you may have serious concerns about their safety. Some families witness poor conditions in the nursing home. Others are blissfully unaware of how bad the facility really is. Unfortunately, Medicare's 5 star rating can be manipulated by the facilities, so it is not 100% reliable to indicate a facility's quality.
Most nursing homes in the state of New Mexico have some previous record of abuse or neglect citation, and some facilities are repeat offenders that are facing multiple reports of serious violations. A stellar star rating is not necessarily indicative of an immaculate record.
The New Mexico Department of Health (NMDOH) requires that both the general public and healthcare workers report instances of abuse for all healthcare facilities, including nursing homes. Through this method, the NMDOH can investigate claims of abuse within five days of a report. If the report shows abuse, the department will require nursing homes to submit a follow-up report with corrective actions detailed. This allows for a record of abuse, making it easier to watch out for particular staff or nursing homes.
Despite requirements for recording abuse, situations do not always improve. Of the ~70 nursing homes that Medicare monitors in New Mexico, 25 have ratings of two stars or below. The Medicare star rating system evaluates how nursing homes perform in regard to health inspections, staffing, and quality measures. One nursing home is unrated due to a history of serious quality issues; this nursing home in particular must submit to special observation to ensure that standards improve, as it is currently participating in a remediation program.
Five nursing homes in New Mexico have also received red flags. These indicate confirmed cases of abuse following an investigation brought about either by a health inspection or the report of a private individual. One of the five flagged nursing homes has a three-star rating, demonstrating that cases of abuse are not limited to only the worst rated nursing homes. It may not be unusual to see cases of abuse at any level, so do not dismiss issues you see simply because the nursing home has what appears to be a clean history.
Nursing homes in New Mexico have accumulated approximately $2.4 million in penalties for deficiencies in care, and serious deficiencies were found in 23 homes. Four facilities have had high severity deficiencies: widespread problems resulting in immediate jeopardy to resident health.
You may think that records of abuse prevent nursing homes from further issues, but problems still occur often. Citations from the New Mexico Department of Health are important, but usually only result in a small monetary fine. A New Mexico nursing home abuse lawsuit has a much bigger impact, as cases routinely settle for in excess of $100,000.
Staying silent allows issues to continue. Speak up and bring about valuable change to nursing home care standards.
Large New Mexico Nursing Homes
Searching for a nursing home for a loved one can be a difficult task. The fact that many New Mexico nursing homes have low ratings adds to this difficulty. While any facility can fall below the acceptable standards of care, some have a more robust history in this area than others. Nursing home ratings are constantly changing, so it is nearly impossible to put together a "worst nursing homes in New Mexico" list. The data and ratings would be outdated in a matter of months.
Below are some of New Mexico's largest facilities, regardless of rating. Remember, even highly rated nursing homes may fail to properly care for a resident, so regardless of a facility's reputation, you should still remain vigilant.
Albuquerque Heights Healthcare and Rehabilitation
Bear Canyon Rehabilitation Center
Belen Meadows Healthcare and Rehabilitation Center

Calibre Post Acute, LLC

Casa Arena Blanca Nursing Center
Casa De Oro Center
Casa Maria Healthcare Center and Pecos Valley Rehab
Casa Real
Cedar Ridge Inn
Fort Bayard Medical Center
Good Samaritan Society – Manzano Del Sol
Ladera Center
Las Palomas Center
Life Care Center of Farmington
Mission Arch Center
New Mexico State Veterans Home
NM Behavioral Health Institute at Las Vegas
Northgate Unit of Lakeview Christian Nursing
Odelia Healthcare
Red Rocks Care Center
Retirement Ranches Inc.
Rio Rancho Center
Sandia Ridge Center
Santa Fe Care Center
Silver City Care Center
Skies Healthcare & Rehabilitation Center
Spanish Trails Rehabilitation Suites
Taos Healthcare
The Rehabilitation Center of Albuquerque
The Rio at Las Estancias
The Suites Rio Vista
Uptown Rehabilitation Center
Vida Encantada Nursing & Rehab
White Sands Healthcare
Contact Senior Justice Law Firm if a nursing home in New Mexico fails to uphold necessary standards of care for your loved one. Our law firm may be able to pursue a case against the facility, securing the compensatory damages you deserve while simultaneously improving conditions for future residents.
New Mexico Nursing Home News
Bringing a lawsuit against a nursing home is a forceful way to ensure that the nursing home confronts issues of abuse. When lawyers pursue such a case, that nursing home may face scrutiny not only in the courts but on the news, leading to further investigations into patient care. In New Mexico, many cases of nursing home abuse have been recorded in recent years. These cases of abuse often led to resident deaths, and no amount of legal damages can fully compensate a family for such losses.
In Bloomfield Nursing Home and Rehabilitation Center, a woman filed a lawsuit on behalf of her grandmother after her grandmother allegedly died from pressure sores, malnutrition, weight loss, and dehydration. Shortly following this case, a man reported similar abuse that his father endured at the same facility, leading to his death as well. The investigation surrounding these cases led to greater investigation into the parent company of the nursing home, which had itself faced a lawsuit in the past for failing to staff nursing homes properly.
Another nursing home in Rio Rancho was presented with a wrongful death lawsuit after a man was fatally beaten by his roommate. The family of the deceased alleged that their loved one was overmedicated, and the roommate was not properly evaluated. They also claimed that the nursing home valued profit over patient care. Overall, the family regretted not reporting issues they saw earlier.
Princeton Place, Casa Real, and Sierra Health Care Center are among other nursing homes that have faced lawsuits for improper resident care and nursing home negligence. In some cases, negligence led to patient death, while in others, patients did not receive medicine or care at necessary times. These cases did not always result in a patient's death but often generated poor health outcomes.
Disclaimer

*Each case is different. Prior results do not guarantee a similar outcome or indicate an expected outcome on your particular case. The above prior lawsuit information is for informational purposes only and does not constitute legal advice. The information is not provided in the course of an attorney-client relationship and is not intended to substitute for legal advice from an attorney. This individual case information above is publicly filed information gathered from the publicly filed complaint. This information and these cases are not the work of this law firm. The inspection results are provided from public government agency surveys. The state Department of Health conducts a survey of all nursing home facilities at least once every 15 months. The deficiencies listed on this page may have been corrected after the date of the inspection and date of publishing this material. Citations, ratings, statistics, and deficiencies are current as of the date of this post and will change later on. The inspection findings published are not complete. You may find the most up to date information at medicare.gov. This material is not endorsed by the facility noted or by any governmental agency. Speak with an attorney immediately if you believe you have a viable case against a nursing home, assisted living facility, or medical facility.
Talk to a Lawyer About New Mexico Nursing Home Abuse
Given its large elderly population, solid healthcare network, and pleasant weather, New Mexico may seem like an ideal place to place a loved one in a skilled nursing facility. Despite these positives, New Mexico nursing homes have faced numerous lawsuits concerning the standards of care they offer, and the lackluster choice statewide means that your loved one may be faced with few options to choose from.
If you are looking for a nursing home for your family member, the first step is to ensure that the nursing home will provide the care your loved one deserves. If someone you care about already resides in a nursing home in New Mexico and you are concerned about the quality of the care that they are receiving, it is never too soon to reach out for legal guidance.
Though the idea of a lawsuit may be unpleasant, it can grant your loved one better care and initiate larger changes to the affected facility as a whole. Your individual case can make nursing homes all over New Mexico safer. At Senior Justice Law Firm, we understand that you may be intimidated by the thought of pursuing legal action. This is why our consultations are always free, and we never charge out of pocket. We believe that all abused nursing home residents deserve justice and strive to make this process as simple as possible for families. Reach out to learn more or to schedule a consultation to share the specifics of your situation and discover how to proceed.
Call our experienced and knowledgeable New Mexico nursing home abuse attorney today. Dial (505) 375-1658 now.