Milwaukee Nursing Home Abuse Lawyer, Answering Your Questions
If your family member was abused, neglected, injured, or killed inside a Wisconsin healthcare facility, speak with our Milwaukee nursing home abuse lawyer today. Your free consultation will assist your family in getting answers on what happened, and advice on your legal options.
At Senior Justice Law Firm, nursing home negligence cases are the focus of our law firm. We are not car accident attorneys or personal injury lawyers. We are narrowly focused nursing home litigators, advocating for victims of bed sores, falls, broken bones, and physical abuse. This is all that we do.
If your loved one was wrongfully injured inside a Wisconsin skilled nursing, assisted living, memory care, or hospital facility, speak with our Milwaukee nursing home abuse attorney today to learn more about your legal rights. We work on contingency fee, so there is never an out of pocket payment required from you, and the initial consultation is both cost and obligation free.
Free Milwaukee Nursing Home Abuse Attorney Case Consultation
Begin the conversation, and the journey to justice. Call Senior Justice Law Firm today:
(414) 367-6388
Milwaukee Nursing Home Negligence is Ever Present
Milwaukee is a popular retirement location for folks across America—in fact, it currently sits in the number four most desirable place in the entire country for retirees. A big part of this appeal stems from its beautiful weather that never gets quite cold enough to deal with snowy winters, coupled with freedom from scorching heat further south. Thanks to its popularity, Milwaukee has become a retirement haven. Because of Milwaukee's burgeoning senior population, the Milwaukee–Racine–Waukesha metropolitan area has greatly expanded its nursing home offerings consistently in recent years.
Private Equity Groups are Buying Up Milwaukee Nursing Homes, then Slashing Care
Unfortunately, more Milwaukee nursing homes does not necessarily equal good Milwaukee nursing homes. Due to the high demand and coupled with razor-thin profit margins that often lead to understaffing, Milwaukee nursing homes often fall victim to problems in the quality of care they provide.
In recent years, private equity groups and out-of-state investors have gobbled up Wisconsin nursing homes in efforts to expand already existing nursing home empires on the east or west coast. Usually, when for-profit investors come in and take over a facility, they cut the largest item on the budget; staff.
When staff numbers are low, quality of care goes down and mistakes happen. Bed sores, unsupervised falls, and resident wandering are all symptoms of the disease of nursing home understaffing. Tragically, our Milwaukee nursing home abuse attorney stays busy handling Wisconsin cases, as numerous facilities report issues in basic-level care such as proper medication dosage, inadequate staff numbers, and unreasonably long nurse response times.
If you have reason to believe that your loved one, parent, or other family member is being mistreated, abused, or neglected in a nursing home, you have options. Milwaukee nursing home abuse attorneys can offer guidance about what you can do on the legal front, and Wisconsin as a whole offers statewide resources, many of which are based in the Brew City itself.
Read the following paragraphs to learn more about how to spot the injuries that suggest nursing home negligence in Wisconsin facilities, and then, how you can report elder neglect in Milwaukee.
Common Injuries Arising in Milwaukee Nursing Home Lawsuits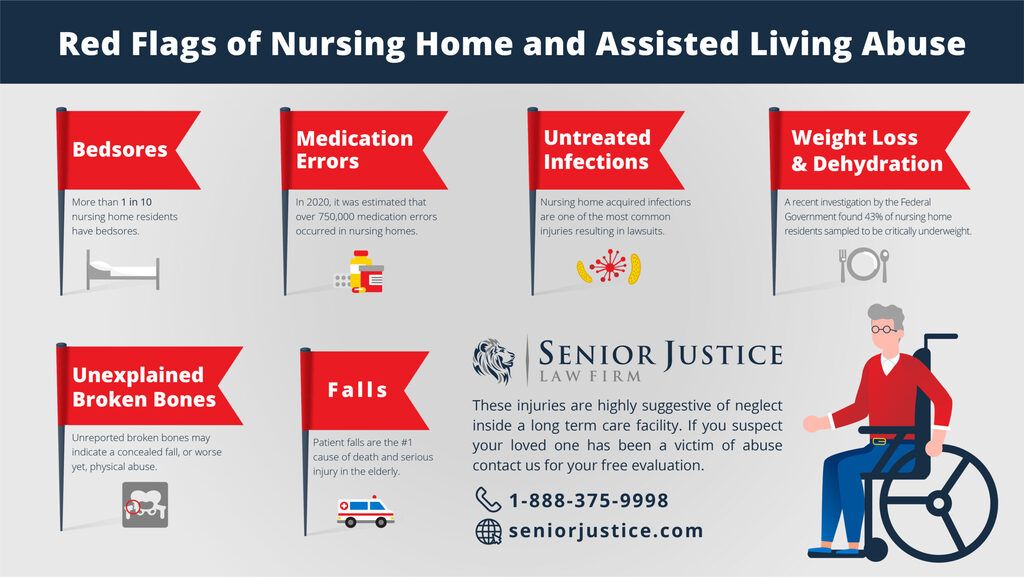 Milwaukee nursing homes can be held accountable for intentional harm, as well as neglect, which is unintended harm caused by carelessness or ignoring the resident's needs. Under Wisconsin law, you can bring a claim against a facility for either intentional abuse or unreasonable neglect, both of which fall under a broader term of nursing home negligence.
Sometimes, it is difficult to spot nursing home negligence, since it generally occurs when loved ones are not present. However, if you keep an eye out for negligence-related injuries, this will be a strong indicator that your family member received sub-standard care.
Learn more about injuries which correlate with Milwaukee nursing home negligence:
If your family member developed any of the above ailments or injuries, consult with our Milwaukee nursing home abuse lawyer. These injuries are highly suggestive of nursing home negligence and deserve investigation.
Live chat with our office now, or call us at (414) 367-6388 to share your case facts today.
Ramifications of Milwaukee Nursing Home Injuries
Both mental and physical harm can befall anyone living in a nursing home if the facility does not adequately train and monitor staff behavior. These injuries can be intentional or not—and the intention behind them does not matter in a legal sense. Nursing homes can (and should) be held accountable for mistreating their residents, even if it was not their intention to harm anyone.
Mental abuse in particular often goes unnoticed until significant damage has occurred. Your loved one may be withdrawn and quiet, or they may ask to be taken care of by specific people only. You might also see them act grumpy or upset for no apparent reason. All of these indicators can signal that your family member has been mistreated by staff and could be suffering from depression, anxiety, or even PTSD.
Physical harm is also common, including anything from broken bones and bedsores to infections in catheters. These injuries are not a normal part of getting older, and facilities should have multiple safety measures in place to ensure that these forms of harm do not befall the person you love.
You should also be aware that sexual harm can come to your family member. Some staff may not be properly vetted before being hired within the facility, or other residents may be improperly permitted to wander the halls (or, more likely, inadequately supervised).
No matter what form your loved one's injuries take, you do not have to accept them as just one facet of living in a nursing home. You can take action not only by filing a lawsuit, but also reporting the nursing home to the appropriate authorities.
What Should I Do If My Loved One Is Being Abused in Milwaukee?
First and foremost, if you think that your loved one is being harmed at their current residence, you should seek medical attention. If your family member is currently in danger, such as if they are bleeding or having an adverse reaction, you have every right to call for an ambulance without the permission of the nursing home.
Once your loved one is stable, or if you are not faced with a critically emergent situation, the first step is to discuss the situation with the nursing home itself. It is important that you have them document your complaints; do not take their word for it or merely trust that they will fix things.
Regardless of the outcome of your conversation with the nursing home, you should then also report the incident to Wisconsin's statewide authorities that specialize in the protection of nursing home residents and vulnerable adults. The Division of Quality Assurance (DQA) is the body responsible for keeping people safe in Wisconsin's many nursing homes and care facilities.
The Wisconsin Department of Health Services hosts the DQA's online intake form for reporting nursing home abuse. If you would prefer to talk to a person on the phone, you can dial 800-642-6552 and leave a message; all calls are returned within one business day. You can find out more about your rights on the Department of Health Services website.
Next, contact your local ombudsman. This organization is mandated by the federal government to offer a safeguard against nursing home neglect and abuse. Your local ombudsman representatives for Milwaukee are Ericka Sutton and Gina Singletery. They can be reached at 1-800-815-0015 or by sending an email to BOALTC@Wisconsin.gov. If you are outside the Milwaukee area but still located in Wisconsin, check your local ombudsman at the Board on Aging & Long Term Care website.
Finally, reach out for legal advice. An attorney with experience in nursing home abuse and neglect in Wisconsin can help you secure monetary damages and penalize the nursing home for its behavior. You can receive compensation for bills, such as medical costs or physical therapy, as well as less tangible damages such as pain and suffering. By forcing the nursing home to pay these fees, you penalize them for their behavior and help to modify the way they do business. Over the long term, this could save the lives of other residents.
Does Nursing Home Abuse Occur Often in Milwaukee?
As mentioned previously, Milwaukee is a highly popular retirement destination. Thus, it may come as no surprise that families have almost 100 nursing homes to choose from within 50 miles of the city center. Unfortunately, almost half of these Milwaukee nursing homes maintain the lowest possible rating of one out of five stars, and more than half fall solidly below average. This means that Milwaukee nursing homes are, as a whole, well below average when compared to the rest of the country.
This statistic is demonstrated by the Centers for Medicare and Medicaid Services. They maintain a detailed online resource that tracks the health inspection scores, citations and more for each nursing home in the country. Of these locations, some have posted high numbers of citations that resulted in tens or even hundreds of thousands of dollars in fines. So to answer the question "does nursing home abuse happen often in Milwaukee?" the answer, sadly, is yes.
For example, The Villa at Bradley Estates recently received 28 separate citations for health inspection violations at its most up-to-date review in February of 2022. One penalty was levied when inspectors noted that 12 residents were all sharing the same glucometers without proper disinfection and sanitization in between. Another citation was given for failing to adequately document and implement safeguards for a resident who was at particular risk of falls and related injuries or death.
Nearby at Bria of Trinity Village, administration was hit with 77 separate citations, including one for failing to employ a registered nurse on duty for the mandatory minimum of 8 hours per day. Additionally, this same facility came under fire for failing to provide a professional level of respiratory care after a resident came off of a ventilator and staff failed to take a pulse oxygen reading. The resident was then left off of the ventilator for 12 consecutive hours, and staff did not consult with a registered nurse about the vent because no RN was present. They later found the resident deceased. The two licensed practical nurses who responded upon finding the resident did not know how to use an AED in an attempt to revive the resident.
These are just a few examples of how nursing homes in Milwaukee have fallen below acceptable standards of care.
Milwaukee's Nursing Home Negligence Laws
When it comes to the proper treatment of nursing home residents, the federal government has established its own set of laws. Milwaukee abides by all of these regulations, but the state also worked to implements its own additional guidelines to further support those who rely on long-term care facilities. Chapter DHS 132 of the Wisconsin Administrative Code and Chapter 50 of the Wisconsin Statutes both add onto existing federal mandates.
While the full contents of these laws are lengthy, the overview is that:
The care that each resident receives should be tailored to that resident, both physically and mentally;
Nursing services should be available 24 hours a day for those who need them; and
Nursing care should be provided at multiple levels simultaneously, from skilled nurses to limited and intermediate care so that resident needs are always met.
Any nursing home in Milwaukee that violates these stipulations is in violation, and this would be grounds for a Milwaukee nursing home lawsuit.
Milwaukee Nursing Home Abuse & Neglect News
Families throughout Wisconsin have taken their loved ones' stories of abuse and neglect and turned them into lawsuits in an effort to secure damages and effect change. In one instance, resident Kathy Witt pushed her call light because she needed assistance. However, after almost half an hour, no staff arrived to assist. The woman attempted to get out of bed by herself to seek help, but she fell and suffered a serious brain bleed from hitting her head during the fall. She passed away the next day, though the facility never formally recorded the fall at all. Her family settled outside of court for damages.
The Milwaukee Journal Sentinel also reported on the case of Randy Krall, who was rushed to the hospital after it was discovered that he had no been given sufficient water. He was so dehydrated that the doctors could not secure a urine sample for diagnosis. When was discharged and later returned to the facility, he was once again subjected to insufficient hydration, ultimately resulting in his death. His family was not made aware of his declining condition until he had already passed away, contrary to company policy.
Take the Next Step – Speak with a Qualified & Compassionate Milwaukee Nursing Home Neglect Lawyer
Begin your journey to justice by consulting with our Wisconsin nursing home abuse attorney today.
The consultation is 100% free and we never require any payment from your for our attorneys' fees or costs. Instead, we receive our compensation out of the settlement or award, if one is recovered. If we do not recovery money for your family, you owe us nothing.
Do not remain silent in the face of potential elder neglect. Speak with our law firm today by sharing your facts below, live chatting with a representative now, or speaking with our office now at (414) 367-6388.