Top-Rated North Carolina Nursing Home Abuse Lawyer
Our North Carolina nursing home abuse attorney has years of experience and narrowly focuses his practice on claims involving nursing home negligence. At Senior Justice Law Firm, this is all that we do. Let our skilled and empathetic legal team guide your family on the journey to justice. Receive a free North Carolina nursing home abuse attorney case consultation today.
If you believe someone you love has been a victim of neglect and abuse, justice cannot wait. Senior Justice Law Firm has years of experience in elder abuse cases and would be happy to discuss what happened, free of charge, to determine if you have a case.
North Carolina Elder Abuse is Abhorrent
From the Appalachian Mountains to the Outer Banks, North Carolina's diverse nature, as well as their growing cities in Charlotte and the Research Triangle, make the state a prime location for retirees. In 2019, roughly 17% of the population was over 65.
A study in 2007 found that the age group of 85+, the group that will be most likely to need long-term care, was expected to double from 2007 to 2030. Undoubtedly, North Carolina is a senior citizens paradise.
Unfortunately, North Carolina's reputation for its nursing home care is less than stellar. Due to understaffing and poorly run facilities, negative nursing home experiences are more common than you may think. While subpar care and poor sanitary practices are a symptom of inadequate attention to detail, abuse and neglect are also a major symptom of negligent North Carolina nursing homes.
Do I Need to File a Lawsuit Against a Carolina Nursing Home?
Lawsuits might seem intimidating, especially against an institution responsible for the care of a loved one. Even after determining that abuse or neglect occurred in a nursing home, the steps of a lawsuit might seem complicated.
However, with a North Carolina nursing home abuse attorney by your side, you will find that it is much easier to achieve the justice you deserve and secure financial compensation.
By bringing a lawsuit against an abusive nursing home, you are taking the vital step in keeping them accountable for their actions. Not only can a lawsuit help right the wrongs against you and your family, but it also forces nursing homes to ensure nothing like this ever happens again, preventing other families from experiencing the same pain.
What Elder Abuse Looks Like in North Carolina
Across the United States, nursing home neglect and abuse are rampant, and North Carolina is no exception. Nearly 45% of all nursing homes in the state rank as below average or worse in terms of care.
Additionally, roughly one-third of nursing homes have received multiple complaints yearly. North Carolina has built up $35 million in nursing home fines—the third highest across states with built-up fines.
According to ProPublica, North Carolina has the seventh highest rate of nursing home deficiencies in the U.S. The state also has the sixth highest average of fines for nursing home misconduct.
What Does Nursing Home Abuse Look Like?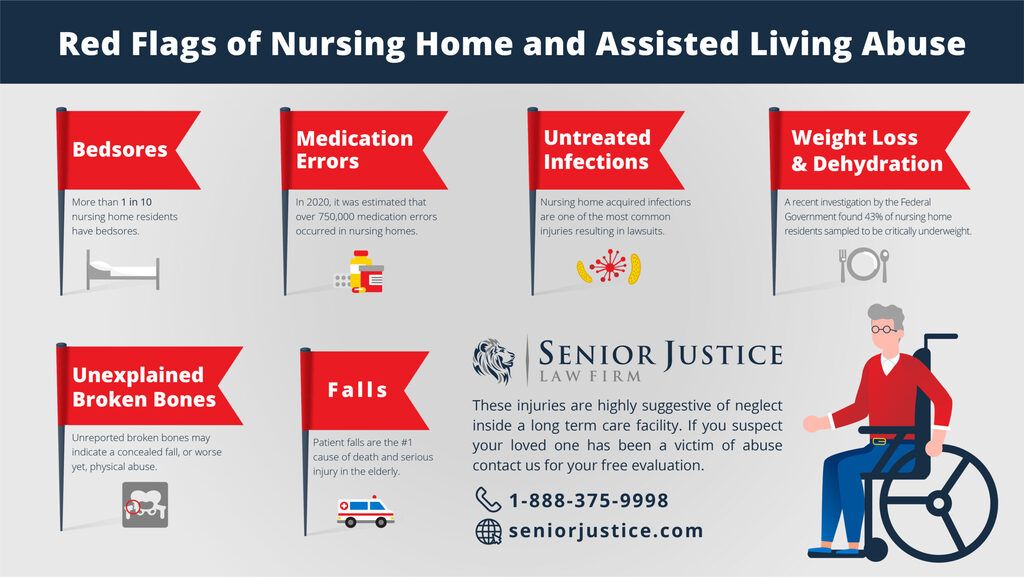 Coming to terms with the fact that you or a loved one experienced abuse or neglect at the hands of caretakers you trusted can be a challenge. Sometimes, you might even try to minimize the experiences or rationalize them as normal in the context of a nursing home.
However, although each case is unique, there are several signs that are undeniable indicators of abuse. Neglect and abuse can occur at the same time, but they are not the same thing.
Neglect is the broader of the two. Anything ranging from failing to provide proper care to inaction in the case of an emergency all fall within the definition of neglect. The actions do not have to be intentional to qualify as neglect.
It might be tempting to excuse the action of the wrongdoer by dismissing what they did as an accident, but the nursing home is still responsible for the way in which its residents are treated.
If a nursing home failed to adequately provide food or water to a resident in a timely manner or in a way that complied with their dietary requirements, this can be considered neglect. So too can allowing a resident's hygiene to worsen, such as by not sterilizing catheters or cleaning residents who have soiled themselves.
Those who have mobility issues need to be moved in their bed regularly to avoid bedsores—and so it is likely not surprising that bed sores are one of the most frequent indicators of neglect. Medication errors are another common type of negligence, with providers liable if they offer the wrong medication, the wrong dose, or time the doses incorrectly.
Abuse, by contrast, is typically intentional. While physical harm is usually the most notable form of abuse, mental anguish also qualifies as abuse. Malicious physical harm, such as lashing out at an uncooperative resident, is always abuse. So is any type of sexual contact, including rape.
If you are suspicious that neglect or abuse has occurred, there are many signs that you can look for that can indicate wrongdoing. Physical injuries are the most notable signs of abuse, but there are also numerous behavioral signs that could indicate that someone you love has not been adequately cared for. Here are several common signs you can look for:
Unexplained injuries, like severe bruising
Wounds, ulcers, lesions and skin breakdown
Dehydration
Severe changes in a resident's weight, especially over a short period of time
Withdrawal or agitation, especially in someone who is normally personable
Poor sanitary conditions in living quarters
Infections
If any of these indicators of abuse and negligence seem familiar, be sure to reach out to nursing home abuse attorneys in North Carolina who focus on elder abuse litigation, such as the team at Senior Justice Law Firm. If you believe that you or a loved one has experienced abuse or neglect but do not see signs that match the list above, an attorney can help you determine if a lawsuit is the pathway for you.
I Believe My Loved One Was Abused or Neglected: What Do I Do?
Contacting a North Carolina nursing home abuse attorney when there has been an injury is a good first step. You should be sure to document everything that happened to the best of your ability. This includes writing down detailed reports of everything that was said or that you saw. If you have photos, be sure to keep these as well. If you remember the names of the people that you spoke to at the nursing home, write those down too.
In addition to documenting as much information as you can remember as soon as possible, there are other steps you can and should take. North Carolina maintains a number of resources for those who need to report elder abuse or neglect. While the federal government requires that each state administer an ombudsman program, this is not your only option in North Carolina.
The North Carolina Division of Social Services has a local county directory. Each county has a contact that you can reach out to report abuse. For Charlotte, the Department of Social Services office is available at 301 Billingsley Road, Charlotte, NC 28211. Those in West Charlotte can contact the Community Resource Center at 3205 Freedom Drive, Charlotte, NC 28208. Send all mail to P.O. Box 220999, Charlotte, NC 28222. The Adult Protective Services division can be reached by phone at 704-336-CARE (2273).
In Raleigh, the Adult Protective Services Supervisor is Joanne Otuonye, who can be reached at joanne.otuonye@wakegov.com. The office phone number is 919-212-8351, or you can send a fax to 919-212-7354.
In addition to these resources, the Long-Term Ombudsman can provide additional aid and guidance in the unfortunate event of nursing home abuse and neglect. Email Victor.orija@dhhs.nc.gov, renee.kea@dhhs.nc.gov, or akendra.dixon@dhhs.nc.gov.
North Carolina's Laws on Nursing Home Abuse & Neglect Lawsuits
Are North Carolina nursing home abuse lawsuits considered medical malpractice?
In North Carolina, the most frequent type of case involving nursing home abuse is for medical malpractice claims because of the skilled medical care involved in nursing homes. To pursue this type of claim, the standard of care must be established, while also stating how the provider failed and what injuries were caused by the failure to comply with standards.
What kind of damages are available in a North Carolina nursing home negligence lawsuit?
Civil damages are determined by the severity of the failure of the caretaker and the injury itself. The plaintiff is responsible to prove the damages. This is usually done through expert testimony, like doctors, and the medical records, like the post-incident hospital chart.
Compensatory damages are damages that cover the injury itself. Anything from the medical bills that accrued as a result of the injuries to pain and suffering fall under this category. Punitive damages, on the other hand, are damages that punish nursing home for its wrongdoing. These can only be sought when the conduct itself was intentional and malicious.
Does contributory negligence prevent me from bringing a North Carolina nursing home abuse lawsuit?
North Carolina is one of the few states in the U.S. to operate under a contributory negligence standard. Contributory negligence means, if a plaintiff was negligent in their conduct and also partially caused the injury, they are barred from recovering any compensation. This is often fatal to an ordinary slip and fall case, say, in a grocery store. However, since most of North Carolina's nursing home victims are elderly, confused and very ill, it is rare that a defense attorney will blame them for their conduct. Accordingly, North Carolina's contributory negligence in nursing home abuse lawsuits is not commonly a problem.
Best and Worst Nursing Homes in North Carolina
Researching the nursing homes in your area can help you sort through the best and worst nursing homes that provide for your community. Nursing homes that are run by non-profits usually score higher in quality of care, as they are typically smaller in residence and allow staff to better handle each patient's needs individually.
However, an AARP study found that only 22% of nursing homes in the state were non-profits, so finding a non-profit nursing home for you or a loved one might not always be possible. In particular, nursing homes that have achieved scores in 2021 that are well below average include:
The Citadel at Myers Park, LLC

300 Providence Road
Charlotte, NC 28207

Pelican Health at Charlotte

2616 East 5th Street
Charlotte, NC 28204

Accordius Health at Charlotte

5939 Reddman Road
Charlotte, NC 28212

Mecklenburg Health & Rehabilitation

2415 Sandy Porter Road
Charlotte, NC 28273

Olde Knox Commons at the Villages of Mecklenburg

13825 Hunton Lane
Huntersville, NC 28078

Clear Creek Nursing & Rehabilitation Center

10506 Clear Creek Commerce Drive
Mint Hill, NC 28227

The Ivy at Gastonia LLC

4414 Wilkinson Blvd
Gastonia, NC 28056

Accordius Health at Concord

515 Lake Concord Road NE
Concord, NC 28025

Universal Health Care/North Raleigh

5201 Clarks Fork Drive NW
Raleigh, NC 27616

Barbour Court Nursing and Rehabilitation Center

515 Barbour Road
Smithfield, NC 27577

Pruitthealth-Carolina Point

5935 Mount Sinai Road
Durham, NC 27705
Need to File a Nursing Home Abuse Lawsuit? Speak with our North Carolina Nursing Home Abuse Lawyer Now
If you or a loved one has experienced abuse or neglect at the hands of a nursing home, you are not alone. It is sadly not a rare phenomenon. It is vital to make sure that the nursing home or long-term care facility that has brought harm to your loved one does not continue its unacceptable practices.
Senior Justice Law Firm is here to help you navigate the entire process, from determining if you have a case to filing a suit and even representing you in court if the nursing home is unwilling to offer an agreeable settlement.
Our team has the experience to make your case against the North Carolina nursing home that caused your loved one's pain, suffering, or even wrongful death. We are available through our chat feature or by calling us at 888-375-9998. You may also use our online form to reach out at a time that is convenient for you.