Tennessee Nursing Home Abuse Attorney
Do you need a Tennessee nursing home abuse lawyer? Make sure to leave your case in the hands of a firm that focuses on nursing home negligence and abuse. There are no do-overs in your Tennessee nursing home abuse lawsuit. Bring your best case possible with a Tennessee nursing home abuse lawyer that focuses on this kind of work.
At Senior Justice Law Firm, nursing home abuse and neglect cases are all the nucleus of our practice. We are not a car wreck legal team that occasionally handles an elder abuse case. This is all that we do. We provide 100% free, no-obligation case consultations. Share your story with us now via live chat to see if we can assist your family following a tragedy inside a long-term care facility. Alternatively, you can reach our office. You may also use our online form to reach out at any time, day or night.
Why Bringing a Tennessee Nursing Home Abuse Lawsuit Matters
Tennessee Law Requires that You Report Suspected Incidents of Nursing Home Neglect
Tennessee is a mandatory reporting state. This means that it is important that you reach out to the state's resources whenever you suspect that something is amiss at a nursing home or long-term care facility. Beyond the fact that you should do this, it is literally codified as law in the Volunteer State. In addition to simply reporting the abuse, bringing a lawsuit against the nursing home that caused your loved one pain and suffering not only helps build a road to recovery, but also prevents future abuse against another person in the future.
Money Damages are Available, Pursuant to Tennessee Statute, to Make Your Family Whole for the Harm Caused
While monetary compensation cannot take away the pain of the past, it can help you pay for the expensive recovery that may be ahead of your family, whether through the medical costs accrued as a result of abuse or the help needed to recover mentally and emotionally. Additionally, a Tennessee nursing home settlement allows your family to recoup expenses associated with your loved one's past healthcare bills, moving them in and out of facilities, and their final arrangements, such as burial or cremation, if they wrongfully died.
Tennessee Nursing Home Abuse Lawsuits Punish Badly Run Facilities and Prevent the Harm from Happening Again
In addition to helping to ease your path to recovery, a lawsuit can also punish the nursing homes that allowed the abuse to happen. Frankly speaking, nursing home lawsuits change the quality of care provided for the better.
The majority of skilled nursing facilities in Tennessee are parts of large, corporate-run chains of nursing homes. These corporate facilities are mainly focused on making money first. Resident care is but a distant concern for these for-profit companies.
When a resident is neglected or wrongfully dies in a Tennessee facility, there typically is no repercussion for the negligent nursing home. If the incident is reported, and subsequently investigated by state officials, an at-fault facility may face a small monetary fine. These range from a few hundred dollars to a few thousand dollars. This low financial penalty is not enough to get a big corporation's attention.
Contrast this with a nursing home negligence lawsuit. Many of our cases settle well into the six figures, meaning they fetch values in excess of $100,000. This is the kind of value that gets on the board of directors radar and creates real change. When for-profit companies are required to make big pay outs for providing bad care, they make sure to fix the mistake and prevent it from happening again. Additionally, punitive damages incentivize reform within the nursing home, which can spare others from suffering the same abuse in the future.
Why Working with a Dedicated Tennessee Nursing Home Abuse Lawyer Matters
Tennessee's strict regulations when it comes to nursing home care make it easy to let your guard down on elder abuse. While healthcare professionals can be some of the brightest, most skilled, and most generous people you'll ever meet, nursing facilities often hire the cheapest, least qualified employees. They also do not provide enough staff to care for the residents. This means nursing home abuse in Tennessee is unfortunately not a rare experience. While no one ever wishes to be a victim of abuse or have a close family member suffer, it is important to know the steps to take in the event that abuse or neglect occur.
The concept of filing a lawsuit against a nursing home can seem overwhelming, stressful, and costly. The good news is that it doesn't have to be that way. Senior Justice Law Firm can make your journey to justice simpler. Don't let complex legal matters prevent you from seeking the compensation you deserve.
Nursing home negligence litigation is our firm focus, and we work exclusively on contingency fee. This means we require no up front payment from you to retain our firm for legal services.
A Glimpse into Tennessee's Nursing Homes
Nursing homes are plentiful in Tennessee, with over 300 in the state to choose from. While the quickly rising elderly population makes the presence of so many nursing homes essential, it is important to take a closer look into the homes and the care they provide—all nursing homes are not created (or operated) equally.
While roughly one in ten nursing homes in the state have had a serious healthcare deficiency according to ProPublica, over 60% have had some other type of deficiency that did not result in severe action. This does not, however, mean that these other deficiencies are "acceptable"; seemingly innocuous documentation failings could result in medication errors, and the simple act of failing to lock a door could lead to a resident's death.
Across the nation, including Puerto Rico and Washington, D.C., Tennessee ranks 36th in nursing home deficiencies but ranks 4th in fines, with Asbury Place at Maryville holding the number one spot as the highest fined nursing home across the country.
A study conducted by AARP found that over 40% of nursing homes in the state of Tennessee were rated as below average or worse in terms of healthcare inspections. With fewer and fewer Americans having access to nursing home insurance, choosing the very best nursing home in Tennessee for a family member or loved might not be a simple option.
Signs of Tennessee Nursing Home Abuse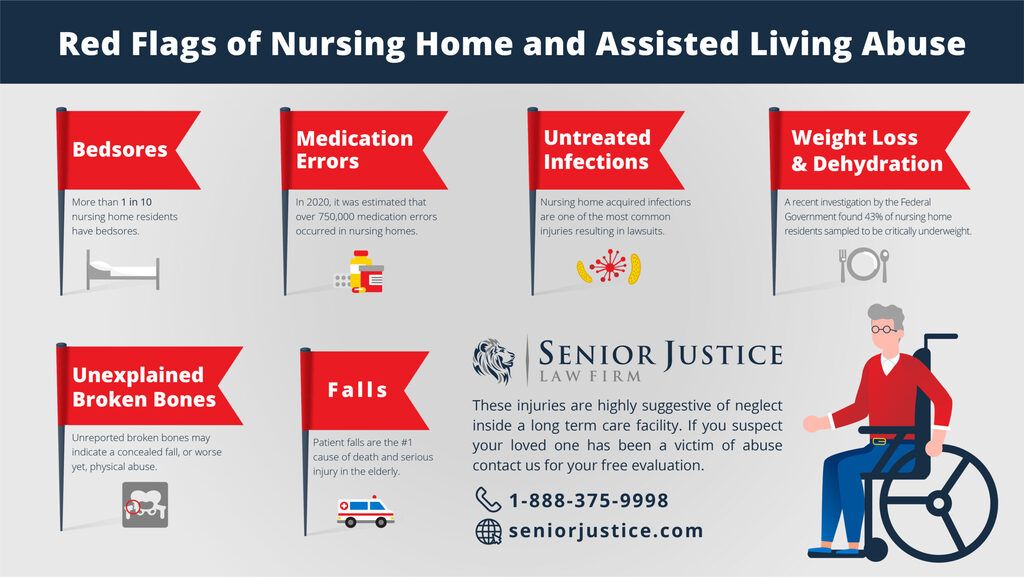 If you are uncertain whether abuse or neglect has occurred, there are some telltale signs you can look for. Emotional indicators are just as useful as physical ones. While unexplained bruising can be an obvious sign of abuse, a hesitancy to interact with staff or talk with you in the presence of staff should also be a red flag. If a loved one's room has been left in unsanitary conditions, it might be an indication that staff has neglected to provide proper attention. Body odor, dirty fingernails, unchanged linens and unwashed hair all indicate poor sanitary conditions in a facility.
Open sores on the skin, often called bedsores, are another important sign of abuse. They are easily preventable and are never explained by another medical condition. Simply put, if your loved one has bed sores, it's important that you reach out to a legal team as soon as possible, as this is an entirely preventable injury.
Similarly, broken bones, brain bleeds and fractures are a frequently litigated injury in the nursing home context. If your loved one suffered broken bones or a brain injury in a Tennessee facility, call our firm immediately.
Each case of abuse and neglect is unique. If you believe you or a loved one is a victim of nursing home mistreatment, speaking with our compassionate and qualified Tennessee nursing home abuse attorney today. We can help you understand how your experience relates to other abuse or neglect cases, and if your loved one's neglect is actionable as a claim.
Reporting Elder Abuse in Tennessee
In addition to contacting a Tennessee nursing home abuse attorney, it is vital to also report the abuse to authorities. In fact, in Tennessee, you are legally obligated to report suspected abuse or neglect, and you may be subject to a misdemeanor charge if a known case of abuse or neglect is withheld. However, unless the abuse is in the act of happening, calling an emergency hotline like 911 is not the most effective way to connect with authorities. Instead, there are several other government hotlines that you should reach out to first.
The Department of Human Services Protective Services unit is a statewide department that investigates any type of harm that is carried out against adults who are unable to protect themselves, whether due to physical or mental considerations. If you suspect abuse or neglect, it is recommended that you contact them first. You can reach the DHS Protective Services unit at 888-277-8366. If you prefer to report abuse online, the department also has an online system set up for reporting, located at https://reportadultabuse.dhs.tn.gov/. The Protective Services unit is set up to better manage investigations and focus on the safety of the elderly.
If physical abuse has occurred, the state recommends that you call the Tennessee Domestic Violence Hotline, which can be reached at 800-356-6767. This hotline is meant for victims of any type of domestic abuse, but it includes nursing home violence or abuse that arises against the elderly. The hotline helps counsel and refer victims of domestic abuse to the resources that can best assist them.
The Tennessee Long-Term Care Ombudsman program is a resource that assists elderly Tennesseans who live in nursing homes or long-term care facilities. The ombudsman helps residents and their families understand their rights in nursing homes. In the event of abuse or neglect, the ombudsman will advocate for the resident's rights. There are multiple ways to reach the ombudsman for the state of Tennessee:
615-253-5412 is the standard number for the Ombudsman.
877-236-0013 is the toll-free number.
615-532-3893 is the number for the deaf and hearing impaired.
moten@tn.gov is the email for the ombudsman's office.
Additionally, certain cities also have family justice centers. While these are not available in every city in Tennessee, they can be beneficial if you have one in your area. The Domestic Violence Hotline and ombudsman program can assist you in determining how to reach out to a local family justice center.
Nursing Homes Rated Poorly in Tennessee
While abuse and neglect can take place anywhere, it is important to know which nursing homes provide the best care on average, and conversely, those that have consistent problems maintaining a safe and caring space for their residents.
You can examine many nursing homes yourself. Medicare's care compare tool allows you to search for nursing homes in your area and sort them by quality of care. Medicare uses three factors (staffing, quality of resident care, and health inspections) to create their ratings. If nursing homes have a history of abuse or neglect, the care compare tool will provide a red flag to warn potential residents. The tool provides details about the nursing homes, from whether they participate in Medicare/Medicaid to the ownership type and whether the home is located within a hospital.
In Memphis, for example, the care compare tool, based on 2021 ratings and inspections, shows that Rainbow Rehab and Healthcare has the highest rating. The worst home, Graceland Rehabilitation and Nursing Care Center, has the worst, with a red flag warning attached. The care compare tool also works in smaller towns. Looking in Mountain City, for instance, shows that Signature Healthcare of Elizabethton Rehab & Wellness is the highest-rated Tennessee-based nursing home within 25 miles of the city.
In addition to the above-mentioned nursing homes, some lower rated facilities based on the 2021 ratings include:
Nashville Center for Rehabilitation and Healing LL

832 Wedgewood Avenue
Nashville, TN 37203

The Health Center at Richland Place

504 Elmington Avenue
Nashville, TN 37205

Grace Healthcare of Whites Creek

3425 Knight Drive
Whites Creek, TN 37189

Signature Healthcare of Madison

431 Larkin Spring Rd
Madison, TN 37115

Good Samaritan Health and Rehab Center

500 Hickory Hollow Terrace
Antioch, TN 37013

MT Juliet Health Care Center

2650 North MT Juliet Road
Mount Juliet, TN 37122

Majestic Gardens at Memphis Rehab & Snc

131 N Tucker
Memphis, TN 38104

Millington Healthcare Center

5081 Easley Avenue
Millington, TN 38053

Collierville Nursing and Rehabilitation, LLC

490 West Poplar Avenue
Collierville, TN 38017
Available Damages in a Tennessee Nursing Home Abuse Lawsuit
Tennessee law allows an elderly person, or their family representative, to receive compensatory damages in civil suits for abuse and neglect. Damages can cover expenses that resulted because of abuse and neglect, including the potential in certain instances for legal fees. Punitive damages, which punish the institution for allowing abuse or neglect to take place, are also available to victims.
There are many factors that are accounted for when determining the severity of damages. In addition to the physical and mental damages that arose as a result of the neglect and abuse, Tennessee also considers the recovery time, both for the victim and their family, as well as medical expenses. Additionally, age, condition, and outcome are factored into how damages are settled. While financial compensation does not eliminate the suffering that your loved one or family member experienced, it can help with a much smoother recovery, as well as ensuring that others don't have to experience the same abuse.
There is no average settlement amount for a Tennessee nursing home abuse lawsuit, however, most of our facility injury settlements are above $100,000. It is important to note that each case is different, prior results do not guarantee future settlement or verdict amounts, and the value of your Tennessee nursing home case is entirely dependent on the individual case facts.
Speak with a Tennessee Nursing Home Abuse Attorney Today
The families and victims of abuse or neglect in a nursing home might feel isolated, especially when it seems like the staff of the home that was trusted to protect an individual are against you. Although the process of seeking justice against those who caused the abuse might seem long and confusing, the Tennessee nursing home abuse lawyer at Senior Justice Law Firm is happy to help you navigate this journey. We will make sure that your case is carefully managed so that you can spend more time healing and planning for the future and less time worrying over how to file a lawsuit for elder abuse and neglect.
If you suspect facility neglect, we provide a free consultation with our firm. Contact our Tennessee nursing home abuse attorney now to learn about your rights under the law, and to determine whether you have a case.
The easiest method to accomplish this is to live chat with our office right now, using the chat tool feature. Please give as much detail as possible when discussing what happened, where it occurred, and what the end result was. The more information, the more insight we can offer. If you prefer talking over typing, that works for us too. We are available by calling. You may also use our online form to reach out at any time, day or night.