Albuquerque Nursing Home Neglect Lawyer – Representing Families Across New Mexico
Our Albuquerque Nursing Home Abuse Lawyer Narrowly Focuses on Nursing Home Negligence Cases
If your loved one was wrongfully injured inside a New Mexico long term care home, contact our Albuquerque nursing home abuse attorney today. We can help you achieve justice and compensation for the harm caused to your family. Bed sores, falls, broken bones, untreated infection, and wrongful death are inexcusable in a New Mexico nursing home. Our Albuquerque nursing home abuse lawyer is here to help.
Elder abuse and neglect cases are all that we do. Let our decades of experience in this niche practice area guide your family along the journey to justice. Call, email, or live chat with our office today to learn more about your legal rights following a tragedy inside a healthcare facility.
Free Albuquerque nursing home abuse case consultation: 505-375-1658
Senior Justice Law Firm
1202 Central Ave SW Suite 18, Albuquerque, NM 87102
(505) 591-1455
Albuquerque Nursing Home Negligence is More Common Than You Would Think
Albuquerque is one of the most populous cities in New Mexico. Many aging Americans search for a place to retire in the southwest, and Albuqerque tops the list. Known for many of its iconic historic landmarks, rich culture, diverse population, and fun festivities, it's no wonder that Albuquerque is a popular hotspot for tourists and retirees from all over the nation. As far as choices go, older folks have their pick of the litter as well. There are 22 nursing homes in or adjacent to Albuquerque, meaning locals and retirees can stay right in the heartbeat of the city while receiving the long term care they need.
Unfortunately, despite its idyllic description, Albuquerque continues to struggle with providing adequate care to its aging population. In fact, the city is home to some of the lowest rated nursing homes in the entire state. Medicare has taken notice, awarding multiple locations the "red hand" indicator for cases of confirmed abuse. Lack of accountability in care practices and unsupervised residents left to wander are just two of the multiple reasons why Albuquerque nursing homes have come under fire in recent years.
Recognizing Albuquerque Nursing Home Abuse or Neglect
Unfortunately, the Albuquerque metro area has some of the lowest rated nursing homes in New Mexico. Even highly rated 5-star nursing homes are capable of bad care. Tragically, it is usually the most vulnerable patients that receive the worst care. This is because they are non-verbal or have advanced dementia, which prevents them from raising complaints.
It is crucial that you remain vigilant in inspecting your loved one for 'red flag' injuries suggestive of nursing home abuse and neglect. If your family member suffered any of the below injuries or ailments, contact Senior Justice Law Firm today at (505) 591-1455 for a free case investigation.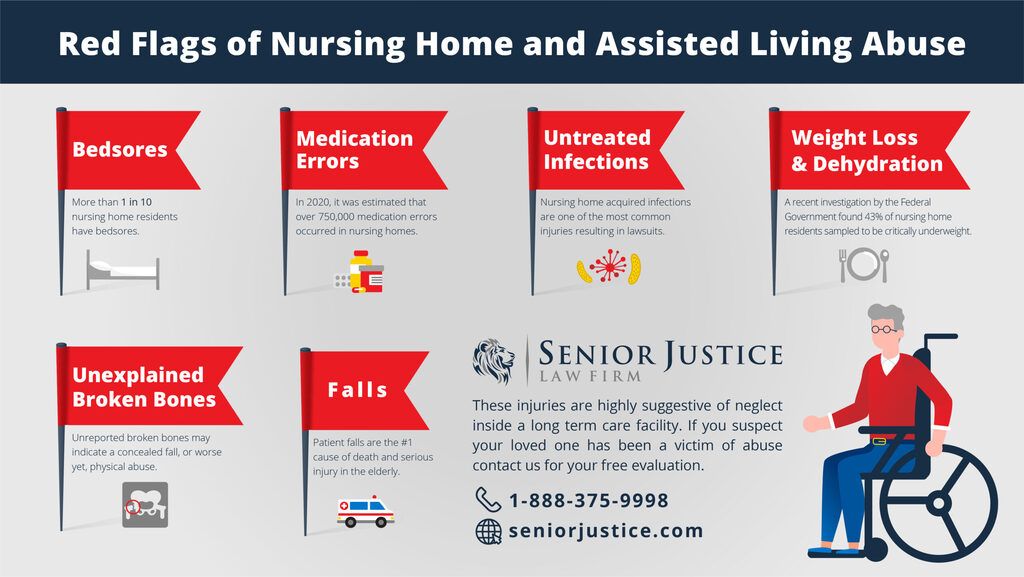 Learn More About…
Nursing home abuse can be difficult to spot, and it doesn't always take the form of bruises or scrapes. Nursing home neglect, or the withholding of crucial care, treatment, or supervision, is a form of nursing home abuse. In other words, if an Albuquerque nursing home ignores your family member and they suffer injury, this is a form of nursing home abuse, even if the harm was not intentional.
If your loved one experiences falls resulting in broken bones, the nursing home may not be doing its due diligence to protect its residents. Similarly, if a high risk patient is not moved and repositioned, they will develop bed sores which strongly indicate neglect. When a patient is sick, feverish, losing weight, or rapidly declining, it is the legal duty of the nurses at the facility to take prompt action before it is too late. Failing to get that resident to a hospital, or at least a doctor, is likely nursing home negligence.
All nursing homes have a responsibility to ensure the safety of their residents as much as possible. While many of these injuries are partly due to the patient's underlying health conditions, long-term care facilities must mitigate these risks and create detailed care plans to address these issues. When they do not adequately supervise, assist, and react to a resident's ongoing needs, this is nursing home negligence.
Whether you have seen physical evidence that someone you love has been abused or neglected in an Albuquerque nursing home or you simply suspect that misbehavior is happening, you have options. This is true even if your family member passed away due to the neglect. Contact Senior Justice Law Firm today at (505) 591-1455 and we will walk you through your legal options.
In addition to legal remedies, resources are available to field reports of abuse and negligence in Albuquerque's long-term care facilities.
How Can I Report Nursing Home Abuse and Neglect in Albuquerque?
Of course, any emergent needs should be treated with the proper care. If your family member is in acute distress, call 911. Local law enforcement in Albuquerque can be contacted at (505) 768-2020 if you note that your family member needs immediate assistance, but not emergency services. Even if the nursing home tells you that they will handle the problem or that you should not call emergency services, do not trust them. It is your right to call. This is also true of local Albuquerque ambulance services, which can be reached at (505) 449-5700.
Once you have observed signs of abuse or have reason to believe that negligence is occurring, the next thing you should do is begin filing reports to the appropriate authorities. There are multiple departments that you can report to in both New Mexico as a whole as well as Albuquerque specifically. The New Mexico Department of Health, for example, is a good first stop for reporting nursing home abuse. The New Mexico nursing home negligence hotline is available at 1-800-445-6242, which is the number specifically oriented toward how residents are treated within facilities. If you notice a problem related to the nursing home itself, then you should call 1-800-752-8649 instead.
New Mexico––like every other state––administers an ombudsman program that is specifically meant to aid the elderly in care facilities such as nursing homes. The statewide New Mexico ombudsman's number is 1-866-451-2901. However, Phyllis Gilmore and Christine Jacquez oversee the local Albuquerque-based ombudsman office located at 625 Silver SW, Ste. 414 in Albuquerque. They can be reached at (505) 231-3196, and any supporting documentation can be faxed to (855) 403-5881.
If you wish to report a complaint online instead, you can follow the instructions from the Health Facility Reporting System:
Fill out the resident/patient/client information. Complete as many details about the subject as you accurately can, such as name and social security number. Leave the space blank if the subject does not have a social security number, and make sure to write the physical address of the incident you are reporting.
Describe the incident that you are reporting. Fill in as many details about the allegation type as you can, and answer all the questions concerning responsibility, obligation, provider agency, and incident date and time. Make sure to describe the incident that occurred in as much detail as possible, and include descriptions from both before and after the incident as well if relevant.
Complete agency or facility information and report as many details as you can about the facility you are filing a complaint about. Do not write initials; instead, fill in the complete name of all parties, whether they are a unit of a larger facility or the facility itself.
Complete the administrative information and write down everything you know about funding sources.
Notify agencies and note any legal guardians, case managers, or other agencies involved.
It may be difficult to think about, but even sexual assault and mental trauma can occur in nursing homes that do not adhere to proper care standards for their residents. These injuries can arise from problematic staff themselves, or they may happen when residents are not appropriately monitored and are free to engage with each other without supervision.
You know your family member. If they are behaving differently than they usually do, remain vigilant. Sometimes, previous abuses may not be immediately evident with bodily signs, but your loved one's demeanor can hint at past troubles. Likewise, if you feel like your family member passed away under mysterious circumstances, contact the appropriate authorities to begin a free investigation into a potential Albuquerque nursing home wrongful death.
Albuquerque Nursing Home Abuse News
Albuquerque is no stranger to showing up in the news for its local nursing homes, and part of this trend stems from how many facilities in the area are owned by large corporations. Historically, long-term care locations that are owned and managed by non-profits have tended to provide higher-quality care (reflected in a more favorable rating by Medicare) than their corporate-owned and LLC counterparts.
This trend has continued to ring true over the years; one nursing home resident from Princeton Place was left unsupervised and consequently wandered outside of the care center. No door locks or automatic alarms were triggered upon his departure. Once outside, he was struck by a vehicle and killed.
At a nearby location called Spanish Trails Rehabilitation Suites, a resident named Ms. Barber was the subject of a substantial lawsuit pursuing punitive damages against the facility for multiple egregious issues. The 78-year-old woman was found dead amid bloody sheets, but these were removed and were not able to be recovered to be sent along with her body for autopsy, as is standard. The family alleged that ManorCare, one of the nation's largest nursing home corporations, intentionally destroyed the evidence to hide the fact that they were aware of Barber's internal hemorrhaging for some time but failed to act.
At the time that Barber's family arrived after her death, they discovered that her belongings had been "ransacked," and they described that some sums of her money were missing. When an investigation attempted to review the documentation provided by Spanish Trails, they discovered that the recordkeeping was so inadequate that documents showed Barber receiving an insulin injection more than two hours after the time of her recorded death.
Barber's case found success when Spanish Trails was hit with $54 million in punitive damages. However, as one of the nation's most ubiquitous nursing home chains, this accounted for less than 3% of ManorCare's assets for a single year.
Spanish Trails is not unique in Albuquerque when it comes to its quality of care. Medicare has labeled a few nursing homes in Albuquerque with its unique "red hand" symbol.
The red hand symbol from Medicare represents an alert or warning to consumers regarding the problematic nature of a care facility. The symbol notifies people that the nursing home being viewed has already been cited for confirmed physical and/or mental abuse, neglect, or exploitation within the past year.
As of January 2023, Medicare has placed a red hand symbol on four nursing homes located in Albuquerque:
Ladera Center, 5901 Ouray Road NW Albuquerque, NM 87120 *Rated one star out of five
Spanish Trails Rehabilitation Suites, 1610 Renaissance Blvd NE Albuquerque, NM 87107 *Rated one star out of five
Sandia Ridge Center, 2216 Lester Drive NE Albuquerque, NM 87112 *Rated one star out of five
Las Palomas Center, 8100 Palomas Avenue NE Albuquerque, NM 87109 *Rated two stars out of five
While these locations have been directly labeled by Medicare, the red hand symbol is not the only indicator of unacceptable behavior. Even five-star nursing homes can be guilty of abuse and neglect, so it is critical that family members remain vigilant for signs that could indicate their loved ones are in danger—regardless of the rating of the facility.
Disclaimer

*Each case is different. Prior results do not guarantee a similar outcome or indicate an expected outcome on your particular case. The above prior lawsuit information is for informational purposes only and does not constitute legal advice. The information is not provided in the course of an attorney-client relationship and is not intended to substitute for legal advice from an attorney. This individual case information above comes from publicly filed allegations gathered from the plaintiff's complaint. The allegations in the complaint have not been proven true. These cases are not the work of this law firm. The inspection results are provided from public government agency surveys. The state Department of Health conducts a survey of all nursing home facilities at least once every 15 months. The deficiencies listed on this page may have been corrected after the date of the inspection and date of publishing this material. Citations, ratings, statistics, and deficiencies are current as of the date of this post and will change later on. The inspection findings published are not complete. You may find the most up to date information at medicare.gov. This material is not endorsed by the facility noted or by any governmental agency. Speak with an attorney immediately if you believe you have a viable case against a nursing home, assisted living facility, or medical facility.
Free Albuquerque Nursing Home Abuse Attorney Case Consultation
At Senior Justice Law Firm, our firm mission is to advocate for society's most vulnerable who have been abused, neglected, harmed, or ignored inside long term care facilities. If your family member suffered serious injury, or wrongful death, inside a New Mexico healthcare facility, you should consult with an Albuquerque nursing home abuse lawyer immediately.
Our law firm works 100% on contingency fee. This means you pay nothing out of pocket for our services, and we advance all case costs. We only get paid if we win your case and, as compensation for the settlement or verdict, we take a percentage of the recovery. We will never ask you for any out of pocket payment.
Begin the path to healing and justice today. Call Senior Justice Law Firm today at (505) 591-1455 or submit your case facts below, to receive your free case consultation.