Seattle Nursing Home Neglect Lawyer, Educating You on Your Rights Under Washington Law
Elder abuse in Seattle's nursing homes is unforgiveable. When we entrust our loved one to a nursing facility, and that trust is broken, Washington law provides families an avenue of recovery via a Seattle nursing home abuse and neglect lawsuit.
Our Seattle nursing home abuse attorney can help your family understand the next steps after a preventable tragedy occurs inside a healthcare facility.
At Senior Justice Law Firm, nursing home neglect and elder abuse litigation is all we do. Let our years of experience in this niche sub-specialty guide you and your family along the journey to justice.
Call us at (888) 375-9998 for a completely free case consultation, or live chat with our office now. We work exclusively on contingency fee, so there is no out of pocket payment required from you to pay for our attorneys' fees, or costs. These only get reimbursed if a settlement or verdict is achieved in your favor. If we do not recover a monetary award on your case, you owe us nothing.
Begin the path to healing, and justice. Get answers as to what really happened. Speak with our Seattle nursing home abuse attorney today.
Seattle Nursing Home Negligence is a Growing Problem
Seattle has a growing senior population. The Pacific Northwest remains one of the most popular scenic destinations in America. Nestled within this region is the metropolis of Seattle, which is home to just shy of 800,000 people. Of these, almost 30% are older than 50, and about 12% are older than 65 years of age.
It should come as no surprise that the Seattle region is popular among retirees. Many facilities overlook beautiful mountain vistas, harbors, and other scenic wonders. The downtown area is walkable and accessible, and cultural and nature programs are abundant. However, many families will eventually need to transition into elder care as their loved ones see a decline in mobility and cognitive function. Some older adults will require short term rehabilitation after a surgery or hospitalization.
For these reasons, Seattle has a burgeoning long term care sector that has doubled since the early 1990s.
There are 70 nursing homes and over 100 assisted living facilities in Seattle, so there are plenty of facilities available. Unfortunately, not all nursing homes are created equally. 28 facilities in the Seattle metro area have ranked below (or well below) average in terms of quality. That's about 40% of all facilities on offer. An even more concerning statistic is the number of state-issued deficiencies has increased since 2020 by 25%.
While the number of skilled nursing facilities in the greater Seattle metro is increasing, it appears the quality of care is dropping.
Nursing home abuse and neglect are a concern in any poorly rated locations, but remember that these dangerous behaviors can occur in any facility.
Our Seattle nursing home abuse attorney can educate you on what to look for so that you can keep your loved one safe. Below are the most important details about how to report abuse, some statistics to keep in mind, and what sorts of injuries should catch your eye when observing your family member for signs of abuse or neglect.
Common Injuries Resulting in Litigation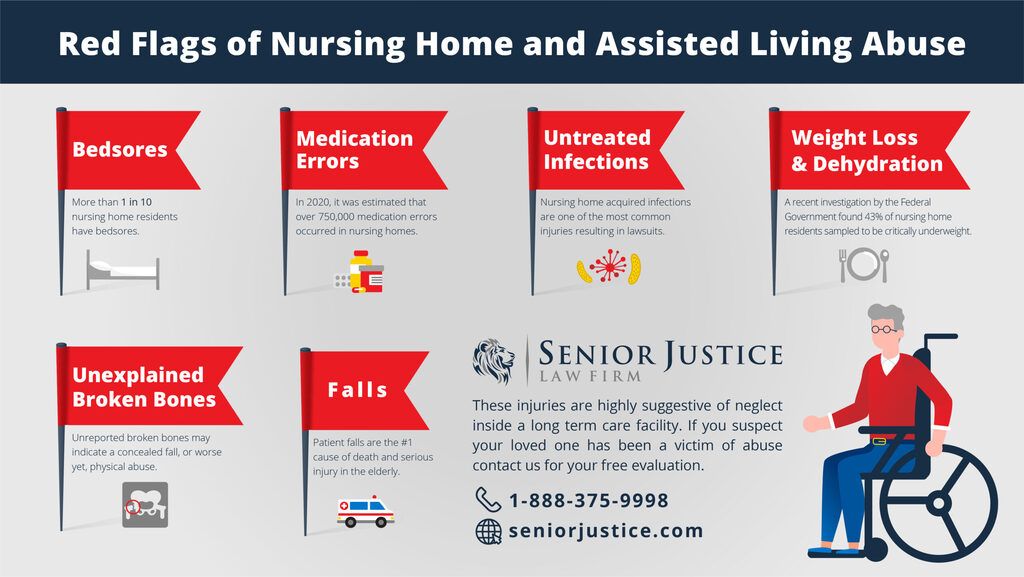 Nursing home abuse can take many forms, and not all of them are easy to see. When a family files a nursing home abuse or neglect lawsuit in Seattle, a few injuries tend to dominate these cases. They include:
Bedsores – There is no medical condition that causes bed sores, which are sometimes called pressure sores or decubitus ulcers. Instead, they are always caused by negligent or abusive behavior. Staff are responsible for assisting those with mobility challenges to move their body weight every few hours. If they do not do this, a resident may lie in a position that places pressure on certain tissues for an extended time. This limits circulation and can cause the tissue in the area to degrade and eventually open into a wound. Severe pressure ulcers can reach all the way to the bone and can be a conduit for extremely painful and even fatal infections, like sepsis.
Malnutrition, Dehydration, Choking and Aspiration – It is a nursing home's responsibility to provide adequate nutrition and hydration for residents. Sometimes, this fails to occur due to improper intake and documentation procedures, which do not create personalized food and drink guidelines for residents. The result can be extreme dehydration and malnurishment. In other circumstances, staff may fail to provide critical care, such as assistance while eating or blended foods. Residents who don't receive the food and drink accommodations they need may not eat at all, or they make choke or aspirate their meal, causing other medical difficulties such as pneumonia.
Broken Bones – All nursing homes are required to create a fall mitigation plan for residents. This identifies problematic behavior or medical conditions that can predispose an individual to fall, then creates personalized remedies to keep that resident safe. If your loved one has suffered repeated falls or experienced broken bones due to a preventable fall, the nursing home may be liable.
Sexual or Physical Abuse – Rape and sexual abuse is never an acceptable outcome of any nursing home residency. Demented residents can never consent to sex, so any form of sex in this kind of patient is nonconsensual and should be investigated immediately. The same goes for physical abuse. Abuse from staff and attacks from other residents are preventable and oftentimes result in civil litigation.
Mistakes and Problem Behaviors – There are many ways that staff can mistreat a resident without leaving physical evidence. They may slap or push individuals, or they might offer antipsychotic medication without a doctor's order to help agitated residents calm down. Some facilities have been cited for improperly dosing medications or providing the wrong medicines to begin with. Others fail to prevent a resident from wandering out of the building or do not properly transfer a resident to or from a wheelchair, resulting in an injury. They may steal from residents or verbally abuse them. Any of these behaviors are inappropriate and can form the basis for legal action.
Free Seattle Nursing Home Abuse Attorney Consultation: (888) 375-9998
How to Report Elder Abuse in Seattle, Washington
Once you suspect that nursing home abuse is occurring at your loved one's facility, it's important that you report it. The nursing home may explain that it has its own internal systems for making these reports. However, you should also reach out to the appropriate agencies in Washington. The nursing home cannot prevent you from doing this. You should contact the appropriate state agencies as soon as possible after the incident.
The Complaint Resolution Unit maintains a hotline at 1-800-562-6078 that you can contact to report abuse in nursing homes and adult family homes. Adult Protective Services can also help; their online incident reporting service is available 24/7.
However, Seattle administers its own ombudsman program, which specifically caters to older individuals in nursing homes who cannot advocate for themselves. Their general complaint tool is located on their website, but King County is overseen by Pamela Williams. She can be reached by phone at 206-623-0816 or toll-free at 1-800-562-6028. If you need to fax supporting documentation, the number is 253-874-7831. Alternatively, you may mail your information to the King Long-Term Care Ombudsman Program located at 1200 South 336th St, Federal Way, WA 98003. The Seattle ombudsman's email is kcltcop@mschelps.org or pamela.williams@mschelps.org.
You can also report Seattle nursing home neglect to the Washington Aging and Long-Term Support Administration.
If you need any help reporting your loved one's incident to the appropriate Washington agencies, contact Senior Justice Law Firm. We can assist you in reporting the abuse or negligence.
Seattle Nursing Home Abuse & Neglect Statistics
Nursing home neglect and abuse are more common than many families assume. On average, one in six people will experience abusive behavior in a Washington state nursing home, and as many as 66% of staff acknowledge in anonymous interviews that they have engaged in behavior that may be considered abuse or negligence within the past year. Psychological abuse is the most commonly reported by residents themselves, at 11.6% of all cases. Families are much more likely to report physical signs, with 33.4% of abusive claims related to this behavior.
Because the number of older individuals in nursing homes is expected to increase by 50% by 2030, this problem of Seattle nursing home negligence will only continue to get worse.
Washington state's data bear out this conclusion. More than 65,000 reports were made to the Department of Social and Health Services in 2020 alone. Local news agency KIRO7 reports that Washington as a whole is one of the worst-ranked states in the nation for its care of the elderly. It averages more complaints than any other state, with dietary needs and the overall standard of care comprising the most common areas of concern.
Large Seattle Nursing Homes
Seattle is full of nursing homes, and you may feel overwhelmed when choosing between your options. Some of the most prominent facilities by size include:
Providence Mount St Vincent
4831 35th Avenue Southwest Seattle, WA 98126
Caroline Kline Galland Home
7500 Seward Park Avenue South Seattle, WA 98118
Foss Home & Village
13023 Greenwood Avenue North Seattle, WA 98133
Washington Veteran Home-Retsil
1141 Beach Drive PT Orchard, WA 98366
Each of these locations maintains at least 200 beds. Studies have found a correlation between the profits of a nursing home (supported by offering as many beds as possible) and a lack of quality in care. However, while 200 beds is the upper maximum for the industry, facilities with over 100 beds are still considered to be large. Some of these impressive locations in Seattle include:
Seattle Medical Post Acute Care
555 16th Avenue Seattle, WA 98122
Transitional Care Center of Seattle
2611 S Dearborn Street Seattle, WA 98144
Washington Care Center
2821 South Walden Street Seattle, WA 98144
Park West Care Center
1703 California Avenue Southwest Seattle, WA 98116
Queen Anne Healthcare
2717 Dexter Avenue North Seattle, WA 98109
Columbia Lutheran Home
4700 Phinney Avenue North Seattle, WA 98103
Ballard Center
820 Northwest 95th Street Seattle, WA 98117
Park Ridge Care Center
1250 Northeast 145th Street Seattle, WA 98155
Life Care Center of Kirkland
10101 Northeast 120th Street Kirkland, WA 98034
Of these, Life Care Center of Kirkland, Park Ridge Care Center, Ballard Center, Washington Care Center, and Seattle Medical Post Acute Car have all been labeled, at one point since 2022, with Medicare's red hand sign, which indicates that the facility has had at least one confirmed case of abuse or neglect. There are more than 20 other facilities with 100 or more beds in Seattle as well.
Free Seattle Nursing Home Abuse Attorney Case Consultation
If your family member suffered abuse, neglect, wrongful injury, or death inside a Washington skilled nursing or assisted living facility, speak with a Seattle nursing home abuse lawyer today.
Washington law protects Seattle's most vulnerable nursing home residents from harm, abuse, and negligence. If your family member endured any mistreatment in a facility, contact Senior Justice Law Firm today. Our Seattle elder abuse attorney can investigate what happened and get your family justice.
Call our firm today at 888-375-9998 for your free Seattle nursing home abuse attorney consultation. If you do not want to speak on the phone about the incident, simply submit your case facts below, or via live chat. We will get back to you promptly.