Allentown, PA Nursing Home Neglect Attorney Serving Allentown and all of Lehigh County
Our Allentown Nursing Home Abuse Lawyer Can Help
Suspect nursing home abuse in Allentown? Do you believe your loved one was neglected inside an Allentown assisted living facility or memory care unit?
Bedsores, broken bones and patient falls are not an acceptable part of your loved one's residency in a care home.
Speak with our Allentown, PA nursing home abuse lawyer now to learn more about your legal rights.
Free Case Analysis, Call Us Today: (484) 795-1777
Protecting Allentown Seniors from Nursing Home Negligence
Allentown, Pennsylvania is located in the Lehigh Valley area of Lehigh County. Many visitors are familiar with Billy Joel's song "Allentown", but Lehigh Valley locals understand that Allentown is a dynamic and rapidly developing area. With a population of more than 120,000, Allentown is experiencing a resurgence following a period of urban decay. A one time industrial center for Pennsylvania, Allentown is transitioning into newer service industries.
This includes a burgeoning long term care industry, made up primarily of Lehigh County nursing homes and assisted living facilities to care for Allentown's elderly citizens in need of assistance with activities of daily living. Most of Allentown's nursing homes and assisted living facilities are outside of Center City and the surrounding wards. Recently, more lawsuits have been filed against Lehigh Valley facilities, as staff shortages have resulted in more injuries inside Allentown nursing homes.
Senior Justice Law Firm Pennsylvania – Representing Victims of Elder Abuse in Allentown
Our Pennsylvania nursing home abuse law firm regularly accepts cases in Allentown, Bethlehem and Easton, PA. At Senior Justice Law Firm, neglect lawsuits against nursing homes and assisted living facilities are our firm focus. Let our years of experience in this specific practice area help your family on your path to obtaining answers and compensation. This is what we do, and we do it well.
Millions of Dollars Recovered for Families in the Lehigh Valley
Our Pennsylvania elder abuse attorney has handled more than 1,000 cases. Dan Purtell has recovered more than $10 million dollars for his aggrieved clients. However, he maintains that down-to-earth approachable nature that leaves clients with a satisfied, vindicated feeling.
Call us today at (484) 795-1777 to learn more about us and how we can help your family.
Learn Your Rights Regarding Abuse and Neglect Inside Pennsylvania Long Term Care Facilities
Did you know there are both Federal and Pennsylvania regulations in place to protect Lehigh County nursing home residents from nursing home and abuse? Legally speaking, elder abuse inside Allentown nursing homes and assisted care facilities is illegal. The cases we pursue against negligent facilities cites these Pennsylvania laws, rules and regulations.
If you feel your family members suffered a preventable injury, speak out. Report the Pennsylvania nursing home injury to your local elder abuse hotline (in Allentown, you should call Lehigh County Aging and Adult Services at (610) 782-3034). If you are interested in seeking justice through an Allentown elder abuse claim, speak with our experienced Allentown nursing home abuse lawyer today.
Do I Have an Allentown Nursing Home Negligence Case?
Neglect related injuries inside a Lehigh Valley nursing home or assisted living facility will not be readily apparent to you. In fact, most of the time, the facility staff will lie about how the injury occurred. For this reason, it is critical that you know how to recognize elder abuse and neglect injuries.
Indicators of Elder Abuse, Neglect and Negligence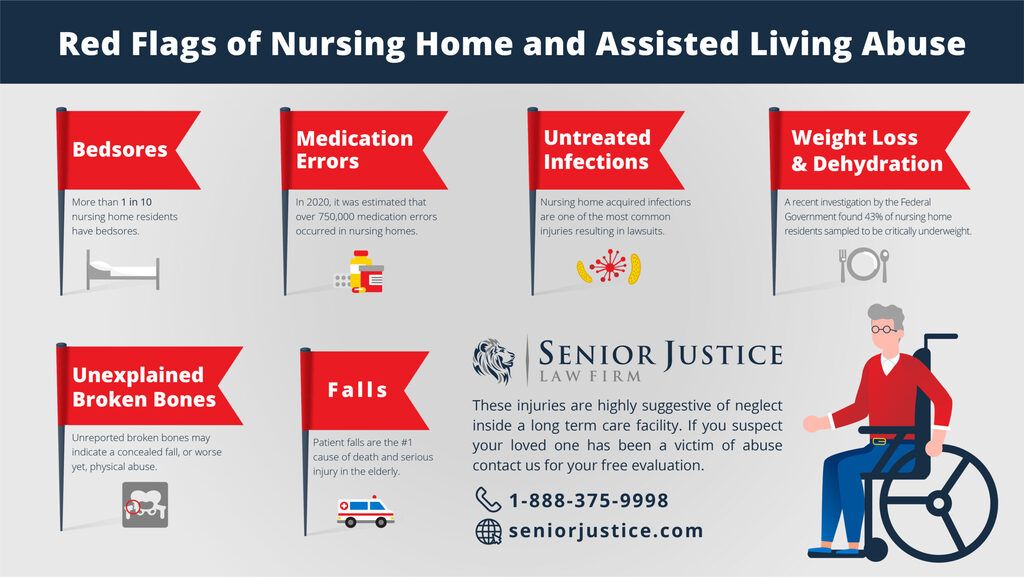 Be on the look out for:
Bedsores, also referred to as pressure ulcers, pressure injuries or decubitus ulcers.
Fall-related injuries like bruising, scarring or hematomas.
Unexplained traumatic injuries, like broken bones or brain bleeds.
Missed medication or overdosing prescriptions.
Elopement, wandering and exiting the facility.
Weight loss or dehydration.
Any of the above injuries may indicate abuse, neglect or negligence on the part of the nursing home or ALF. Speak with our Allentown nursing home law firm to learn more.
Free Case Consultation with an Allentown Nursing Home Abuse Lawyer
Our Philadelphia nursing home abuse lawyers are located about an hour away from Allentown and the Lehigh Valley area. We are happy to come to you if this makes it easier on your family. We provide completely free case consultations and we only get paid if we recover money for you and your family. There are no up front fees or costs, so you do not have to worry about whether you can afford to retain an attorney. We are here to help you in your time of need.
Call Senior Justice Law Firm today to learn about why we are different from other law firms and how we can help you achieve justice on your Allentown nursing home negligence case.
Free consultation: (484) 795-1777
Allentown PA Nursing Homes
Many of Allentown's skilled nursing facilities have been cited by the state for sub-standard care. Further, many Allentown nursing homes are for-profit, which means the ownership corporation is focused on making money.
Name/Address/Phone
Type of Ownership
CEDARBROOK SENIOR CARE AND REHABILITATION
350 SOUTH CEDARBROOK ROAD
ALLENTOWN PA 18104
(610)395-3727
COUNTY
CH SKILLED NURSING FACILITY OF ALLENTOWN
1503 CEDAR CREST BLVD
ALLENTOWN PA 18104
(610)861-8080
PROFIT
FELLOWSHIP MANOR
3000 FELLOWSHIP DR
WHITEHALL PA 18052
(610)799-3000
NON-PROFIT
(Good Shepherd Home)
GOOD SHEPHERD HOME RAKER CENTER
601 ST JOHN STREET
ALLENTOWN PA 18103
(610)776-3199
NON-PROFIT
GOOD SHEPHERD HOME- BETHLEHEM
2855 SCHOENERSVILLE ROAD
BETHLEHEM PA 18017
(610)807-5600

NON-PROFIT
HOLY FAMILY MANOR
1200 SPRING STREET
BETHLEHEM PA 18018
(610)865-5595

NON-PROFIT
LEHIGH CENTER
1718 SPRING CREEK ROAD
MACUNGIE PA 18062
(610)366-0500

PROFIT
LEHIGH VALLEY HOSPITAL TRANSITIONAL SKILLED UNIT
17TH & CHEW STREETS
ALLENTOWN PA 18105
(610)969-3310

NON-PROFIT
LUTHER CREST NURSING FACILITY
800 HAUSMAN ROAD
ALLENTOWN PA 18104
(610)398-8011

NON-PROFIT
MANORCARE HEALTH SERVICES-ALLENTOWN
1265 S CEDAR CREST BOULEVARD
ALLENTOWN PA 18103
(610)776-7522

PROFIT
MANORCARE HEALTH SERVICES-BETHLEHEM 2021
2021 WESTGATE DRIVE
BETHLEHEM PA 18017
(610)865-6077
PROFIT
MANORCARE HEALTH SERVICES-BETHLEHEM 2029
2029 WESTGATE DRIVE
BETHLEHEM PA 18017
(610)861-0100

PROFIT
MANORCARE HEALTH SERVICES-WEST ALLEN
535 N 17TH ST
ALLENTOWN PA 18104
(610)432-4351

PROFIT
MOSSER NURSING HOME
1175 MOSSER ROAD P O BOX 133
TREXLERTOWN PA 18087
(610)395-5661
NON-PROFIT
PHOEBE ALLENTOWN HEALTH CARE CENTER
1925 TURNER STREET
ALLENTOWN PA 18104
(610)794-5350

NON-PROFIT
SACRED HEART HOSPITAL TRANSITIONAL CARE FACILITY
421 CHEW STREET
ALLENTOWN PA 18102
(610)776-4500

NON-PROFIT
WESTMINSTER VILLAGE
803 N WAHNETA STREET
ALLENTOWN PA 18103
(610)782-8300

NON-PROFIT
Allentown PA Assisted Living Facilities
The Lehigh Valley area has more than 70 assisted living facilities and memory care units. Some of the larger assisted living facilities include:
Arden Courts of Old Orchard
Whitehall Manor
Cornerstone Living
Heather Glen Senior Living
Luther Crest Senior Living
Rittenhouse Village at Lehigh Valley
Above & Beyond at the Knights of Allentown
Country Meadows Allentown
The Palmerton
Speak with an Allentown Nursing Home Abuse Lawyer Now
If you have more questions on an injury or wrongful death that occurred inside a Lehigh Valley facility, speak with an Allentown nursing home abuse lawyer today, for free at (484) 795-1777