Filing a Lawsuit Against an Atlanta Nursing Home?
Our Atlanta Nursing Home Abuse Attorney Can Help
If you suspect elder abuse or neglect inside an Atlanta healthcare facility, call us at 470-598-1515. Our law firm can help your family achieve justice after the unthinkable happens inside a Georgia nursing home. At Senior Justice Law Firm, our firm focus is on nursing home negligence litigation. This is all we do.
Bed sores, falls, untreated infection and wrongful death are not an acceptable outcome of any nursing home residency.
If you believe your loved one was ignored, neglected, abused, or harmed due to elder patient negligence, take action now. Do not remain silent in the face of neglect. Contact our Atlanta nursing home abuse attorney today by utilizing the chat feature on our website or call us toll free. The consultation is always free and we only get paid if we make a recovery on your case.
At Senior Justice Law Firm, our firm is singularly focused on nursing home neglect and elder abuse cases. This is what we do. Let our years of experience guide you and your family on your journey to justice. Live chat with our office now and share as much case facts as possible. We will get back to you and let you know if we can assist you and your family.
Contact our Atlanta nursing home abuse attorneys today for a free case consultation:
Senior Justice Law Firm
1201 W Peachtree St NE Suite 2335, Atlanta, GA 30309
470-598-1515
Red Flags of Georgia Nursing Home Abuse
Elder abuse in any form is inexcusable. However, our Georgia nursing home abuse lawyer routinely sees the same ugly nursing home neglect injuries pop up in most cases we handle.
The below nursing home injuries are highly suspicious of neglect.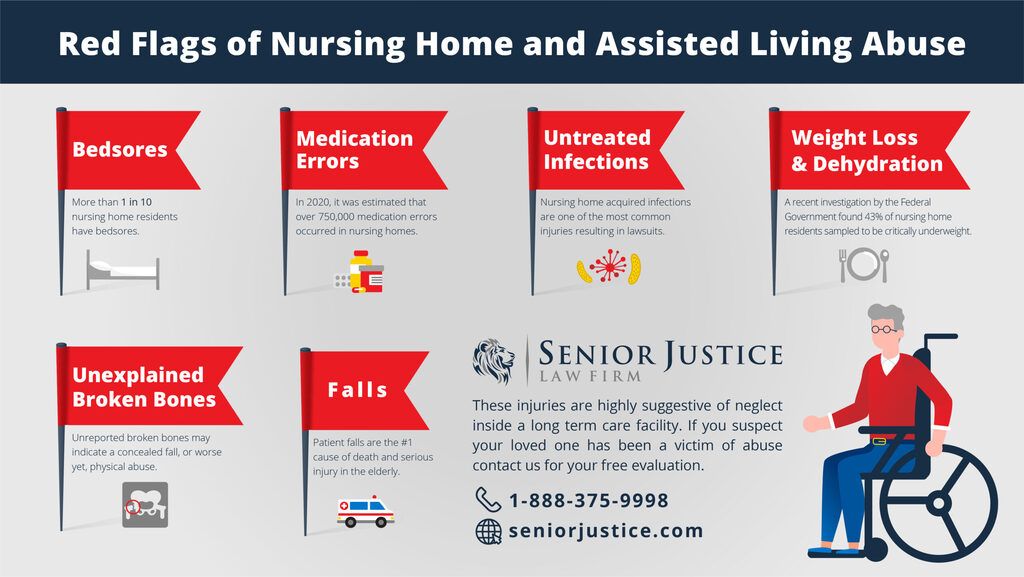 Atlanta Bed Sore Lawyer
Bed sores are the most common injury claim our Atlanta nursing home abuse attorney handles. Bed sores, pressure ulcer and decubitus ulcers develop when a patient is not moved, turned, repositioned or removed from bed. Bed sores should usually never develop, so if they develop in an Atlanta area nursing home, this is usually evidence of negligence. Sadly, bed sores impact the most vulnerable of residents, since they usually occur in mobility-compromised patients. If a nursing home does not timely move wheelchair and bed bound patients, they are liable for the harm caused.
Falls in Atlanta Nursing Homes & Assisted Living Facilities
Falls are the leading cause of broken bones and death in seniors residing in long term care facilities. There are numerous regulations which require Atlanta nursing homes to implement fall preventative measures in fall-risk patients. All too often, when we investigate a Georgia fall death case, we find that the nursing home failed to properly use fall prevention techniques. This is grounds for a nursing home fall claim.
Weight Loss
Many of us joke that we would love to lose a few pounds. However, in elderly nursing home patients, weight loss can be a death sentence. If your loved one lost more than 10% of their body mass in a short time period, this may evidence neglect. Weight loss in vulnerable elderly residents usually arises out of nursing home staff failing to assist with eating or drinking.
Choking Deaths
Similarly, choking deaths arise out of a lack of assistance or supervision with eating. Some residents require supervision and set up help with eating. Others require full on assistance while eating. Some residents receive nutrition through tube feedings. Regardless of assistance level, a choking death in an Atlanta nursing home is inexcusable. Even if a resident is independent in eating, if they choke in a common area dining hall and do not receive emergency help from staff, like the Heimlich maneuver, the choking death likely could have been prevented.
Sexual Abuse
Many people are shocked to learn how prevalent sexual abuse, rape, and unwanted touching is inside Atlanta's long term care facilities. Sexual abuse in a nursing home is obviously unacceptable, as it is anywhere else. However, since most victims of rape and groping inside of facilities are not able to voice complaints, you must remain on guard in observing signs and symptoms of sexual trauma. Indicators of Atlanta nursing home sexual abuse include bruising, guarding of genitalia, vaginal bleeding or bruising, torn clothing and undergarments, increased anxiety, and a withdrawn personality.
Physical Abuse
Physical abuse of any kind inside a healthcare facility is inexcusable. Abuse can be perpetrated by vindicative staff members, or in the form of other resident attacks. Regardless of who assaulted your loved one, a nursing home is supposed to be a place of protection for the vulnerable. Assault, abuse and physical attacks are an obvious form of nursing home abuse.
Untreated Infection
Infections like sepsis and UTI can be prevented. More glaringly, if a resident does develop signs and symptoms of infection, the Atlanta nursing home must promptly address the infection. Failure to do so results in a nursing home infection lawsuit.
Wrongful Death in Atlanta Nursing Homes
A sudden and unexplained death, especially in residents who were only residing at the facility for short term rehab, may indicate a nursing home wrongful death. Wrongful death is an all encompassing legal term, which in the nursing home context, encapsulates any kind of premature death caused by a nursing home's negligent acts or omissions.
If your family member endured any of the above injuries, call Senior Justice Law Firm today at 470-598-1515, or live chat with our office and share your story. The above injuries are highly suggestive of nursing home neglect and deserve immediate investigation, and our Atlanta nursing home abuse attorney can help you get answers.
Steps to Take if You Suspect Atlanta Elder Abuse in a Facility
Understanding Atlanta Nursing Home Abuse
When many people think of Georgia, the first place that comes to mind is the bustling metropolis that is Atlanta. When it comes to living here, residents enjoy the abundant sunshine and tepid weather that never dips for too long into the cold. With a reasonable cost of living and restaurants galore, it's no wonder that people flock to this thriving city. And thanks to easy access to nature, parks, and other relaxing ventures, Atlanta has gradually grown as one of the prime locations in the country for retirees too.
As nursing homes in the Atlanta area have continued to expand in order to accommodate the rising number of elderly folks in need of residence, many facilities have struggled to maintain the same quality of care that they previously provided.
In addition, as long-term care facilities become increasingly owned by for-profit corporations, the focus on monetary gain over care quality has shifted dramatically. Thus, those who are considering which nursing home to choose in Atlanta, Georgia should evaluate not only the services offered by the facility but also its overall rating and what organizations such as Medicare have to say about that location. When nursing home corporations employ a "profits before people" approach to care, the results are pervasive elder neglect and abuse.
The Statistics on Nursing Homes in Atlanta
The ninth largest state in the country, Georgia has seen its retirement-age population burgeon in recent years. Nursing homes have been pushed toward finding space for more beds, and with razor-thin margins on Medicaid payouts, the facilities can sometimes struggle to adequately profit. As a result of the intense focus on finances, one a third of all nursing homes in the state of Georgia achieve a rating that is above average. AARP reports that the state struggles to adequately achieve positive scores on mandatory health inspections—which will be covered below in regards to Atlanta's facilities.
There are 108 nursing homes in Atlanta, Georgia and the surrounding metro area, with 65 facilities located within 25 miles of the city center. This leaves a wide variety of locations for prospective residents to choose from; unfortunately, only 16 of these facilities manage to achieve a score that is above average. Additionally, the Atlanta area can be slightly more expensive in terms of senior living than the rest of the state, with Atlanta and Macon coming in as the highest cost. However, even these more expensive locations average about $500 less than the national average, which stands true with Georgia's overall lower cost of living.
Atlanta based residents can typically plan for approximately $3400 in monthly living costs for nursing homes, but Georgia's ABD Medicaid coverage can help to offset this expense. Similarly, the SOURCE Waiver (Source Options Using Resources in a Community Environment) is a viable option for the elderly who are particularly frail, and PACE (Program of All-Inclusive Care for the Elderly) can assist as well.
Nursing Homes in Atlanta
Did you know that you can review any nursing home's overall rating, health inspection scores, and more on Medicare's Care Compare website? While it is true that nursing home abuse can occur even in the most highly rated of facilities, those that score at two stars or below are particularly at risk. It is important that you remain vigilant about your loved one's care and speak out if you believe that something is amiss.
Some of the skilled nursing facilities in Atlanta are below. Please note that some of the facilities received 5 stars while others received 1 star. Others scored in the middle. Atlanta nursing home star ratings change frequently and facilities improve and decline, so it is best to check Medicare for the official star rating.
Legacy Transitional Care & Rehabilitation
460 Auburn Avenue N.E.
Atlanta, GA 30312
The A.G. Rhodes Home
350 Boulvard, S.E.
Atlanta, GA 30312
Westminster Commons
560 St Charles Ave, NE
Atlanta, GA 30308
Sadie G. Mays Health & Rehabilitation Center
1821 Anderson Avenue NW
Atlanta, GA 30314
Pruitthealth – Virginia Park
1000 Briarcliff Road NE
Atlanta, GA 30306
Reliable Health & Rehab at Lakewood
1980 Arrow Street, SW
Atlanta, GA 30310
Signature Healthcare of Buckhead
54 Peachtree Park Drive N.E.
Atlanta, GA 30309
Terraces at Peachtree Hills Place
229 Peachtree Hills Avenue, NE
Atlanta, GA 30305
East Lake Arbor
304 Fifth Avenue
Decatur, GA 30030
A.G. Rhodes Home Wesley Woods
1819 Clifton Road, N.E.
Atlanta, GA 30329
Budd Terrace at Wesley Woods
1833 Clifton Road, NE
Atlanta, GA 30329
Crestview Health & Rehab Center
2800 Springdale Road
Atlanta, GA 30315
Fulton Center for Rehabilitation
2850 Springdale Road SW
Atlanta, GA 30315
Bonterra Transitional Care & Rehabilitation
2801 Felton Drive
East Point, GA 30344
Pruitthealth – West Atlanta
2645 Whiting Street N.W.
Atlanta, GA 30318
Nurse Care of Buckhead
2920 Pharr Court South NW
Atlanta, GA 30305
The William Breman Jewish Home
3150 Howell Mill Road N.W.
Atlanta, GA 30327
North Decatur Health and Rehabilitation Center
2787 North Decatur Road
Decatur, GA 30033
Manor Care Rehabilitation Center – Decatur
2722 North Decatur Road
Decatur, GA 30033
Healthcare at College Park, LLC
1765 Temple Avenue
College Park, GA 30337
Pruitthealth – Decatur
3200 Panthersville Road
Decatur, GA 30034
Lenbrook Nursing Home
3747 Peachtree Road, NE
Atlanta, GA 30319
Glenwood Health and Rehabilitation Center
4115 Glenwood Rd
Decatur, GA 30032
Briarwood Health and Rehabilitation Center
3888 Lavista Road
Tucker, GA 30084
Delmar Gardens of Smyrna
404 King Springs Village Pkwy
Smyrna, GA 30082
Pruitthealth – Brookhaven
3535 Ashton Woods Drive NE
Atlanta, GA 30319
Dunwoody Health and Rehabilitation Center
5470 Meridian Mark Road, Bldg E
Atlanta, GA 30342
Sandy Springs Health and Rehabilitation
1500 S Johnson Ferry Road
Atlanta, GA 30319
Lake City Nursing and Rehabilitation Center LLC
2055 Rex Road
Lake City, GA 30260
Christian City Rehabilitation Center
7300 Lester Road
Union City, GA 30291
Powder Springs Center for Nursing & Healing
3460 Powder Springs Road
Powder Springs, GA 30127
Roswell Nursing & Rehab Center
1109 Green Street
Roswell, GA 30075
Douglasville Nursing and Rehabilitation Center
4028 Hwy 5
Douglasville, GA 30135
Be sure that as you consider which Atlanta nursing home to choose, you evaluate their past performance in addition to their current administration.
For example, Fulton Center (mentioned above) has been added to a federal list of deficient nursing homes as a result of confirmed abuse at the facility, in addition to approximately $88,000 in fines. Dunwoody, also mentioned above, has received more than $320,000 in fines as a result of health inspection violations, and Westminster Commons exceeds even this number at $376,330. Signature Healthcare of Buckhead has recently eclipsed $400,000 in fines.
Contact our Atlanta nursing home abuse attorney if you are investigating a potential lawsuit against a nursing home in Fulton County, Dekalb County, Clayton County, Rockdale, Gwinnett, Cobb or Henry County. Nursing home abuse and neglect is our law firm's focus practice area.
Atlanta Assisted Living Facilities
Fulton County is also home to many large assisted living communities. These assisted living facilities are for lower acuity residents, but Atlanta ALF's still owe a duty of care to keep residents safe, on the premises, and free of preventable fall injuries.
Some of the Atlanta area's larger assisted living facilities include:
CORSO ATLANTA 3200 HOWELL MILL ROAD ATLANTA
VILLAGE PARK OF ALPHARETTA 12300 MORRIS ROAD ALPHARETTA
SUMMERSET 3711 BENJAMIN E MAYS DRIVE SW ATLANTA
INSPIRED LIVING AT ALPHARETTA 11450 MORRIS ROAD ALPHARETTA
VILLAGE PARK MILTON 555 WILLIS ROAD ALPHARETTA
SPARKS INN RETIREMENT CENTER 7290 LESTER ROAD UNION CITY
TAPESTRY HOUSE ASSISTED LIVING 2725 HOLCOMB BRIDGE ROAD ALPHARETTA
ARBOR TERRACE AT CRABAPPLE 12200 CRABAPPLE ROAD ALPHARETTA
BRIGHTON GARDENS OF BUCKHEAD 3088 LENOX ROAD ATLANTA
VITALITY LIVING MILTON 2925 WEBB ROAD MILTON
SUNRISE OF IVEY RIDGE 2950 OLD ALABAMA ROAD ALPHARETTA
MANSIONS AT ALPHARETTA SENIOR LIVING & MEMORY 3675 OLD MILTON PARKWAY ALPHARETTA
MANSIONS AT SANDY SPRINGS AL AND MEMORY CARE 7300 SPALDING DRIVE PEACHTREE CORNERS
ADDINGTON PLACE OF ALPHARETTA 762 NORTH MAIN STREET ALPHARETTA
PHOENIX AT MILTON, THE 13943 HIGHWAY 9 NORTH MILTON
SUNRISE OF JOHNS CREEK 11405 MEDLOCK BRIDGE ROAD JOHNS CREEK
Use Your Atlanta Nursing Home Abuse Lawsuit as a Vehicle for Change
For many families, the concept of filing a lawsuit against a nursing home can seem supremely overwhelming. In this time when a loved one has been injured or possibly even passed away due to a facility's abuse or negligence, adding legal troubles into the mix may feel pointless or burdensome. However, it is important to understand that skilled legal counsel can remove the burden from your shoulders—and assist you in seeking the justice that you deserve.
Justice for elder abuse and neglect in Atlanta is not simply about monetary compensation. By bringing an Atlanta nursing home abuse lawsuit, you can affect positive, long-term change by hitting the nursing home where it hurts. When you hold a facility accountable for its behavior and potentially force monetary compensation, you cut directly into that organization's bottom line of profits. This incentivizes the owners to avoid future costs by amending the issue that generated the lawsuit. This can result in improved care for others who rely on that facility to fulfill their needs in their twilight years.
Lawsuits & Damages in Your Atlanta Elder Abuse Case
The types of damages that you can secure in a lawsuit against a nursing home may vary; after all, no two cases are the same. However, in general, you can expect your options to include either (or potentially both) compensatory and punitive damages. Compensatory damages are awarded to families to seek to remedy the situation financially; securing an amount in this area could assist with paying for funeral costs, medical bills, and even pain and suffering.
Punitive damages, conversely, are not awarded in order to assist in resolving the situation. Punitive means "punishment," and these damages are exactly that—intended to penalize the facility and discourage the behavior in the future. Think of punitive damages like a fine, except that the paid fine is paid out to the family instead of a governing agency. In order to get punitive damages against an Atlanta nursing home, the defendant's actions or conduct must have exhibited "willful misconduct, malice, fraud, wantonness, oppression, or that entire want of care which would raise the presumption of conscious indifference to consequences." O.C.G.A. § 51-12-5.1(b).
Consult with our Atlanta nursing home abuse attorney today to learn more about your potential damages available under Georgia law.
Common Health Inspection Issues in Atlanta Facilities
Each nursing home is different, and thus many facilities will struggle with different areas of care and management. However, some common issues tend to arise in Atlanta nursing homes that you should remain particularly vigilant for.
One such problematic situation is access to showers. Some nursing homes have been cited for their failure to provide adequate tools such as trolleys or reclining shower chairs to ensure that all residents had equal opportunity to shower. For example, one facility was cited after it was discovered that six residents did not receive showers as scheduled due to the lack of appropriate equipment.
Food safety is another issue that is commonly encountered in Atlanta nursing homes. Many facilities have been found to fail to adequately label their food, which can result in staff and cooks preparing or serving food that is past its expiration date. In addition, food temperature remains a consistent concern, both coming out of the kitchen and as a result of food carts making their way slowly across multiple floors or wings. In one instance, baked chicken was read at an internal temperature of 50 degrees Fahrenheit, when the appropriate holding temperature for chicken is 135 degrees. Failure to keep food at the appropriate temperature can lead to illness caused by bacteria such as salmonella, which may compromise the health and recovery of the elderly.
How to Report Elder Abuse in Atlanta, Georgia
Once you are made aware that nursing home abuse or neglect is occurring, you may feel frozen in place, unsure of what to do. Most families elect to reach out to the nursing home to ask questions. This is a worthwhile place to start, but it is important to remember that in cases of negligence, the nursing home may not even be aware that it is practicing harmful care standards, or the staff may be unaware of mistakes and thus unwilling to correct them. In order to ensure that your situation is handled seriously, you should also reach out to independent organizations that deal specifically with elder abuse and nursing home neglect within the Atlanta metropolitan region.
Thankfully, as an exceptionally large metro area, Atlanta boasts a number of organizations centered around ensuring the wellbeing and safety of the elderly. The Division of Aging Services in the Department of Human Services serves as the central location for Georgia's ombudsman program, which is a government mandated organization that investigates alleged nursing home abuse and advocates on behalf of the elderly. If you need to file a complaint, you can do so on their website at https://www.georgiaombudsman.org/contact-us/. If you would like to make a complaint in person at an office, you can locate the Atlanta office that is nearest you by using the map on the ombudsman's website.
While it is wise to reach out to the ombudsman that manages inquiries across the entire state, Atlanta is so large that it also maintains its own independent ombudsman office at 225 Cameron Road in McDonough, Georgia 30253. Calling 627-1057 (area code 404) will put you in touch with this branch. Once you have reached out to an ombudsman, they can assist you with the proper steps to take next. It is also wise to seek out legal representation during this time so that you can begin to establish a relationship with an Atlanta elder abuse attorney that you can trust.
Rely on a Professional Atlanta Nursing Home Abuse Lawyer
The day that you learn about the abuse or neglect that your loved one has endured in a nursing home may feel like the worst day of your life—and the attorneys at Senior Justice Law Firm understand that this sensitive time is a stressful one. This is why we leverage our years of experience in elder abuse and neglect cases to remove the burden from your shoulders and secure the financial compensation and justice that you deserve.
If you suspect that your loved one has suffered at the hands of a Georgia nursing home, we would be glad to speak with you free of charge during a consultation so that we can establish a strategy for moving forward.
Reach out at 470-598-1515 or use our messaging tool to speak to us. All Georgia cases will be handled by Atlanta nursing home abuse attorney Tom Pleasant, Esq.