Filing a Lawsuit Against a Bethesda Nursing Home? Our Maryland Attorneys Can Help
If you suspect elder abuse of neglect inside a Bethesda Maryland healthcare facility, call us at 888-375-9998. Our narrowly focused law firm can help your family achieve justice after the unthinkable happens inside a Maryland nursing home.
Bed sores, falls, untreated infection and wrongful death are not an acceptable outcome of any nursing home residency.
If you believe your loved one was ignored, neglected, abused or harmed due to elder patient care negligence, contact our Bethesda nursing home abuse attorney today. We want to help your family pick up the pieces after living this nightmare.
Understanding Bethesda Nursing Home Abuse
When people consider the areas that they would like to retire to, they tend to imagine a location with fair weather, easy but enjoyable activities to take part in, and a lot of nursing homes to choose from. This is what makes Bethesda, Maryland such a popular choice for older folks. Its location central to dozens of enjoyable activities appeal to those looking to have fun after retirement, and the area has almost a hundred long-term care facilities to consider.
In fact, Bethesda has seen such a boom in its older population that the number of nursing homes is growing seemingly by the day. Unfortunately, despite this pressing need to offer quality care to older folks who are relying on some help in their later years, many of the nursing homes in Bethesda struggle to achieve adequate scores for quality of care, staffing, and other metrics measured during government mandated inspections. More facilities than you may imagine pass with the bare minimum Much Below Average rating of 1 out of 5.
This opens your loved one or family member up to the chance of abuse or neglect at a nursing home. Even if the facility is rated highly, no location is immune from improper treatment, and it is important to remain vigilant when considering your loved one's care.
If your family member has not received adequate care while living at a nursing home in Bethesda, Maryland, Senior Justice Law Firm can help. Call us at 888-375-9998.
Nursing Home Abuse Attorney Proudly Serving the Bethesda Metro Area
As nursing home abuse attorneys, we focus on elder care abuse cases in the Bethesda area. With nearby offices in Washington DC and Baltimore, our law firm proudly represnts families impacted by nursing home neglect in Montgomery County.
We want to assist you in holding low-quality facilities responsible for their substandard care while seeking monetary compensation to bring you the justice that you deserve.
Bethesda Nursing Homes Can Offer a High Quality of Life…
In recent years, Bethesda has seen consistent growth as older folks flock to the area to enjoy the fair weather and numerous activities thanks to its close proximity to the D.C. metro center. The city is full of activities for all types, making it a popular choice for those looking to retire.
Those most interested in nature and easy scenic walks will enjoy Cabin John Regional Park and Capitol Crescent. Bethesda boasts a higher than average number of options for those who enjoy the arts, so older folks can catch shows and concerts at Imagination Stage and Strathmore. Or, for those looking to stay indoors, the area is full of nursing homes to consider.
In fact, Bethesda has 99 nursing homes to choose from in the 25 miles surrounding the city center, and almost 15 of those are located just a five-mile walk from the center of the city. This makes for unparalleled accessibility. Unfortunately, not all of these locations are able to offer the high standard of care that your loved one deserves.
… But It Is Crucial to Remain Vigilant and Assess Potential Patient Neglect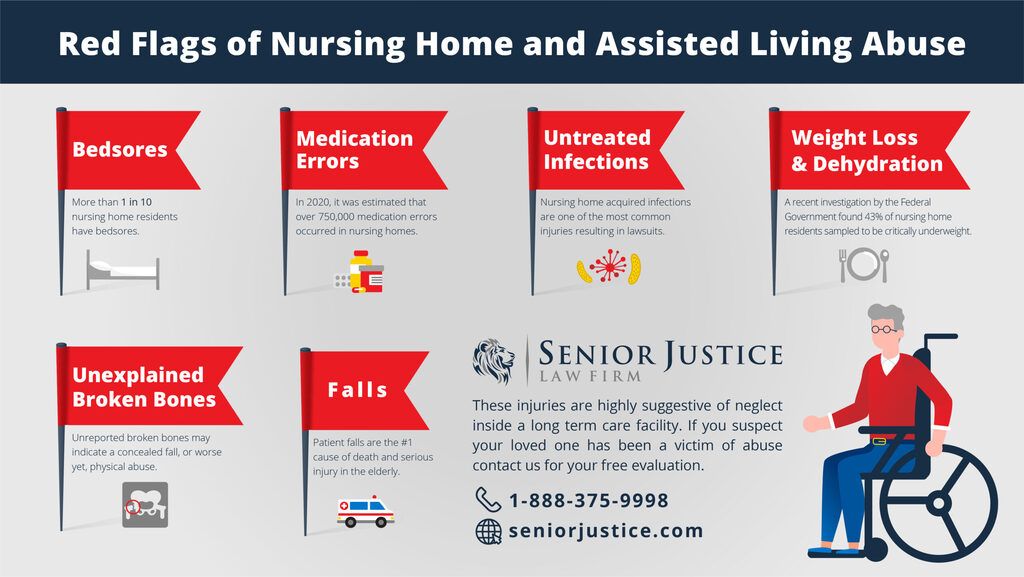 Bethesda continues to struggle to offer appropriate care to its elderly residents, but this is not a problem unique to the city or even to Maryland; nationwide, long-term care facilities are being held responsible for their substandard treatment of the older folks who rely on them. Under staffing remains one of the biggest issues that contributes to this poor standard of care.
The reason is that in general, most residents at a nursing home find themselves cared for best when they are one of only three or four people that a staff member is responsible for. This allows for more time and individualized attention. However, under staffing and a focus on fitting as many beds as possible into each facility for profit often lead to one staff member taking charge of as many as 30 residents.
Whether your loved one lives in a nursing home that scores below average or is the highest rated in the city, you should still remain vigilant; abuse can happen anywhere. Some of the most common signs that you should keep an eye out for include:
Bedsores – If you note bedsores or ulcer-like lesions on your loved one's body, you have a clear and undeniable case for nursing home abuse. Bed sores never occur due to any medical condition or diagnosis; they are always the result of insufficient care. Preventing these injuries is simple—a nurse or staff member simply needs to help a resident shift their body weight every few hours, because these sores arise from lying in the same position for too long and putting pressure on the skin.
MRSA, sepsis, and infection are just a few of the dangers that can result from bedsores. Left untreated, they can worsen until they are deep enough to reach the bone. These are one of the most common symptoms of nursing home abuse because under staffing is such an issue, and nurses do not typically have the time to help each resident move every few hours.
Falls– Unexplained injuries can tip you off to another of the most common signs of nursing home abuse: falls. While it is true that sometimes a fall simply cannot be prevented because it is accidental, nursing homes also have a responsibility to assess each resident for their fall risk so that they can adapt their treatment, environment, and behaviors accordingly. This always means removing trip hazards, cleaning wet or slippery floors, and preventing residents from wandering unattended, but it may also mean making special accommodations for certain residents, like using a bed that is difficult to roll out of.
Falls can lead to broken bones, brain bleeds (called subdural hematomas), and a number of other serious injuries that can even be fatal. Elderly bodies are less able to cope with the shock and dangerous of falls than younger folks.
Malnutrition/dehydration – You may not realize just how dangerous mealtimes can be for nursing home residents if it is not handled properly From choking to things "going down the wrong pipe" (aspiration pneumonia), staff need to correctly care for residents while they eat and drink. Unfortunately, staffing concerns often present an issue here, as most do not have the time to supervise residents while they eat.
Malnutrition, dehydration, and starvation can result from insufficient care from staff during mealtimes. Because many elderly folks struggle with mobility and may not be able to feed themselves without help, the lack of adequate staff to assist them can mean they are not eating or drinking at all.
Physical and sexual abuse– Both physical and sexual abuse are not unheard of in nursing homes, both from staff and other residents. Those who are overworked may take their frustrations out on uncooperative or slow-moving residents and cause severe injury that often goes unreported, because older folks may not remember the details well and are not taken seriously. Other residents may also pose problems if they are struggling with cognition and do not know how to properly relate to their neighbors. A nursing home is responsible for mitigating this behavior, and one that does not can be held liable for abuse.
If you are faced with the prospect that your loved one was abused or neglected in a nursing home in Bethesda or the nearby areas, you may feel hurt or lied to. You may also be frustrated and believe that filing a lawsuit at this point is worthless; it will never undo the pain and suffering that your loved one went through. While it is true that a lawsuit cannot turn back time, it can have a positive impact on other residents living in the nursing home.
Because many nursing homes are for-profit entities, they balk at paying monetary damages for their poor behavior because it cuts into their pocketbook. This is the most effective way to speak to them, and it can force them to make positive change in their facilities as they seek to avoid payouts in the future.
Some of the most common claims that are brought up during a nursing home abuse lawsuit include:
Pain and suffering
Loss of consortium (when someone is deprived of the family benefits of having a loved one, such as affection)
Loss of enjoyment of life
Distress, both mental and emotional
Medical bills
Funeral costs (if a wrongful death has occurred)
Bethesda Nursing Home News
Bethesda and the surrounding area remain popular locations for those considering retirement in Maryland. One of the draws is the burgeoning number of nursing homes and the assumption that, because they are so necessary due to the large population, they will also provide stellar care. Unfortunately, Attorney General Frosh has had to take action to curb the poor treatment of residents in nursing homes across the Maryland state area.
The investigation notes that many homes "engage in unlawful and at times inhumane conduct in order to maximize the amount of money [they are] paid by taxpayer-funded public health insurance programs." Because more and more nursing homes are headed by for-profit corporations, this shift in focus is not unexpected.
The stringent legal repercussions of this behavior have resulted in some nursing home administrators losing their license to continue operation or open new facilities in the future. This is a step in the right direction, but it does not protect many current residents of nursing homes in Bethesda and across Maryland.
Bethesda Nursing Home Abuse Free Consultation
As you consider where to go next after the abuse or neglect of your loved one, you may be feeling overwhelmed with getting your affairs in order and filing a lawsuit against the nursing home. Senior Justice Law Firm would be happy to assist you in developing a road map going forward so that you can hold the nursing home responsible for its behavior.
We work only in elder abuse law, and it is this keen focus that allows us to offer you unparalleled experience and tools to achieve the outcome you are seeking in your case. We would be happy to sit down with you free of charge during a consultation to discuss your situation and offer guidance.
Reach out to us through our chat feature or call us at 888-375-9998. If you prefer, you can also submit your information below.
Bethesda Nursing Homes and ALF's
There are 99 nursing homes within a 25 mile radius of Bethesda, Maryland, with 14 ready to provide care within a five mile circle from the city center. While some of these locations have been able to pass their government mandated inspections with positive scores, most rank in the range of average or below average.
Some local nursing facilities are listed below, regardless of rating:
BETHESDA HEALTH AND REHABILITATION 5721 GROSVENOR LANE BETHESDA
CARRIAGE HILL BETHESDA 5215 CEDAR LANE BETHESDA
MANOR CARE HEALTH SERVICES – BETHESDA 6530 DEMOCRACY BOULEVARD BETHESDA
MAPLEWOOD PARK PLACE 9707 OLD GEORGETOWN ROAD BETHESDA
OAK MANOR CENTER FOR REHABILITATION AND HEALTHCARE 3415 GREENCASTLE ROAD BURTONSVILLE
MANOR CARE HEALTH SERVICES – CHEVY CHASE 8700 JONES MILL ROAD CHEVY CHASE
MONTGOMERY VILLAGE HEALTH CARE CENTER 19301 WATKINS MILL ROAD GAITHERSBURG
WILSON HEALTH CARE CENTER 301 RUSSELL AVENUE GAITHERSBURG
KENSINGTON HEALTHCARE CENTER 3000 MCCOMAS AVENUE KENSINGTON
BRIGHTON GARDENS OF TUCKERMAN LANE 5550 TUCKERMAN LANE NORTH BETHESDA
MANOR CARE HEALTH SERVICES – POTOMAC 10714 POTOMAC TENNIS LANE POTOMAC
BROOKE GROVE REHAB. & NSG CTR 18131 SLADE SCHOOL ROAD SANDY SPRING
FRIENDS NURSING HOME 17340 QUAKER LANE SANDY SPRING
PEAK HEALTHCARE AT SLIGO CREEK 7525 CARROLL AVENUE TAKOMA PARK
CADIA HEALTHCARE – WHEATON 4011 RANDOLPH ROAD WHEATON
MANOR CARE HEALTH SERVICES – WHEATON 11901 GEORGIA AVENUE WHEATON
Montgomery County ALF's
SUNNYSIDE MANOR ASSISTED LIVING FACILITY 13411 DAUPHINE STREET ASPEN HILL MD
AUXILIARY HOUSE 5501 SOUTHWICK ST BETHESDA MD
BARTHOLOMEW HOUSE 6904 RIVER ROAD BETHESDA MD
BRIGHTVIEW BETHESDA WOODMONT 4907 RUGBY AVENUE BETHESDA MD
BRIGHTVIEW GROSVENOR 5510 GROSVENOR LANE BETHESDA MD
HILLWOOD 7401 BRADLEY BLVD BETHESDA MD
LARMAX HOMES – BELLS MILL 7102 BELLS MILL ROAD BETHESDA MD
LARMAX HOMES – GREYSWOOD 6602 GREYSWOOD ROAD BETHESDA MD
LARMAX HOMES – STONEHAM 6505 STONEHAM ROAD BETHESDA MD
LARMAX HOMES- LPSWICH 5807 IPSWICH ROAD BETHESDA MD
LARMAX HOMES- SEVEN LOCKS 9480 SEVEN LOCKS ROAD BETHESDA MD
MAPLEWOOD PARK PLACE HEALTH CARE CENTER 9707 OLD GEORGETOWN ROAD BETHESDA MD
SUNRISE AT FOX HILL 8300 BURDETTE ROAD BETHESDA MD
SUNRISE OF BETHESDA 4925 BATTERY LANE BETHESDA MD
BROOKEVILLE HOUSE 2505 BROWN FARM COURT BROOKEVILLE MD
BROOKEVILLE HOUSE II AT SUNSHINE 22150 NEW HAMPSHIRE AVENUE BROOKEVILLE MD
BROOKEVILLE HOUSE III LLC 20900 NEW HAMPSHIRE AVENUE BROOKEVILLE MD
GLORY GARDENS ASSISTED LIVING 2509 OWENS ROAD BROOKEVILLE MD
MARIAN ASSISTED LIVING, INC 19109 GEORGIA AVENUE BROOKEVILLE MD
MY LITTLE PARADISE AT NEW LIFE 20811 NEW HAMPSHIRE AVE BROOKEVILLE MD
AMAZING CARE I 15721 ALLNUTT LANE BURTONSVILLE MD
J'ROSE ASSISTED LIVING III 15101 SERBIAN LANE BURTONSVILLE MD
BRIGHTON GARDENS AT FRIENDSHIP HEIGHTS 5555 FRIENDSHIP BOULEVARD CHEVY CHASE MD
FIVE STAR PREMIER RESIDENCES OF CHEVY CHASE 8100 CONNECTICUT AVENUE CHEVY CHASE MD
CATHERINE'S HOUSE 13120 COOL BROOK LANE CLARKSBURG MD
KHANE CARE INC 23131 YELLOWWOOD DRIVE CLARKSBURG MD
AVONLEA RIDGE ASSISTED LIVING III 3432 CANBERRA STREET CLOVERLY MD
CLAYTON COMFORT CARE OF MARYLAND 2500 BRIGGS CHANEY ROAD COLESVILLE MD
MONTGOMERY ELDERCARE I 15016 EASTWAY DRIVE COLESVILLE MD
AMANDA'S PLACE, INC. 26209 JOHNSON DRIVE DAMASCUS MD
EMERALD ASSISTED LIVING 24711 RIDGE ROAD DAMASCUS MD
TRIBUTE AT BLACK HILL 312 BALTUSROL DRIVE DARNESTOWN MD
ALFREDHOUSE – NEEDWOOD 6020 NEEDWOOD ROAD DERWOOD MD
ALFREDHOUSE SYMPHONY 6020 NEEDLEWOOD ROAD DERWOOD MD
DEBORAH ASSISTED LIVING SERVICES #3 17725 CLIFFBOURNE LANE DERWOOD MD
MANCHESTER HOUSE, LLC 6108 GRANBY ROAD DERWOOD MD
MIRACLE MANOR ASSISTED LIVING, LLC 7713 MILLERFALL ROAD DERWOOD MD
SYCAMORE ACRES 6000 GRANBY ROAD DERWOOD MD
ARDEN COURTS OF KENSINGTON 4301 KNOWLES AVENUE KENSINGTON
KENSINGTON PARK RETIREMENT COMMUNITY 3616-3618 LITTLEDALE ROAD KENSINGTON
NANA'S CARE ASSISTED LIVING FACILITY 11308 NEWPORT MILL ROAD KENSINGTON
LAYTONSVILLE ESTATES ASSISTED LIVING II 8220 BRINK ROAD LAYTONSVILLE
LAYTONSVILLE ESTATES ASSISTED LIVING, LLC 8212 BRINK ROAD LAYTONSVILLE
SUPERIOR CARE, INC 21714 ROLLING RIDGE LANE LAYTONSVILLE
ANGEL RESIDENTIAL CARE PROVIDERS 9720 BRECKENRIDGE PLACE MONTGOMERY VILLAGE
GOOD SHEPHERD ASSISTED LIVING 9313 KOBE WAY MONTGOMERY VILLAGE
SUNRISE AT MONTGOMERY VILLAGE 19310 CLUB HOUSE ROAD MONTGOMERY VILLAGE
VICTORIA HOME 9704 INAUGURAL WAY MONTGOMERY VILLAGE
GOLDEN YEARS ASSISTED LIVING 28928 RIDGE ROAD MOUNT AIRY
ANDRUS HOUSE LLC 10910 Old Georgetown Road NORTH BETHESDA
BRIGHTON GARDENS OF TUCKERMAN LANE 5550 TUCKERMAN LANE NORTH BETHESDA
DARNESTOWN GARDEN ASSISTED LIVING 13901 DARNESTOWN ROAD NORTH POTOMAC
AMMAHL HOME FOR THE ELDERLY, INC 16700 BATCHELLORS FOREST ROAD OLNEY
BROOKDALE OLNEY 2611 OLNEY SANDY SPRING ROAD OLNEY
MARTHA ASSISTED LIVING 3377 TIDE WATER COURT OLNEY
MARTHA ASSISTED LIVING 2 3609 BLAKENSHIP COURT OLNEY
MARTHA ASSISTED LIVING 3 3613 DELLA BROOK STREET OLNEY
OLNEY ASSISTED LIVING LLC 16940 GEORGIA AVENUE OLNEY
WINTERGROWTH – MONTGOMERY CENTER 18110 PRINCE PHILIP DRIVE OLNEY
AMBLESIDE 11720 AMBLESIDE DRIVE POTOMAC
ARDEN COURTS OF POTOMAC 10718 POTOMAC TENNIS LANE POTOMAC
ASHEIR HOME POTOMAC 20 RIVERWOOD COURT POTOMAC
ASSISTED LIVING OF POTOMAC 11901 FALLS ROAD POTOMAC
ATRIUM KOSHER HOME 10301 GAINSBOROUGH ROAD POTOMAC
BROOKDALE POTOMAC 11215 SEVEN LOCKS ROAD POTOMAC
BYRON HOUSE 9210 KENTDALE DRIVE POTOMAC
EDEN HOMES – LIBERTY 8919 LIBERTY LANE POTOMAC
EDEN KOSHER HOMES, LLC 11500 GAINSBOROUGH ROAD POTOMAC
ELEGANT SENIOR LIVING AT POTOMAC, LLC 10505 BURBANK DRIVE POTOMAC
FLOWER VALLEY ASSISTED LIVING, LLC 8913 LIBERTY LN POTOMAC
HOLY FAMILY ASSISTED LIVING 13529 MAGRUDER FARM COURT POTOMAC
POTOMAC GARDENS SENIOR HOME LLC 11719 DEVILWOOD DRIVE POTOMAC
POTOMAC GRACE ASSISTED LIVING FACILITY 10510 SOUTH GLEN RD POTOMAC
POTOMAC GRACE I 9830 RIVER ROAD POTOMAC
REBECCA HOUSE 9910 River Road POTOMAC
SERENITY GARDENS ASSISTED LIVING 2 10501 BIT AND SPUR LANE POTOMAC
SERENITY GARDENS ASSISTED LIVING LLC 10829 BURBANK DRIVE POTOMAC
FRIENDS ASSISTED LIVING 17350 QUAKER LANE SANDY SPRING
MEADOWS #1635 1635 HICKORY KNOLL ROAD SANDY SPRING
MEADOWS #1637 1637 HICKORY KNOLL ROAD SANDY SPRING
MEADOWS #1639 1639 HICKORY KNOLL ROAD SANDY SPRING
MEADOWS #1641 1641 HICKORY KNOLL ROAD SANDY SPRING
WOODS #1612 1612 HICKORY KNOLL ROAD SANDY SPRING
WOODS #1614 1614 HICKORY KNOLL ROAD SANDY SPRING
WOODS #1616 1616 Hickory Knoll Road SANDY SPRING