Boynton Beach Nursing Home Abuse Attorneys
Boynton Beach Attorneys Specializing in Nursing Home Abuse Litigation
Boynton Beach nursing home abuse question? Senior Justice Law Firm can help.
Our Boynton Beach nursing lawyers specialize in nursing home abuse cases and we are based right here in Boynton. Let our nursing home injury attorneys' 50+ years of courtroom experience work to maximize your case. Call us today to start the conversation about your Boynton nursing home abuse claim now at 561-717-0817.
We are one of the few law firms in Florida that focus primarily on nursing home negligence cases. This specialization allows us to ensure that our clients receive the highest level of representation and service on their loved one's nursing home abuse claim. We have extensive experience handling nursing home negligence cases against almost every Boynton Beach facility. Call us today to learn why we are different.
Our Boynton Beach Nursing Home Abuse Law Firm Location
We are located just south of Woolbright Road, on the west side of Congress Avenue in the Woolbright Corporate Center.
Senior Justice Law Firm
1903 S Congress Ave #380
Boynton Beach, FL 33426
561-717-0817
Our Boynton Beach Nursing Home Litigation Experience
Experienced Boynton Nursing Home Lawyers Pursuing Justice for Victims and Their Family
We are one of Florida's preeminent nursing home abuse law firms. Our Boynton Beach nursing home abuse attorneys have decades of experience in this specific field and we have some of the largest verdicts and settlements in this practice area. We have recovered more than $25 million dollars for our wrongfully injured clients and their families. We regularly lecture other attorneys at seminars pertaining to nursing home litigation and our legal team has been recognized nationally for their specialization in long-term care liability cases.
Best of all, we are conveniently located in the South Palm Beach County area, in central Boynton Beach near the Delray Beach border.
All case consultations are free and we only get paid if you make a financial recovery. Call us today to see if we can help your family achieve justice on your Boynton Beach elder abuse claim.
Experience Matters. Our Nursing Home Abuse Attorneys Have It.
Boynton's Senior Citizens Deserve Protection
Many people are surprised to learn that Boynton Beach is the third-largest city in Palm Beach County. With almost 19% of Boynton Beach households having one or more persons over the age of 65, Boynton Beach is home to a disproportionately large senior citizen population. Boynton is also home to 53 senior citizen communities with age restrictions of 55 or older. The city government of Boynton Beach pays attention to its senior population, going so far as creating the Boynton Beach Senior Center located on Federal Highway, just north of Woolbright Road, in East Boynton.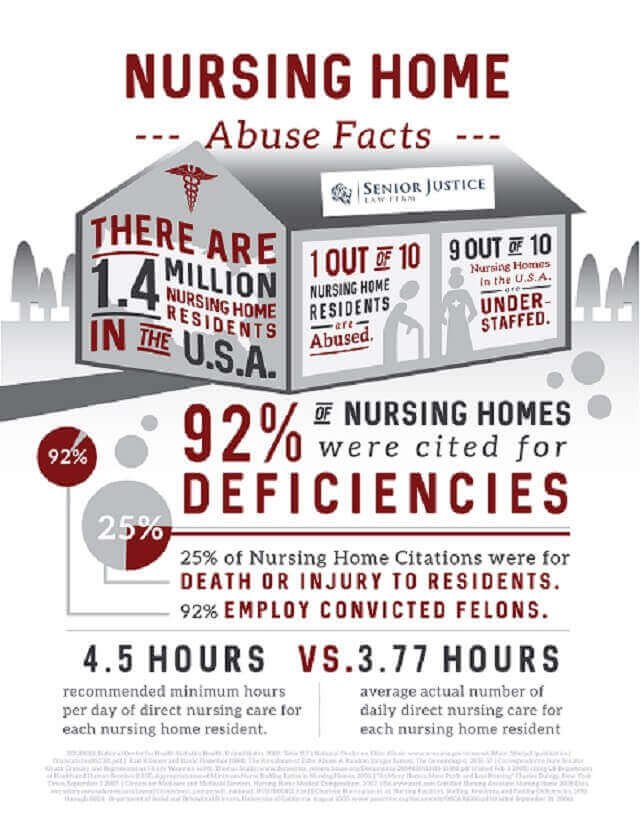 Boynton Beach Nursing Home Abuse
Many of Boynton Beach's senior citizens retire into graduate care campuses. This means the resident will begin at one of Boynton's many independent living facilities and then graduate to assisted living facility and eventually go into a skilled nursing facility. Boynton Beach is home to 6 nursing homes and many more assisted living facilities. There are more construction projects in the works, with Boynton's long term care population expected to increase by 20% by 2030.
Most of these Boynton healthcare facilities provide appropriate levels of care for the residents. However, there is always an exception to the rule. Bedsores, falls, dehydration, resident attacks, unsupervised wandering, and untreated infection are all byproducts of negligent nursing home care.
Each year, our Boynton Beach nursing home abuse law firm handles cases of neglect against Boynton Beach nursing facilities. If you suspect your loved one was abused or neglected, do not delay. Report the abuse before critical records get changed and witnesses conveniently forget what they saw. Call our Boynton Beach nursing home negligence law firm today for your free consultation at 561-717-0817.
Do I Have a Boynton Beach Nursing Home Negligence Lawsuit?
Look for These Red Flag Injuries
Most of our clients come to us with questions. One of the more common questions we get is, "My Dad suffered an injury at a facility. Is this considered nursing home abuse?" In order to properly answer that question, we typically need to request the relevant medical records and have those records reviewed by the appropriate expert. We are happy to do this for your potential case, and we require no up-front payment for our services or for obtaining your records.
Although a thorough review of the records is always required, sometimes, we see 'red flag injuries' which usually indicate neglect. Some red flags for elder abuse are:
For a list of frequently asked questions and answers regarding elder abuse claims, click this link. If you would like to ask our Boynton nursing home abuse lawyers a question regarding your specific case, call us at 561-717-0817 for a free consultation.
Why Choose Senior Justice Law Firm?
We understand that there is no shortage of injury attorneys here in South Florida. But not every attorney is right for every case. Our lawyers specialize in nursing home abuse litigation across the state of Florida, yet we are located right here in Boynton Beach. We regularly handle and prosecute nursing home abuse cases against facilities statewide. We have the court room experience and the industry know-how to achieve justice for your loved one. Most importantly, our Boynton Beach nursing home negligence lawyers wake up every day with a passion to pursue justice for victims of elder abuse. Our law firm strives for compassionate representation for our most vulnerable members of society; nursing home abuse victims.
Senior Justice Law Firm's mission statement: Our attorneys represent families impacted by elder abuse with compassion, concern, and commitment to our clients and community, thereby improving our healthcare system through advocacy, accountability, and justice.
Senior Justice Law Firm has easily accessible offices throughout South Florida. If you cannot make it to our Boynton office, we can come to you. Let our lawyers help you along your path to justice.
Common Causes for Nursing Home Neglect in Boynton
Getting to the root of the problem is essential in nursing home negligence lawsuits. All too often, we find that the core of the problem boils down to greed. Facility owners want to cram as many residents in the nursing home as possible, while cutting corners on the budget. Below are some of the more common causes of nursing home negligence:
Understaffing of nurses (usually during a certain shift);
Lack of policies to guide nurses;
Inattentive, uncaring nurses;
Outdated or improperly maintained equipment;
Too many high-needs residents without the staff to care for them.
Boynton Beach Nursing Homes
Below are a list of skilled nursing facilities, in the Boynton Beach area.
| | | | |
| --- | --- | --- | --- |
| Name | Type | Street Address | City |
| BARRINGTON TERRACE OF BOYNTON BEACH – 95041 | Nursing Home | 1425 S CONGRESS AVE | BOYNTON BEACH |
| BOULEVARD REHABILITATION CENTER – 95004 | Nursing Home | 2839 S SEACREST BLVD | BOYNTON BEACH |
| BOYNTON BEACH REHABILITATION CENTER – 95027 | Nursing Home | 9600 LAWRENCE RD | BOYNTON BEACH |
| BOYNTON HEALTH CARE CENTER – 95006 | Nursing Home | 7900 VENTURE CENTER WAY | BOYNTON BEACH |
| HEARTLAND HEALTH CARE CENTER – BOYNTON BEACH – 95019 | Nursing Home | 3600 OLD BOYNTON ROAD | BOYNTON BEACH |
| MANORCARE HEALTH SERVICES – BOYNTON BEACH – 95022 | Nursing Home | 3001 SOUTH CONGRESS AVENUE | BOYNTON BEACH |
More Questions? Speak with our Boynton Nursing Home Abuse Lawyers Now
If you'd like to pick our brains on a medical-legal issue, our Boynton Beach nursing home abuse attorneys are available at 561-717-0817 or fill out the form below.