Need a Columbia Maryland Nursing Home Abuse Attorney?
Let Senior Justice Law Firm Help You Investigate Your Columbia, MD Nursing Home

Negligence

Claim.
Did your parent develop a bed sore, suffer a fall or endure a neglect-related injury inside a Howard County nursing home? Our Columbia nursing home abuse attorney can help your family achieve justice. Our law firm's focus is on nursing home negligence cases.
Call or Live Chat with Senior Justice Law Firm today for a completely free Columbia nursing home abuse attorney case consultation.
Senior Justice Law Firm
31 Light St. Suite 203
Baltimore, Maryland 21202
(410) 934-3988
Maryland Nursing Home Abuse Attorneys
Signs of Abuse or Neglect in Columbia Nursing Homes
Bed sores or pressure ulcers
Falls and broken bones
Extreme weight loss
UTI or Pneumonia
Assault
Wrongful death
If your parent or loved one suffered any of the above injuries inside a Maryland facility, speak with our Columbia nursing home abuse law firm immediately to learn more about your legal rights.
Free Maryland nursing home neglect case consultation: (410) 934-3988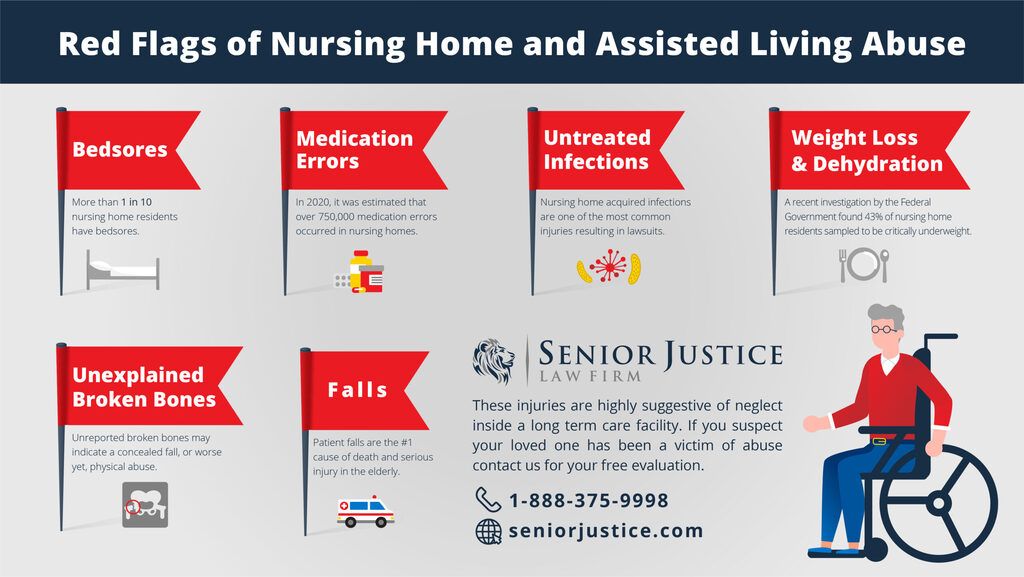 Filing a Lawsuit Against a Columbia Nursing Home?
Our Maryland Law Firm Can Help.
When someone is thinking about their retirement, they often spend a significant amount of time considering where they would like to live. For many, Maryland is a top choice. The historic cities, close proximity to enjoyable outings like Washington, D.C., and fair weather for most of the year make Maryland a popular destination, with Columbia near the top of the list. Because of this, Columbia is full of nursing homes to choose from for those nearing retirement age.
Unfortunately, despite the wide variety of nursing homes in the Columbia area, the quality of care for those choosing to retire in Maryland remains low. Elder care facilities struggle to provide a high quality of life to their residents, with many suffering from issues such as malnutrition, dehydration, and bedsores. Any of these conditions can cause serious injury or even death if left untreated.
If you suspect that your family member was abused or neglected in a Columbia nursing home, reach out to Senior Justice Law Firm at (410) 934-3988.
Our Columbia nursing home abuse attorney works only on nursing home abuse cases. We want to hold Columbia nursing homes accountable for abuse and neglect while helping you to seek the justice and financial compensation that your family deserves.
Nursing Home Care in Howard County, Maryland
Columbia Nursing Homes Don't Make the Cut
When people reach retirement age, they tend to want a mix of at-home relaxation and easy day excursions to take up some of their time. Columbia is popular with older folks because it offers simple but enjoyable activities for the 65+ community. Nature abounds, with Lake Kittamaqundi and Lake Elkhorn Park available for leisurely nature sights. Robinson Nature Center and the Patuxent Branch Trail are also simple options, and more adventurous folks may enjoy day excursions to larger cities like nearby Washington, D.C. For those looking to relax at home, nursing homes in Columbia are plentiful.
In fact, there are 129 nursing homes within the 25 miles around Columbia's city center in Maryland. Unfortunately, despite this large number of possible facilities to house your loved one, the large majority receive only the bare minimum when being scored during their government mandated inspections. In fact, multiple were directly cited for abuse or neglect and received fines or other penalties.
Columbia, MD Nursing Home Abuse & Neglect
Abusive Nursing Home Signs
Columbia nursing homes, like many across the nation, suffer as a result of their organizational structure. Most are owned by for-profit corporations whose best interest is in stuffing each location with as many beds—and filling those beds—as possible in order to turn the largest profit that they can. This leaves far too many residents compared to the number of staff and engenders a lack of appropriate care when staff inevitably do not have time to attend adequately to each resident. Some nurses are expected to thoroughly care for up to 30 residents, when the best quality of care is provided when staff are assigned no more than four.
Generally, this leads to neglect, as overworked staff are forced to cut corners or speed through the process of caring for residents. However, sometimes abuse can be intentional—such as when a burned out nurse lashes out to hit a resident who is misbehaving. Intentional abuse is never acceptable, but even negligent abuse is also punishable in court.
If you suspect that your family member has been the victim of negligent or intentional acts of harm, abuse, or neglect, it is important to talk to an experienced legal counsel. The signs of abuse are not always clear cut, but you may take note of some of the more common symptoms of nursing home neglect, such as:
Bedsores– Among nursing home abuse and neglect cases, bedsores are some of the most obvious indicators. There is no medical reason why bed sores would ever exist outside of the context of abuse or neglect. They are entirely preventable. A person who lies in the same position for a long time will experience pressure in the thinnest areas of the skin, such as the tailbone, elbows, and shoulders. This pressure can cause ulcer-like injuries on the skin called bed sores. Preventing bedsores is as simple as moving a resident slightly every few hours.
Once a bedsore appears, it can expose the victim to potentially fatal illnesses such as MRSA and sepsis, as well as severe or even life-threatening infections. Bed sores that progress all the way down to the bone cause extreme pain and suffering.
Falls– In nursing home abuse cases, falls remain a leading cause of unexplained injuries that you may notice when you come to visit. A nursing home has a responsibility to reduce each resident's fall risk; while some falls are genuinely accidental and could not have been prevented, most are the result of negligence on the part of the nursing home. Residents who wander unsupervised or trip risks that have not been removed are some of the many ways residents call fall, leading to broken bones and brain bleeds (called subdural hematomas).
Malnutrition/dehydration– Both choking and things "going down the wrong pipe" (aspiration pneumonia) are two of the most common food and drink issues encountered in nursing home abuse cases. Overworked staff do not have time to supervise residents as they eat and drink, which can cause them to fall victim to these dangerous situations.
Similarly, residents may not be receiving the sustenance that they need. If they have special dietary restrictions, understaffed kitchens may not have the time or resources to prepare them. Residents with mobility issues might struggle to even feed themselves or drink water, and this could quickly lead to malnutrition, starvation, and dehydration—all of which can be deadly.
Physical and sexual abuse– Most people tend to assume that the staff in a nursing home are there to assist and care for their loved one and that they would never intentionally do something to harm them. Unfortunately, both physical and sexual abuse are not uncommon in nursing homes, even though background checks are usually required before hiring.
The staff are not the only possible problem, though. Other residents may also lash out aggressively or sexually if they are suffering from cognitive dysfunction or a lack of clear memory. While it is the nursing home's duty to prevent these issues from coming to fruition, this does not always happen, and an elder care facility that contains residents who harm others can still be held accountable for that harm.
You may feel confident in your loved one's nursing home care, either because you have not seen any reports of bad behavior or you believe that the home's rating is indicative of proper care. However, it is important to remain vigilant, and do not hesitate to retaliate against abusive nursing homes if you find that your loved one is being mistreated.
Filing a Nursing Home Neglect Lawsuit in Howard County, Maryland
Bringing a lawsuit against a nursing home can be challenging and might seem futile, since no amount of money will ever undo the suffering that your loved one experienced. However, fighting for monetary compensation will hit nursing homes where it hurts the most—directly in their profits. Because most facilities are run by for-profit organizations, penalizing them financially is the most effective way to get them to change their methods and improve the quality of life for all residents at the facility.
While it is true that all nursing home abuse lawsuits are unique, they tend to share some common themes. The most frequent areas to recover damages during a suit include:
Pain and suffering
Loss of companionship
Loss of life
Loss of enjoyment of life
Distress, both mental and emotional
Medical bills
Loss of earnings (although rarely utilized as most neglected nursing home residents are retired)
Funeral costs (if a wrongful death has occurred)
Nursing Homes in the Columbia Area
There are 129 nursing homes in Columbia and the surrounding 25 mile area, and a large number of them barely skirt into the acceptable score category of 1 out of 5 in their inspection reviews. Many have been explicitly cited for confirmed cases of abuse and neglect. Some of these lower rated Columbia area nursing home locations include (but are not limited to):
THE NURSING AND REHAB CENTER AT STADIUM PLACE

1010 EAST 33RD STREET
BALTIMORE, MD 21218

ORCHARD HILL REHABILITATION AND HEALTHCARE CENTER

111 WEST ROAD
TOWSON, MD 21204

FUTURE CARE CHERRYWOOD

12020 REISTERSTOWN ROAD
REISTERSTOWN, MD 21136

CATONSVILLE COMMONS

16 FUSTING AVENUE
CATONSVILLE, MD 21228

CHAPEL HILL NURSING CENTER

4511 ROBOSSON ROAD
RANDALLSTOWN, MD 21133

RESIDENCES AT VANTAGE POINT

5400 VANTAGE POINT RD.
COLUMBIA, MD 21044

LORIEN HEALTH SYSTEMS – COLUMBIA

6334 CEDAR LANE
COLUMBIA, MD 21044

FOREST HAVEN NURSING AND REHABILITATION CTR

701 EDMONDSON AVENUE
CATONSVILLE, MD 21228

ARCOLA HEALTH AND REHABILITATION CENTER

901 ARCOLA AVENUE
SILVER SPRING, MD 20902

ORCHARD HILL REHABILITATION AND HEALTHCARE CENTER

111 WEST ROAD
TOWSON, MD 21204
Columbia Nursing Home News
Statewide, Maryland struggles to cope with the regulations for proper care and quality of life in nursing homes.
A Howard County nursing home was cited by state officials because staff failed to validate the reasons for a Notice of Proposed Involuntary Discharge.
Columbia is not the only city affected; Herald Mail reports that nursing homes are settling lawsuits for the poor treatment of their residents and the abuse of power for the purpose of seeking higher profits by using nursing homes as a business vehicle.
In a neglect lawsuit filed against a nursing home for its poor care of residents, the plaintiff explained that in order to make more money, the home "issued eviction notices to its residents en masse, unsafely evicted residents who continued to need long-term nursing care, and often exposed frail residents to dangerous conditions by dumping them in homeless shelters and predatory unlicensed facilities." Over a 17-month period, a single nursing home evicted more than one thousand residents.
Systemic understaffing and putting profits before people is simply inexcusable. Especially with vulnerable, frail nursing home patients.
Speak with a Columbia, MD Nursing Home Abuse Attorney Now
Free Consultation for Columbia Nursing Home Abuse Cases
If you are considering filing a lawsuit against an abusive or negligent nursing home in Columbia, Maryland or the surrounding area, you might be struggling with how to proceed. You may have already even spoken to the staff and management at the nursing home, but no changes—or ineffective, minute changes—were made. This is where Senior Justice can help you.
No Win, No Fee;

Guaranteed
Our Maryland nursing home neglect law firm works 100% on contingency fee. This means we do not bill hours or send invoices. We pay all the up front costs and we only get paid for attorneys fees and costs if we win your case and recover money for your family. This allows our Columbia nursing home malpractice attorney to serve all families, regardless of their financial situation.
Narrowly Focused on Maryland Elder Abuse & Neglect Litigation
We work on nursing home abuse cases only; we do not take other work. By focusing our efforts on elder neglect law, we ensure that we build up an experienced and skillful repertoire of lawyers and effective resources to assist you in bringing the most effective case possible against an abusive nursing home. We would be happy to talk with you free of charge to discuss your situation and review available evidence. If we believe that you have a case, you will pay nothing upfront so that you can focus on seeking the justice that your loved one deserves.
Let's Chat; We Can Help
Submit your information below, live chat with our office now, or call us at 410-934-3988
Free Columbia Nursing Home Abuse Lawyer Consultation
Columbia, MD Nursing Homes
LORIEN HEALTH SYSTEMS – COLUMBIA 6334 CEDAR LANE COLUMBIA
RESIDENCES AT VANTAGE POINT 5400 VANTAGE POINT RD. COLUMBIA
Columbia Maryland ALF's
A DOVELY PLACE ASSISTED LIVING 10925 CEDAR OAKS LANE COLUMBIA
AASTORIA HOME II 6636 CEDAR LANE COLUMBIA
AGAPE SENIOR HOME I 9420 RIDGEVIEW DRIVE COLUMBIA
ALLVIEW RETREAT 6344 AMHERST AVENUE COLUMBIA
ALWAYS CARING, INC 9534 ANGELINA CIRCLE COLUMBIA
APRIL BLOOM ASSISTED LIVING 5037 DURHAM EAST COLUMBIA
ASHLEIGH'S PLACE 4914 CANVASBACK COURT COLUMBIA
BLOOMING HEARTS ASSISTED LIVING LLC 8107 TIDE ROCK SQUARE COLUMBIA
BREDD HEALTH SERVICES, LLC 5984 GRANDS BANKS ROAD COLUMBIA
BRIGHTON GARDENS OF COLUMBIA 7110 MINSTREL WAY COLUMBIA
BRYANT WOODS MANOR 10461 WATER FOWL TERRACE COLUMBIA
FRIENDSHIP PLACE 6348 Sunny Spring COLUMBIA
GOLDEN TIME INC 10705 VISTA ROAD COLUMBIA
HARMONY HALL RETIREMENT COMMUNITY 6336 CEDAR LANE COLUMBIA
PANDA FAMILY HOME, LLC 10463 OWEN BROWN ROAD COLUMBIA
PEARLS OF WISDOM ASSISTED LIVING CENTERS, INC 9359 GUILFORD ROAD COLUMBIA
ROYAL RESIDENTIAL SERVICES LLC 6379 SHADOW SHAPE PLACE COLUMBIA
SAH-RANG-BONG CARE I 10717 HUNTING LANE COLUMBIA
SAH-RANG-BONG CARE II 10804 HUNTING LANE COLUMBIA
SAN JOSE CARE HOME, LLP 9316 PILAR COURT COLUMBIA
SOMERFORD PLACE – COLUMBIA 8220 SNOWDEN RIVER PARKWAY COLUMBIA
SUNRISE OF COLUMBIA 6500 FREETOWN ROAD COLUMBIA
VANTAGE HOUSE 5400 VANTAGE POINT ROAD COLUMBIA
WE CARE TOO 6257 TAMAR DRIVE COLUMBIA
WINTER GROWTH – HOWARD CENTER 5460 Ruth Keeton Way COLUMBIA
WINTER GROWTH – MARYLAND MEMORIES 5460 RUTH KEETON WAY COLUMBIA