FORT MYERS NURSING HOME ABUSE ATTORNEYS SERVING FT. MYERS, CAPE CORAL, AND ALL OF LEE COUNTY
Vast Experience Handling Ft. Myers Nursing Home Negligence Cases Matters. Demand Senior Justice.
Our Ft. Myers lawyers narrowly focus their practice on claims involving nursing home abuse, assisted living neglect, and elder abuse. It's all we do.
If your family is grappling with the loss of a loved one due to facility neglect, contact our caring and experienced Ft. Myers nursing home negligence attorneys now. The call is free and you are under no obligation to bring a case.
Specialization matters. Learn why we are different from general personal injury firms by speaking with our office now: 888-375-9998.
RED FLAGS OF LEE COUNTY NURSING HOME NEGLIGENCE
Elder abuse injuries often go unreported, so it is crucial that you remain vigilant in recognizing the red flags of nursing home negligence.
The below injuries often manifest under abusive or neglectful conditions.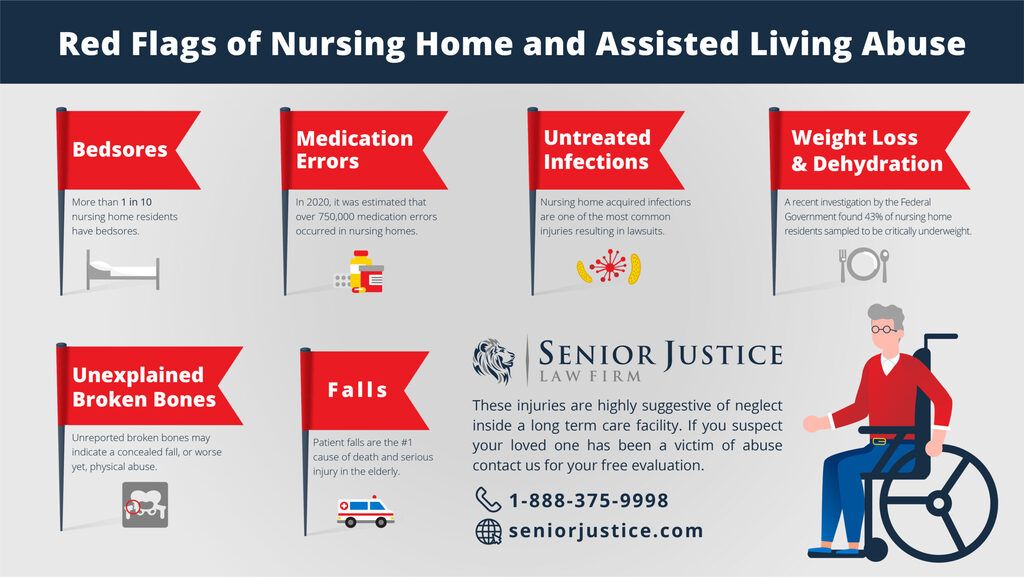 TOGETHER WE CAN STOP FT. MYERS NURSING HOME ABUSE AND NEGLECT
While it is true that we sue negligent Lee County facilities for monetary damages, these elder neglect cases are about a lot more than just money.
Our nursing home abuse law firm methodically analyzes what happened to your loved one in the facility. We hire expert registered nurses and medical doctors to provide legal causation opinions. Additionally, these clinical experts render opinions on what the nursing home or A.L.F. did wrong. These failures are hammered home to the offending facility via depositions and discovery.
In some cases, our firm will perform a full financial analysis of the nursing home and its parent corporation. This allows us to see where the company diverted much needed funding for resident care. Instead, we find these companies siphoned that money out as shareholder profits.
Even if your motivation is not about recovering money as compensation, a Fort Myers nursing home abuse lawsuit sends a clear message to the negligent facility. Do not let this happen again or else you will pay dearly for the harm you cause.
Take the next step in making your voice heard. Call our Fort Myers nursing home abuse attorneys today to learn about your legal options following a serious injury or wrongful death inside a Lee County long-term care facility.
FORT MYERS, FLORIDA NURSING HOME ABUSE LAWYERS
With its beautiful weather and close proximity to the majestic Gulf of Mexico, Fort Myers is a city that has attracted tourists, snowbirds, and new residents alike from around the country, from Thomas Edison to Henry Ford. Located just northeast of Southwest Florida International Airport, with I-75 and Tamiami Trail crossing directly through the city limits, Fort Myers is well connected for travel and transit for city locals and tourists alike.
The greater Cape Coral-Fort Myers Metropolitan Area continues to grow at incredible rates (Lee County grew 40.3% from 2000 to 2010!). Additionally, the warm, consistent weather continues to attract retirees and senior citizens to Fort Myers. These features help create the dynamic, unique community that Fort Myers residents have come to know and love.
Unfortunately, not all of the Lee County long-term care facilities provide appropriate care to residents, leading to serious injuries and wrongful death.
FORT MYERS NURSING HOME INJURY LAWYERS – HERE TO HELP
As you might expect, the massive growth in the area coupled with a significant retiree community creates specific challenges for the residents of Fort Myers. Sometimes these challenges are minor, but regrettably, accidents inside facilities happen. Whether it is a Ft. Myers nursing home injury, assisted living error, hospital neglect issue or medical mistake, serious Ft. Myers injuries require serious Ft. Myers attorneys. Our Ft. Myers elder abuse law firm is here to help. Call us today for your free Ft. Myers injury case consultation: 888-375-9998.
Experience Matters. Our Nursing Home Abuse Attorneys Have It.
NO UP FRONT FEES OR COSTS
Our Fort Myers nursing home abuse lawyers only get paid on your Ft. Myers injury case if you make a recovery.
A LAW FIRM WITH A FOCUS
The attorneys at Senior Justice Law Firm do not take every kind of case that walks in the door. Instead, we focus on a small number of fields to help assist the wrongfully injured residents of Fort Myers. Our practice specializes in the following areas:
Assisted Living Facility Negligence
Wrongful Death
The experienced attorneys at Senior Justice Law Firm understand the difficult circumstances that follow family tragedy involving an elderly loved one. When a loved one is in pain or has passed away, your focus is on them, not meeting deadlines for filing a motion. Our diligent and skilled attorneys provide legal representation to people and families affected by neglect and abuse in Ft. Myers nursing homes and assisted living facilities. We will fight for justice with compassion and zeal.
MAXIMIZING YOUR LEE COUNTY ELDER ABUSE CLAIM

In a perfect world, when an accident occurs and the other party failed to act reasonably, that party, along with insurance, would voluntarily pay for you or your loved one's medical bills, lost wages, and pain and suffering. Sadly, that is not a world we live in. Instead, the insurance companies and nursing homes will likely act in their own interest to pay you as little as possible and hope that you don't fight them for the compensation you deserve. If your loved one was injured, or worse, due to neglect inside a Ft. Myers facility, we are prepared to demand maximum compensation for you.
We have established a successful reputation of challenging the big guy for justice and succeeding. Let our Ft. Myers elder abuse lawyers fight for you.
FORT MYERS NURSING HOME ABUSE ATTORNEYS
Nursing home abuse cases create rage in the victim's family. Nursing homes are paid handsomely by Medicare and Medicaid to provide care and supervision to vulnerable residents. When Ft. Myers nursing homes are negligent in their care, accidents and wrongful death occurs.
We are one of a handful of Florida firms that focus on exclusively elder abuse claims. We have decades of experience handling these kinds of matters and we can quickly determine whether your Ft. Myers nursing home lawsuit has merit. If you were hurt due to nursing home abuse in the Fort Myers area, call us today for your free case consultation to learn more about your rights.
FT. MYERS ASSISTED LIVING NEGLECT LAWYERS
"An ALF is not a nursing home. We could not prevent your Mom's fall." We hear this kind of excuse time and time again. However, the law is clear that Florida Assisted Living Facilities owe a duty to their residents to keep them safe and free from injury. If they cannot safely prevent their residents from falling, they must discharge them to a higher care facility, like a skilled nursing facility. Assisted living cases are more challenging than nursing home negligence claims, however, our firm regularly handles lawsuits against assisted living facilities.
FORT MYERS WRONGFUL DEATH LAWYERS
When a wrongful death occurs in Ft. Myers, it has a seismic impact on all surviving family members. Ft. Myers wrongful death cases in particular result in large pain and suffering awards because of the permanency of the loss. Whether the wrongful death occurs due to a car accident on Tamiami Trail, medical malpractice at Lee Memorial Hospital, or nursing home negligence at Heartland Health Care Ft. Myers, our attorneys are here to help.
LEE COUNTY, FLORIDA HEALTHCARE FACILITIES
Ft. Myers' Area Skilled Nursing Facilities
Name
Street Address
City

CONSULATE HEALTH CARE OF NORTH FORT MYERS – 83607

991 PONDELLA RD
NORTH FORT MYERS

GULF COAST VILLAGE – 83616

1333 SANTA BARBARA BLVD
CAPE CORAL
16131 ROSERUSH COURT
FORT MYERS
1600 MATTHEW DRIVE
FORT MYERS

LODGE AT CYPRESS COVE, THE – 35960952

10500 CYPRESS COVE DR
FORT MYERS
13881 EAGLE RIDGE DRIVE
FORT MYERS
2310 N AIRPORT ROAD
FORT MYERS
13755 GOLF CLUB PKWY
FORT MYERS
3250 WINKLER AVENUE EXTENSION
FORT MYERS
Ft. Myers' Area Assisted Living Facilities
Name
Street Address
City

ALVA SENIOR RETREAT LLC – 11969158

4504 6TH ST W
LEHIGH ACRES

AMERICAN HOUSE BONITA SPRINGS – 11968805

11400 LONGFELLOW LN
BONITA SPRINGS

ARDEN COURTS OF FT MYERS – 11965056

15950 MCGREGOR BLVD
FORT MYERS

AUTUMN LEAVES OF ESTERO – 11969101

22900 LYDEN DR
ESTERO

AVALON MANOR ASSISTED LIVING FACILITY LLC – 11968083

2580 FIRST ST
FORT MYERS

BARKLEY PLACE – 11910486

36 BARKLEY CIRCLE
FORT MYERS

BARRINGTON TERRACE – FT MYERS – 11965763

9731 COMMERCE CENTER COURT
FORT MYERS

BROOKDALE BONITA SPRINGS – 11964789

26850 SOUTH BAY DRIVE
BONITA SPRINGS

BROOKDALE CAPE CORAL – 11964874

1416 COUNTRY CLUB BLVD
CAPE CORAL

BROOKDALE FORT MYERS CYPRESS LAKE – 11965026

7460 LAKE BREEZE DRIVE
FORT MYERS

BROOKDALE FORT MYERS LAKES PARK – 11964663

14521 LAKEWOOD BLVD
FORT MYERS

BROOKDALE FORT MYERS THE COLONY – 11964197

13565 AMERICAN COLONY BLVD
FORT MYERS

BROOKDALE SANTA BARBARA – 11965405

911 SANTA BARBARA BLVD
CAPE CORAL

CAIRN PARK – 11968778

9331 VIA SAN GIOVANNI ST
FORT MYERS

CAIRN PARK 2 – 11968842

2710 VIA SANTA CROCE CT
FORT MYERS

CAIRN PARK 3 – 11969031

1444 ARGYLE DR
FORT MYERS

CAPE CORAL SHORES – 11968274

1318 SANTA BARBARA BLVD
CAPE CORAL

CAPE VILLA INC – 11965819

4216 SW 5TH PLACE
CAPE CORAL

CAPE WEST LLC – 11967913

4616-4614 SW 7 PLACE
CAPE CORAL

CYPRESS POINT – 11969236

6870 ALISTER WAY
FORT MYERS

DISCOVERY VILLAGE AT THE FORUM – 11968545

2619 FORUM BLVD
FORT MYERS

DORNOCH PLACE DEL PRADO – 11966448

2728 SE 16 PLACE
CAPE CORAL

EBENEZER ALF LLC, THE – 11969282

348 ROCKLAND ST
LEHIGH ACRES

FUTURE HOME CARE OF AMERICA LLC – 11969200

24709 RODAS DR
BONITA SPRINGS

HARMONY HOMES – 11968897

711 CRESTLINE AVE S
LEHIGH ACRES

INSPIRED LIVING AT BONITA SPRINGS – 11968977

27221 BAY LANDING DR
BONITA SPRINGS

JOYFUL LIFE ASSISTED LIVING, INC – 11968416

3302 SW 1ST AVE
CAPE CORAL

JUNIPER VILLAGE AT CAPE CORAL – 11911654

4920 VICEROY COURT
CAPE CORAL

KING'S CROWN-SHELL POINT VILLAGE – 11911219

3699 KINGS CROWN COURT
FORT MYERS

LAMPLIGHT INN – 11953349

1896 PARK MEADOW DRIVE
FORT MYERS

LEHIGH ACRES PLACE – 11964586

1251 BUSINESS WAY
LEHIGH ACRES

NEW BEGINNING ASSISTED LIVING INC – 11968543

418 NW 21ST TERRACE
CAPE CORAL

PALMVIEW AT GULF COAST VILLAGE – 11969144

1433 SANTA BARBARA BLVD
CAPE CORAL

PARADISE LOVE ALF INC – 11968394

101 NE 9TH CT
CAPE CORAL

PONDELLA SERENITY COURT – 11966529

1923 NE 6TH STREET
CAPE CORAL

RENAISSANCE AT THE TERRACES – 11968491

26475 TAMIAMI TRL
BONITA SPGS

SPRINGS AT SHELL POINT RETIREMENT COMMUNITY, THE – 11968252

13901 SHELL POINT PLZ
FORT MYERS

TZURIEL ASSISTED LIVING FACILITY INC – 11968837

2710 NW 6TH ST
CAPE CORAL

VILLA COURT LLC – 11967827

1992 QUEEN STREET NORTH
FORT MYERS

VILLA PALMS – 11910532

6722 WINKLER RD
FORT MYERS
QUESTIONS? TALK WITH OUR EXPERIENCED FT. MYERS NURSING HOME ATTORNEYS TODAY
If you need any advice or representation, please contact Senior Justice Law Firm right away.
We are happy to provide a free case review in our office, online, or over the phone. Once we discuss the facts of the nursing home incident, and discuss any questions you have, we will help you decide what to do next. There are no costs or obligations, and if we do accept your case, we won't charge a fee unless we achieve a successful result.
Contact our Fort Myers elder abuse and neglect lawyers now by calling 888-375-9998.