GAINESVILLE, FL NURSING HOME ABUSE LAWYERS –
FIGHTING FOR NORTH CENTRAL FLORIDA'S NEGLECTED SENIORS
Free Consultation with a Gainesville Nursing Home Abuse Attorney Today
Do you believe your loved one was abused or neglected inside an Alachua County area nursing home or assisted living facility? Demand justice and contact Senior Justice Law Firm. Our firm narrowly focuses on nursing home abuse cases, and we routinely handle cases in the north central Florida area. We want to be your Gainesville nursing home abuse lawyer.
Live chat with us today, or call us at (888) 375-9998. All consultations are free and we work exclusively on contingency fee, so you pay us nothing out of pocket. We only get paid if you make a financial recovery on your case.
We don't do workers comp or car wrecks. Nursing home abuse litigation is our law firm focus. Let our incredibly narrow niche practice aid your family on a journey to justice. Live chat with our firm today to learn more about how a Gainesville nursing home abuse and neglect attorney can help after a terrible tragedy occurs in a healthcare facility. We are here for you.
Free Gainesville nursing home abuse attorney consultation: (888) 375-9998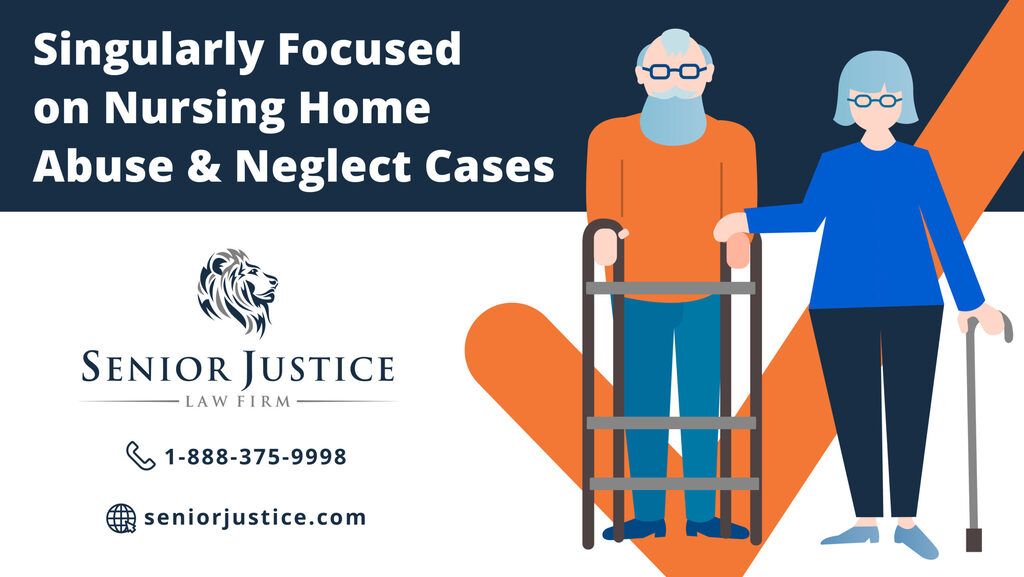 Gainesville Nursing Home Abuse Attorneys
Gainesville is flourishing. What was once a sleepy University of Florida college town has now blossomed into North Central Florida's cultural and artistic heart. Conveniently located off of I-75 with major thoroughfares like Archer Road, US 441, Newberry Road and 34th Street, Gainesville's rapid growth has proved enticing to retirees and snowbirds. The city now has its own senior center.
Along with Gainesville's growth comes necessary long-term care facilities to help vulnerable seniors with activities of daily living. These include Gainesville's numerous nursing homes and assisted living facilities. Most of these facilities provide appropriate care; however, when staff members are negligent in their supervision of at-risk residents, the results can be fatal.
Unfortunately, when aggrieved families feel their loved one was injured or killed due to negligence, their only recourse is to pursue a Gainesville nursing home abuse lawsuit.
Florida Nursing Home Abuse Lawyers with a History of Strong Gainesville Connections
Searching for the best nursing home abuse lawyer in Gainesville? Make sure to speak with us first. Our law firm is called Senior Justice Law Firm for a reason. We specialize in Florida nursing home abuse cases. Our lawyers accept elder abuse claims across the state and we usually have multiple ongoing cases in Alachua County. Most of our attorneys are University of Florida alumni and we view Gainesville as a second home. We know the Alachua County court system and we are familiar with the civil court Judges.
Our attorneys have successfully handled numerous claims arising out of Alachua County elder abuse injuries. We also handle cases in the nearby counties of Gilchrist, Levy, Dixie, Putnam, Marion, Bradford and Union.
GAINESVILLE ELDER ABUSE ATTORNEYS – HERE TO HELP
Mr. Michael Brevda graduated from the University of Florida for both his undergraduate and law degrees. He was inducted into the University of Florida Hall of Fame for his contributions to the Gainesville community. Mr. Brevda regularly lectures statewide on nursing home abuse litigation topics and actively litigates elder abuse cases in Gainesville.
Mr. David Brevda also graduated from the University of Florida for his undergraduate degree. David Brevda continued on to attend New York University (NYU) for law school. He returned to Gainesville to receive his LLM in Tax Law from the Levin College of Law at the University of Florida.
Want to learn more? Would you like to ask our experienced attorneys a legal question?
Call us today for your free Gainesville nursing home injury or death case consultation.
Experience Matters. Our Nursing Home Abuse Attorneys Have It.
NO UP FRONT FEES OR COSTS
Our lawyers only get paid on your Gainesville elder abuse claim if you make a recovery. This means everything from the initial consultation to the record collection and subsequent expert investigation is completely free unless we make a financial recovery for you.
A LAW FIRM FOCUSED ON JUSTICE FOR SENIORS THAT HAVE BEEN ABUSED OR NEGLECTED INSIDE GAINESVILLE FACILITIES

Not every incident that occurs inside a nursing home is grounds for a civil lawsuit. So how can you determine if your case is worth bringing? No case is alike and unfortunately, each case has a different settlement value depending on the unique facts.
That being said, the most common injuries our Gainesville nursing home abuse attorneys come across involve:
The experienced legal team at Senior Justice Law Firm understands the rage you feel following a preventable injury that takes place inside a Gainesville facility. Our compassionate and experienced attorneys are here to help your family pick up the pieces following a tragedy.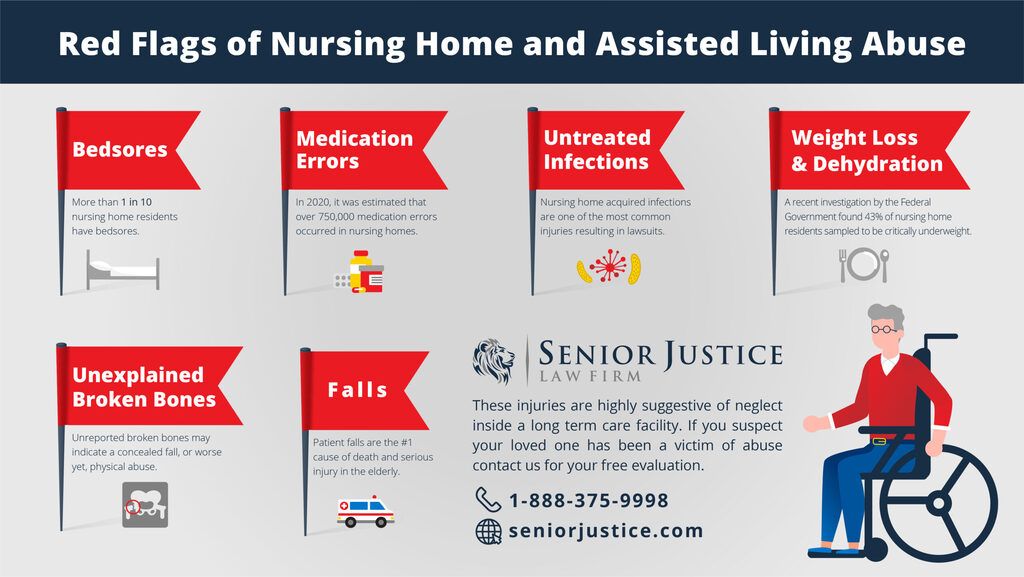 Let Senior Justice Help You on Your Journey to Justice
Ideally, when nursing home and assisted living facilities commit malpractice, they would hone up to their mistakes. That idealism is far from reality. When a Gainesville nursing home commits malpractice and injures your loved one, the nurses will likely lie to you about what really occurred. Instead, facility management will likely act in their own interest and claim the injury was 'unavoidable' or, even worse, blame your family member. The management at the facility may try to bully you around. Do not remain silent in the fact of neglect. If your family member was abused, neglected or wrongfully injured inside a local facility, speak with our skilled Gainesville nursing home abuse lawyers today.
We have established a successful reputation across Florida for challenging the big guy for justice and succeeding. Let our lawyers fight for your loved one's memory.
Gainesville, FL Nursing Homes and Assisted Living Facilities
Despite its relatively small size, Gainesville boasts a large number of long-term care facilities. These facilities can be divided into two levels of care: skilled nursing facilities (nursing homes) and assisted living facilities (ALF's). Our experienced Gainesville elder abuse attorneys have successfully brought claims against many SNF's and ALF's in Gainesville.
Below are some of Alachua County's long term care facilities. Please note that this list merely offers facility options in Gainesville and does not suggest our firm has sued the facility in the past.
Gainesville, FL Nursing Homes
GAINESVILLE HEALTH CARE CENTER – 30105
Nursing Home
4842 SW ARCHER ROAD
GAINESVILLE
FL
32607
Beds: 180
NORTH FLORIDA REHABILITATION AND SPECIALTY CARE – 30103
Nursing Home
6700 NW 10TH PLACE
GAINESVILLE
FL
32605
Beds: 120
OAK HAMMOCK AT THE UNIVERSITY OF FLORIDA INC – 35961003
Nursing Home
2660 SW 53RD LN
GAINESVILLE
FL
32608-3981
Beds: 73
PALM GARDEN OF GAINESVILLE – 30106
Nursing Home
227 SW 62ND BLVD
GAINESVILLE
FL
32607
Beds: 120
PARK MEADOWS HEALTH AND REHABILITATION CENTER – 30104
Nursing Home
3250 SW 41ST PLACE
GAINESVILLE
FL
32608
Beds: 154
PARKLANDS CARE CENTER – 30101
Nursing Home
1000 SW 16TH AVE
GAINESVILLE
FL
32601
Beds: 120
PLAZA HEALTH AND REHAB
Nursing Home
4842 SW Archer Road
Gainesville, FL 3260
RIVERWOOD HEALTH AND REHAB
Nursing Home
808 S Colley Rd.
Starke, FL 32091
SIGNATURE HEALTHCARE OF GAINESVILLE – 30102
Nursing Home
4000 SW 20TH AVE
GAINESVILLE
FL
32607
Beds: 120
SOLARIS HEALTHCARE LAKE CITY
560 SW McFarlane Ave.
Lake City, FL 32055
TERRACE HEALTH & REHABILITATION CENTER – 35960968
Nursing Home
7207 SW 24TH AVE
GAINESVILLE
FL
32607
Beds: 120
WILLISTON CARE CENTER
Nursing Home
300 NW 1st Ave.
Williston, FL 32696
Gainesville, FL Assisted Living Facilities
ANNIE'S HOUSE – 11969195
Assisted Living Facility
1201 NW 39TH AVE
GAINESVILLE
FL
32609
Beds: 14
BROOKDALE GAINESVILLE SOUTHWEST – 11964882
Assisted Living Facility
1001 SW 62ND BLVD
GAINESVILLE
FL
32607
Beds: 110
HARBORCHASE OF GAINESVILLE – 11965444
Assisted Living Facility
1415 FORT CLARKE BLVD
GAINESVILLE
FL
32606
Beds: 79
HUNTER'S CROSSING PLACE-ASSISTED LIVING – 11964436
Assisted Living Facility
4601 NW 53RD AVE
GAINESVILLE
FL
32653-4882
Beds: 60
HUNTER'S CROSSING PLACE-MEMORY CARE – 11965013
Assisted Living Facility
4607 NW 53RD AVENUE
GAINESVILLE
FL
32606-4357
Beds: 38
KLECKLEY FAMILY ASSISTED LIVING FACILITY – 11969021
Assisted Living Facility
93 SE 43RD ST
GAINESVILLE
FL
32641
Beds: 6
MAYFLOWER ASSISTED LIVING, THE – 11964997
Assisted Living Facility
19880 N US HIGHWAY 441
HIGH SPRINGS
FL
32643-7202
Beds: 15
MISTY MEADOWS – 11932407
Assisted Living Facility
103 NW 298TH STREET
NEWBERRY
FL
32669
Beds: 11
NORTH FLORIDA RETIREMENT VILLAGE – 11911101
Assisted Living Facility
8000 NW 27TH BOULEVARD
GAINESVILLE
FL
32606
Beds: 140
OAK HAMMOCK AT THE UNIVERSITY OF FLORIDA – 11966269
Assisted Living Facility
2680 SW 53 RD LANE
GAINESVILLE
FL
32608
Beds: 80
PLANTATION OAKS SENIOR LIVING RESIDENCE – 11968014
Assisted Living Facility
23301 W US HIGHWAY 27
HIGH SPRINGS
FL
32643-2110
Beds: 72
SOUTHWEST RETIREMENT HOME – 11911104
Assisted Living Facility
3207 SW 42ND PL
GAINESVILLE
FL
32608-2624
Beds: 12

Get Answers by Speaking with an Experienced Gainesville Nursing Home Attorney
We understand that elder abuse cases are about much more than money. These cases involve righting a wrong. Our firm focus is on Florida nursing home abuse cases. We have extensive experience suing most of the corporate nursing home owners that control the major Gainesville facilities, and we want to help your family. Our lawyers accept Florida nursing home negligence cases in Alachua, Gilchrist, Levy, Dixie, Bradford, Suwanee, Columbia, Putnam, and Marion counties.
Let Our Unique Experience Work for You and Your Elder Abuse Case
Call us today for your free case consultation. Together, we can stop the cycle of elder abuse and neglect in North Central Florida.
Contact our Gainesville nursing home abuse attorneys now by calling us at (888) 375-9998.