Filing a Lawsuit Against a Gaithersburg Nursing Home? Our Maryland Attorney Can Help
Need help getting answers, justice and accountability after a mistake occurs in a Gaithersburg healthcare facility? Our Gaithersburg nursing home abuse attorney can help your family get answers after an injury or wrongful death occurs due to elder abuse or neglect.
Our Maryland nursing home abuse law firm handles cases throughout Montgomery County and the Gaithersburg area.
We can help. Call or live chat with our law firm now to learn more about why we are different: 202-899-3111.
Gaithersburg Seniors Deserve Protection
Whenever someone considers making the move into retirement and choosing a location to settle down, they tend to at least give passing consideration to Maryland. The area's temperate climate, easy access to simple activities like beach walks and nature trails, and relative proximity to historical locations for day outings make Maryland—and the historic Gaithersburg area in particular—attractive to those looking for a play to call home.
In order to keep up with the increasing number of retirees flooding the area, Gaithersburg has bolstered the number of nursing homes within 25 miles of the city center. Now approaching one hundred facilities, the city still struggles to offer the care that residents need in their elder years. Many locations barely pass government mandated inspections, and scores of Much Below Average are common. Even facilities that score higher than average are not immune from treating their residents poorly due to frequent understaffing concerns.
For this reason, it is important to be vigilant on behalf of your loved one when they enter a nursing home. Abuse and neglect are not always simple to spot, but they can leave your family member injured or even lead to a fatal event due to the poor care offered at some locations.
If your loved has been abused or neglected while living at a nursing home in Gaithersburg, Maryland, Senior Justice Law Firm can help. Call us at 202-899-3111.
As nursing home abuse attorneys, we focus on nursing home abuse cases in the Gaithersburg area. We want to help your family get through this trying time. Let our experience and compassion go to work for you.
Gaithersburg Nursing Homes Continue to Struggle
In recent years, Gaithersburg has seen an influx of older residents seeking to retire in the area. This probably comes as little surprise, because Gaithersburg and the surrounding towns boast fair weather and a number of both indoor and outdoor activities for those getting on in age.
Many older folks enjoy casual walks in nature at their own pace, and Gaithersburg can deliver this in spades thanks to its wide variety of trails and parks. From Washington Square Neighborhood Park to Travis Park and even the beautiful waterfront pathways along the RIO Washingtonian Center, those looking for a relaxed day outdoors will have plenty to do. For history buffs, Old Town Gaithersburg is always available. And folks wanting to stay indoors have their pick of nursing homes in the area that they can call home.
In fact, Gaithersburg has 11 nursing homes to choose from in the 10 miles surrounding the city center. For those who don't need to be right in the middle of the city, the 25 mile radius around the area boasts upwards of 75 facilities. Unfortunately, many of them struggle to provide adequate care to their residents, with a large number barely passing their health inspections with a one out of five score.
Abusive Nursing Home Indicators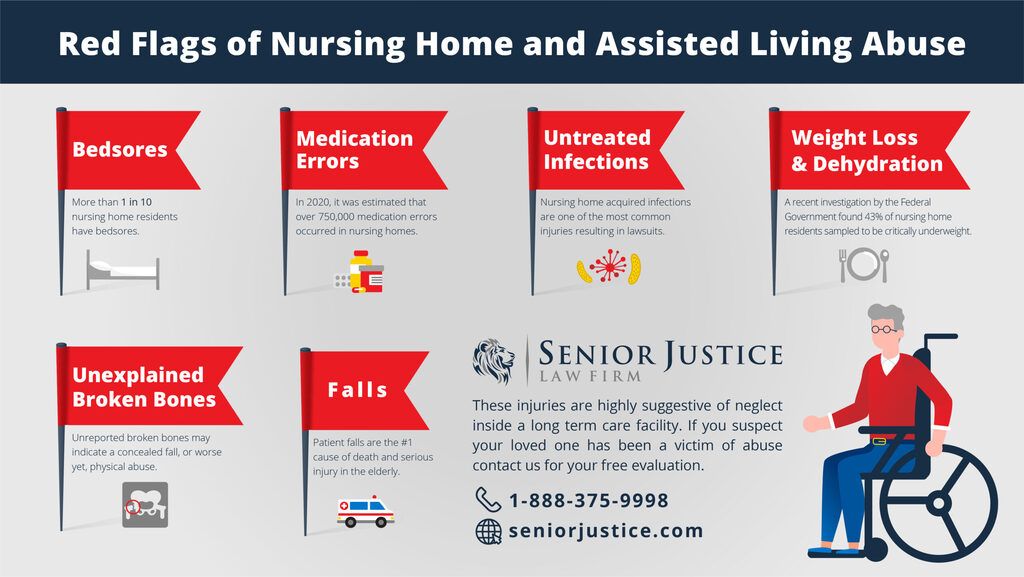 Gaithersburg nursing homes are just an indicator of a nationwide problem with staffing in long-term care facilities. Approximately 70 percent of US nursing homes are run for profit, which incentivizes having too many residents compared to the number of staff. This can lead to residents being neglected or directly abused, whether by staff who are too hassled to care for them with empathy or because nurses do not have time to adequately prepare their food, medicine, and other care.
The most highly rated nursing homes assign staff to no more than three or four residents. Compare this to many for-profit long-term care facilities, where each staff member is often responsible for up to 30 individuals. It is not hard to see how oversights and a lack of time lead to insufficient care. Whether the cause of your loved one's injury or death was from neglect or direct and intentional abuse, the nursing home is still responsible.
If you are faced with the reality that your loved one was treated poorly in a nursing home, you may not be sure what to do next. One of the best options is to note any proof of poor treatment that you can use as evidence. Some of these indicators include:
Bedsores – Because these ulcer-like skin injuries are not caused by any condition other than neglect, nursing homes cannot offer any acceptable explanation for why a resident may have them. Someone who lies in the same position for a long time will put pressure on certain areas of their body (most likely the elbows, shoulders, and tailbone). Over time, this pressure can lead to the development of bed sores. Understaffing plays a big role in the occurrence of bed sores, because staff need only help a resident to shift positions every few hours in order to prevent the condition entirely. Left unattended, these sores can progress all the way to the bone and may leave the resident vulnerable to potentially fatal conditions like sepsis, infection, and MRSA.
Falls– If your family member has experienced unexplained injuries, one of the most likely culprits is falls. Whether by removing trip hazards, keeping floors clean of slippery liquids, or using beds that residents cannot accidentally roll out of, nursing homes are responsible for mitigating the risk of your loved one falling. When they do not do their due diligence, they can be found negligent. Falls can cause a multitude of injuries, from broken bones to brain bleeds (called subdural hematomas). While it is true that some falls are genuinely accidental and cannot be prevented, a nursing home must do everything in its power to reduce this risk or it can be held liable.
Malnutrition/dehydration – You may not think so, but meals can be one of the most dangerous times for residents in a nursing home that lacks quality care. From choking to things "going down the wrong pipe" (aspiration pneumonia), residents are at risk of injury or even death. Staff may not have enough time to spend with each resident during meals, and those with mobility issues may struggle to chew enough or use their utensils. When a resident is not strong or steady enough to feed themselves, they may not eat anything at all. And with staff overburdened, your loved one may go long stretches without food or water. Over time, this can lead to malnutrition, starvation, and dehydration, which can have a dramatic impact on health and well being.
Physical and sexual abuse– As hard as it is to believe, both physical and sexual abuse are not uncommon in nursing homes. As staff continue to struggle to keep up with the demands of a high resident to worker ratio, they may lash out in their exhaustion and frustration with folks who are slow to act or uncooperative. Even staff who underwent a background check are not immune from this behavior, though it is never acceptable. Staff are not the only ones who may inflict this kind of injury. Other residents who are free to wander or who struggle with memory and awareness may behave in inappropriate ways with their neighbors. It is the responsibility of the nursing home staff to prevent this behavior.
Why Pursue a Gaithersburg Nursing Home Negligence Lawsuit?
If you are at the point where filing a lawsuit against an abusive or negligent nursing home is something you are considering, you may feel like it is fruitless. No amount of monetary compensation can ever undo the things that happened to your loved one.
However, it is critical to remember that most nursing homes are motivated by profit, and demanding monetary damages is one of the most effective ways to force lasting change. In an effort to avoid paying out from future earnings, nursing homes are more likely to improve their care if they have been forced to make monetary compensation to a family. This is why filing an abuse lawsuit is important.
Typical Damages in a Nursing Home Death or Injury Suit
Nursing home lawsuits tend to share common themes regardless of the specific situation of each filer. The most frequent claims are for:
Pain and suffering
Loss of consortium (when someone is deprived of the family benefits of having a loved one, such as affection and relations)
Loss of enjoyment of life
Distress, both mental and emotional
Medical bills
Loss of earnings
Funeral costs (if a wrongful death has occurred)
NURSING HOMES IN GAITHERSBURG:
There are 11 nursing homes within a 10 mile radius of Gaithersburg, and if you look 25 miles away, that number shoots up to around 75.
WILSON HEALTH CARE CENTER

301 RUSSELL AVENUE
GAITHERSBURG, MD 20877
(301) 216-4004

MONTGOMERY VILLAGE HEALTH CARE CENTER

19301 WATKINS MILL ROAD
GAITHERSBURG, MD 20879
(301) 527-2500

SHADY GROVE NURSING AND REHABILITATION CENTER

9701 MEDICAL CENTER DRIVE
ROCKVILLE, MD 20850
(301) 315-1900

COLLINGSWOOD REHABILITATION AND HEALTHCARE CENTER

299 HURLEY AVENUE
ROCKVILLE, MD 20850
(301) 762-8900

THE VILLAGE AT ROCKVILLE

9701 VEIRS DRIVE
ROCKVILLE, MD 20850
(301) 424-9560

BETHESDA HEALTH AND REHABILITATION

5721 GROSVENOR LANE
BETHESDA, MD 20814
(301) 530-1600

ARCOLA HEALTH AND REHABILITATION CENTER

901 ARCOLA AVENUE
SILVER SPRING, MD 20902
(301) 649-2400

WHITE OAK REHABILITATION AND NURSING CENTER

6500 RIGGS ROAD
HYATTSVILLE, MD 20783
(301) 559-0300

CRESCENT CITIES NURSING & REHABILITATION CENTER

4409 EAST WEST HIGHWAY
RIVERDALE, MD 20737
(301) 699-2000
Gaithersburg Nursing Home News
Even though Maryland's elderly population continues to boom as it draws more and more older folks looking to retire, the state (and the area around Gaithersburg) struggles to increase the quality of care that local residents receive.
Attorney General Frosh has spearheaded recent calls for change and investigations into negligent long-term care facilities, and what the process has uncovered is not appealing. Many nursing homes prioritize profit over care and "engage in unlawful and at times inhumane conduct in order to maximize the amount of money [they are] paid by taxpayer-funded public health insurance programs." One situation shows more than a thousand residents evicted from their living spaces because it was more profitable to do so. They were prematurely discharged and were not fit to care for themselves.
The administrator responsible for the facility in question has been barred from operating that location or starting up any new nursing homes. This is a step in the right direction, but it does not solve the widespread issue of low-quality care in Gaithersburg and beyond.
Assisted Living Facilities in Gaithersburg, Maryland
| | | |
| --- | --- | --- |
| A & R Comfort Care Llc | 19021 North Frederick Road | Gaithersburg |
| Alisha's Home | 19318 Frenchton Place | Gaithersburg |
| Asbury Methodist Village | 333 Russell Avenue | Gaithersburg |
| Bethany Living | 13 Cullinan Drive | Gaithersburg |
| Darling Haven Assisted Living | 6 Alliston Hollow Ct | Gaithersburg |
| Fatima's Assisted Living Services, Llp | 19114 North Frederick Road | Gaithersburg |
| Golden Days 1 Inc | 405 Belle Grove Road | Gaithersburg |
| Heart And Hands Assisted Living | 9520 Fox Lair Pl | Gaithersburg |
| Holy Care Assisted Living | 11341 Rambling Road | Gaithersburg |
| Joined Hands Assisted Living | 4 Calabar Court | Gaithersburg |
| Lins House Llc | 1006 Quince Orchard Road | Gaithersburg |
| Loving Hands Assisted Living | 9911 Watkins Road | Gaithersburg |
| Nightingale House, Llc | 13004 Darnestown Road | Gaithersburg |
| Olivet Homes Health Connections Assisted Living | 24101 Doreen Drive | Gaithersburg |
| Quality Comfort Care Assisted Living, Llc | 20413 Highland Hall Drive | Gaithersburg |
| Sunshine Home Care, Inc. | 9713 Inaugural Way | Gaithersburg |
| Tranquil Loving Care, Llc | 15708 Ancient Oak Drive | Gaithersburg |
| Wellbeing Assisted Living | 16400 S Westland Dr | Gaithersburg |
Free Consultation for Gaithersburg Elder Abuse Case
Beginning the intimidating process of investigating a claim against an abusive nursing home or assisted living in Gaithersburg might leave you feeling stressed, especially during this particularly emotional time. Senior Justice Law Firm would be happy to help relieve some of this burden by working alongside you to bring a negligent nursing home to justice.
Our experience and resources are centered in elder abuse law, because it is the only thing we do. We would be glad to sit down with you free of charge during a consultation to learn more about your situation and offer you guidance on next steps and a strategy for how to proceed.
Reach out to us through our chat feature or call us toll free at 888-375-9998. If you prefer, you can also submit your information below.