Filing a Lawsuit Against a Harrisonburg Nursing Home?
Our Virginia Law Firm Can Help
Did your parent or spouse develop a wound, infection, weight loss, brain injury or broken bone in a Harrisonburg, Virginia facility? Our Virginia nursing home abuse law firm focuses exclusively on these kinds of injury cases.
At Senior Justice Law Firm, nursing home abuse and neglect cases are what we do.
Live chat or call us today to receive a free Harrisonburg nursing home abuse lawyer consultation. Call us now at 757-530-4255.
Harrisonburg's History of Nursing Home Abuse
Harrisonburg has seen dramatic growth in its over-65 population in recent years. This has sparked a similar increase in the number of nursing homes in the area that are rising to the challenge of providing housing for the growing population. Unfortunately, the large majority of these nursing homes fail to offer adequate care and quality of life to residents, with many scoring at the lowest possible rank of Much Below Average on their government mandated inspections.
Among the states in the US, Virginia continues to fare relatively poorly in the condition of its nursing homes. Local news source WTKR has indicated that upwards of 22% of the state's total fines for nursing home abuse originate in the Harrisonburg area, with one location amassing more than $200,000 in fines by itself.
Minor errors in administration such as failing to post staff information made up a small portion of the fines, the but the bulk of the penalties arose from much more dire situations in Harrisonburg nursing homes, including "176 counts for failing to either '1) hire only people with no legal history of abusing, neglecting or mistreating residents, or 2) report and investigate any acts or reports of abuse, neglect or mistreatment of residents.'"
Recognizing Nursing Home Neglect Injuries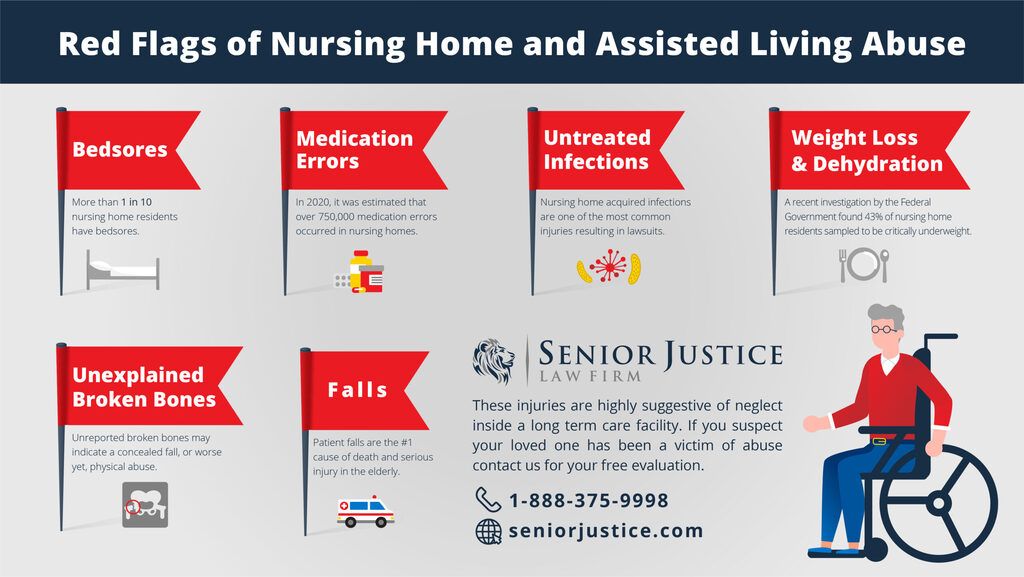 Nursing homes will never admit that they abused or neglected your loved one. This means that if your loved one has chosen to reside in Harrisonburg long term care facility, being vigilant about care in a local nursing home is critical. Some locations have already received fines and other penalties for confirmed cases of abuse and neglect. Even facilities that score higher than average are not immune from mistreating residents.
Below are a list of the most commonly litigated nursing home injuries:
If your family member has not received adequate care while living at a nursing home in Harrisonburg, Virginia, Senior Justice Law Firm can help. Call us at 757-530-4255.
As nursing home abuse attorneys, we narrow our focus on elder care abuse cases and we serve victims and families of victims in the Harrisonburg area. We want to help you to hold negligent and abusive nursing homes accountable for their unacceptable behavior while also securing you the monetary compensation that your family deserves.
Nursing Homes in Harrisonburg
In recent years, Harrisonburg has seen unprecedented growth in its population of older folks who are coming to the homey area to retire. The location's fair weather and natural beauty draw those both locally and from out of town, and it is no wonder why. The small but friendly environment has plenty of things to do for those getting on in age.
Those answering the call of the outdoors will enjoy easy, scenic strolls through the White Oak Lavender Farm and the Edith J. Carrier Arboretum, with its wooden bridges over tranquil brooks. Historically minded folks will enjoy the Shenandoah Heritage Market, Virginia Quilt Museum, and Harrisonburg Farmers Market. Or, for those looking to find a permanent place to call home, the area has its choice of nursing homes.
In fact, Harrisonburg has 28 nursing homes to choose from in the 50 miles surrounding the city center, with a few just a short walk of a mile or two from the center of town. This accessibility is tempered by consistently poor reviews that indicate that your loved one may not be receiving the care he or she deserves at all but a few choice locations.
Why Nursing Home Abuse Occurs in Harrisonburg and the Myth of Highly Rated Facilities
Harrisonburg remains one of the cities that struggles the most with elder care across all of Virginia. The majority of facilities score at the bare minimum Much Below Average when it comes to quality of care, and only two are rating above average in their treatment of residents. Many of the locations have been confirmed to have cases of abuse and have been fined or penalized.
The reason for lackluster care in most facilities in Harrisonburg—and across the nation—remains staffing. For-profit organizations continue to install and fill as many beds as possible in each facility for maximum earnings, and this leaves staff unable to adequately attend to each individual. Outcomes are best when each staff member is responsible for a maximum of four residents. In many locations, understaffed workers must attend to upwards of 30 people.
Your family member may live in a facility with a high overall rating, kind and friendly staff, and fewer beds than average. This does not guarantee that your loved one is safe from abuse and neglect. It is important to keep an eye out for signs and symptoms of patient neglect.
Reasoning Behind the Civil Justice System: Lawsuits for Victims Protect Residents
If you are thinking about filing a lawsuit against a nursing home for the abuse or neglect that it committed against your loved one or family member, you may feel like it is not worth going through the process. After all, no amount of money received as damages can ever turn back time and prevent what happened to your loved one at the facility.
However, it is important to remember that the lawsuit that you file can have a lasting positive impact on the facility. The reason for this is that most nursing homes are run by for-profit organizations, and their primary goal is to make money. When you seek monetary damages and compensation as a result of a loved one's poor treatment in a nursing home, you are hitting the facility owners directly where it matters most to them: their pocketbook. In an effort to prevent further damage payments in the future, the facility may revise its methods of care, leading to an improved quality of life for residents going forward.
Harrisonburg Skilled Nursing Facilities
There are 28 nursing homes within a 50 mile radius of the Harrisonburg area in Virginia, and unfortunately, they are by and large of low quality. The majority struggle to score higher than the bare minimum score on their government mandated inspections. Some of these locations include (but are not limited to):
HARRISONBURG HELTH & REHAB CENTER

1225 RESERVOIR STREET
HARRISONBURG, VA 22801
(540) 433-2623

ACCORDIUS HEALTH AT HARRISONBURG LLC

94 SOUTH AVENUE
HARRISONBURG, VA 22801
(540) 433-2791

VMRC, COMPLETE LIVING CARE

1475 VIRGINIA AVENUE
HARRISONBURG, VA 22802
(540) 564-3500

LIFE CARE CENTER OF NEW MARKET

315 EAST LEE HIGHWAY
NEW MARKET, VA 22844
(540) 740-8041

ENVOY OF STAUNTON, LLC

512 HOUSTON STREET
STAUNTON, VA 24401
(540) 886-2335

KINGS DAUGHTERS COMMUNITY HEALTH & REHAB

1410 NORTH AUGUSTA STREET
STAUNTON, VA 24401
(540) 886-6233

AUGUSTA NURSING & REHAB CENTER

83 CROSSROADS LANE
FISHERSVILLE, VA 22939
(540) 885-8424

SKYVIEW SPRINGS REHAB AND NURSING CENTER

30 MONTVUE DRIVE
LURAY, VA 22835
(540) 743-4571

CHARLOTTESVILLE HEALTH & REHABILITATION CENTER
Harrisonburg Nursing Home Abuse Free Consultation
As you consider how to proceed in filing a lawsuit against an abusive or negligent nursing home, you may be feeling overwhelmed. Senior Justice Law Firm would be happy to offer assistance and remove some of the burden that you may be feeling during this difficult time.
We work only in elder abuse law, and our years of experience inform the knowledge and tools that we use to represent you. We would be happy to help you plan out your next steps during a consultation with our attorneys at no cost to you.
Reach out to us through our chat feature or call us at 757-530-4255. If you prefer, you can also submit your information below.