Huntington West Virginia Nursing Home Negligence Lawyer
Nursing home abuse is reprehensible. At Senior Justice Law Firm, we dedicate our professional practice to combatting nursing home negligence and holding facilities accountable. This is all that we do.
If your loved one was harmed, ignored, abused, or neglected and suffered injury or wrongful death, contact our Huntington West Virginia nursing home abuse attorney today. All consultations are free and we do not require any out of pocket expenses or retainer from you. We only get paid if your family gets compensation.
Free Huntington, WV nursing home abuse attorney consultation — 888-375-9998
What are the Signs of Abuse or Neglect in a West Virginia Nursing Home or Assisted Living Facility?
Elder abuse can be hard to detect. For this reason, our Huntington, WV nursing home neglect lawyer recommends regularly visiting your loved one in the facility. Inspect their skin for wounds or bruising. Make sure they look well fed, hydrated, and not suffering from infection or fever. Do they seem clean? Are there fingernails and hair well maintained?
Make sure to address all your concerns with nursing. Ask for a supervisor, not just an aide. Sometimes, a serious nursing home injury can be avoided all together if you address the problem before its too late.
However, sometimes, catastrophic injury and wrongful death do occur in facilities in Cabell and Wayne Counties. If your loved one suffered from any of the following, contact our Huntington, WV nursing home abuse attorney right away.
Below is an original infographic, which details some of the 'red flag injuries' highly suggestive of nursing home negligence.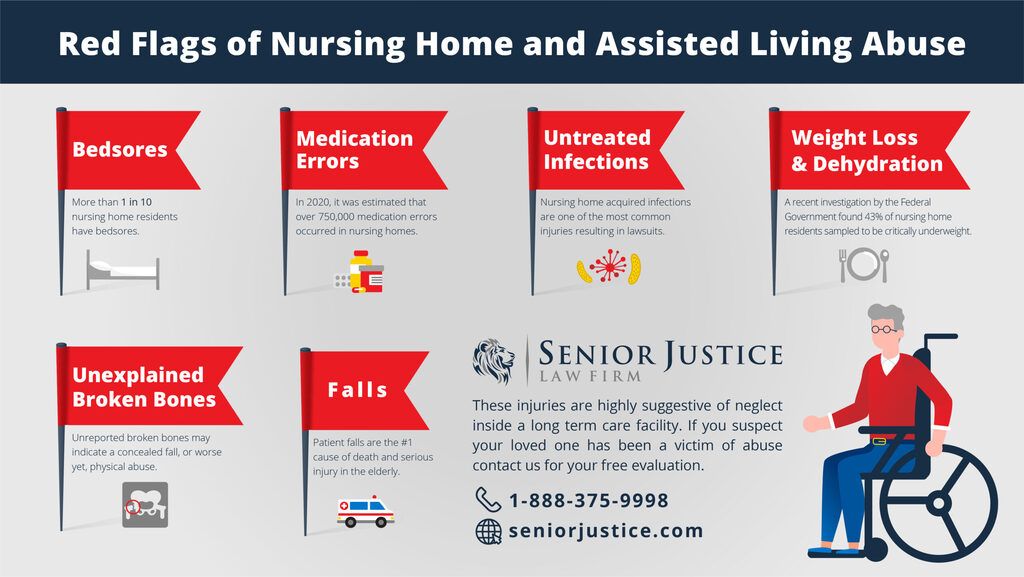 If your loved one suffered any of the above injuries, live chat with us now, or call Senior Justice Law Firm at 888-375-9998.
Huntington, WV Nursing Home Neglect
When it comes to the perfect combination of cozy but bustling, few locations match Huntington, West Virginia's appeal. The largest city in the tri-state area, Huntington's diverse environment rests among the western foothills of the scenic Appalachian Mountains, drawing crowds each year. Among those who choose to visit—and stay—are the elderly, who are looking for a temperate location to spend their later years. Thanks to Huntington's fine weather and natural beauty, it is a peaceful and appealing retirement spot that draws a large number of folks looking for long-term nursing care.
Naturally, Huntington's nursing home scene has burgeoned in response to keep up with demand. Unfortunately, despite the wide variety of locations to choose from, many families find it challenging to locate a facility that they feel they can trust. Even the best and most highly rated nursing homes are not guaranteed to be free from concerns such as abuse and negligence, which is why it is important that anyone considering nursing home care in the Huntington area stay informed about the signs of improper treatment. If someone that you love has already been impacted by nursing home abuse or neglect, you may be considering your options—whether that includes a lawsuit, transfer to a new facility, or how to report the issue.
What a Huntington Nursing Home Abuse Lawsuit Can Accomplish for You—and Others
In general, nursing homes across America are run in two separate ways: non-profit ownership and for-profit administration. While both types of nursing homes can have their own share of neglect and abuse issues, they tend to occur more frequently in facilities focus on for-profit structuring due to the desire to reduce expenses—particularly in payroll. This results in fewer nurses and aides per resident, cutting down the amount of care each individual receives.
It is from these sorts of circumstances that nursing home abuse and neglect lawsuits are born. A lawsuit is not just a means for a family to secure financial compensation after an injury that was the fault of a nursing home. Because for-profit long-term care facilities are focused on their revenue, being forced to pay damages in a lawsuit can cause them to significantly alter their administration practices to avoid legal trouble in the future. This can improve the quality of life of other residents at the facility, which means that your lawsuit can have far-reaching impacts that last long after your own case is resolved.
In addition, a lawsuit can secure multiple types of damages for you in the hands of a skilled legal professional. While most cases will pursue some sort of compensatory damages, or damages that are awarded in order to compensate the family for medical bills, funeral costs, or pain and suffering, you may also be able to achieve punitive damages. These are much like a fine to the facility solely meant to punish the behavior—but where most fines are paid to the government, this punitive "fine" is paid to the affected family. In this way, a lawsuit can help you protect your financial future against the unexpected expenses of a nursing home abuse situation.
In short, by pursuing your case, you are having an economic impact against nursing home neglect. This serves as a deterrent to the corporation that owns the Huntington facility, encouraging them financially to make sure this does not happen again.
How to Report Nursing Home Abuse in Huntington, West Virginia
If you have already reached out to speak with the nursing home that your loved one or family member resides at once you have discovered evidence of abuse or neglect, you should be aware that the process of reporting the abuse should not stop there. Each state in the US is required to manage an ombudsman program specifically for the protection of those who live in long-term care facilities. This means that West Virginia's ombudsman program is the next point of contact as soon as possible after you have discovered potential abuse in a nursing home.
The West Virginia Bureau of Senior Services maintains its mailing address at 1900 Kanawha Blvd., East Charleston, WV 25305, though its physical office is located at the third level of the Charleston Center Mall; you can use either (304) 558-3317 or (877) 987-3646 to get in touch. This is the best avenue when reporting nursing home abuse in Huntington, WV. It is all right that the facility is located in Charleston even though the abuse occurred in Huntington; it is best to make a report to both the statewide agency and also your location option.
As far as Huntington is concerned, the city also has its own branch of the ombudsman office, located at the Legal Aid of West Virginia office at The Progress Building, 418 8th Street, Second Floor, Huntington, WV 25701. The ombudsman is Tami Handley, who can be reached at 1-800-834-0598 extension 2520 or by fax at 304-715-3221. Alternatively, you can choose to reach out via email at thandley@lawv.net. It is wise to report the abuse to the statewide office as well as the local office; if one location believes that your report would also be helpful with another department, they will direct you to that option as well. If you need to check which ombudsman office is closest to you, you can find a list of office locations at this link.
Huntington WV Nursing Homes, Legal Problems, Lawsuits, and Citations
Any nursing home can have incidents of abuse and neglect within its walls, but some facilities are more common culprits than others. This typically arises as a result of issues such as staffing, which contribute to a pattern of neglect rather than isolated incidents. Huntington, WV is home to its fair share of consistent offenders, and while it is true that not every resident at the affected locations will have a negative experience, it is important to recognize that such treatment is more likely at facilities that have a history of frequent citations.
When selecting a Huntington, WV nursing home, be sure to read prior inspection reports, star ratings from Medicare, and visit the facilities in person.
Below are some of Huntington's nursing homes, regardless of rating or quality of care:
Cabell County Nursing Homes
| | | | | |
| --- | --- | --- | --- | --- |
| Facility Name | Legal Name | Physical Address | City | State |
| CABELL HEALTH CARE CENTER | Cabell Health Care Center, LLC | 30 HIDDEN BROOK WAY | CULLODEN | WV |
| HERITAGE CENTER | Heritage Center | 101-13TH STREET | HUNTINGTON | WV |
| HUNTINGTON HEALTH AND REHABILITATION CENTER | Seventeenth Street Associates, LLC | 1720 17TH STREET | HUNTINGTON | WV |
| MADISON PARK HEALTHCARE | Fairhaven OpCo, LLC | 700 MADISON AVENUE | Huntington | WV |
| ST. MARY'S HOSPITAL | St. Mary's Hospital, Distinct Part | 2900 FIRST STREET | Huntington | WV |
Wayne County Nursing Homes
WAYNE NURSING AND REHABILITATION CENTER AMFM of Wayne County, Inc. 6999 ROUTE 152 WAYNE WV
Huntington WV Nursing Home Citations
Among the aforementioned locations, Heritage Center was cited the most; the facility has been cited 75 times, paying fines in excess of $130,000. The Huntington Health and Rehabilitation Center is similar, coming in at 76 citations; however, its citations were not ranked as being as serious as those faced by Heritage Center. Madison Park Healthcare saw some 20 citations, and St. Mary's Hospital followed close behind at 10. Some of Huntington's facilities qualify to be special focus facilities, which means that they meet the criteria for being flagged by the federal government and monitored due to repeat or severe violations.
Huntington Nursing Homes: General Knowledge
Huntington, West Virginia has declined in population over the last ten years, but the impact on those above the age of 65 has not been felt particularly strongly; more than 15% of all residents were 65 or older. This naturally sparks the need for a large number of nursing homes in the area, and in fact, West Virginia as a whole is home to 123 long-term care facilities. Despite this abundance of options, only four locations managed to achieve a five-star rating. Heritage Center, located directly in the heart of the city, manages 160 certified beds as a for-profit corporation; this facility has also been flagged for confirmed cases of abuse. In general, ratings correspond to the number of beds, which also relates to the type of ownership. For-profit facilities tend to pack in more beds, while non-profits maintain fewer.
With approximately 20 nursing homes within 25 miles of Huntington's city center, prospective residents still have plenty of options to choose from. However, ratings vary widely, from above average non-profit locations to facilities occupying a place on the federal government's list of locations that have been cited for abusive behavior.
Health Inspection Issues in Huntington's Skilled Nursing Facilities
When it comes to issues that are commonly faced by nursing homes, some problems are more frequent than others. Pressure sores and injuries from falls remain consistent challenges, but in Huntington, the facilities in a 25 mile radius from the city center are facing their own dilemmas when it comes to patient care. One facility accumulated 29 citations in its most recent health inspection, including issues with safe and cordial treatment from staff. Multiple residents reported the same LPN, one of whom stated that she was afraid for her life in making the report due to her concern that the LPN would retaliate once his or her aggressive behavior toward residents became known. The same facility was cited separately for its response to these allegations, as it did not adequately document and report the situation.
Elsewhere in the Huntington area were citations for failing to ensure that residents were free to exercise their rights. Multiple residents were not permitted to sign off on their own medical treatment, even when their doctors had confirmed that they had the capacity and ability to do so. This included the residents' right to determine their end of life care, such as CPR. Fall issues were also common, such as one resident who suffered an injury after falling from a wheelchair due to the nursing home's failure to abide by her fall intervention plan. The plan stipulated that the resident was to be wearing non-skid socks when in the wheelchair.
Many facilities in the Huntington area have been cited for their maintenance of their call lights, which residents use to contact the nursing staff when needed. The lights are commonly out of reach or inoperable, restricting a resident's ability to get help. Reporting issues are also common, with multiple facilities cited for failing to update a resident's medical team about changes to the resident's health in a timely manner.
Work with a Huntington Nursing Home Abuse Attorney to Seek the Justice You Deserve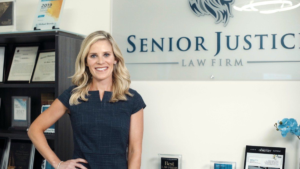 The burden of filing a lawsuit can make the entire process seem too overwhelming to even attempt. At Senior Justice Law Firm, we understand that your focus right now must be on your family, healing, and securing your finances. This is why we would be happy to help you make a plan for legal action during a free consultation so that you can pursue compensation.
Your lawsuit could have vital lasting impact on the nursing home, and we will work hard to ensure that the process is as stress-free as possible. If you would like to discuss your options and whether you have a case, reach out at 888-375-9998 or use our website's messaging tool to get in touch and schedule an appointment at a time that is convenient for you.
We try to make a difference with every case. Not only providing you monetary compensation, but righting a wrong and ensuring that this kind of harm does not occur again.