Louisville Nursing Home Abuse Attorney, Helping Kentucky Families
Struggling with an injury or wrongful death inside a Louisville, KY nursing facility? Our compassionate and experienced KY nursing home abuse attorney can help your family get justice. Let our Louisville nursing home abuse attorneys fight for what is right. Do not let your loved one's injury go unpunished. Live chat with our office today, or call us. All consultations are free and we work exclusively on a contingency fee, so no out-of-pocket fees or costs are ever required from you.
Get legal guidance now. A Louisville nursing home bed sore or fall is inexcusable. Let our narrowly focused nursing home negligence law firm guide you on your journey to justice.
Louisville Nursing Home Abuse Info
The decision to turn to a nursing home to care for an aging family member is never an easy one. Once the decision is made, however, the last thing that should be on your mind is concern about whether the nursing home will provide necessary care for them. Unfortunately, for some Louisville nursing home residents, not only are the bare minimums not provided, but neglect and abuse are experienced too. The abuse and neglect older individuals face on a regular basis can have far-reaching consequences, from permanent injury to death.
Nursing homes in Kentucky rate as among the poorest in the entire country in terms of deficiencies and fines. Many nursing homes in the Bluegrass State, including in Louisville, struggle from understaffing and poor training, which greatly contributes to abuse and neglect in nursing homes. Chronic understaffing, however, should not excuse abuse and neglect. Those responsible for allowing abuse and neglect to take place need to be held accountable. If your loved one has been a victim of mistreatment by a nursing home in Kentucky, then you need an experienced Louisville nursing home abuse lawyer who will fight for you to ensure the nursing home does not go unpunished and that you are compensated for the pain that was caused.
Kentucky Has a Nursing Home Abuse Problem
Of the roughly 15,600 nursing homes in the United States of America, 285 of those homes are in the state of Kentucky. Fifteen percent, or 42 of the 285 nursing homes, reside in the city of Louisville, with 26 more nursing homes within 25 miles of the center of the city. Kentucky nursing homes had 4561 total deficiencies over the most recent two-year period, with nearly a tenth of those deficiencies being classified as serious. In the Commonwealth of Kentucky, almost 80% of the 285 nursing homes were found to have infection-related deficiencies, while over a quarter of all nursing homes in Kentucky had serious deficiencies. Kentucky's neighbor to the south, Tennessee, only had 63% of their 314 nursing homes noted for infection-related deficiencies, and only 12% of their nursing homes had serious deficiencies.
It stands to reason, then, that the odds of your loved one being impacted in some way by substandard care at a nursing home is far from zero. If you suspect that someone you love has been a victim, it is important that you reach out to skilled legal professionals as soon as possible. Bringing a lawsuit doesn't just secure monetary compensation and much-needed justice for your family—it also discourages the facility from behaving in this manner in the future thanks to the potentially severe settlement they may need to pay. Consider reaching out to a firm like Senior Justice Law Firm if you need to discuss what your family member has experienced while in a long-term care facility. Our Louisville nursing home abuse lawyers can assist your family in picking up the pieces.
Statistics on Nursing Home Abuse in Louisville
Kentucky ranks 14th out of 52 states and territories listed on ProPublica (Washington, D.C. and Puerto Rico are included) in terms of serious deficiencies. Of the top 10 nursing homes nationwide with the most serious deficiencies, six of the 10 nursing homes are located in Kentucky. Unfortunately, the worst performing facilities are clustered around Louisville and the Jefferson County area.
Kentucky nursing homes have accrued the third highest fines in the country. Three Kentucky nursing homes appear in the top 10 nursing homes in the United States in terms of fines, and across the state, $58,600 is the average amount per fine. Tennessee, which ranks 4th, is fined $58,300 per fine, but Alabama, which ranks 5th, sees an average of $43,800 in fines—$15,000 less than Kentucky.
As far as the entire state is concerned, Kentucky nursing homes have paid out over $10.2 million in penalties for their quality of care. While some of these penalties are only a few thousand dollars, other nursing homes have been fined as much as $732,827 in a single penalty.
While some locations have been harshly punished for their poor care, other nursing homes—even with a high number of serious deficiencies—have been let off with minimal fines, which is why it is important that you carefully research any facility that you are considering. For instance, despite having 11 serious deficiencies in recent years, Stanford Care and Rehab, LLC in Stanford, Kentucky has only been fined $725. In Louisville, Landmark of Louisville Rehabilitation and Nursing has received nine total deficiencies but has only been fined $38,925.
ProPublica rates severity of deficiencies on a letter scale from A to L, with A being the least severe and L being the most. While the majority of deficiencies are placed in the D range (64%), over 8% of deficiencies rate as J or worse. A D-level deficiency can be as severe as failing to properly store, secure, distribute, or serve food in a sanitary way or provide an effective infection prevention and control program for residents who are infected or at risk of an infection. If allowed to persist, these deficiencies could cause long-term damage to residents and compromise their health, wellbeing, and safety.
Home of the Innocents, a Louisville nursing home, received multiple J-level deficiencies—those are the worst possible—on their May 2020 health inspection. One citation's reasoning was that the nursing home failed to ensure that the nursing home had provided adequate safeguards to areas that could expose residents to hazardous conditions; in other words, residents could find themselves in trouble because the staff and facility did not remove a dangerous circumstance so that it could not harm residents. Another reason behind the J-level citation is that the staff did not properly construct and complete a plan that meets the needs of certain residents. Without these plans, residents are left to fall victim to deteriorating health conditions, since their healthcare is not mediated by personalized guidance.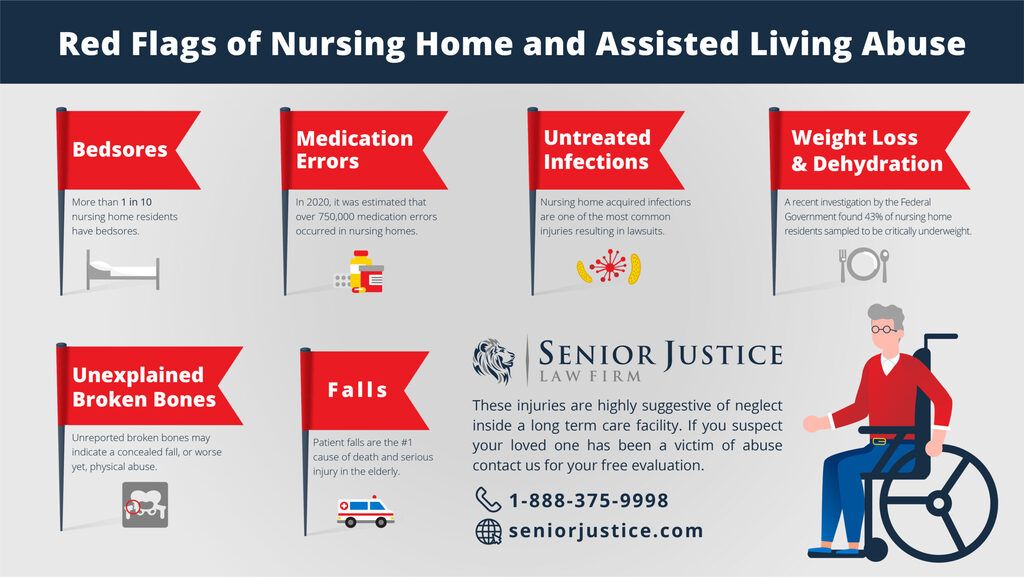 Louisville Nursing Home News
An experienced Louisville nursing home abuse lawyer will be up to date on all the news in the area—but you should be too. Nursing homes can easily fly under the radar when it comes to reporting incidents in their facilities, but it is important to be aware of what is happening in these long-term care locations so that you can stay informed and make wise choices when necessary.
In 2019, a nursing home report produced by two U.S. senators listed the worst rated nursing homes that had a history of poor care and unsafe conditions. Among the six Kentucky nursing homes included in the list, two of them are located in Louisville (Klondike Center and Springhurst Health and Rehab). Medication errors and excessive use of medications that were not strictly necessary, such as sedatives, were common complaints regarding the treatment of residents in these nursing homes. Overall care was also a frequent issue, as the report noted that the facilities failed to offer care that correlates with a high quality of life. These nursing homes are at risk of being cut off from Medicare and Medicaid if the pattern persists.
More severe offenders were placed on a "special focus facility" list, which included Owensboro's Twin Rivers Nursing and Rehabilitation center. Sadly, the reason that there are only 80 nursing homes that get special attention—and why the overall list is limited to 400 nursing homes—is not because they are the only nursing homes that should be included on the list, but rather because of limited government resources.
Klondike Center had a detailed report against them in 2018 that revealed a failure to alert a doctor when the resident's needed medication was not available. Four months after that report, an investigation was opened up when a staff member was accused of sexual assault. The investigation showed that despite the allegations, the staffer was not removed to prevent further misconduct.
Springhurst has also received a plethora of complaints in recent years. From not properly storing away medication to poor storage of food, Springhurst was fined $88,021 and $250,023 in consecutive years (2017 and 2018). Of the offenses, Springhurst had a resident who suffered a burn wound, but staff did not properly treat the burn. Instead of properly assisting the resident with their burn, they allowed the resident to lie in their bed, undressed, with their open wound oozing.
Friendship Health and Rehab, a nursing home in Pewee Valley, announced its closing in 2021. While they blamed the current economic and healthcare climate for the closure, the nursing home and ownership had a consistent previous history of poor quality of care. In fact, in 2018, a Louisville nursing home abuse lawsuit alleged that a former staff member sexually abused at least four nurses and at least one resident. While the nursing home is closed, there are still pending lawsuits against Friendship Health and Rehab that are in the process of being resolved.
Worst Rated Nursing Homes in Louisville
While Klondike Center and Springhurst Health and Rehab were both listed on the government report, there are even worse nursing homes in Louisville according to Medicare.gov. Using Medicare's Care Compare tool, the nursing homes in Louisville can be sorted by highest to lowest ranking.
On this list, The Willows at Springhurst rates as the nursing home in Louisville with the poorest quality of care overall. Medicare has withheld their rating (which typically ranges from one to five stars) because of the serious quality issues the nursing home has faced. They are now an SFF, or a special focus facility, which means they are at risk of expulsion from recognition from the Medicare and Medicaid programs. In the last three years, the nursing home has been fined seven different times, for a cumulative total amount of $442,572.
Similarly, Valhalla Post Acute rates as much below average. While they have average staffing, the location's health inspections have been rated as much below average. They have also been fined $13,905 in the last three years.
Regency Center has been flagged for abuse and neglect in the last three years as well. Because of this, they were fined $399,903. Their scores place them much below average in health inspections and staffing and below average in quality of care.
Like Regency Center, Regis Woods has also been flagged for abuse and neglect. Unlike Regency Center, their staffing is generally considered adequate, if a little lacking (like most nursing homes across the US). They were fined twice in the last three years for a total of $500,309. They rate as much below average in quality of care and health inspections.
Landmark of Iroquois Park Rehab and Nursing Center is yet another Louisville nursing home flagged for abuse and neglect. With poor staffing and health inspections, the location has been fined $21,393 in the last three years.
*Disclaimer – all ratings and deficiencies are subject to change. Ratings are current as of the date of this post.
Meet with an Experienced Louisville Nursing Home Abuse Attorney Today

If you or a loved one has experienced neglect or abuse in a Louisville nursing home, then you may be feeling the stress of handling the situation on your own. An experienced Louisville nursing home abuse lawyer is not only well-versed with these types of cases but knows the city and its problematic facilities as well. Attorney Tom Pleasant dedicates 100% of his professional time to litigating cases against negligent healthcare facilities. He can assist your family in proving your Louisville nursing home abuse case.
Nursing home abuse and neglect is a horrifying experience that too many long-term care residents face. Facilities that commit these acts should be held accountable for their poor quality of care—a task that lawsuits are competent at thanks in part to harsh punitive penalties. If found guilty of allowing poor care, a judge can order various types of damages, but punitive damages are specifically intended to incentivize the nursing home to reform their system and are typically harsher than general fines.
If you need help navigating the challenging road of bringing legal action against a nursing home or long-term care facility in Louisville and the surrounding area, be sure to work with legal professionals who are skilled in this particular area. Senior Justice Law Firm would be happy to speak with you about the situation you are faced with and help you to determine whether you have a case. We want to be your Kentucky nursing home abuse lawyer.
Reach out to our lawyer to schedule a consultation free of charge so that we can get you started on the right path. You can get in touch via our chat feature or call us. If you prefer, you can also submit your information below. We look forward to hearing from you and advocating for your family.