Filing a Lawsuit Against a Manassas Nursing Home? Our Virginia Attorneys Can Help
Need legal advice after an injury or wrongful death inside a Virginia nursing home? Our Manassas nursing home abuse attorney can help your family achieve justice. Live chat with our office now or call us at 888-375-9998. At Senior Justice Law Firm, elder abuse and nursing home neglect cases are all that we do. Let our narrowly tailored law firm help you get answers as to what happened.
Manassas, VA Elder Abuse is Inexcusable
When people make lists of places to retire, it's no surprise that Virginia often tops the list. Virginia has it all, from historic towns and picturesque villages to agreeable weather and beautiful landscapes. These attributes have made it an increasingly popular option for retirees looking for a new home. In particular, the area in and around Manassas, Virginia is in high demand for nursing homes and long-term care facilities. As a result, the Manassas area has seen a recent increase in nursing homes to meet the growing demand.
Famed for the Civil War era battles that bear the name of the town, Manassas draws people in with its charm and historic beauty. You can visit Bull Run state park to see the Civil War battlefields and learn about the history behind them at the visitor's center. Downtown historical Manassas offers plenty of opportunities for window shopping as well as numerous delicious restaurants. Manassas is also home to distinctive local breweries, many of which offer tours and tastings for visitors. Nestled among many of these attractions are various nursing homes, designed for those who would like to call Manassas home.
Some Manassas Nursing Homes Rank Sub-Par
Surprisingly, many of these Manassas area nursing homes have not mastered how to properly care for their new residents. As a result, cases of abuse, neglect, and injuries can occur. Some of the nursing homes in and around Manassas have even been placed on the federally maintained list of nursing homes that have received citations for confirmed cases of abuse. Even if the facility your loved one resides in has mainly positive reviews, it is not a guarantee of their safety.
If you have reason to suspect that a loved one was abused or neglected at a Manassas nursing home, please give Senior Justice Law Firm a call at 888-375-9998.
Our Manassas nursing home abuse attorney focuses exclusively on nursing home abuse cases. Our purpose is to assist you in holding nursing homes accountable for their negligent or abusive actions and to demand justice, as well as financial compensation.
Many Manassas Nursing Homes Rank Deeply Below Average
In fact, Manassas and the surrounding area is home to 20 nursing homes. Unfortunately, this impressive number bears no connection to the level of care they each provide. Many Manassas-area long-term care facilities received the lowest score possible on government reviews—a 1 out of 5—and some have been forced to add their name to the federal database for confirmed abuse cases.
Abuse and Neglect inside Manassas Virginia Healthcare Facilities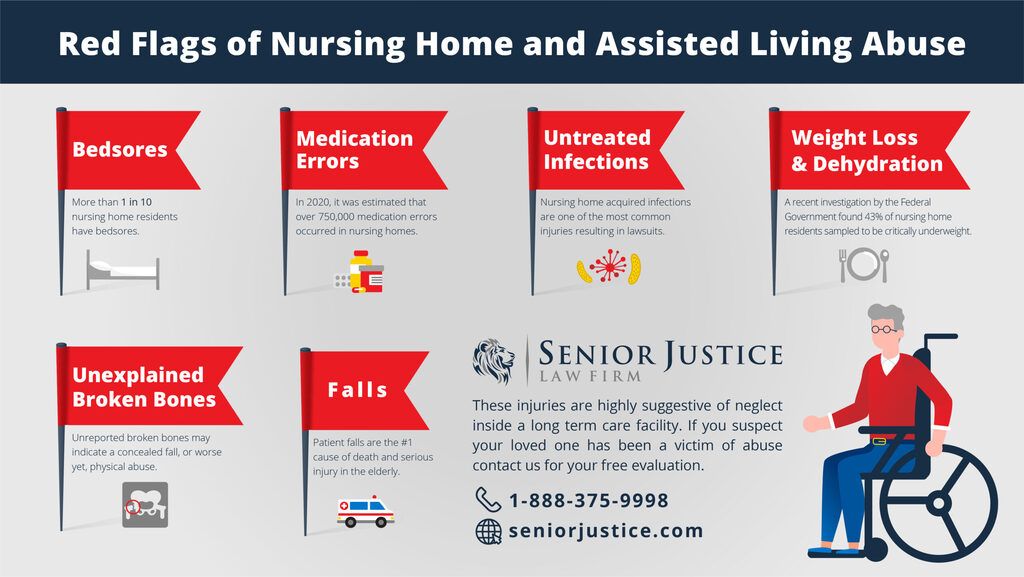 How to Spot an Abusive Virginia Nursing Home
Manassas nursing homes have a record of doing very poorly on their inspection scores. Historically, long-term care facilities have tended to rank at Much Below Average on mandatory government health inspections. One of the main reasons for this is that most nursing homes are for-profit institutions that want to maximize their profits. Due to this profit-seeking mentality, nursing homes are interested in filling as much space with as many beds as possible. Unfortunately, they do not hire enough staff to properly care for the number of residents they have.
This chronic understaffing can lead to disastrous results. The ideal number of patients for a single staff member to be responsible for at any time is four, but these nursing homes often leave staff members responsible for as many as 30 patients at one time. With resources being stretched this thin, it is unsurprising that these nursing homes begin slipping into negligent behaviors. Even if an injury is the result of oversight or was caused unintentionally, the facility should still be held responsible.
If this sounds familiar and you think your loved one may have been subjected to pain, suffering, injury, or death at the hands of a neglectful or abusive nursing home, you may be unsure of where to turn next. An immediate next step to take is recording everything you've seen. The results of negligence are not always visible, but signs may include:
Bedsores – One of the clearest indications neglect is bedsores, which are devastating for nursing homes in court, because there really is no way to explain away what they point to: obvious neglect. These skin lesions are not a previous existing medical condition and are very easily prevented. Bedsores are caused by exerting pressure one a single area of skin for an extended period of time. They won't form if the nursing home staff makes sure to reposition the resident every few hours.
Bedsores can occur anywhere on the body (but are common in the elbows, shoulders, and tailbone) and are extremely painful. They can split the skin and reach down to the bone if left untreated. If neglected, they can even become fatal through infections like MRSA and sepsis.
Falls– If your loved one seems different when you visit and has signs of unexplained injuries, limping, or visible bruises, the culprit may be repeated falls. It is a nursing home's duty to make their residents' home as safe for them as possible by removing any fall hazards (such as slippery floors, high doorframes, uneven carpet, and beds that are easy to roll out of). Failure to perform this due diligence leads to injuries and falls for the residents, and can even result in broken bones and brain bleeds, which can be fatal.
Malnutrition/dehydration – When staff do not spend an appropriate amount of time assisting residents with eating and drinking, two of the largest dangers in long-term care facilities can occur: swallowing things down "the wrong pipe" (aspiration pneumonia) and choking. If a resident has additional mobility issues that add another layer of challenges to eating and drinking, staff may also not be spending the time they need to safely supervise these residents' meals—simply because they do not have the time to give.
Along with this, many residents have additional dietary requirements or further physical limitations that they require assistance with. The kitchen of the nursing home may only have enough time and resources to prepare a standard meal for all the residents and may neglect the additional special meal needs of others. Often, this results in these residents becoming severely dehydrated and malnourished and can even lead to starvation and death.
Physical and sexual abuse– Although it can be difficult to believe and discuss, there have been cases of physical and sexual abuse in nursing homes. It can be hard to stomach this, particularly because the staff of the nursing home are completely trusted to respectfully care for your loved one, and it can be shocking that these injuries are even a possibility. However, the task of caring for so many people can wear on even the most carefully vetted staff member and cause them to lash out. Whether it's exhaustion, frustration, or an uncooperative resident, the right circumstances can produce injuries.
Of course, residents may also be the culprits behind this abuse. Memory issues and cognitive impairment can complicate interactions between residents, but it is up to the nursing home to address this and keep interactions appropriate between neighbors, or the facility will find itself liable for lawsuits related to these problems.
Manassas, VA Nursing Home Lawsuits Can Change Levels of Care in the Facility
It is normal to have doubts about whether or not to sue a nursing home. It may feel like a fruitless endeavor, since a lawsuit is powerless to restore the health of your loved one or fix the long-term damage the nursing home has caused. However, seeking monetary compensation through a lawsuit can actually help the circumstances of residents in the future. If a for-profit facility knows that they are likely to be sued and lose money in the future, they will be forced to provide better care for their residents in order to avoid settlements or payouts. Simply put, lawsuits change care for the better because they hold companies accountable for substandard nursing care.
Manassas Nursing Homes
There are 20 nursing homes in Manassas and the surrounding 25 mile area, including some directly in the city center. The vast majority of these cannot manage a health inspection score higher than Below Average. Locations like these include (but are not limited to):

POTOMAC FALLS HEALTH & REHAB CENTER

46531 HARRY BYRD HIGHWAY

STERLING, VA 20164

FAUQUIER HEALTH REHABILITATION & NURSING CENTER

360 HOSPITAL DRIVE

WARRENTON, VA 20186

BIRMINGHAM GREEN

8605 CENTREVILLE ROAD

MANASSAS, VA 20110

MANASSAS HEALTH AND REHAB CENTER

8575 RIXLEW LANE

MANASSAS, VA 20109

GAINESVILLE HEALTH AND REHAB CENTER

7501 HERITAGE VILLAGE PLAZA

GAINESVILLE, VA 20155

MANORCARE HEALTH SERVICES-FAIR OAKS

12475 LEE JACKSON MEMORIAL HIGHWAY

FAIRFAX, VA 22033

WESTMINSTER AT LAKE RIDGE

12185 CLIPPER DRIVE

LAKE RIDGE, VA 22192

DULLES HEALTH & REHAB CENTER

2978 CENTREVILLE ROAD

HERNDON, VA 20171

ENVOY OF WOODBRIDGE, LLC

14906 JEFFERSON DAVIS HIGHWAY

WOODBRIDGE, VA 22191
Manassas Assisted Living Facilities
Arbor Terrace Sudley Manor
7750 Garner Drive
MANASSAS, VA 20109
Aspen Hill Assisted Living
12395 Forest Hill Road
WOODBRIDGE, VA 22192-2015
Aspen Hill at Harbor Place
12628 Harbor Drive
WOODBRIDGE, VA 22192
Birmingham Green Adult Care Residence – Willow Oaks
8595 Centreville Road
MANASSAS, VA 20110-8457
Brookdale Lake Ridge
3940 Prince William Parkway
WOODBRIDGE, VA 22192-4513
District Home Assisted Living at Birmingham Green
8605 Centreville Road
MANASSAS, VA 20110-5265
Evermore Senior Living
4358 Prince William Parkway
WOODBRIDGE, VA 22192
Golden Years and More
13114 Canova Drive
MANASSAS, VA 20112-7840
Harbor Chase of Prince William Commons
14080 Central Loop
WOODBRIDGE, VA 22193
Heritage Village Assisted Living and Memory Care
13650 Heathcote Boulevard
GAINESVILLE, VA 20155
Legacy Ridge Memory Care Community
16001 Loves Mill Lane
GAINESVILLE, VA 20155
Love 'Em Care
14441 Colony Creek Court
WOODBRIDGE, VA 22193
Paramount Senior Living at Manassas
8341 Barrett Drive
MANASSAS, VA 20109
Potomac Place
2133 Montgomery Place
WOODBRIDGE, VA 22191-2655
Russell Road Assisted Living Facility
3802 Russell Road
WOODBRIDGE, VA 22192
The Aurora Home Inc.
14605 Aurora Drive
WOODBRIDGE, VA 22193-1231
The Wellington at Lake Manassas
7820 Baltusrol Blvd
GAINESVILLE, VA 20155
Tribute at The Glen
4151 Old Bridge Road
WOODBRIDGE, VA 22192
Westminster At Lake Ridge
12185 Clipper Drive
LAKE RIDGE, VA 22192-2236
Manassas Nursing Home Abuse News & Current Events
As more nursing homes have popped up in Virginia, so have more problems. The Manassas area is full of nursing homes but short on staff. The Virginia Mercury reports that Virginia has the 11th highest number of nursing homes with below-average numbers of staff in the nation. Joani Latimer, who is Virginia's long-term care ombudsman in the Department for Aging and Rehabilitative Services, says that of the complaints that her office receives, around 50 percent have to do with understaffing. Currently, Virginia does not have laws in place that require facilities to consider staff ratios when they make decisions about how many residents to accommodate.
Focusing first on profit—rather than on the safety and security of residents—has become the norm across not only Virginia but also the country. Many nursing homes that have been responsible for nurturing environments like this have been shut down, and their previous administrators have been barred from opening any new facilities. However, this is truly just the tip of the iceberg, and further reform is needed in Manassas and beyond.
Manassas Nursing Home Abuse Lawsuit
Free Consultation for Manassas Nursing Home Abuse & Elder Abuse Case
When you have made the decision to pursue filing a lawsuit against an abusive or neglectful nursing home in Manassas or the surrounding area, beginning the process may seem overwhelming. Senior Justice law firm is here to assist you in navigating this process. We know that it can be difficult to file and deal with a lawsuit while still mourning the death of a loved one or dealing with their ongoing injuries, and we can help you simplify the process and lead you on your way to success.
As a law firm, we are exclusively focused on elder abuse law, and this has allowed us to gain significant experience in holding these facilities accountable, assisting you with obtaining the monetary compensation you deserve, and dealing a blow to the finances of the nursing home, indirectly helping to provide better care for the residents who come after your loved one. Reach out and call us; we'd be happy to discuss your case and your next steps free of charge.
You can reach us by calling 888-375-9998 or by submitting your information below. You can also contact us through the chat feature.