Injury, negligence or wrongful death in a Mount Vernon nursing home? Our nursing home abuse lawyers proudly represent victims in the Bronx and New York City.
If your loved one suffered a serious injury or death inside a nursing home or assisted living facility, called right now to speak with a Mount Vernon nursing home abuse lawyer. At Senior Justice Law Firm, our law firm focuses on nursing home negligence cases and we charge no up front fees or costs. We only get paid if you win your case and make a financial recovery.
Begin the journey to justice by calling our law firm now at 646-969-5855.
Mount Vernon Nursing Home Abuse
Mount Vernon is a city located just north of the Bronx in New York City. It is situated in Westchester County and has a population of approximately 67,000. Mount Vernon is unique in that its southern side very much resembles New York City, whereas areas north are much more residential with high value family homes.
Mount Vernon only has two nursing homes within its city borders: The Wartburg Home and the Westchester Center for Rehabilitation & Nursing. Beyond Mount Vernon's borders, nearby facilities also include Laconia Nursing Home, Split Rock Rehabilitation and Health Care Center, and Pinnacle Multicare Nursing and Rehab Center.
Recognizing Red Flags in Mount Vernon Nursing Home Neglect Cases
Our attorneys are exclusively dedicated to cases involving elderly neglect and abuse. Most of these victims are unable to communicate that they have been hurt due to poor care. This is why it is so important that you, as the patient's representative, report their injuries if you suspect negligence.
Here are some red flag injuries which are highly suspect for nursing home abuse.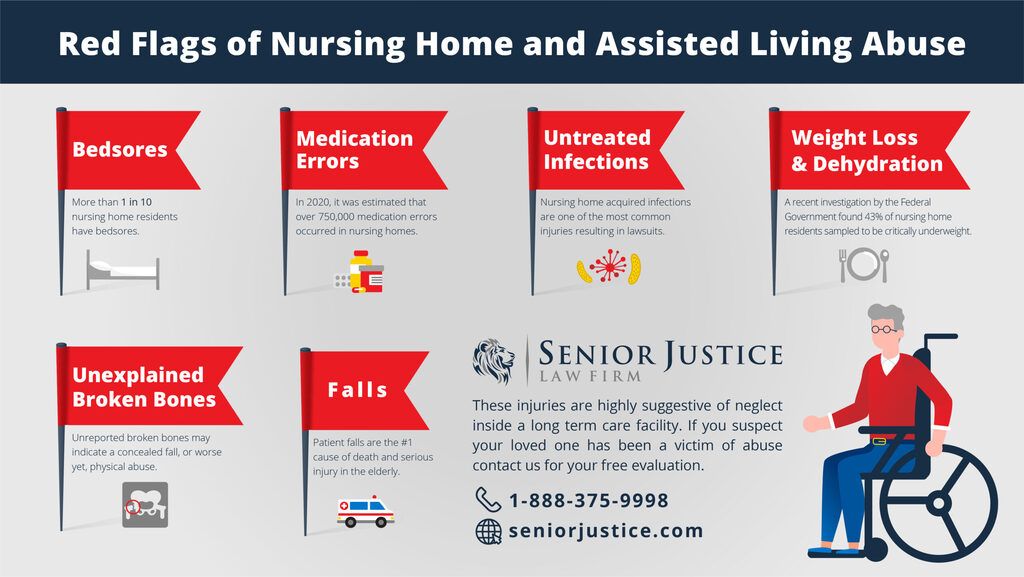 Recent News Regarding Mount Vernon, NY Nursing Home Negligence
In March 2019, the McKnight's Long-Term Care News reported that The Wartburg Home had replaced 11,000 fluorescent and incandescent bulbs to LED lighting, thereby conserving a considerable amount of energy. The facility has recognized the importance of limiting its environmental impact and has two new buildings that earned the Leadership in Energy & Environmental Design (LEED) Gold Certification.
However, in May 2019, Iohud reported that the other nursing home located in Mount Vernon, the Westchester Center for Rehabilitation & Nursing, was only given a one-star rating, out of a possible five stars, by the Centers for Medicare and Medicaid.
In 2021, Bronx-based Montefiore Health System opened White Plains Hospital in an effort to provide additional healthcare facilities for Mount Vernon's aging seniors.
What Can our Mount Vernon, NY Nursing Home Abuse Attorneys Do For Your Family?
When a nursing facility is neglectful or abusive towards your loved one, the natural response is to attempt to have this behavior addressed by the facility. If communication with management is difficult, or if requests for adequate care go unanswered, hiring a Senior Justice Law Firm attorney can motivate the facility to take your concerns seriously.
Moreover, hiring an attorney to pursue a civil lawsuit against the facility in instances of neglect or abuse can provide compensation for your loved one's suffering or loss. For example, if a facility fails to ensure that your loved one is not at risk for falls, and your loved one suffers a traumatic fall, a lawsuit against the facility for neglect may cover the additional medical expenses incurred by the fall and any pain and suffering owed to your loved one.
This is the type of behavior that falls within the category of nursing home neglect and is actionable in New York state. Other signs of nursing home neglect include bed sores, particularly if they are not treated and become infected, failing to monitor residents' food and water intake, leaving residents in soiled diapers for long periods of time or recurrent UTI's due to such conduct, as well as unexplained bruises and other injuries. When we file a lawsuit on you or your loved one's behalf, it is the first step in forcing nursing facilities to acknowledge responsibility for shoddy care. Although some may believe this is a drastic first step, it is important to remember that shoddy care may have resulted in bruises and similar injuries to your loved one, but it can very easily lead to death if permitted to continue.
Get Your Free Case Consultation on your Mount Vernon, NY Nursing Home Abuse Lawsuit Now
Please do not hesitate to contact us if you believe your loved one has experienced neglect or abuse at a nursing home in Westchester County, or if you'd like a consultation regarding your loved one's rights. To us, your loved ones are not a source of profit, but a human being that deserves adequate care and to be treated with dignity in their last years.
Mount Vernon, NY Area Nursing Homes
The following are the two nursing homes located in Mount Vernon, NY.
| | | |
| --- | --- | --- |
| Facility Name | Facility Type | City |
| The Wartburg Home | Nursing Home | Mount Vernon |
| Westchester Center for Rehabilitation & Nursing | Nursing Home | Mount Vernon |
New Rochelle, NY Nursing Homes
| | | |
| --- | --- | --- |
| Schaffer Extended Care Center | Nursing Home | New Rochelle |
| | | |
| --- | --- | --- |
| Sutton Park Center for Nursing and Rehab | Nursing Home | New Rochelle |
| | | |
| --- | --- | --- |
| Dumont Center for Rehab and Nursing | Nursing Home | New Rochelle |
| | | |
| --- | --- | --- |
| Bayberry Nursing Home | Nursing Home | New Rochelle |