OUR NYC NURSING HOME ABUSE ATTORNEYS ARE HERE TO HELP
Our New York City nursing home abuse lawyers represent families impacted by elder abuse and neglect across the NYC metro area.
Nursing home negligence litigation is our law firm's focus – this is all we do.
Call us today for your completely free case consultation – 646-969-5855
New York City Nursing Home Abuse Cases Are What We Do
Looking for an experienced, narrowly focused NYC nursing home abuse lawyer? Senior Justice Law Firm is here to help.
Our New York City nursing home negligence attorneys can answer your questions now, in a completely free case consultation.
You won't see a hundred practice areas on our website. That's because our law firm's focus is on nursing home negligence cases. We are one of the few firms in New York to hold this distinction. This concentrated attention to these cases allows us to maximize your recovery.
Let our narrow focus on these kinds of cases help you on your journey to justice. Call us today to see why we are different – 646-969-5855.
We can help your family pick up the pieces after a preventable tragedy occurs inside a New York healthcare facility.
Fast Facts on our NYC Nursing Home Abuse Attorneys
Nursing home abuse and neglect cases are the focus of our law firm. Our practice is limited to negligence lawsuits against nursing homes and assisted living facilities.
We charge no upfront, out of pocket fees. We only get paid fees if we recover money for you and your family. We operate under the same contingency fee agreement that you see with car accident lawyers.
Our NYC nursing home abuse lawyers investigate what happened, obtain medical records and hire qualified experts to render opinions on your loved one's care.
We routinely litigate against large, nationwide nursing home corporations that control New York's long term care facilities. Our attorneys have recovered millions of dollars in compensation from these large companies. This history with the nursing home corporation may help us successfully resolve your individual nursing home negligence lawsuit.
Most importantly of all, our NYC nursing home abuse attorneys care deeply about what they do and approach every case with zeal and compassion. We treat you like family, and our firm culture reflects this. Our glowing former client reviews are a testament to the wonderful work we do for our clients.

Warning Signs of New York City Nursing Home Neglect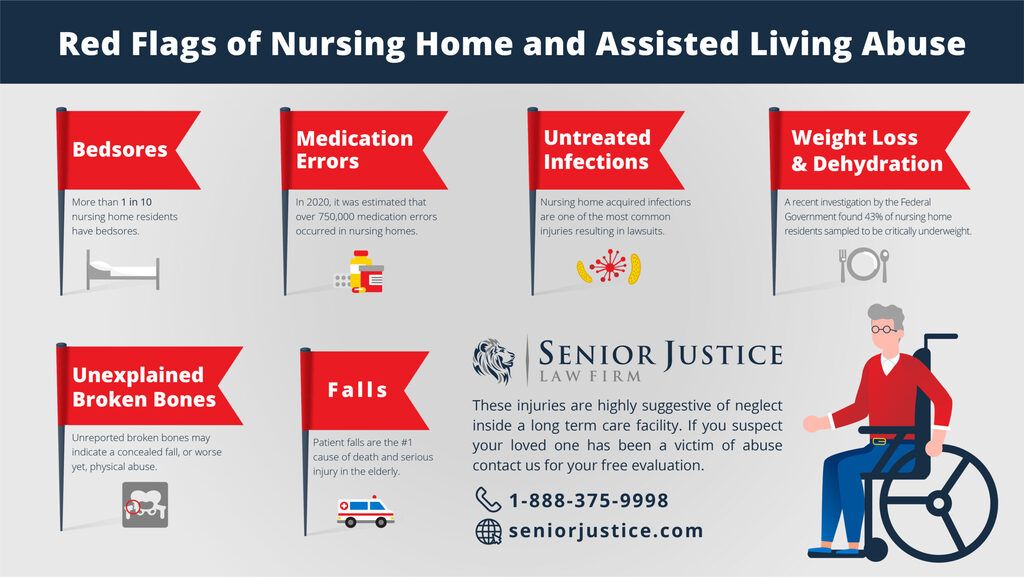 Will you know when its time to call a NYC nursing home abuse lawyer? Be on the lookout for these telltale signs of nursing home neglect.
Bedsores and pressure ulcers
Falls resulting in broken bones and brain bleeds
Medication errors
Hypothermia or exposure to cold temperatures
Failure to respond to a medical emergency, like a stroke, seizure or choking incident
Sepsis and uncontrolled infection
Elopement or unauthorized wandering out of the facility
UTI and catheter infections
Physical and/or sexual assault by staff or other residents
Unexplained injuries, like fractures, bruising or brain injuries
If your family member suffered any of the above injuries, contact the NYC nursing home abuse lawyers at Senior Justice Law Firm for a completely free case consultation. We can investigate the incident and determine what happened.
If the neglect injuries were preventable, we will pursue a NYC nursing home abuse lawsuit and attempt to obtain your family compensation for your loved one's suffering.
Chat with us below or call us now at 646-969-5855 to begin the conversation. Our NYC nursing home negligence law firm is here to help.
Narrowly Focused NYC Nursing Home Abuse Attorneys
Nobody enters a nursing home or assisted living facility because they are healthy. The advanced age and ailments nursing home residents have made them incredibly reliant on the care of New York's nursing homes for their health and well-being.
This makes long-term care residents particularly vulnerable to instances of abuse and neglect. Incidents at New York City's nursing homes can have a profoundly negative effect on residents' mental health and physical abilities.
Worse, neglect or abuse can result in permanent injuries or death. Sadly, abuse and neglect are all too common in NYC nursing homes.
Senior Justice Law Firm is a law firm focused on fighting abuse and neglect in long-term care facilities. From our Manhattan Office, we take cases in the five boroughs and surrounding areas. If you or a loved one has suffered mistreatment, neglect or abuse at an NYC nursing home or assisted living facility, it is time to get help from the NYC nursing home abuse lawyers at Senior Justice Law Firm.
If you believe you or a loved one was a victim of abuse or neglect, call Senior Justice Law Firm for a free consultation or chat with our office.
Five Boroughs of Coverage Throughout the New York City Metro Area
Our NYC nursing home attorneys represent victims in Manhattan, Brooklyn, the Bronx, Queens, and Staten Island.
From our Manhattan office, we cover the entire NYC metro area, including Long Island, White Plains, Yonkers, Mount Vernon, New Rochelle, and North Jersey.
New York Laws on Nursing Home Abuse & Neglect
New York has strict laws against nursing home abuse and neglect. Any victim of New York nursing home neglect that was wrongfully injured may bring a lawsuit against the negligent nursing home. If the victim is deceased or incapacitated, a power of attorney, executor or family member may bring the cause of action.
In addition to general negligence laws, Public Health Law § 2801-d can apply to nursing homes that violate rules and injure patients. This statute gives the legal right to bring a lawsuit for any New York nursing home resident that was injured "by the deprivation of a right conferred by contract, statute, regulation, code or rule." See also, Kash v Jewish Home & Infirmary of Rochester, N.Y., Inc., 61 A.D.3d 146 [2009].
Relative to other states, New York offers its citizens extensive protections from elder abuse and neglect. A private cause of action is conferred to injured patients as a safety mechanism.
The legislative intent behind this is clear. If your family member was neglected and hurt by a poorly run nursing home, you can sue that facility and implement change at the facility. By paying out large cash settlements or verdicts, the hope is that the nursing home will be deterred from allowing this kind of behavior again in the future.
This not only gets your family compensation for the harm done but also, improves care for the next wave of patients.
Why Does NYC Nursing Home Abuse and Neglect Happen?
The main reason nursing home abuse and neglect occurs is due to understaffing. Facilities receive revenue primarily from the federal and state government through Medicare and Medicaid based on the acuity of their residents.
This means they report how much care is needed for their residents, and are given an amount related to each resident's level of care.
Facility owners looking to maximize their profits then try to cut costs as much as possible, because lower expenses mean higher profits. One of the biggest, if not the biggest, expense on most facilities' income statements is labor.
If NYC nursing homeowners cut staff numbers, their profits skyrocket. However, less staff usually means more neglect-related injuries and deaths.
As ownership of NYC nursing homes continues to change from "Mom & Pop" standalone nursing homes to facilities owned by investment banks, large corporations or shadow owners, the focus on profit eclipses the focus on patient care.
When a facility is understaffed, the facility is set up for failure. Not hiring enough CNAs, LPNs and RNs lead to preventable injuries that can be devastating or even lethal.
For instance, not having enough CNAs to reposition residents every two hours can lead to preventable bedsores. Not hiring enough LPNs to oversee the CNAs can lead to improper transfers, falls and broken bones. Not hiring enough RNs can lead to deadly medication errors. These are just a few examples of preventable NYC nursing home injuries caused by understaffing.
Federal Law on Staffing of Nursing Homes
"There is considerable evidence of a relationship between nursing home staffing levels and resident outcomes. The CMS Staffing Study, among other research, found a clear association between nurse staffing ratios and nursing home quality of care." Design for Nursing Home Compare Five-Star Quality Rating System: Technical User's Guide.
The federal skilled nursing facility (SNF) Quality of Care standard is contained in 42 CFR §483.25 Quality of Care. "Each resident must receive, and the facility must provide the necessary care and services to attain or maintain the highest practicable physical, mental, and psychosocial well-being, in accordance with the comprehensive assessment and plan of care."
The comprehensive assessment is defined in 42 CFR §483.20(b) (1) as the Resident Assessment Instrument (RAI); commonly referred to as the Minimum Data Set (MDS) (see Long-Term Care Facility Resident Assessment Instrument User's Manual, published by CMS). The federal SNF staffing standard is contained in 42 CFR §483.30 Nursing Services. "The facility must have sufficient nursing staff to provide nursing and related services to obtain or maintain the highest practicable physical, mental and psychosocial well-being of each resident as determined by resident assessments and individual plans of care."
The Center for Medicare and Medicaid Services (CMS) suggests appropriate levels of staffing based on reported acuity of residents. These suggestions are based on information provided by the facility for reimbursement.
The Medicare and Medicaid system reimburses skilled nursing facility providers based on a prospective payment system. Each Medicare and Medicaid resident is uniquely assessed using a Minimum Data Set (MDS) assessment. The assessment information can be translated into a Resource Utilization Group (RUG) category. There are currently sixty-six different RUG categories.
Each RUG score will translate to an amount of time CMS expects to be provided to each assessed resident based upon the resources necessary to provide for those needs. For each Medicare resident, the RUG provides the nursing home with a different daily per diem reimbursement.
The Centers for Medicare and Medicaid Services (CMS) publishes expected staffing levels for each SNF based on the MDSs (RUGs) submitted to CMS for payment. CMS publishes the reported staffing levels and the expected staffing levels as part of their "Five Star Rating" system. Each RUG category requires certain hours per patient per day (HPPD) for RNs, LPNs, and CNAs. This system applies to all residents, no matter their pay source.
Sadly, many NYC nursing homes report their residents as "high acuity" for payment from Medicare, but staff below Medicare's expected staffing.
Frequently Asked Questions about a New York City Nursing Home Neglect Lawsuit
How Do I Know if my Nursing Home was Understaffed?
This is not a determination that you need to make. Our NYC nursing home abuse lawyers will analyze the available census data and compare it to any available Medicare or Medicaid cost reports. We can aid in the investigation of what happened to your loved one in the NYC nursing home, and, whether the injuries arose out of understaffed nurses.
Can I Win a Claim against a Nursing Home for a Slip and Fall Accident?
Perhaps. A nursing home is liable for a slip and fall accident if the accident was caused by its own negligence or by the negligence of one of its employees. As long as you can trace the accident to negligence (failure to keep floors dry, for example), you can win.
How Can I Find Out If My Mother Is Being Improperly Medicated?
If you are worried that your mother is being improperly medicated or over-medicated, take the following actions:
Obtain your mother's medical records (you may need her signature, a durable power of attorney, or legal guardianship to do this);

Discuss the matter with the nursing home administration or staff; and

Contact a New York nursing home abuse lawyer to investigate on your mother's behalf.

Remember, you can sue the nursing home itself for improper acts or omissions by its staff.
What Are Some Examples of Nursing Home Abuse?
The following are just a few of the many different possible examples:

Improper restraints (including chemical restraints such as excessive medication)

Threats, name-calling, and other forms of verbal abuse

Deliberately or negligently withholding needed care (refusing to let the resident take a shower as punishment, for example)

Failure to prevent abuse by visitors or by other patients
My Father Was Injured in an Assault by Another Resident. Can I Claim against the Nursing Home?
Yes, you can, and you can win if you are able to show that the assault was the result of the nursing home's understaffing or negligent security.
What if Another Company or Individual Negligently Hurt my Loved One While in the Nursing Home?
Special healthcare providers and independent contractors are given access to nursing home patients by the nursing home. New York law holds that, if these third party providers injure a nursing home resident while in the facility, the nursing home can still be held liable. Nursing homes have a non-delegable duty to keep residents safe. This means they cannot wash their hands of this responsibility, simply because a third party was allowed to provide care in their nursing home.
Some examples of potential third party tortfeasors inside a nursing home include:
physical therapists

agency nurses; and

outside wound care teams

If a third party is given access to your loved one in the nursing home, and subsequently harms them, the nursing home is likely responsible under New York law.
Who Can I Sue in a Nursing Home Abuse Lawsuit?
You can sue the nursing home itself and, depending on the circumstances, you can also sue:
Nursing home administrators;
Nursing home staff;
Nurses;
Nurse's aids;
Doctors; and
Other health care providers.
You cannot generally sue the nursing home for the negligence of a doctor. In cases such as that, you may need to file a medical malpractice lawsuit.
In any case, there is usually a good chance that you will be able to settle the claim out of court. Most nursing home negligence claims resolve before trial.
Our NYC Law Firm Office Location
Senior Justice Law Firm
606 W 57th Street
#4403
New York, NY 10019
(646) 969-5855
Large NYC Area Nursing Homes
NEW GOUVERNEUR HOSPITAL S N F
227 MADISON STREET
NEW YORK, NY 10002
(212) 441-5023
---
VILLAGE CARE REHABILITATION AND NURSING CENTER
214 W HOUSTON STREET
NEW YORK, NY 10014
(212) 337-9400
---
NEW EAST SIDE NURSING HOME
25 BIALYSTOKER PLACE
NEW YORK, NY 10002
(212) 673-8500
---
THE PHOENIX REHABILITATION AND NURSING CENTER
140 ST EDWARDS STREET
BROOKLYN, NY 11201
(718) 858-6400
---
COBBLE HILL HEALTH CENTER INC
380 HENRY STREET
BROOKLYN, NY 11201
(718) 855-6789
---
HOPKINS CENTER FOR REHABILITATION AND HEALTHCARE
155 DEAN STREET
BROOKLYN, NY 11217
(718) 694-6700
---
HOBOKEN UNIVERSITY MEDICAL CENTER TCU
308 WILLOW AVENUE
HOBOKEN, NJ 07030
(201) 418-1000
---
ALARIS HEALTH AT HAMILTON PARK
525 MONMOUTH STREET
JERSEY CITY, NJ 07302
(201) 653-8800
---
OXFORD NURSING HOME
144 SO OXFORD ST
BROOKLYN, NY 11217
(718) 638-0360
---
BEDFORD CENTER FOR NURSING AND REHABILITATION
40 HEYWARD STREET
BROOKLYN, NY 11249
(718) 858-6200
---
NEW CARLTON REHAB AND NURSING CENTER, L L C
405 CARLTON AVE
BROOKLYN, NY 11238
(718) 789-6262
---
CONCORD NURSING AND REHABILITATION CENTER
300 MADISON STREET
BROOKLYN, NY 11216
(718) 636-7500
---
DOWNTOWN BROOKLYN NURSING & REHABILITATION CENTER
520 PROSPECT PLACE
BROOKLYN, NY 11238
(718) 636-1000
---
MANHATTANVIEW NURSING HOME
3200 HUDSON AVENUE
UNION CITY, NJ 07087
(201) 325-8400
---
MORNINGSIDE NURSING AND REHABILITATION CENTER
1000 PELHAM PARKWAY SOUTH
BRONX, NY 10461
(718) 409-8200
---
PELHAM PARKWAY NURSING CTR & REHAB FACILITY L L C
2401 LACONIA AVE
BRONX, NY 10469
(718) 798-8600
---
MORRIS PARK NURSING HOME
1235 PELHAM PARKWAY NORTH
BRONX, NY 10469
(718) 231-4300
---
BRONX GARDENS REHABILITATION AND NURSING CENTER
2175 QUARRY RD
BRONX, NY 10457
(718) 960-3910
---
EGER HEALTH CARE AND REHABILITATION CENTER
140 MEISNER AVENUE
STATEN ISLAND, NY 10306
(718) 979-1800
---
SEA VIEW HOSPITAL REHABILITATION CENTER AND HOME
460 BRIELLE AVE
STATEN ISLAND, NY 10314
(718) 317-3000
---
CLOVE LAKES HEALTH CARE AND REHAB CENTER, INC
25 FANNING STREET
STATEN ISLAND, NY 10314
(718) 289-7900
641 WEST 230TH ST
BRONX, NY 10463
(718) 796-4800
---
THE CITADEL REHAB AND NURSING CENTER AT KINGSBRIDGE
3400 -26 CANNON PLACE
BRONX, NY 10463
(718) 796-8100
---
HOLLISWOOD CTR FOR REHABILITATION AND HEALTHCARE
195 44 WOODHULL AVENUE
HOLLIS, NY 11423
(718) 740-3500
---
WESTCHESTER CENTER FOR REHABILITATION & NURSING
10 CLAREMONT AVE
MOUNT VERNON, NY 10550
(914) 699-1600
---
BRIDGE VIEW NURSING HOME
143 10 20TH AVE
WHITESTONE, NY 11357
(718) 961-1212
---
DR SUSAN SMITH MCKINNEY NURSING AND REHAB CENTER
594 ALBANY AVENUE
BROOKLYN, NY 11203
(718) 245-7000
---
Get Your Free NYC Nursing Home Neglect Attorney Consultation
Want to discuss the potential merits of an injury or wrongful death lawsuit against a New York City nursing home? Our NYC nursing home abuse lawyers provide free case consultations.
Call us now at 646-969-5855 or send in a submission through our website by completing the form below.
We are available to speak with you and advise you on your options in the wake of a family tragedy inside a long term care facility. Do not let the cycle of elder abuse and neglect go unreported. Take a stand and speak with our NYC nursing home abuse attorneys today.