Legal Action Against The Ensign Group for Nursing Home Negligence
America is home to a few powerful nursing home conglomerates, including the Ensign Group. These are large corporations in charge of dozens or even hundreds of long-term care facilities and chains that offer assistance to older folks, operating senior living communities like nursing homes, assisted living facilities and memory care units. The Ensign Group is one of these sizeable companies, and like most businesses, its main goal has been to acquire a profit.
If you or someone you love has lived at a nursing home owned by the Ensign Group corporation, the staff may have been responsible for offering substandard care that led to injury or even death. This is why Senior Justice Law Firm exists—to help families affected by Ensign and other for-profit nursing home organizations.
Whether the treatment a resident experienced was not in line with what was promised or it was severely abusive or negligent, at Senior Justice Law Firm, we believe that fighting for the rights of those who live in nursing homes is paramount. We can assist you in investigating your lawsuit against The Ensign Group, Inc., and we would be happy to advocate for you so that you receive the justice that you deserve.
We are available to help by calling 888-375-9998 or via the free chat feature on our website.
More About The Ensign Group, Inc. and its Facilities
As a nursing home company, The Ensign Group, Inc. is a group of long-term care providers who offer a number of assistive services to seniors. Their areas of work include not only nursing homes, but also therapies (physical, occupational, and speech) as well as rehabilitation services. Spanning Arizona, California, Colorado, Idaho, Iowa, Kansas, Nebraska, Nevada, South Carolina, Texas, Utah, Washington, and Wisconsin, this nursing home group continues to acquire new facilities across America and is one of the largest groups operating nursing homes in the country. With more than 215 nursing home facilities, Ensign remains a key player in the elder care field.
The company is publicly traded on the Nasdaq.
As a for-profit organization, The Ensign Group, Inc. recently pulled in 2.3 billion dollars in revenue. It continues to trend upward, with both Q1 and Q2 2020 outpacing earnings from the same period in 2019.
Common Features of Lawsuits Against The Ensign Group, Inc.
Even the best nursing homes cannot prevent accidents like an oriented resident tripping over their own feet by mistake. However, most abusive and negligent nursing homes share common themes in their injuries, and these are carried through to the lawsuits filed against the facilities.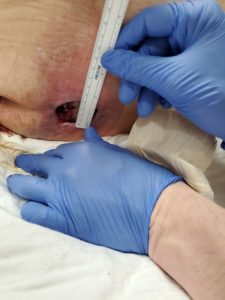 One of the most common pieces of evidence denoting nursing home abuse is bedsores, also called decubitus ulcers or pressure sores. These bedsores are caused by pressure when someone lies in the same position without moving. It is the staff's job to help residents move around a little every few hours, but chronic understaffing means that this does not always occur. No medical condition causes bed sores, and they can become severely infected or even septic. Bed sores are a 'never' event, meaning there is generally no excuse for a bed sore developing in a Ensign Group nursing home.
You may think that it is a nursing home's responsibility to make sure that your loved one receives the medicine they need at the correct time and with the correct dosage—and of the correct medicine—and you would be correct. However, poor documentation practices or an overwhelmed staff can lead to medication mistakes that can keep a resident from managing their healthcare plan as their doctor ordered. Unsurprisingly, not taking critical medication in the right way can have severe or even lethal consequences. Medication errors are more common than you would expect in long term care facilities.
When nursing staff do not consistently supervise residents, they may fall and suffer broken bones or bleeding in the brain as a result of fall injuries. Nursing homes are responsible for resident falls because each resident should have a fall assessment completed when they enter the facility that determines how to mitigate the risk of them becoming injured. Whether broken bones lead to more serious complications or heal correctly, the Ensign Group facility may be held responsible if the underlying fall should have been prevented.
Residents in a nursing home are exposed to frequent medical treatments such as the insertion and replacement of catheters and picc lines. It is important that these devices be cleaned and the area sanitized regularly to keep the patient healthy, but when staff are too busy to do this, infections can result. UTIs are common in abusive nursing homes, and left untreated, even these seemingly mild infections can turn deadly.
Of course, sometimes, older individuals may pass away with no warning. These unexpected deaths may point to inadequacy in care, and Senior Justice Law Firm can help you unearth important information about a resident's nutrition and medical history that may have contributed to a wrongful death at an Ensign Group nursing home.
Lawsuits Filed Against The Ensign Group, Inc.
Partly due to its vast spread across hundreds of nursing home facilities and partly as a result of its for-profit orientation in the business realm, The Ensign Group has been the target of a number of negligence lawsuits. As you consider filing your own against a location owned by this conglomerate, remember to choose an attorney that focuses on elder abuse litigation. This experience is critical, because it takes advantage of already existing relationships—such as with expert witnesses who can discuss issues such as staffing inadequacies.
The lawyers of Senior Justice Law Firm have dedicated their entire careers to prosecuting nursing home and assisted living negligence. This is what we do.
A number of other lawsuits have already been filed for neglect and injuries in facilities owned by the Ensign Group, so do not feel overwhelmed at the prospect of filing a suit of your own.
Past Decisions in The Ensign Group, Inc. Lawsuits
A number of recent suits have sought to penalize The Ensign Group for its behavior. They include, among many others:
The Ensign Group came under fire for multiple years for incorrectly billing Medicare for the purpose of increasing profit. The allegations stated that Ensign, based in Mission Viejo, California, knowingly submitted Medicare claims requesting reimbursement for rehabilitation services that were either not provided or not necessary. Six facilities were implicated in the practice: Atlantic Memorial Healthcare Center (Long Beach) Panorama Gardens (Panorama City), The Orchard Post-Acute Care (which also goes by the name Royal Court) (Whittier), Sea Cliff Healthcare Center (Huntington Beach), Southland (Norwalk), and Victoria Care Center (Ventura).
The Justice Department's assistant attorney general, Stuart Delery, admonished the administration and ensured those affected that any facility placing its own financial wellbeing above the wellness of its residents would be held accountable.
As part of Ensign's alleged scheme to acquire further payouts from Medicare—which is known to pay more than Medicaid—plaintiffs claimed that the administration structure incentivized therapists to prescribe therapy and rehabilitation that was not warranted in an effort to reach Medicare funding goals. As a result, physical, occupational, and speech therapy was conducted with residents whose medical conditions did not require it, and some residents allegedly did not receive the therapy they did need in favor of billing for higher-earning rehabilitation.
In some instances, Medicare was billed for therapy and rehab services that did not occur. Some patients were kept in rehabilitation facilities for longer than necessary for the purpose of continuing to tap their Medicare benefits. At the time of filing, this case was one of the largest that alleged Medicare fraud in United States history.
As a result of the lawsuit, The Ensign Group, Inc. settled in the amount of $48 million.
Another lawsuit filed against Ensign was appealed after plaintiff John Castaneda sued the organization for failure to pay the proper wages to staff. Castaneda sought damages as a result of both unpaid minimum payments as agreed to in his employment contract as well as overtime wages.
The Ensign Group, Inc. fought this lawsuit in court under the allegation that it was not responsible for the behavior of Cabrillo, the branch at which Castaneda worked. Ensign maintained that as Cabrillo was a separate entity that hired paid, and scheduled Castaneda's work, Ensign was not responsible for any compensation disputes.
However, discovery revealed that Ensign had purchased Cabrillo years earlier, in 2009. Similarly, multiple pieces of evidence pointed to Ensign as the employer, from the Ensign logo appearing when computers booted up to paychecks "From Ensign Facility Services, Inc."
This case indicates the separation of Ensign from its nursing home branches; Castaneda alleges that when confronting Cabrillo about the incorrect compensation issue, "the Human Resources & Accounts Payable Director [did] not know whether Cabrillo has a payroll account."
The court reversed its pre-appeal decision and awarded in favor of the appellant, Mr. Castaneda.
Attorney Disclaimer

*Each case is different. Prior results do not guarantee a similar outcome or indicate an expected outcome on your particular case. The above prior lawsuit information is for informational purposes only and does not constitute legal advice. The information is not provided in the course of an attorney-client relationship and is not intended to substitute for legal advice from an attorney. This individual case information above is publicly filed information gathered from the publicly filed complaint. This information and these cases are not the work of this law firm. The contents of this website should not be construed as legal advice on any specific fact or circumstance. Your receipt of such information does not create an attorney-client relationship with this law firm or any of its lawyers. You should not act or rely on any of the information contained herein without seeking professional legal advice. Speak with an attorney immediately if you believe you have a viable case against a nursing home, assisted living facility or medical facility.
Work With a Law Firm on your Ensign Group Case
After considering your options, you may be ready to start the process of investigating a lawsuit against The Ensign Group, Inc.
Senior Justice Law Firm has the skill that you need to help you navigate this journey. Our attorneys prosecute cases involving individual injuries, like pressure ulcers and falls, as well as corporate mismanagement, like Medicare fraud. We would be happy to discuss your situation free of charge and develop a plan of action with you so that you can achieve the justice that you deserve. To talk more about a potential nursing home abuse lawsuit against The Ensign Group, get in touch at 888-375-9998.
Frequently Asked Questions About Your Ensign Group Nursing Home Lawsuit
FAQs on Filing a Lawsuit for Abuse Against The Ensign Group, Inc.
How long does it take to settle a lawsuit against The Ensign Group?

Just as each person is unique, so is each case. For this reason, knowing exactly how long your lawsuit will take is not possible; however, we can help you to understand the process and get a better idea of what to expect. If Ensign chooses to settle instead of going to court, your case may resolve much more quickly than it would if the suit must be tried in a court. We have included a more detailed timeline below for your reference.

Is my case against The Ensign Group viable? Do I have a case against the Ensign nursing home?

Some cases of abuse and neglect are more clear-cut than others. We would be happy to sit down and speak with you about the details of your situation so that you know for sure whether you have a case that can be pursued legally. You can get in touch at 888-375-9998 to speak with one of our skilled attorneys.

What should I do after I find out that my family member was abused or neglected by an Ensign Group, Inc. nursing home?

You may feel frantic or overwhelmed after you find out about the pain and suffering that your loved one experienced at a nursing home operated by The Ensign Group, Inc. The first and most important thing to do is to make sure that the person you love receives any necessary medical attention immediately. As you do so, make sure that the medical professionals who are treating your loved one are not affiliated in any way with the Ensign Group nursing home so that your family member can receive unbiased care. Once any necessary medical procedures are out of the way, do not forget to report the incident to local authorities. The state health department is always interested in hearing about these cases, and ombudsman programs are specifically designed to help in these situations. If you need help determining who to reach out to, speak with us or click here.

What do I do if I cannot afford legal help in a case against The Ensign Group, Inc.? How much do you charge?

This is likely one of the most challenging and stressful times of your life, and we understand that thinking about money right now is not what you want to be doing—and we certainly do not want you to avoid seeking justice against an abusive nursing home because you are afraid of the financial impact. Because of this, we at Senior Justice Law Firm operate on contingency. In other words, there is no cost for working with us. You will not owe us anything if we fail to secure a settlement in your case.
If you do receive a settlement, we simply take a portion less than half (typically 33.3% to 40%). This ensures that you still receive the majority of the monetary damages, and it prevents you from worrying about how to pay out of pocket. You can focus on achieving the justice you deserve instead of on how to afford a lawyer.

How much could my case against The Ensign Group settle for?

Whether your case settles out of court or the court orders for damages to be paid, knowing exactly how much will be awarded is not possible ahead of time. That being said, our attorneys can walk you through the factors that help to determine a case's worth so that you can make an informed decision. Many of our cases end up settling somewhere in the low six figures. We are available for questions at 888-375-9998 free of charge.
What to Expect When Suing The Ensign Group, Inc. for Nursing Home Abuse
So you have determined that a lawsuit is the next step in your case. What should you expect? How will the case proceed, and what are the steps involved? This is one area in which the public tends not to have very much experience, because most people have never filed a lawsuit before. In order to help you stay informed about the process and understand what is happening, when, and why, we have created a generalized timeline of how your case should proceed. As you bring a lawsuit against The Ensign Group, Inc., your case will move along this general path:
Pre-Suit Investigation: 10-45 days. After you speak to us about your interest in possibly pursuing a lawsuit against The Ensign Group, we will do some research about the details of your specific situation. This may include any necessary details such as reports made by the nursing home about your loved one's wellbeing, documentation that you provide, and medical records. Our attorneys will return after this discovery phase to let you know if you have a case that can be pursued. If you do, we will sit down with you and explain our contingency contract if you decide that you would like to proceed with the suit.
Notice to The Ensign Group, Inc.: 30-90 days. Once we have gathered enough evidence to begin working on your case, our attorneys will send an alert to The Ensign Group formally informing them that you intend to sue them for their behavior and why. Court cases can be costly for nursing home corporations because they must spend money on legal representation, so The Ensign Group may choose to settle outside of court after they receive your notice to sue. If Ensign offers a settlement, you are not required to agree to it. However, settling is more convenient for you and less expensive for Ensign.
Litigation and Discovery: 6 months to 2 years. If you chose to settle, your case has already come to a conclusion. If one or more parties did not agree to the settlement, the case moves on to become a formal lawsuit (a "complaint"). Once a complaint is filed, a second phase of discovery begins that acquires much more detailed information needed for trial, such as financial statements and testimonies from staff and witnesses.
Trial: 3 days to 2 weeks. Once your case has reached the court, our attorneys will represent you against The Ensign Group. A few days may be all your case takes if the details are clear-cut, such as bedsores, but be prepared to spend multiple weeks on a thorny case. Your legal counsel can keep you updated with the case's progress.
Take Action Against The Ensign Group, Inc. if You Suspect Neglect or Abuse
As you consider what to do next in your case of nursing home abuse or neglect at an Ensign Group facility, do not feel overwhelmed. The experienced nursing home abuse attorneys at Senior Justice Law Firm have more than 50 years of combined experience holding facilities accountable for their unacceptable actions, and we would be happy to advocate on you and your loved one's behalf.
Reach out at 888-375-9998 to discuss your options and what to do next, at no cost. If you prefer to contact us online, you can use the case evaluator form below, or the live chat option.