Orlando Nursing Home Abuse Lawyers
Fighting for Victims of Nursing Home Neglect in Orange County, FL
Free Orlando Nursing Home Abuse Attorney Case Consultation: 407-698-3277
Narrowly Focused Nursing Home Litigators
At Senior Justice Law Firm, our Orlando nursing home abuse attorneys narrowly focus on elder neglect claims. This is all that we do. Let our years of experience suing Central Florida nursing homes guide your family on the journey to justice.

Suspect Orlando Nursing Home Abuse? Demand Senior Justice
Our Orlando nursing home abuse attorneys have one focus: obtaining justice for wrongfully neglected residents of Florida nursing homes.
Our Florida law firm's focus is on nursing home abuse cases. We have a combined fifty (50) years of experience battling Florida nursing homes on negligence claims. We have the right expert witnesses, we know the right investigators, and we have successfully helped over 1,000 Florida families grieving with loss due to a nursing home's mistake.
Most importantly, we genuinely care. We approach these cases with passion, and compassion. Senior Justice Law Firm empathizes what you are going through, and our Orlando nursing home abuse lawyers understand that this case is about much more than money. It is about justice, and ensuring that this kind of thing does not happen to another nursing home resident. Let our decades of experience help maximize your claim and make a difference at the negligent nursing home.
A Law Firm Narrowly Focused on Fighting for Victims of Nursing Home Abuse and Neglect
The Orlando nursing home abuse lawyers at Senior Justice Law Firm have brought lawsuits against negligent nursing homes in Orlando, Orange County, and all of Central Florida. We also represent victims in Daytona Beach, Melbourne, Lakeland, Ocala and the Villages.
We have recovered millions of dollars for wrongfully injured nursing home neglect victims. We also have some of the largest verdicts and settlements in the state in this niche practice area, and our entire law firm is uniquely equipped to handle these specific types of claims.
Speak with our experienced and compassionate Orlando nursing home abuse lawyers now in a free case consultation to learn more about your legal rights after a serious injury or wrongful death inside an Orlando nursing home. Live chat with our office, submit your case facts using the submission form below, or call us at 407-698-3277.
Senior Justice Law Firm
330 E Central Blvd.
#100
Orlando, FL 32801
407-698-3277

How Can I Recognize Orlando Nursing Home Abuse?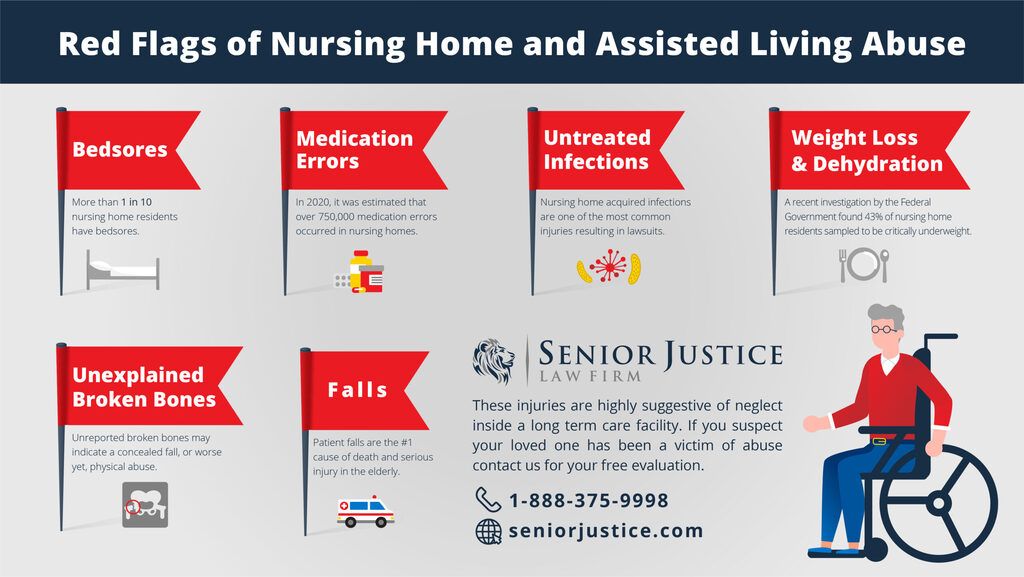 You will never receive a call from the Director of Nursing informing you that your family member was neglected inside the facility. So how will you be able to recognize Orlando nursing home abuse? You must go with your gut instinct. If something does not seem right, or your parent has unexplained injuries, investigate the matter further. Particularly, be on the lookout for the below injuries.
Red Flags of Orlando Nursing Home Abuse & Neglect
The following injuries are highly suspect of elder abuse and neglect inside a nursing home.
Unexplained Bruising
Did your loved one suffer one or more of the above injuries? While this is not conclusive proof of Orlando nursing home abuse, the injury or death should be investigated further. Contact our highly experienced Orlando nursing home abuse lawyers and elder neglect attorneys to begin the conversation now at 407-698-3277.
Orlando Nursing Home Abuse: A Growing Problem
Orlando is one of the fastest growing cities in Florida. With a population of 2,387,138 in the metro Orlando area, the region is merging west to blend with Tampa's expanding suburbs. Locals refer to this phenomenon as "Orlampa", which is one continuous metropolitan region enveloped around the I-4 corridor.
The warm climate, inexpensive cost of living, and ample growth makes Orlando an attractive city for snowbirds, retirees and seniors across the U.S. It is no surprise that 10.2% of Orlando's population are senior citizens over the age of 65. Most of Orlando's senior population chooses to age in place, graduating into Orlando's growing assisted living and skilled nursing facilities.
With its rapid growth, Orlando's nursing home bed count has increased over the years. Unfortunately, state regulators and elder abuse agency watchdogs have not kept up with the explosive skilled nursing facility expansion in Central Florida. Accordingly, many incidents of nursing home abuse and neglect in Orlando go unreported and uninvestigated.
For this reason, it is increasingly important that we remain vigilant in looking for Orlando nursing home neglect injuries. When nursing home injuries are observed, it is equally important that they be reported through the appropriate channels.
Frequently Asked Questions of our Orlando Nursing Home Abuse Lawyer
Many families come to our legal team following a wrongful death or catastrophic injury inside a nursing home. Usually, these potential clients have more questions than answers. You are not alone. Our Orlando nursing home abuse attorneys are here to help. Below are some common questions we receive when investigating Florida nursing home abuse lawsuits.
Why did my Mom develop a bedsore?
Bedsores are preventable injuries that form due to unrelieved pressure. If a patient cannot move themselves in bed, a nurse or CNA at the nursing home must move them every 2 hours. Failure to reposition an at-risk resident every 2 hours is a form of nursing home negligence. Deep bed sores are almost always associated with patient neglect. Any serious bed sore should be investigated, as this injury is usually preventable.
Were my Dad's Orlando nursing home falls preventable?
Not every fall is preventable. However, nursing homes have a legal duty to put fall preventative measures in place. We work with expert nurses and doctors to examine your individual fall case. Specifically, we look at 1) prior fall risk 2) fall preventative measures in place 3) efficacy of those fall preventative measures and 4) if they were not working, what the nursing home did to change them.
What is an Orlando nursing home abuse case worth? What is my case settlement value?
Our nursing home abuse lawyers in Orlando have settled abuse and neglect cases in the low five figures all the way up to the seven figures. Your individual case value will all depend on the facts of the case. If you would like a free Orlando nursing home abuse case evaluation, call Senior Justice Law Firm today.
Who would get the settlement proceeds in an Orlando nursing home wrongful death case?
Florida's wrongful death statute controls which survivors take in a nursing home wrongful death lawsuit. If the victim has a surviving wife or husband, they would be the 'survivor' under the statute. If there was no spouse alive at the time of the death, the victim's children are classified as 'survivors' under Florida's wrongful death act.
What if there are disputes among the survivors?
If certain family members do not get along or were not involved with the decedent's life, an allocation hearing can occur to apportion the settlement proceeds equitably.
Should I do an autopsy if I believe my family member wrongfully died due to nursing home neglect?
If possible, yes. A private autopsy is often the crucial piece of evidence in establishing that the decedent's death was causally related to the nursing home negligence. If you need the names of pathologists in the Orlando area who perform private autopsies, contact our firm today.
How much does Senior Justice Law Firm charge to pursue an Orlando nursing home abuse case?
Our lawyers work exclusively on a contingency fee basis. This means if you do not make a recovery, you do not pay us anything. If you make a recovery, our Orlando nursing home abuse attorneys fees are 33 1/3 to 40% of the gross recovery, depending on when the case resolves.
Why is Senior Justice Law Firm different from some of the larger Orlando-area firms I see on TV?
Our lawyers focus on these exact kinds of cases. We have extensive experience handling cases against Florida nursing homes, including those in Orange County. You will not see us on TV or on an I-4 billboard. This is because we get most of our Orlando nursing home abuse lawsuit referrals from these very advertising law firms. When you allow Senior Justice Law Firm to prosecute your case, you can rest assured that you will speak with a lawyer and not a case manager, and that the lawyer involved will focus on nursing home negligence claims, not car accident cases.
My loved one died in an Orlando area nursing home, but I am not certain why. Should I still investigate the possibility of a wrongful death case?
Yes. Plenty of times, a potential client will call us about an unexplained death of a loved one in a Central Florida long-term care facility. In the initial stages, they may have more questions than answers. This is where our firm focus can really aid in getting answers as to what happened to your family member. Remember, there is no charge if we do not collect a judgment or settlement for you. So if our Orlando nursing home abuse attorneys are willing to investigate your potential claim, you have nothing to lose.
My case was declined by a different Orlando personal injury firm. Is it worth calling Senior Justice Law Firm?
Yes. Again, most personal injury firms specialize in car accidents and slip & falls. These attorneys may only dabble in nursing home litigation. Whereas at Senior Justice Law Firm, nursing home and assisted living negligence cases are all that we do. This experience and focus allow us to flesh out the truth in an otherwise murky nursing home neglect fact pattern. This means we can help more families impacted by Orlando elder abuse, when compared to a generic car crash law firm.
How do I locate the best nursing homes in Central Florida? And what are the worst nursing homes in Orlando to stay away from?
There is no perfect rating system for Central Florida nursing homes. You can see some of the worst-rated nursing homes using Medicare's Care Compare tool, and isolating 1 star facilities in Orange County. The best option is to visit facilities near you and choose the one where you get the best feeling.
What if the State of Florida investigated my complaint but found nothing?
DCF, AHCA, and the Ombudsman are all tasked with investigating Central Florida nursing home incidents. However, these government agencies are often overworked and overwhelmed. They are not perfect. Occasionally, a state agency will not find proof of negligence, even in deserving cases. This should not stop you from contacting an Orlando nursing home injury lawyer to pursue a civil claim.
More Questions on your Potential Orlando Nursing Home Abuse Case?
Speak with our Orlando nursing home neglect attorneys now in your free consultation at 407-698-3277. We proudly represent elder abuse and nursing home neglect victims throughout Orlando, Kissimmee, Winter Park, Sanford, Oviedo, Altamonte Springs, Maitland, and the Villages.

Experience Matters. Our Nursing Home Abuse Attorneys Have It.
Orlando Area Nursing Homes
The following sample of nursing homes are located in Orange County, FL.
NAME STREET ADDRESS # OF BEDS
ADVENTHEALTH CARE CENTER APOPKA NORTH – 74823 305 EAST OAK STREET APOPKA 120
ADVENTHEALTH CARE CENTER APOPKA SOUTH – 75901 3355 E SEMORAN BLVD APOPKA 222
ADVENTHEALTH CARE CENTER CELEBRATION – 35961077 1290 CELEBRATION BLVD. KISSIMMEE 120
ADVENTHEALTH CARE CENTER ORLANDO EAST – 74822 250 SOUTH CHICKASAW TRAIL ORLANDO 120
ADVENTHEALTH CARE CENTER ORLANDO NORTH – 35960956 730 COURTLAND STREET ORLANDO 120
ADVENTHEALTH CARE CENTER WATERMAN – 35961071 4501 WATERMAN WAY TAVARES 120
AVANTE AT LEESBURG, INC – 33504 2000 EDGEWOOD AVE LEESBURG 116
AVANTE AT MT DORA, INC. – 33506 3050 BROWN AVE MOUNT DORA 116
AVANTE AT ORLANDO INC. – 74809 2000 NORTH SEMORAN BOULEVARD ORLANDO 118
AVANTE AT ST. CLOUD, INC. – 74905 1301 KANSAS AVE SAINT CLOUD 131
BAYVIEW CENTER – 33507 301 S BAY ST EUSTIS 120
CLERMONT HEALTH AND REHABILITATION CENTER – 33503 151 E MINNEHAHA AVE CLERMONT 182
COLONIAL LAKES HEALTH CARE – 74815 15204 W COLONIAL DR WINTER GARDEN 180
COMMONS AT ORLANDO LUTHERAN TOWERS – 74829 210 LAKE AVE ORLANDO 168
CONSULATE HEALTH CARE AT WEST ALTAMONTE – 75908 1099 WEST TOWN PARKWAY ALTAMONTE SPRINGS 116
CONSULATE HEALTH CARE OF KISSIMMEE – 35960940 2511 JOHN YOUNG PARKWAY NORTH KISSIMMEE 120
CONWAY LAKES HEALTH & REHABILITATION CENTER – 74821 5201 CURRY FORD ROAD ORLANDO 120
COURTYARDS OF ORLANDO CARE CENTER – 74808 1900 MERCY DRIVE ORLANDO 120
DELANEY PARK HEALTH AND REHABILITATION CENTER – 74803 215 ANNIE STREET ORLANDO 89
FREEDOM POINTE AT THE VILLAGES REHABILITATION AND HEALTHCARE CTR – 35961027 1460 EL CAMINO REAL DRIVE THE VILLAGES 72
GOOD SAMARITAN SOCIETY-KISSIMMEE VILLAGE – 74902 1500 SOUTHGATE DRIVE KISSIMMEE 170
GUARDIAN CARE NURSING & REHABILITATION CENTER – 74806 2500 W CHURCH STREET ORLANDO 120
HEALTH CENTRAL PARK – 74814 411 N DILLARD ST WINTER GARDEN 218
HEALTHCARE AND REHAB OF SANFORD – 75906 950 MELLONVILLE AVE SANFORD 114
HUNTERS CREEK NURSING AND REHAB CENTER – 35960916 14155 TOWN LOOP BLVD ORLANDO 116
ISLAND LAKE CENTER – 75907 155 LANDOVER PLACE LONGWOOD 120
KEYSTONE REHABILITATION AND HEALTH CENTER – 74901 1120 W DONEGAN AVE KISSIMMEE 120
LADY LAKE SPECIALTY CARE CENTER – 35960932 630 GRIFFIN AVENUE LADY LAKE 145
LAKE EUSTIS HEALTH AND REHABILITATION CENTER – 33502 411 W WOODWARD AVE EUSTIS 90
LAKE HARRIS HEALTH CENTER – 33511 701 LAKE PORT BLVD LEESBURG 120
LAKE MARY HEALTH AND REHABILITATION CENTER – 35960958 710 NORTH SUN DRIVE LAKE MARY 120
LAKEVIEW TERRACE REHABILITATION AND HEALTH CARE CENTER – 33512 110 LODGE TERRACE DR ALTOONA 40
LIFE CARE CENTER OF ALTAMONTE SPRINGS – 75903 989 ORIENTA AVE ALTAMONTE SPRINGS 240
LIFE CARE CENTER OF ORLANDO – 35960902 3211 ROUSE ROAD ORLANDO 120
LONGWOOD HEALTH AND REHABILITATION CENTER – 75904 1520 S GRANT ST LONGWOOD 120
LUTHERAN HAVEN NURSING HOME – 75905 1525 HAVEN DRIVE OVIEDO 56
MAYFLOWER HEALTHCARE CENTER – 74828 1620 MAYFLOWER COURT WINTER PARK 60
METRO WEST NURSING AND REHAB CENTER – 74826 5900 WESTGATE DRIVE ORLANDO 120
NORTH CAMPUS REHABILITATION AND NURSING CENTER – 33508 700 N PALMETTO ST LEESBURG 90
OAKS OF KISSIMMEE HEALTH AND REHABILITATION CENTER – 74903 320 N MITCHELL ST KISSIMMEE 59
OCOEE HEALTH CARE CENTER – 74820 1556 MAGUIRE RD OCOEE 120
ORLANDO HEALTH AND REHABILITATION CENTER – 74805 830 WEST 29TH STREET ORLANDO 391
ORLANDO HEALTH CENTER FOR REHABILITATION – 35961088 1300 HEMPEL AVENUE OCOEE 10
PALM GARDEN OF ORLANDO – 74818 654 N ECONLOCKHATCHEE TRAIL ORLANDO 132
PARKS HEALTHCARE AND REHABILITATION CENTER – 74804 9311 S ORANGE BLOSSOM TRL ORLANDO 120
PARKVIEW REHABILITATION CENTER AT WINTER PARK – 74802 2075 LOCH LOMOND DRIVE WINTER PARK 138
PLANTATION BAY REHABILITATION CENTER – 74908 4641 OLD CANOE CREEK ROAD SAINT CLOUD 120
QUALITY HEALTH OF ORANGE COUNTY – 74812 12751 W COLONIAL DRIVE WINTER GARDEN 120
REGENTS PARK OF WINTER PARK – 74819 558 N SEMORAN BLVD WINTER PARK 120
REHABILITATION CENTER OF WINTER PARK, THE – 74811 1700 MONROE AVE MAITLAND 180
RIO PINAR HEALTH CARE – 74817 7950 LAKE UNDERHILL ROAD ORLANDO 180
ROSEWOOD HEALTH AND REHABILITATION CENTER – 74813 3920 ROSEWOOD WAY ORLANDO 120
RULEME CENTER – 33501 2810 RULEME ST EUSTIS 138
SAVANNAH COVE – 74827 1301 W MAITLAND BLVD MAITLAND 39
SOLARIS HEALTHCARE LAKE BENNET – 35960897 1091 KELTON AVE OCOEE 120
SOLARIS HEALTHCARE OSCEOLA – 74906 4201 NOLTE RD SAINT CLOUD 120
SOLARIS HEALTHCARE WINDERMERE – 35960888 4875 CASON COVE DRIVE ORLANDO 120
SOUTH CAMPUS CARE CENTER – 33505 715 E DIXIE AVE LEESBURG 120
TERRA VISTA REHAB AND HEALTH CENTER – 74810 1730 LUCERNE TERRACE ORLANDO 115
TERRACE OF KISSIMMEE, THE – 74907 221 PARK PLACE BLVD KISSIMMEE 120
TERRACE OF ST CLOUD, THE – 74904 3855 OLD CANOE CREEK ROAD SAINT CLOUD 120
THE EDGEWATER AT WATERMAN VILLAGE – 33510 300 BROOKFIELD AVE MOUNT DORA 120
THE GARDENS AT DEPUGH NURSING – 74807 550 W MORSE BLVD WINTER PARK 40
TUSKAWILLA NURSING AND REHAB CENTER – 75909 1024 WILLA SPRINGS DR WINTER SPRINGS 98
VILLAGE ON THE GREEN – 75910 500 VILLAGE PLACE LONGWOOD 60
VILLAGES REHABILITATION AND NURSING CENTER, THE – 35961036 900 HIGHWAY 466 LADY LAKE 120
WESTMINSTER BALDWIN PARK – 35961056 2645 LAKE BALDWIN LANE ORLANDO 40
WESTMINSTER TOWERS – 74830 70 WEST LUCERNE CIRCLE ORLANDO 120
WESTMINSTER WINTER PARK – 74831 1111 S LAKEMONT AVE WINTER PARK 80
WINTER PARK CARE & REHABILITATION CENTER – 74816 2970 SCARLETT RD WINTER PARK 103
Free Orlando Nursing Home Abuse Attorney Consultation
More Questions? Speak with an attorney who can answer your Orlando nursing home abuse and neglect questions now. Call us now at 407-698-3277.