Peoria Nursing Home Abuse Attorney, Representing Families Impacted by Elder Abuse throughout Central Illinois
Elder abuse and neglect claims are all that we do. Our Peoria nursing home abuse attorney narrowly focuses on these kinds of cases. Senior Justice is more than our firm name; it's what we do.
If your loved one suffered injury or wrongful death inside a Downstate Illinois nursing home, call our Peoria nursing home abuse attorney immediately. We can advise you on your legal rights, and what steps to take next.
The call is completely free. We never charge any out of pocket money to work on your case. Instead we work on contingency fee.
Do not remain silent in the face of neglect.
Call Senior Justice Law Firm today at (888) 375-9998 for your free Peoria nursing home negligence case consultation.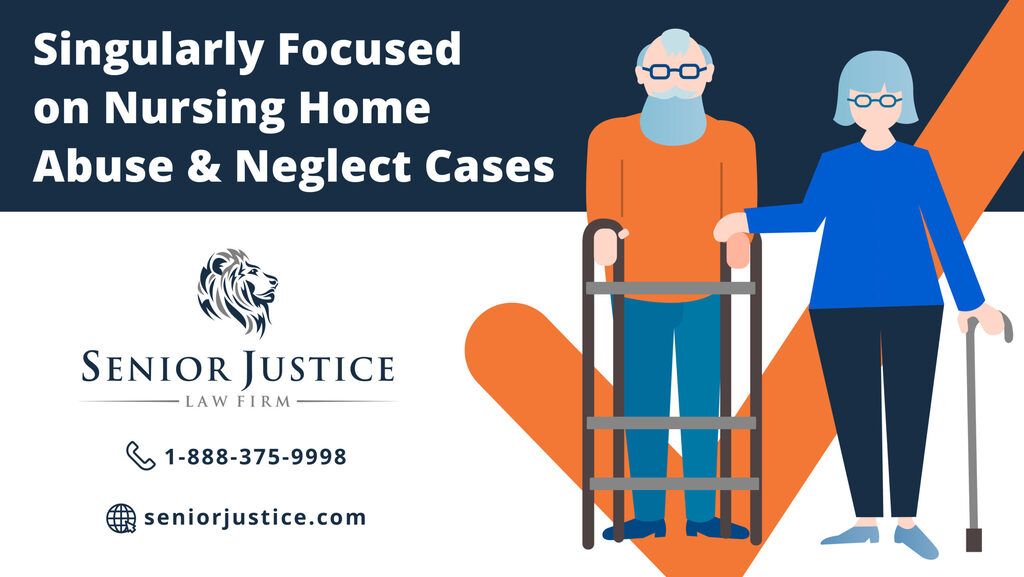 Peoria's Troubled History with its Long Term Care Facilities
Peoria, Illinois is both the largest city along the Illinois River and the state's oldest permanent place of residence of Europeans—in fact, it has been around since 1691. The city got its name when the county was established, which was in turn named after the Peoria tribe that lived in the region.
In a large city like Peoria, there are many people of all walks of life—including a large number who have come to the area to retire. Some of those people find it necessary to live in one of the city's many nursing homes or assisted living facilities as they age. However, Peoria nursing homes are not immune to abuse and negligence toward their residents. In fact, unfortunately, Peoria has had a long, troubled history of negligence inside its healthcare facilities.
It is critical that you know the signs and are prepared to take the right steps if your loved one is in danger.
Peoria And Its Nursing Homes
The city of Peoria has a population of 113,150.

Peoria's metropolitan area has a population of 402,391.

7%

of the city's population is over 65. That's approximately 17,765 people.

There are 703 nursing homes in Illinois altogether.

193 of those, or 5%, were cited for serious deficiencies in their care.

There are 26 facilities in the area with a span of 25 miles from Peoria's city center.

13 out of those 26 nursing homes were rated as "below average" or "much below average" by the federal Centers for Medicare and Medicaid Services.

That means that half of Peoria's nursing homes provided inadequate care and/or neglected residents.
At Senior Justice Law Firm, we are passionate about ensuring that the family members and people you love receive the justice they deserve for mistreatment in a long-term care facility. Our Illinois nursing home abuse attorney has helped families in Peoria and across the country hold nursing homes accountable and secure damages and compensation for their mistreatment. Reach out via phone or our online tool to set up a free consultation.
What Is Nursing Home Abuse?
When your loved one goes to live in a nursing home, you expect that their health might improve and that they stay happy, because they are being cared for by professionals. It is only natural to believe that they will be kept safe—in less danger from harm than they would be on their own. However, this is not always the case. Sometimes nursing home employees hurt, ignore, or steal from residents who are powerless to stop them. These are just a few examples of nursing home abuse.
Nursing home abuse most often occurs for financial reasons. If a facility is understaffed, or if their employees are not well trained, they can spend less money. After all, less trained workers demand lower pay, and fewer workers helps to cut payroll costs compared to a more populated staffing sheet. It is very common for nursing homes to accept more residents than the staff can reasonably care for. In this way, the facility earns more money, but the employees are unable to give the residents the attention they need.
If your loved one is being abused in a nursing home, act immediately. Do not allow their mistreatment to continue, even if the facility claims there is nothing wrong or that the injuries your family member is experiencing are just "part of getting older."
The term "nursing home abuse" covers a multitude of acts (or failures thereof). Abuse involves one person directly inflicting pain on another. This could be physical or psychological in form, such as degrading someone or hitting them.
Neglect is not giving someone the care they need. This, along with abuse, can happen both on purpose or accidentally. Your loved one may experience neglect if staff forgets to give them medicine or change their catheter. Exploitation, which is essentially the theft of a resident's money or other resources, is not accidental, and it is the least enforced category of abuse.
Know the Signs of Abuse in Peoria Nursing Homes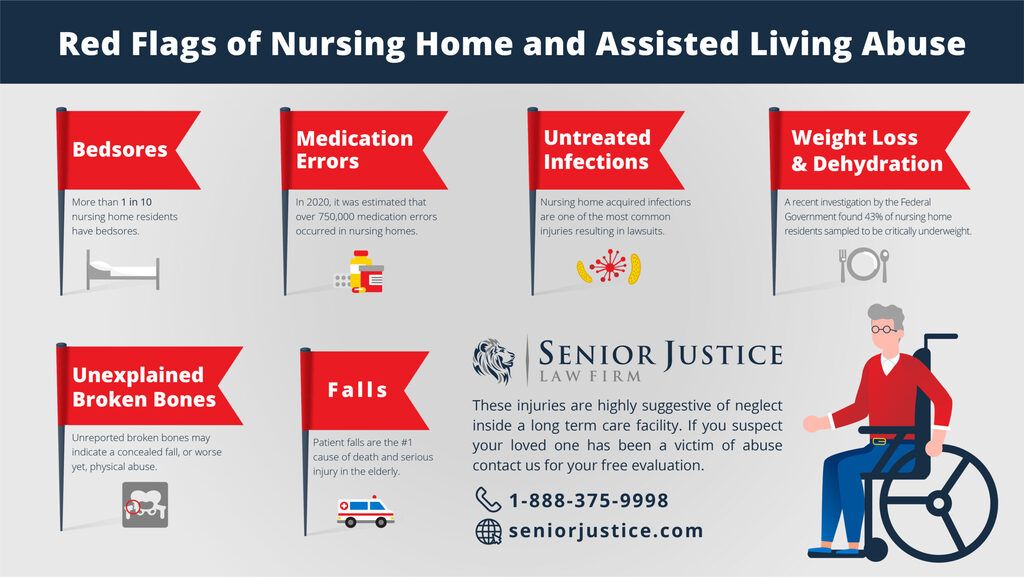 Nursing home abuse is something that should never happen. Luckily, it is a crime, and it often leaves behind evidence that can be used to take legal action against the facility. There are many warning signs to look out for, and as the family member or friend of someone in a long-term care facility, you have an important role to help your loved one look out for their own wellbeing. Many victims of nursing home abuse don't want to speak up about it, so you have to be vigilant yourself. The biggest warning sign to pay attention to is any kind of unexplained change for the worse.
Bruises, scratches, cuts, or other physical injuries.

A change in your loved one's personality or mood, such as them being more withdrawn or even aggressive.

An altered relationship with their caregiver, such as your loved one being afraid of them or unwilling to cooperate.

Unhygienic conditions

. Things are not being cleaned. Your loved one is unwashed.

Infections

or bedsores are results of those unhygienic conditions. Bedsores in particular are a "never" injury that has no explanation besides abuse or neglect.

General deterioration and not being able to move as well are effects of not moving around enough, which can be a sign of your loved one not getting the care and mobility they deserve during the day.

Too much or too little medication.
Falls that result in head injuries of bone fractures.

Mental health

Depression, anxiety, and other psychological troubles can come from abuse or neglect.

Change in financial situation can be a signal of exploitation.
Does your loved one live in an abusive nursing home? Are you shopping around for a facility? It is helpful to review nursing home ratings, however, even the nursing homes with the highest ratings are not guaranteed to be free from abuse. Remain vigilant and attentive.
Peoria Nursing Home Neglect in the News
The city of Peoria has been in the news in recent years for the administration of its area nursing homes. Local news sources often find it challenging to acquire data on citations, as facilities are generally unwilling to share details.
Recently, two residents of Manor Court of Peoria were forcefully restrained while being cared for. During the restraint, one patient suffered bruises not only to the upper arm and wrist but also to the eyes. Since then, the resident has experienced a notable and continued fear of their caretakers, further compromising their quality of care. The other affected resident suffered numerous skin tears as a result of the restraint.
While this violence in and of itself constitutes abusive behavior on multiple counts, the facility also failed to handle the situation correctly. Staff did not immediately report the abuse to the proper authorities. The residents were not protected from the abuse occurring, and the employee who abused the residents was not taken away from the facility. As a result of these deficiencies, the facility was forced to pay a penalty of $25,000.
In addition to the Manor Court case, numerous lawsuits have arisen alleging mistreatment in nursing homes across Peoria. East Peoria Gardens is being sued after an 81-year-old woman suffered a fatal fall at the facility. This event comes shortly after the location paid a fine of about $100,000 due to citations for its care, and lawsuits related to how the facility treats its residents date back as far as 2007.
Another location is facing a $50,000 wrongful death lawsuit following the passing of an elderly male resident who fell from his fifth floor window. At River Crossing of East Peoria nearby, a member of staff chose to attempt a patient transfer by herself despite company policy dictating that at least two staff must be present for transfers. As a result, the resident's wheelchair tipped off of the lift during the transfer to her bed, and she suffered a brain bleed. Though the staff member admitted that she knew single-person transfers were not permitted, she allegedly acknowledged that staff were too busy.
Indeed, staffing issues and their related costs continue to pose a problem to Peoria nursing homes. Petersen Health Care, which is based in Peoria, were sued for more than $3 million in back pay after failing to pay their workers overtime. Petersen has faced 29 additional labor investigations in recent years, and the Department of Labor notes that the company is a regular offender of wage and hour laws.
How to Report Nursing Home Abuse in Peoria
Once you realize that your loved one is being abused in their nursing home, then what? You must take immediate action to safeguard your family member from further harm.
If your loved one is facing immediate danger, call 911 as soon as possible and get them to safety. You do not need the permission of the facility to call the police or an ambulance; you may call even if staff push back. If your family member is given medical treatment, make sure the people administering it are not connected to the nursing home.
Be sure to take pictures of any injuries you found that prompted you to consider abuse, as well as troubling features in the room like broken items or trip hazards. Write down the contact information of any witnesses to the abuse. Talk to the people in charge of the nursing home so you can let them know about the issue and so you can try to find a reason for your loved one's mistreatment. If your loved one is treated by medical professionals, they may find evidence of abuse as well.
Next, file a report with the Illinois Department of Public Health; their online portal allows for quick and simple notification. You may also address their Central Complaint Registry hotline specifically for nursing homes at 1-800-252-4343 or 1-800-547-0466 (for TTY). In addition, be sure to reach out to the Center for Prevention of Abuse located at 720 Joan Court in Peoria. They are reachable by phone at (309) 272-2917, or you may speak to ombudsman Theresa Kuhlmann directly at ombudsman@centerforpreventionofabuse.org. You can also report Peoria nursing home abuse or neglect to this email: tkuhlmann@centerforpreventionofabuse.org.
While there are many resources offered by the state of Illinois itself for reporting nursing home abuse in Peoria, it is also important that you reach out for legal help. A lawsuit can not only help you to cover any expenses incurred as a result of the negligence or abuse but may also force the facility to change its practices—so that other families do not have to experience the same challenges that you did. The attorneys at Senior Justice would be happy to help you explore your options for legal action during a free consultation.
Pursuing a Peoria, IL Nursing Home Lawsuit
If your loved one was abused in their nursing home, you may feel afraid, betrayed, and angry. The facility was supposed to care for your loved one and keep them safe, and now the nursing home has failed at the task you have entrusted to it.
One very effective way to resolve the situation is to file a lawsuit. For many families, the driving force behind bring a suit is, of course, compensation. Though a lawsuit can never undo everything your loved one and your family have gone through, it can help you regain some of the money the situation caused you to lose. It can help you all move forward, and if you paid medical bills, funeral expenses or other costs associated with the abuse, you may be able to recover that money.
The other reason to file a lawsuit is equally important: by exposing the facility and its misdeeds, it will be strongly compelled to change its ways for the better. A Peoria nursing home abuse lawsuit provides an economic disincentive to neglecting residents. By taking the company's money via a settlement, you can safeguard other people and their families from having to endure the same situation you are in.
This task may seem overwhelming and time-consuming, but Senior Justice Law Firm is proud to remove that burden from you so that you can spend time focusing on what's best for your loved one. We work on contingency, so you may simply pay for any legal fees using a portion of the money we recover for you. If we make no recovery, you do not need to pay. We operate this way to ensure that legal action is available to as many families as possible, no matter their situation.
Reach out to schedule a free consultation to share the details of your family's story. Our years of experience can help you achieve the justice that you deserve.
Nursing Homes in Peoria
Peoria is full of nursing homes of a variety of levels of quality. Some long term care facilities in Peoria include:
Accolade Hc of East Peoria
500 Centennial Drive
East Peoria, IL 61611
Sharon Health Care Willows
3520 North Rochelle
Peoria, IL 61604
Sharon Health Care Pines
3614 North Rochelle
Peoria, IL 61604
Aperion Care Peoria Heights
1629 Gardner Lane
Peoria Heights, IL 61616
Cornerstone Rehab & Hc
5533 North Galena Road
Peoria Heights, IL 61614
Timbercreek Rehab & Healthcare Center
2220 State Street
Pekin, IL 61554
Washington Senior Living
1201 Newcastle
Washington, IL 61571
Take the Next Step – Speak with a Peoria Nursing Home Attorney Now
If you believe your loved one was neglected, abused, mistreated, or injured inside a Central Illinois nursing home or ALF, speak with our Peoria nursing home abuse attorney right now.
Call us at (888) 375-9998, live chat with our office, or submit your case facts below.
Remember to share as many case details as possible.