Need a Philadelphia Bed Sore Attorney? Senior Justice Law Firm is Here to Help
At Senior Justice Law Firm, our firm focus is on cases involving bed sores and elder abuse. This is all we do.
Our Philadelphia bed sore lawyer can help your family after a preventable pressure ulcer develops inside a nursing home, assisted living facility, or hospital.
Free Philadelphia bed sore lawyer case consultation: 215-399-9200
Our Philadelphia Bed Sore Lawyer is Committed to Excellence and Justice for Pressure Injury Victims
Bedsores are the most common injury claim we handle. Our Philadelphia nursing home abuse attorneys have successfully recovered millions of dollars for victims of pressure ulcers and bedsore injuries. Let our vast experience in this narrow niche guide you along your journey to justice.
Live chat with our Philadelphia bed sore law firm today to learn more about your legal rights after a loved one develops a pressure ulcer.
Understanding Your Philadelphia Bed Sore Lawsuit
Bed sores
are among the most harmful injuries nursing home residents may face, and they are often the result of negligent care. If your loved one has suffered from bed sores in a Philadelphia nursing home, more likely than not, your loved one was neglected.
Your family deserves answers as to how these pressure injuries developed. You also deserve to know whether neglect or abuse contributed to your loved one's injuries, and if so, what your legal options are for seeking justice against those responsible. This is our law firm's focus and we here to help you get the bed sore answers you need.
Our Philadelphia bed sore lawyer represents victims and their families against local nursing homes and healthcare facilities that have failed to protect their residents from unnecessary bed sore injuries. We are devoted to holding nursing homes accountable and achieving justice for elderly victims in cases of negligence and abuse.
Legal Assistance for Victims of Bed Sore Injuries in Philadelphia
At Senior Justice Law Firm, we understand how powerless you may feel upon discovering your loved one has suffered from bed sores in the care of a Philadelphia nursing home or healthcare facility. Our experienced team has seen how devastating these injuries can be for victims and their families, and we know how overwhelming it can feel to ensure proper treatment is provided quickly and to uncover the cause of the injury. You do not have to go through this experience alone.
We can help you find the care your loved one needs, support the investigation into what caused their bed sores, and assist with determining whether their nursing home or caregiver may be at fault.
Protect your elderly loved one and get the justice your family deserves. Contact us today for your free Philadelphia bed sore lawyer case consultation.
What are Bed Sores and How Do They Develop?
Bed sores—also referred to as pressure sores, pressure ulcers, or decubitus ulcers—are ulcers that affect the skin and its underlying tissue. They are caused by prolonged pressure on the skin or repeated friction against a particular part of the body.
The elderly, especially those who are frail and living in nursing homes or other assisted living facilities, face a higher risk for bed sores because they tend to develop when an individual spends a lot of time lying in bed, sitting in a wheelchair, or is otherwise immobile, unconscious, or unable to feel pain. Bed sores can emerge anywhere on the body, but they most commonly develop in bony areas that have relatively thin skin.
For bedridden individuals, bed sores are often found on:
The back or sides of the head
The shoulder blades
The hip, lower back, or tailbone
The heels, ankles, and in backs of knees
For those in wheelchairs, bed sores are more common on:
The tailbone or buttocks
The shoulder blades and spine
The backs of arms and legs where the skin is rested against the chair
In the elderly, bed sores do not take long to develop. If an area of the body does not receive blood circulation for just a few hours, then the skin may quickly deteriorate and die, turning into a painful sore. The sore will turn from red to purple over time, and if left untreated, the skin may tear apart, get infected, and create life-threatening complications.
Are Bed Sores an Inevitable Experience for Philadelphia Nursing Home Residents?
To protect themselves from liability, nursing homes may try to convince you that your loved one's bed sores could not be prevented. You may hear "bed sores are a part of getting old in the nursing home." However, the fact that bed sores are a common problem in Philadelphia's nursing homes does not mean they are unavoidable. Bed sores are quite easily prevented through appropriate nursing care.
In truth, bed sores are a red flag for nursing home abuse, and they are more frequently an indication of improper care than an inevitable experience. Only an independent third-party medical expert may be able to assess a nursing home's claim that a particular bed sore injury was unavoidable, but more times than not, the evidence points to a failure of some kind on the side of the facility or its staff.
How Can Bed Sores Be Prevented?
When your loved one is admitted into a nursing home, medical staff should put a care plan in place that addresses your loved one's risk for developing bed sores. For example, if your loved one has limited mobility then the care plan include directions to reposition them every two hours. Since conditions such as diabetes, dementia, and incontinence are also risk factors for bed sores, such conditions should be considered in the care plan as well to ensure your loved one's level of care meets their unique needs.
Other general preventative measures against bed sores include:
Providing soft padding in wheelchairs and beds
Keeping skin clean and dry and protecting it with moisture barrier creams
Following a nutrition plan with appropriate levels of vitamins, minerals, fluids, calories, and protein
When a proper care plan is followed and bed sore prevention is at the top of a nursing home's priority list, then the prevalence of bed sore injuries is exceedingly rare. On the other hand, when bed sore injuries do occur, it is common to find that a proper care plan or risk assessment was not in place, or that staff failed to properly perform their duties according to the plan.
Facilities that allow their residents to sustain unnecessary bed sore injuries must be held responsible to prevent further pain and suffering in Philadelphia's nursing homes.
What are the Stages of Bed Sore Severity?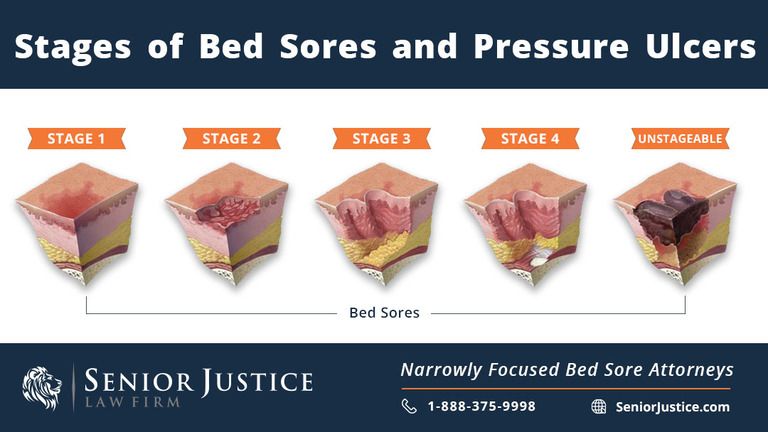 Bed sores are categorized by four stages of ascending severity. You can determine approximately how long a bed sore has gone without proper treatment depending on the stage of the injury. Properly identifying the stage of your loved one's bed sore may also play a role in determining whether improper care led to its development.
Stage 1: The area is red (sometimes blue or purple like a bruise) and feels warm to the touch. It may be accompanied by itchiness, burning, or other pain that feels different than the surrounding skin.
Stage 2: The sore opens and is accompanied by more significant pain. The skin around the wound may also be discolored.
Stage 3: The wound begins to crater as tissue damage below the skin's surface stretches deeper and wider.
Stage 4: The area is severely damaged by substantial tissue loss, and a large wound is present. The damage can affect nearby joints, muscles, tendons, ligaments, and bones. Infection and other life-threatening complications are significant risks at this stage.
Bed sores are complex injuries that demand immediate attention at the first sign of development. Negligence of a patient's care plan or the failure to properly diagnose an injury and provide proper care can lead to serious complications in a short amount of time. In such instances, nursing homes must be held liable for the needless suffering that occurred under their watch.
What Complications Can Arise from a Philadelphia Bed Sore Injury?
Bed sores can lead to numerous complications, especially when not diagnosed or treated properly. Even with treatment, they can take several months or even years to heal completely. Treatments themselves also may cause extreme discomfort, which only further degrades a patient's quality of life.
Infections pose some of the most immediate bed sore risks as they can spread throughout the body very quickly. Bed sore infections can lead to weakness, cognitive impairment, heart problems, or even sepsis, a life-threatening infection response that can be very difficult to treat.
If signs of an infection are present, such as a fever, drainage from the bed sore, foul smell, skin color changes, warmth, or swelling, then immediate medical care must be provided. Any delay or error in care dramatically heightens the threat to a patient's wellbeing, and in some cases, may be fatal. Aside from infections, long-term nonhealing bed sores can develop into a specific type of cancer called squamous cell carcinoma, which also requires a prompt diagnosis and treatment.
How Do I Report Nursing Home Bed Sores in Philadelphia?
If you notice a bed sore on your loved one that is not being attended to, you should immediately contact a medical professional or call 9-1-1 if it is a medical emergency. If you suspect your loved one's bed sore was caused by negligence or abuse, then you should also file a report with the proper authorities as soon as possible. This will ensure your loved one is connected to the help they need. It is also an important step in holding the nursing home and its staff accountable.
To report a skilled nursing facility, click the link to report nursing home neglect in Pennsylvania.
In Philadelphia, you can also report bed sore negligence to:
Philadelphia Older Adult Protective Services (OAPS)
A division of the Philadelphia Corporation for Aging, OAPS works to protect senior citizens in Philadelphia from all forms of abuse. OAPS staff assists with investigating, care planning, and resolving suspected abuse or neglect cases. To report suspected elder abuse to OAPS, call its 24-hour helpline at (215) 765-9040.
Pennsylvania Department of Health (DOH)
DOH is responsible for intaking complaints about medical facilities, including nursing homes and other long term care facilities, throughout the state. You can file a complaint about a Philadelphia nursing home with DOH by calling 1 (877) 724-3258 or file a complaint online.
Pennsylvania Department of State (DOS)
DOS is responsible for intaking complaints about individual medical providers such as doctors or nurses at an assisted living facility in Pennsylvania. You can file your complaint with DOS online.
The above resources are in place to serve and protect Philadelphia's vulnerable elderly population, and you should not hesitate to take advantage of them. If your loved one is suffering from a bed sore, every moment that passes without action puts them further at risk. Our Philadelphia nursing home lawyer is ready to assist you if you have any difficulties finding the help you need.
What Damages Can Be Recovered for Philadelphia Bed Sore Victims?
Bed sores can have dire consequences for their victims, from long-term pain and suffering to devastating financial losses to untimely death. While nothing can undo the tragedy of these experiences, victims do have the right to pursue the recovery of their losses from bed sore injuries in Philadelphia. Recoverable damages include:
Medical bills from bed sore treatment and subsequent interventions or surgeries
Loss of income due to an inability to work after a bed sore injury
Pain and suffering from the physical and/or psychological trauma endured following a bed sore injury
Moving costs related to transferring to a safer care facility
Funeral expenses and other damages related to a wrongful death due to a bed sore injury
Our Philadelphia bed sore lawyer is available to discuss your case and your right to compensation in a completely free consultation.
Philadelphia Nursing Home News: Amid Worker Shortages, What is the Answer to the Crisis in Care?
Philadelphia has struggled for years to adequately support its rapidly growing elderly population. Unfortunately, staffing shortages remain a critical issue throughout the state as nursing home employees face high workloads for little pay compared to many other healthcare professionals. COVID-19 only exacerbated the problem as industry surveys showed nearly 20% of Pennsylvania's long-term care staff left their jobs during the pandemic. Given such inadequate staffing levels, it comes as no surprise that bed sore injuries and other consequences of inadequate care remain prevalent in Philadelphia.
While state legislators granted new levels of funding to nursing homes in 2022 to address workforce deficiencies, it remains to be seen whether much will change for Philadelphia's nursing home residents. Workers have organized large-scale strikes in the wake of the new legislation to call further attention to their longstanding grievances against employers and to put more pressure on corporate ownership to allocate its funding toward employee pay and benefits.
Overall, it is a tumultuous time for nursing homes in Philadelphia, and the elderly residents of local facilities have little choice but to endure. The fight to improve the conditions of the city's nursing homes must continue so that no facility remains ill-equipped to meet its patients' needs. While bed sores and the other dangerous ailments resulting from improper care may never be completely eradicated, dramatic improvements are certainly possible in Philadelphia's nursing homes. Staying educated on the issues and being willing to take action against those responsible for mistreatment will remain perhaps the most powerful way to bring this much-needed change.
Free Philadelphia Bed Sore Lawyer Consultation
Speak with our experienced Philadelphia bed sore attorneys today for a free case consultation. Call us at 215-399-9200, live chat with our office using the live chat box, or submit your case facts below.
All consultations are free and we never require any out of pocket payment from you or your family. We work exclusively on contingency fee, so we only get paid if we make a financial recovery for you. If so, we accept a percentage of that settlement or judgment as payment for our fees.
We look forward to helping you along your journey to justice.
Senior Justice Law Firm
123 S Broad St #2250B
Philadelphia, PA 19109
215-399-9200