Salt Lake City Nursing Home Abuse Attorney – Standing Up For Utah's Most Vulnerable
Nursing home abuse and neglect is inexcusable.
When nursing facilities put profits ahead of people and understaff to make more money, mistakes occur.
Bed sores, broken bones, untreated infection, and wrongful death are never an acceptable outcome of a Utah nursing home residency.
Our Salt Lake City Nursing Home Abuse Lawyer Can Help
If your loved one was mistreated and harmed inside a Utah healthcare facility, contact our Salt Lake City nursing home abuse lawyer today for a completely free case consultation.
At Senior Justice Law Firm, our firm focuses on elder abuse litigation. This is all we do.
Live chat, email, or call us today to receive your complimentary Salt Lake City nursing home abuse attorney case consultation.
Senior Justice Law Firm
222 S Main St 5th Floor, Salt Lake City, UT 84101
(801) 658-4691
Free Salt Lake City Nursing Home Injury Claim Evaluation: (888) 375-9998
How to Identify Nursing Home Abuse
Nursing home abuse can be difficult to recognize, because it does not always leave visible symptoms like bruises. Neglect and abusive behavior can be intentional or unintentional, but even accidental actions do not excuse staff from liability.
Be on the look out for these 'red flag' injuries, which suggest nursing home negligence: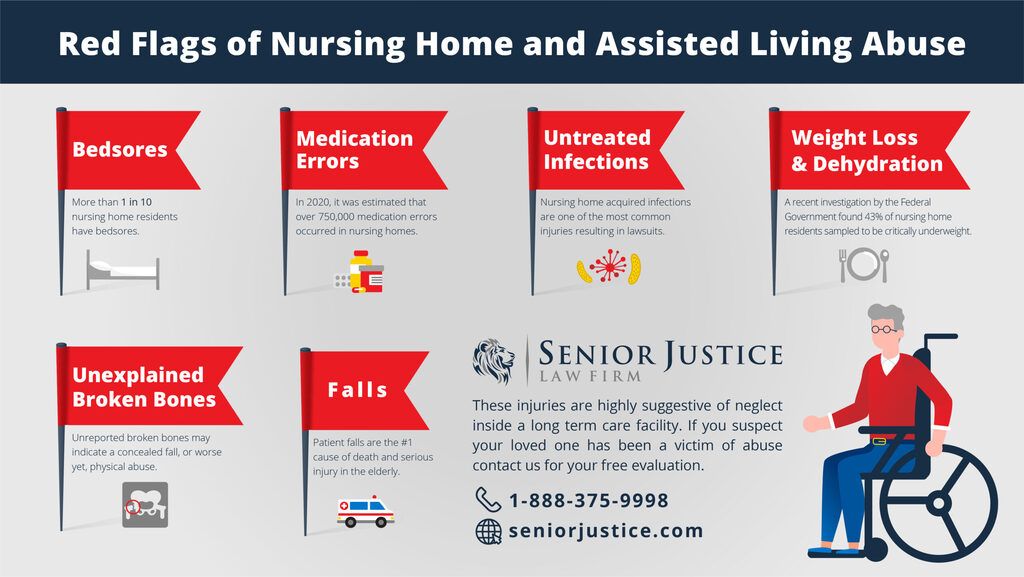 If you notice the following 'red flag' injuries in your loved one, contact Senior Justice Law Firm immediately:
The above injuries are highly correlated with nursing home negligence. If your family member suffered any of these neglect-related injuries, contact our skilled Salt Lake City nursing home abuse attorney to learn more about your next steps: (888) 375-9998
What Should I Do If I Suspect Neglect in a Salt Lake City Nursing Home?
First and foremost, if you or your family member is in immediate danger or you are unsure if the current situation is life-threatening, call emergency services immediately. It is better to have the event assessed by medical professionals who can begin treatment on the scene if necessary.
In a life-threatening situation, it is not necessary to inform the nursing home or to ask permission. Even if the nursing home staff assure you that your loved one is fine, if you suspect they are critically ill or injured, call 911 and have them assessed at a local hospital. Having your family member admitted to Intermountain Medical Center, University of Utah Hospital, or Salt Lake Regional Medical Center, will allow an objective, third party provider to assess your loved one's condition.
Once your family member is safely receiving medical care, make sure to report the incident to the appropriate Utah authorities. You can alert Salt Lake City's Adult Protective Services (1-800-371-7897) to the abuse, neglect, injury or exploitation of any vulnerable adult residing in a Utah healthcare facility. You should also call Utah's elder abuse hotline at (800) 371-7897.
You can reach the Salt Lake City ombudsman by phone (385.468.3255) or by email ombudsman@slco.org. If the negligent nursing home is outside of Salt Lake City, you can find a list of local Utah Ombudsman contacts here.
The other thing you can do to keep your loved one safe is to understand what nursing home negligence looks like—and what you can do if you find it. If you or someone you love has been a victim of nursing home abuse or negligence in Salt Lake City, the next steps you take are vital. Here's what you need to know.
Nursing home abuse is more prevalent than many families imagine, with roughly 1 in 3 older adults experiencing abusive behavior at some point in their stay. Most cases are not reported at all, so it is likely that these numbers are not an adequate picture of the true reality of negligence within Salt Lake's nursing homes. Types of abuse to stay aware of include physical abuse (pushing, kicking, bodily harm), neglect (left unattended for extended periods), sexual abuse (unwanted sexual activity, either with staff or other residents), financial abuse, and emotional abuse.
Physical abuse can result in evidence ranging from malnutrition, dehydration, and bruises to cuts and broken bones. However, these can also point to negligence alongside bedsores and other ailments that arise as a result of a resident who is not receiving as many hours of care as they require. Emotional abuse often results in sudden behavioral changes, such as becoming uncharacteristically quiet or showing a strong aversion to being around a certain member of staff. Older individuals can develop anxiety or even PTSD from their experiences. Stay cognizant of your loved one's possessions as well, as financial abuse can rob older folks of their money and items, hoping that they will not notice.
Choosing the Best Nursing Home in Salt Lake City
Salt Lake City, Utah is one of the more heavily populated cities in the state. Although the tourist scene is substantial thanks to the prismatic vistas of the Wasatch and Oquirrh mountain ranges, many people choose to move to the Northern Utah area for the long haul. Its low cost of living and access to a bustling job market keep the area alive, and it is a popular place to retire—and for good reason.
Salt Lake City offers an Aging in Place initiative to address accessibility and mobility challenges, creating an age-friendly city. These regulations work alongside the 42 nursing homes that provide service in the area. Unfortunately, while many families assume that nursing homes always have the best interests of their loved ones at heart, many of these facilities are ranked well below average—an indication that neglect or abuse may occur. While abuse can potentially arise even in highly rated nursing homes or those with a perfect five star rating, it is most common in facilities that have one or two star ratings. Being vigilant about your choice in nursing homes is one of the most important things you can do for your family member.
Salt Lake City's Nursing Homes
In Salt Lake City, 9% of the population comprises senior individuals. Of the 42 nursing homes that service the metro area, 17 are rated below average or well below average, and five of the listings (including one at three out of five stars) are cited as having potential issues involving abuse directly.
Reports at some of Salt Lake's lower rated nursing homes describe understaffed facilities and patients with bed sores, infections, and repeated falls.
Some of Salt Lake's larger nursing homes, regardless of ratings, are as follows:
• Avalon Care Center-Bountiful – 523 North Main Street Bountiful, UT 84010
• Avalon Valley Rehabilitation – 2472 South 300 East Salt Lake City, UT 84115
• Cascades at Riverwalk – 1012 West Jordan River Boulevard Midvale, UT 84047
• City Creek Post Acute – 165 South 1000 East Salt Lake City, UT 84102
• Copper Ridge Health Care – 3706 West 9000 South West Jordan, UT 84088
• Highland Care Center – 4285 South Highland Drive Holladay, UT 84124
• Holladay Healthcare Center – 4782 South Holladay Boulevard Salt Lake City, UT 84117
• Life Care Center of Bountiful – 460 West 2600 South Bountiful, UT 84010
• Life Care Center of Salt Lake City – 1201 East 4500 South Salt Lake City, UT 84117
• Maple Ridge Rehabilitation and Nursing – 455 South 900 East Salt Lake City, UT 84102
• Mt. Olympus Rehabilitation Center – 2200 East 3300 South Salt Lake City, UT 84109
• North Canyon Care Center – 350 South 400 East Bountiful, UT 84010
• Rocky Mountain Care – Clearfield – 1481 East 1450 South Clearfield, UT 84015
• Rocky Mountain Care – Hunter Hollow – 4090 West Pioneer Parkway West Valley City, UT 84120
• Sandy Health and Rehab – 50 East 9000 South Sandy, UT 84070
• St Joseph Villa – 451 East Bishop Federal Lane Salt Lake City, UT 84115
• Woodland Park Rehabilitation and Care Center – 3855 South 700 East Salt Lake City, UT 84106
Utah Laws Involving Nursing Home Abuse
In Utah, there are laws to protect elderly individuals from abuse and neglect in nursing homes or care facilities. Due to the statute of limitations, which impacts how long after an event legal action can be taken, it is important to report abuse as soon as you become aware of it. Utah Code 76-5-111 includes definitions of abandonment, exploitation, harm, informed consent, isolation, and physical injury. These aim to protect basic rights and recognize the abuse that originates from positions of power and caretakers. Utah Code 76-5-111 is just one of many legislative steps to provide penalties for abuse against vulnerable adults.
The charges faced by a facility that commits abuse or negligence can vary, but if the behavior is deemed intentional, a nursing home may be subject to felony charges. In the case of negligence or recklessness, the defendant could be charged with a misdemeanor. Some of the most common charges seen in Utah include failure (of the nursing home) to report abuse, unlawfully taking a vulnerable person's property, or unlawful dealing of property by a fiduciary (involving trust).
Utah nursing home cases are handled by the Utah Division of Aging and Adult Services. The state of Utah often fields over 2,000 investigations of abuse, neglect, or exploitation of nursing home residents per year, which means that investigators are always busy. This should not stop you from reaching out; however, it is useful to speak with a legal professional as well so that you can properly approach the case from all angles. An attorney can even reach out on your behalf if you are concerned about speaking with the Division of Aging and Adult Services yourself.
In addition to its treatment of facilities that are found liable for abuse and negligence, Utah sets out basic standards separate from the federal guidelines that inform how a nursing home must provide for its residents. Utah has a minimum personal space requirement for single rooms (100 square feet), and all facilities must offer immediate access to care from a qualified physician. The state of Utah also requires that upon admittance to facility, staff must develop a personalized care plan for each patient's health and wellbeing that is tailored to their individual needs.
What To Do About Abusive Nursing Homes in Salt Lake
There can be many reasons for filing a lawsuit against a nursing home, just as there are many qualifications for abuse and negligence. However, in addition to taking legal action, there are other avenues that you can pursue to alert authorities and hold the facility accountable.
First, seek legal counsel from an attorney who has practice experience in the field of nursing home abuse and negligence in Utah. A dedicated Salt Lake City nursing home abuse attorney will be able to help you collect evidence and start the litigation process, or they will guide you on settlement to stay out of court.
Next, fill out the Resident Rights Complaint Form from the Department of Aging and Adult Services of Utah. By completing the online form, affected families can report abuse, neglect, or exploitation in a nursing home or assisted living facility in Salt Lake City or elsewhere in Utah. Authorities will initiate an investigation within three business days, but you will not likely need to be present; they will take care of the process independently.
Finally, be sure to contact the state ombudsman. Every state is federally required to administer an ombudsman program, whose purpose is to protect vulnerable individuals who rely on facilities like nursing homes but cannot advocate for themselves. Talking to Utah's ombudsman and sharing evidence is an effective method of holding nursing homes accountable.
Alianne Sipes is the current statewide ombudsman for Utah and is associated with the Department of Health and Human Services. Her office is located at 195 North 1950 West, Salt Lake City, UT 84116. She can be reached at (385) 222-1273, or you may contact the general ombudsman number at (801) 538-3924. Fax any important documentation to (801) 538-4395 or email it to Alianne directly at asipes@utah.gov.
For records requests, contact Dianna Sanchez at the Ombudsman Records Requests division at (801) 459-8588 or via email at diannas@utah.gov.
These statewide ombudsman officials can help with your nursing home abuse case in Salt Lake City, but the metro area does also have its own program localized to Salt Lake County. Candace Lach is the ombudsman supervisor here, located at 2001 South State s1-600 in Salt Lake City, UT 84190-2300. She can be reached at (385) 468-3227 or by fax at (385) 468-3186 for any documentation you have. You may also email her at ombudsman@slco.org.
If you are still exploring your options for reporting, the Utah State Department of Human Services manages a number of hotlines that can equip you with the information you need to make your next choices. The Abuse/Neglect of Seniors and Adults with Disabilities Hotline can be found at 1-800-371-7897, and the generalized Nursing Home Abuse/Long Term Care line is 1-800-662-4147. The State Department also accepts reports directly on its website.
Reaching out to multiple or all of these resources is completely acceptable; do not feel as though you are burdening the system or filing too many reports. These resources are here for a reason.
If you need assistance filing these reports, or if you would like to take legal action against a nursing home, an attorney can help. Your case can not only improve the lives of other people who live in the nursing home by way of forcing the administration to change their practices. It can also help you recover monetary compensation for the losses that your family has suffered, either through medical costs, funeral costs, or even pain and suffering.
We believe that all families should have access to a legal team that can help them seek justice for the abuse and negligence that they have experienced. That's why we offer free consultations to help you explore your options. Reach out to learn more.
Free Salt Lake City Nursing Home Neglect Lawyer Consultation
Learn more about your rights under Utah law. Nursing home negligence thrives in the shadows.
If you suspect your loved one's treatment fell below the standard of care, do something about it to protect future residents.
Speak with a qualified Salt Lake City nursing home abuse lawyer today by calling Senior Justice Law Firm at 888-375-9998.