San Jose, CA Nursing Home Neglect Lawyer, Representing Families Across the Bay Area
At Senior Justice Law Firm, our firm exclusively focuses on nursing home negligence litigation. Elder abuse and neglect claims are all we do and this narrow focus allows our San Jose nursing home abuse attorney to remain on the cutting edge of this sub-specialty.
If your loved one was wrongfully injured, or killed, inside a Bay Area nursing home or ALF, contact our San Jose nursing home abuse lawyer today by calling 888-375-9998. All consultations are free and we never require an out-of-pocket payment or retainer from your family.
Red Flags of San Jose Nursing Home Abuse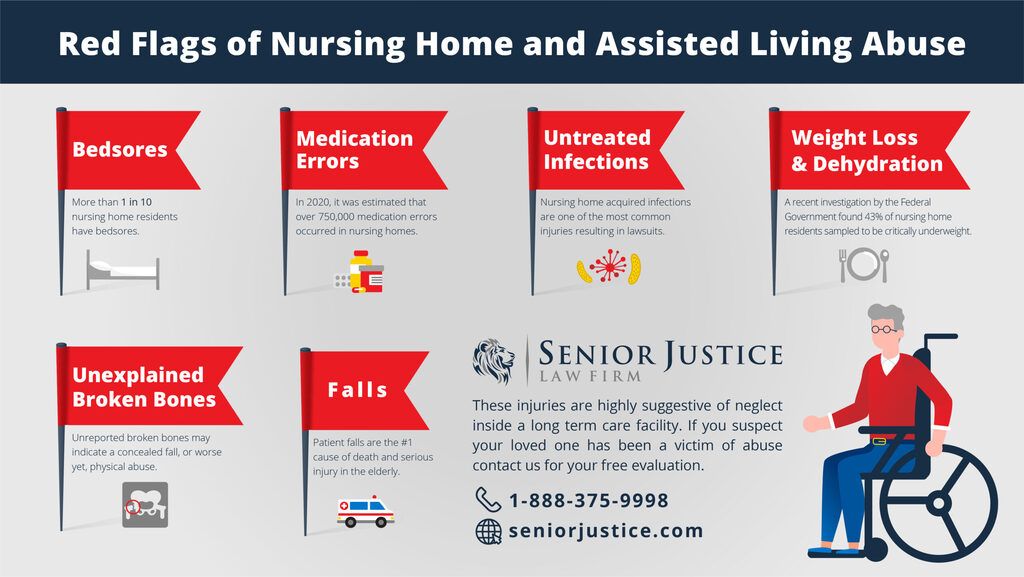 Common injuries our lawyers see that indicate neglect include:
If your loved one suffered any of the above 'red flag' nursing home injuries, contact Senior Justice Law Firm immediately to investigate what happened.
Free San Jose nursing home neglect attorney case consultation: (888) 375-9998
San Jose Has a History of Nursing Home Negligence
San Jose, California is a thriving city with a long history. Founded in 1777, it switched hands between Mexico and the US before becoming the original capital city of California. These days, it is at the heart of Silicon Valley and is home to many massive technology companies known around the world, besides also having the third-largest population of any city in California.
Of course, in such a large, booming city, there are all manner of people, from school-aged children to office workers and even retirees. Like in any city, a portion of those people rely on nursing homes to meet their needs when independent living is no longer the right choice for them. However, not all of these nursing homes provide the same quality of care.
While many facilities have above average track records, some of them have been cited for one or more incidents of abuse or negligence. If you have a loved one in a nursing home in San Jose, it is critical that you equip yourself with the tools necessary to identify nursing home abuse, report it, and take legal action if necessary.
What Actually Constitutes Nursing Home Abuse in California?
When your loved one lives in a nursing home, your expectation is that that is the ideal location for them—a place where they will receive the best care they can. Certainly, they should be looked after better than you could do yourself. Unfortunately, reports across the country indicate a more disturbing trend: that incidents of abusive behavior, physical harm, theft, sexual assault, and even death are a rising trend in long-term care facilities.
According to the National Center on Elder Abuse, this is the experience of around 10% of people who live in nursing homes all over the country. Further studies report that approximately 50% of nursing home abuse victims suffer from dementia, making it more difficult for them to make a report and be believed. Thus, these figures in California could be even higher.
If you suspect that someone you love is being affected by nursing home abuse or negligence, you do not have to simply inform the nursing home and trust that the problem will be resolved. From local support agencies and ombudsman programs to legal action that could bring you financial compensation, you have options to penalize the facility for the behavior and compel them to stop.
San Jose And Its Nursing Homes
San Jose is no exception to the nationwide problems facing nursing homes in terms of their quality of care. Here's what you need to know.
San Jose has a population of approximately 1,000,000

13%

of its residents are over the age of 65.

In the state of California, 15.2% of people are over 65.

San Jose's metropolitan area contains 51 nursing homes.

10

of these were rated at only 1 or 2 stars by the US Department of Health and Human Services.

30

of these facilities were rated below a 4.5 by US News and World Report.

Five

of the largest facilities in San Jose were ranked at a 2 or below.
San Jose Nursing Home Abuse in the News
San Jose has been featured in the news frequently in recent years for the quality of its nursing home care. San Jose Healthcare & Wellness Center recently came under fire among the facilities owned by Brius Healthcare, which received "nearly triple as many serious deficiencies per 1,000 beds as the statewide average in 2014." The FBI has raided Brius facilities twice in pursuit of criminal charges related to their operation under an alleged unlicensed owner. In addition, more than ten families whose loved ones died as a result of COVID-19 while in the facilities are suing, claiming that the San Jose center, among others, forced employees to come into work, even while symptomatic.
Nearby, facilities owned by Brookdale Senior Living—the largest nursing home operator in America—are the target of a federal lawsuit alleging that many San Jose locations are so severely understaffed that they cannot provide for even the most basic needs of their residents. One Brookdale facility in San Jose was cited by state inspectors after it took 44 minutes before calling emergency services upon discovering a resident having a stroke. Another family alleges that a nearby facility was responsible for their loved one's death after they failed to clear his blocked catheter.
Just outside of San Jose, nursing homes are pushing back against these charges. At one location, a nurse identified living maggots crawling through and around a tube that fed into a patient's stomach. The facility was fined $60,000 for the citation, which claimed that the nursing home's treatment of the resident was a direct threat to his safety. However, the location is fighting the charge, claiming that the violations "were not serious enough to merit the amount."
I Think My Loved One Is in Danger—How Do I Tell?
Though some level of slowing down and accidental scrapes might be a normal part of getting older, nursing home abuse has certain signs you can remain vigilant for. Remember, people who have suffered nursing home abuse are often reluctant to mention that such a thing has happened, either because they are facing dementia, are afraid of staff, or for other reasons. Most of the following signs can be grouped together under the idea that a change for the worse may indicate a problem.
Physical wounds

like cuts and bruises.

An altered mood or personality in your loved one. They may be quieter and more withdrawn.

A change in their relationship with a caregiver. They may seem afraid of staff.

Unhygienic living situations

—

clothes and bedding may be unwashed, and medical equipment may be dirty.

Resulting from those poor conditions, ailments like bedsores and infections may occur.

Neglect can also show itself as deterioration and decreased mobility, which is caused by your loved one not moving enough.

The wrong amount of medication—it may be too much or not enough.

Your loved one's mental health may worsen. The specific condition may be depression, anxiety, or something else.

Exploitation is often signified by a decline in the state of your loved one's finances.
Nursing home employees may also try to hide the signs that abuse has happened. This could include false documentation, drugging the victim to make them forgetful or more compliant, and not allowing family members to visit.
To ensure that this never happens to you or your loved one, make sure to choose a facility that is known to provide high-quality care. You must also ensure you know which nursing homes to stay away from. Some of the worst offenders in San Jose are listed further below.
How to Report Abuse
If your loved one is in danger and needs help immediately, call 911. The nursing home cannot stop you from calling for help, even if they say that they will take care of the problem.
Next, if your family member is not in imminent danger of harm, you should tell the people in charge of the nursing home about the situation. They can take steps to correct the issues, prevent the scenario from happening again, and deal with the employee(s) responsible. However, not all facilities will take these reports seriously, so you should still follow up with other resources, even if you have already spoken to the home.
One option is to reach out to Santa Clara County Adult Protective Services to enlist their help in sorting things out. They can be reached at 408-975-4900 or 1-800-414-2002, and this hotline is active 24 hours a day, 7 days a week.
You should also make time to call the local ombudsman for San Jose and the surrounding area, who can be reached at (408) 944-0567. Each state is required to maintain an ombudsman program specifically to ensure that vulnerable individuals in care facilities are properly taken care of.
Once you have contacted these authorities and opened cases as appropriate, be sure to seek legal advice as well. A lawsuit may be a viable course of action depending upon the details of the abuse, and it can be more feasible and accessible than you may think. The attorneys at Senior Justice law firm would be happy to walk you through the process during a free consultation.
Pursuing a San Jose Nursing Home Abuse & Neglect Lawsuit
If you are considering a lawsuit, it is likely that some of the first thoughts going through your mind are whether you can afford it, how time-consuming it must be, and whether it is worth it to begin with. It is important for you to know that a lawsuit can have a long-term positive impact on the nursing home while simultaneously securing financial compensation for you. And depending on the type of attorney you work with, you may not need to pay anything out of pocket.
If your loved one was injured or even passed away as a result of the treatment they experienced while in the nursing home, you may have substantial bills to pay: medical costs, rehabilitative care charges, or even funeral expenses. A lawsuit can recover these costs as damages to compensate your family for their losses. While a suit can certainly never undo the pain that your family member experienced, it can help to make your life easier during this challenging time.
Additionally, lawsuits can bring punitive damages. "Punitive" means punishment—in other words, you can sue for the express purpose of punishing the nursing home for its behavior, for which it may face fines or penalties. Since long-term care facilities often run on razor thin profits, penalizing them in this way is a powerful method of forcing them to change their behavior. Your lawsuit could safeguard the wellbeing and even lives of others who live in that nursing home so that other families never have to go through what you went through.
The attorneys at Senior Justice Law Firm are proud to help families seek the justice they deserve. Whether you want to secure financial compensation for bills or pain and suffering, or you simply want to make sure that this behavior never happens to another family, our combined 50+ years of experience can help. We work on contingency to make our services accessible to as many people as possible; that means that we won't charge you unless we secure money in your case. If we do, we will simply take a portion so that you never pay out of pocket.
Reach out at any time via phone or our online system to schedule a consultation free of charge. We can walk you through the steps and learn more about what happened in your situation.
Free San Jose nursing home abuse lawyer case consultation: (888) 375-9998