Springfield, IL Nursing Home Abuse Attorney Representing Families Across Central Illinois & Downstate Illinois
Our Narrowly Focused Springfield Nursing Home Abuse Attorney Accepts Cases in Peoria, Champaign, Bloomington, Carbondale, Rockford, Decatur, & Belleville
At Senior Justice Law Firm, nursing home negligence cases are the focus of our law firm. This is literally all that we do.
Our Springfield nursing home neglect attorney Alex Campos proudly represents families in Central and Southern Illinois, and has extensive experience suing just about every nursing home corporation in Illinois.
If your family member was neglected, injured, or wrongfully died in a Central or Southern Illinois nursing home or assisted living facility, contact us today. Our narrowly focused law firm represents Illinois families impacted by elder neglect on a contingency fee, so there is never an out of pocket payment from you.
Our Springfield nursing home abuse attorney can help bring closure and justice to your family following a preventable tragedy. Call us toll-free at (888) 375-9998, or locally at (217) 559-2676, submit your case facts below, or live chat with our office today to receive your completely complimentary Illinois elder neglect case consultation.
Is What I Saw Really Nursing Home Abuse?
Nursing home abuse is a blanket term that covers many different types of mistreatment. Put simply, it is a person causing someone harm when they are supposed to be taking care of that person, whether or not the harm was done on purpose. Nursing home abuse can take the form of neglect, or ignoring a patient's needs for assistance or supervision. You should not tolerate any kind of abuse, neglect, or shortcomings in care quality. If your loved one's care (or lack thereof) caused them harm, investigate, even if the nursing home claims everything is as it should be.
Rather than actually witnessing neglect, more commonly, families observe injuries which arise out of elder abuse or neglect. These injuries spur an investigation, and after reviewing the records, our attorneys find nursing home negligence.
Below are glaring 'Red Flag' injuries which strongly suggest nursing home neglect: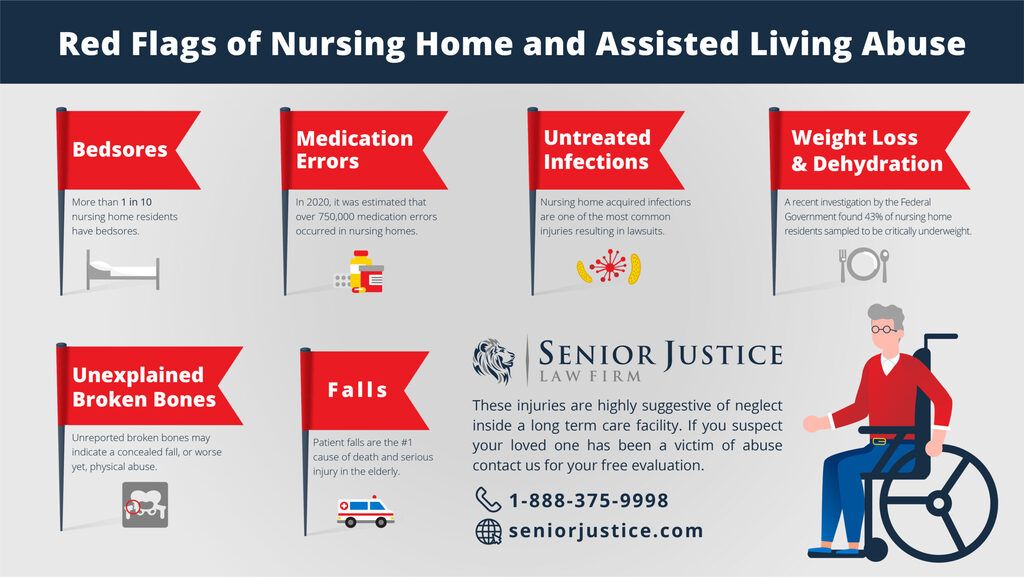 If your loved one suffered any of the above injuries, contact our Springfield, Illinois nursing home abuse lawyer today at (888) 375-9998 or locally at (217) 559-2676. You might, unfortunately, have a potential claim on your hands.
Understanding Springfield, IL Nursing Home Abuse Injuries
Abuse in a nursing home looks like incidents that are directly causing someone pain. This pain could be from physical injuries, but it could just as likely be from psychological harm. If your loved one falls, is hit, pushed, or handled too roughly, this can count as abuse, regardless of whether the caregiver meant for an injury to occur.
Psychological abuse can occur when someone is mentally hurt, whether that is from being ignored, being threatened, or anything in between. Sexual abuse is also a form of mistreatment, and even financial abuse can happen when a staff member steals money or possessions from someone. A caregiver may use their position of power over your loved one, or your loved one's situation, to take advantage of them in order to gain money and other valuables. This type of behavior can be particularly challenging to approach, because many facilities do not respond harshly to these actions.
Neglect is when someone is not provided the care and attention they need. This is another category of harm that can be done intentionally or unintentionally. Neglect can show itself in unhygienic conditions and resulting infections. You may also see the effects of not moving around enough—bedsores, deterioration, and lowered mobility. Another neglect related nursing home injury is ignoring a confused resident and allowing them to fall. You might even notice side effects of too much or too little medication if staff are being negligent in how they handle medical care. Mental health troubles like depression can also be a result of neglect.
If your loved one is in a nursing home, make sure you know the signs of abuse so that you can see if something is wrong and solve the problem before it gets any worse. Look for unexplained changes in your loved one's situation: their personality or mood, their relationships with their caregivers, their financial situation, or their health.
Learn more about these all too common nursing home neglect injuries:
Do not remain silent in the face of potential Illinois nursing home negligence. If your loved one suffered serious injury or wrongful death, contact our Springfield nursing home abuse lawyer immediately to begin investigating into what really happened.
How Senior Justice Law Firm Can Help
At Senior Justice Law Firm, our entire legal team, from attorney to paralegal to legal assistant to intake specialist, is narrowly focused on elder neglect cases. We understand what issues to look for, who the proper corporate defendants are, what expert witnesses to hire, and most importantly of all, why these injuries occur.
Unfortunately, the root cause of most Illinois nursing home negligence injuries is understaffing. Nursing home corporations are oftentimes owned by private equity groups and for-profit investors. To save money, these investors scrimp on staff. When a company makes a conscious decision to place its profit margins ahead of the people it serves, the facility gets poor staffing. Less staff means more mistakes, and more injuries. Our attorneys routinely analyze nursing home staffing levels, and usually, we find a correlation between the lack of staff, and the subject injury, whether it is a bed sore, preventable fall, wandering issue, assault, untreated infection, etc.
"But What Good Will Money Damages Do? It Won't Bring Mom Back…"
When you bring a nursing home injury claim, you are creating a financial disincentive to nursing home neglect. Money may not matter to you, but to them, its the reason for everything the nursing home does. Remember, most decisions in the nursing home, including the decision to staff, are based on profits. If you impact a nursing home corporation's profits by raising issues of neglect, you are deterring the corporation from making that mistake again in the future.
If we made nursing home injuries and death more expensive, corporate owners would staff better and care would increase dramatically. Tragically, only 1 in 5 instances of Illinois nursing home neglect gets reported. So right now, the facilities largely get away with murder.
Our Springfield Illinois nursing home abuse attorney can make your complaints heard and hopefully, create real change with your case. Even though the end result in an Illinois nursing home civil lawsuit is monetary damages, these cases are about much more than just money. These cases are about justice, and bringing change through the legal system.
Begin the conversation today and receive your free Springfield nursing home abuse attorney consultation. Phone us at (217) 559-2676 or live chat with our office by clicking the Chat Now box.
Springfield Illinois Nursing Home Negligence
As the capital of Illinois, the city of Springfield has the sixth highest population in the state. One of its claims to fame is that Abraham Lincoln lived there for nearly 30 years before moving to the White House to assume his role as president. For history buffs and lovers of nature—and those who appreciate a temperate climate for many months of the year—Springfield is an ideal place to retire. Perhaps expectedly, then, Springfield has its fair share of elderly residents.
Out of its population of just over 113,000 people, approximately 17.9% of them, or around 20,300 people, are 65 or older. And of course, a portion of these thousands of citizens find it necessary to live in a nursing home rather than on their own. Springfield has scrambled to increase its nursing home presence to accommodate the rising rates of intakes, but not all have been able to cope with the number of beds they are now maintaining.
If your mother, father, sibling, or other loved one lives in a nursing home, you expect to be able to trust the facility with that person's health and wellbeing. Nursing homes should provide the best possible care for their residents, making it so that family members can have peace of mind and residents can live in the comfort and dignity they deserve.
Unfortunately, not all nursing homes provide this exemplary level of care. Abuse is an all too common reality for residents of several homes in and near Springfield, Illinois, and those who live there are often powerless to stop it. If someone you love lives in a nursing home, keep an eye out for the warning signs of negligent or harmful behavior.
At Senior Justice Law Firm, we are proud to help families seek justice for the mistreatment their loved ones received in nursing homes in Springfield, Sangamon County, and across Illinois. If you are unsure whether you might have a case, or if you simply need help understanding what to do after discovering abuse or neglect, reach out. We have decades of legal experience suing negligent nursing homes and we are at your disposal. Our Springfield nursing home neglect lawyer would be happy to advise you on your next steps.
Springfield Nursing Home Abuse Lawsuit News
Several of Springfield's lower-rated nursing homes have been subject to lawsuits for abusing their residents in the past few years.
At Lewis Memorial Christian Village located at 3400 W. Washington St. in Springfield, a resident was being lifted into a van when the equipment became stuck. Then, the lift suddenly became unstuck, sending the resident falling to the ground. The fall broke his neck upon contact. Despite family members asking staff to call 911, the man was taken inside and placed back in bed. Staff never returned to check for injuries. It took an hour for him to finally be brought to the hospital, and he died of his injuries less than three weeks later. The respiratory failure that cost him his life was directly attributed to the broken neck and lack of proper care immediately afterward.
In the aftermath of the victim's death, his family sought out legal assistance to hold the nursing home accountable. Our firm was not involved, but this is the same type of case that our Illinois nursing home abuse attorney frequently sees.
In the ensuing Springfield nursing home abuse lawsuit, the victim's family won $6.75 million, and the nursing home was fined $50,000 by the state and $344,500 by federal regulators.
The Lewis Memorial facility is not the only nursing home in Springfield, Illinois to find themselves faced with a lawsuit in recent years. At LaSalle Veterans' Home, a resident died from contracting COVID-19. His family are suing the state and the facility for $2 million on the allegation that his death should have been preventable and the home failed to prevent it.
Reportedly, the nursing home did not follow the state and federal guidelines on COVID prevention, though they had demonstrated multiple chances to do so. They also failed to stock the quantities of personal protective equipment needed to evade the virus and often wore it incorrectly. Similarly, they didn't give adequate care to those infected with COVID and failed to enact measures that would prevent the virus from spreading.
The Data on Downstate Illinois Nursing Home Neglect
The state of Illinois contains 771 nursing homes—that's higher than the average for all but the biggest and most populous states, like California and Texas. Of these, 193 care locations are listed as having serious deficiencies, including a number that have been put into remedial programs or on Medicare's federal watch list for confirmed abuse. This means that more than 27% of all the long-term care facilities in Illinois have a significant issue with how their residents are treated. Further, most 4 and 5 star facilities have still faced civil lawsuits and state citations for poor resident care. Even a "good" nursing home is capable of committing negligent care.
Unfortunately, Springfield's track record as a city is not much better. A total of 22% of its nursing homes are ranked as below average—nearly a quarter of the nursing homes in the city provide subpar care for their residents. This is measured through a variety of metrics ranging from general quality of life indicators to staffing and the amount of time each resident gets with a skilled nursing professional each day.
Furthermore, out of the reported violations cited in nursing homes in Springfield, more than half of them rank as serious, with the ability to do bodily harm to residents. So when a Springfield nursing home provides poor care, it is unfortunately likely to result in a nursing home injury.
Not all nursing homes are guilty of substantial violations, and it is possible for a facility without a perfect rating to provide adequate care for your loved one. However, you should know that even five-star locations are not exempt from instances of problematic behavior, and some nursing homes in Springfield have established a track record of consistent or repeated citations.
Other Central Illinois nursing homes fare about the same as those in the Springfield metro area. Facilities in Decatur, Bloomington, Champaign, Peoria, and Litchfield are all in line with the national average. About 25% of Central Illinois nursing homes rank "below average", but this is typical in facilities across the U.S.
Southern Illinois nursing homes rate worse than their Central Illinois counterparts. Almost half of Southern Illinois facilities received a below average assessment.
Given the data shared by all of these statistics, nursing home abuse is likely more commonplace than you may have imagined in Illinois. If you or a loved one are currently relying on a long-term care facility in the city, it is critical that you remain vigilant for signs of abusive behavior or negligence in facility practices.
More importantly, elder abuse and neglect festers in the shadows. Most victims are non-verbal or unable to report the substandard care. If you even suspect your loved one was neglected, you owe a duty to all the other vulnerable residents to say something about the incident and report the potential neglect. If you do not do something about it, the cycle will repeat.
Call our Springfield nursing home abuse attorney today at (217) 559-2676 to learn more about your legal rights under Illinois law.
Reporting Elder Abuse in Illinois:
How To Report a Nursing Home in Central Illinois and Southern Illinois
If your loved one is suffering from abuse or neglect in a nursing home, report it. Even if you have already identified the issue and had it documented by the nursing home, you should not leave the situation there. A nursing home may not take appropriate action to remedy the problem and prevent it from reoccurring in the future.
People who are being abused often don't like (or feel safe enough) to speak up and may pretend everything is fine. Keep a careful watch for anything that seems amiss, and if something is wrong, investigate further and follow up. The good news is that you have a number of organizations and people who can help you.
However, if your loved one is in imminent danger, call 911 immediately, before you work through documenting the issue with the nursing home and other agencies. You do not need to consult staff to call emergency medical services or alert the police.
Do not ask permission to report an Illinois nursing home; just do it.
Once the immediate danger has passed, or if the problem is not one that is causing emergent harm, the first step in reporting abuse is collecting evidence. Make notes of every relevant piece of information: what signs you observed, when the abuse happened, when you realized it was happening, the complaints made by your loved one, and more. If there is visual evidence, such as injuries, take photos as well. Speak with those in charge at the facility to make them aware of the issue and so that you can understand why the abuse may have occurred.
Then, you can reach out to organizations within the state of Illinois to file a report about the events that occurred. Your first stop will likely be to the Illinois Department of Public Health, who can be reached online, by telephone at (800) 252-4343, by fax at (217) 525-8885, or by mail.
While it is critical that you alert this agency as soon as possible, be aware that the Department of Public Health must handle thousands of calls and complaints each year. The process of fixing your loved one's situation can be a slow one. Thus, you should also make a report to the local ombudsman.
How to Report Springfield, IL and Central Illinois Nursing Home Negligence
The long-term care ombudsman program in Springfield is located at 3100 Montvale Drive and can be reached by calling 217-523-8419 and using extension 11. The Area Agency on Aging is also located nearby at 2731 S. MacArthur Blvd. Their phone number is (217) 523-8419, and you may fax them relevant information at (217) 679-7919.
How to Report Champaign, IL and East Central Illinois Nursing Home Negligence
You can report nursing home negligence in Champaign, Bloomington, Cumberland, and East Central Illinois by calling (309) 829-2065.
How to Report Carterville, IL, Carbondale, IL, and Southern Illinois Nursing Home Negligence
You can report nursing home abuse or neglect in Southern Illinois, including Carterville, Carbondale, Marion, and Mt. Vernon, by calling (618) 985-8322.
How to Report Peoria, IL Nursing Home Negligence
You can report nursing home abuse or neglect in Peoria and Fulton, Marshall, Peoria, Stark, Tazewell, and Woodford Counties by calling (309) 272-2917.
What to Do After Reporting the Incident to Your Local Illinois Ombudsman
Once you have reached out to these organizations that were established to assist vulnerable elderly individuals, you should also speak to a legal professional. Even if you have no interest in securing financial compensation for what happened, your Springfield nursing home negligence lawsuit can still make a significant difference in the lives of other residents.
Financially penalizing the nursing home can force them to change their practices, resulting in an improved quality of life for others who live there. And of course, if you need assistance paying for medical bills, funeral costs, or even pain and suffering as a result of the events that occurred, a lawsuit can help you to secure these.
Our Springfield nursing home abuse lawyer can assist you in reporting the incident to the state of Illinois, and subsequently help in pursuing a claim for damages.
The Springfield Nursing Home Neglect Attorney at Senior Justice Law Firm Can Help
Many families who have experienced Central or Southern Illinois nursing home abuse or neglect unfortunately do not feel that they can afford a qualified attorney. They also fear bringing a lawsuit.
At Senior Justice Law Firm, we believe that seeking justice for abusive or negligent care should be accessible to everyone—which is why we work on contingency fee. We will not charge you out of pocket; instead, if we make a monetary recovery for you, we will accept a percentage of the recovery as payment. This ensures that legal recourse is available to as many people as possible.
Further, we make the process of bringing the claim as painless as possible. We try to do the heavy lifting and let you focus on grieving and recovery.
If you believe that someone you love is being mistreated in a nursing home, do not hesitate to reach out. We would be happy to learn more about your situation during a free consultation so that we can guide you on what to do next. Get in touch via phone or our online form to get started.
Free Springfield nursing home abuse attorney consultation — Call us now at (217) 559-2676 or type your case facts below.