Bringing a Lawsuit Against a Symphony Nursing Home for Abuse, Neglect, or Wrongful Death
Symphony Care Network is a for-profit, family-owned corporation providing post-acute and senior care in their facilities across Illinois, Indiana, and Michigan. Symphony's facilities offer a variety of specialty care programs, including stroke care, rehabilitation care, memory care, wound care, dialysis care, long-term care, respite care, and more.
From the corporation's humble beginnings in 1978, Symphony Care Network has acquired 24 facilities in three states. More than half of those facilities are in Illinois. Some Symphony nursing homes in Illinois are rated quite highly, while others have been cited for abuse by Medicare, such as Symphony at 87th Street and Symphony of Bronzeville. Furthermore, multiple Symphony facilities have been sued in nursing home negligence lawsuits, alleging substandard care and wrongful death allegations.
Free Symphony Nursing Home Lawsuit Consultation
Our Chicago nursing home abuse attorney has extensive experience handling lawsuits against Illinois nursing homes, including cases against Symphony Care Network. If your family member suffered a bed sore, fall, broken bone, hospitalization, or wrongful death as a result of an Illinois nursing home residency, contact our narrowly focused elder abuse law firm today.
Call Senior Justice Law Firm today: (773) 739-8250
Do I Have a Case vs. Symphony Care Network?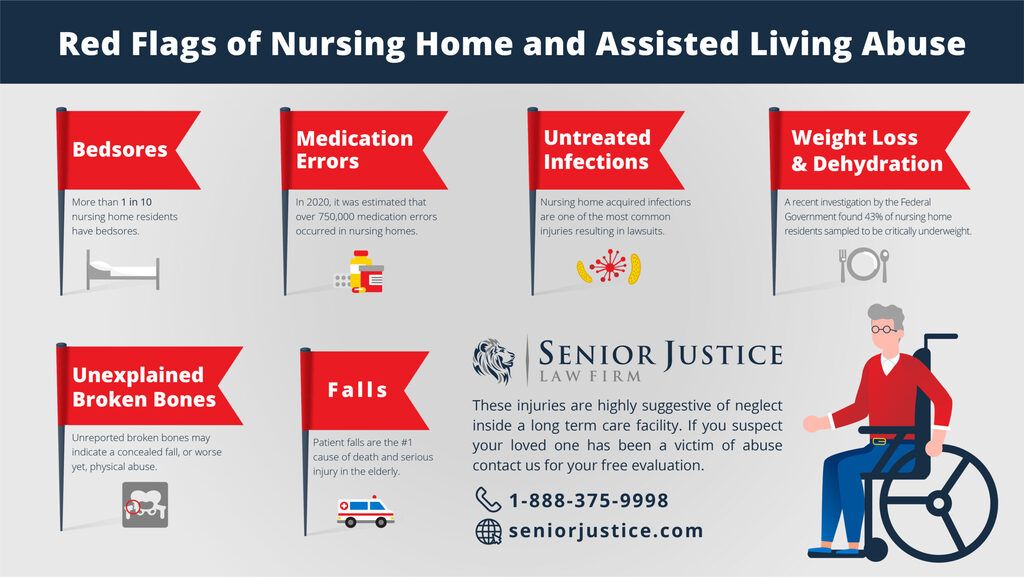 Oftentimes, recognizing patient abuse or neglect is difficult, since it usually occurs when family members are not present. In order to spot nursing home neglect, we look for specific injuries that indicate a person has not received appropriate care, supervision, or assistance.
There is no definitive list of injuries which justify a lawsuit against a nursing home or assisted living facility. However, the following 'red flag injuries' strongly correlate with substandard nursing home care:
If you or a loved one has suffered any of the above injuries inside an Illinois nursing home, do not hesitate to contact us at (773) 739-8250. After a consultation with our intake specialists, our legal team will help determine if you have a valid nursing home abuse claim against Symphony Care Network. Our team can also help you report the abuse to the appropriate state agency.
Past Lawsuits Against Symphony Nursing Homes
There have been several lawsuits filed against multiple Symphony nursing homes in Illinois. Many of these cases involve allegations of wrongful death, nursing home negligence, and/or medical malpractice. It is important to note that most nursing homes in Illinois have faced lawsuits against them, so the fact that Symphony has been sued for nursing home negligence does not mean these are bad facilities. Almost all Illinois nursing homes have been defendants in lawsuits.
McClendon, Eddie vs. Symphony of Chicago West & Symphony of Jackson Square
Eddie McClendon filed suit against Symphony of Chicago West and Symphony of Jackson Square in September of 2020 for nursing home abuse and neglect. A settlement was reached after mediation in November of 2021.
Johnson, Victoria E/O vs. Symphony of South Shore
Sandra Johnson filed a wrongful death lawsuit in September of 2020 against Symphony of South Shore on behalf of the deceased, Victoria Johnson.
Jackson, Bernice E/O vs. Symphony Midway
Annette Porter, on behalf of the late Bernice Jackson, filed a lawsuit against Symphony Midway for medical malpractice allegations.
Belk, Sam E/O vs. Symphony of Bronzeville
Ruby Belk filed a wrongful death suit against Symphony of Bronzeville in August of 2020. She alleged that Sam Belk suffered from injuries resulting in death at the facility.
In June 2020, Marlies Banz filed a nursing home abuse and neglect lawsuit against Symphony Hanover Park.
Marks, Florence E/O vs. Symphony Lincoln Park
Eve Marks-Botta filed a medical malpractice suit against Symphony Lincoln Park on behalf of the deceased Florence Marks.
Disclaimer

*Each case is different. Prior results do not guarantee a similar outcome or indicate an expected outcome on your particular case. The above prior lawsuit information is for informational purposes only and does not constitute legal advice. The information is not provided in the course of an attorney-client relationship and is not intended to substitute for legal advice from an attorney. This individual case information above comes from publicly filed allegations gathered from the plaintiff's complaint. These cases are not the work of this law firm. The allegations in the complaint have not been proven true.
Theft at Symphony Residences of Lincoln Park
On September 6th, 2018, a theft at Symphony Residences of Lincoln Park became regional news. Writers at the Chicago Tribune reported that workers at the Symphony senior care facility stole $600,000 to $700,000 from a patient in their care. The 97-year-old, Grace Watanabe, had lived at Symphony Residences of Lincoln Park since 2010. She had no living relatives and a debilitating diagnosis of dementia. A group of workers at the facility drained Watanabe's life savings by cashing fraudulent checks, making ATM withdrawals, and transferring money online without her consent. In May of 2018, Watanabe's bank contacted Adult Protective Services about a potential case of financial exploitation.
According to a lawsuit filed against Symphony by Watanabe's court-appointed guardian, two high ranking staff members of the facility allegedly tried to cover up the theft. Criminal charges were filed against two of Symphony's staff members in 2019 for the theft.
"The two individuals who the state charged today where the highest-ranking employees of Symphony – the business manager and the activities director – who together took about a half million dollars; $500,000 . . . They were clearly the ringleaders of all this . . . I've never seen this level of corruption from the very highest levels to the very lowest levels . . . These Symphony employees were paid to assist the residents with the care they needed. Instead, they took advantage of Ms. Watanabe's vulnerabilities to access her money." — Cook County Public Guardian Charles Golbert
Watanabe passed away at the age of 100 in late 2021. Her court-appointed guardian, Charles Golbert, as well as some local charities, have continued to pursue justice against Symphony Residence of Lincoln Park on her behalf.
Symphony Nursing Home Federal Penalties and Payment Denials by Medicare
The State of Illinois and the federal government routinely inspect each of Symphony's facilities at least once every year on average. The federal government, through Centers for Medicare and Medicaid Services (CMS), regulates nursing homes nationwide. When a nursing home gets a serious health or fire safety citation or fails to correct a citation for a long period of time, it gets penalized. The facility can either receive a fine or a denied payment from Medicare. Many of Symphony's facilities performed average or above average on inspections. Some of Symphony's nursing homes received federal penalties due to alleged deficiencies in resident care:
Health Inspections at Symphony Care Network Facilities
State inspectors conduct yearly health and safety inspections of nursing homes to ensure that the facility is in compliance with Medicare and Medicaid regulations. A nursing home may also be inspected based on a complaint submitted by a resident (or other individual, like a concerned family member). When a nursing home is not in compliance with state and federal regulations, they are cited.
*Total number of citations from the most recent standard health inspection and the last 12 months of complaint and infection control inspections.
Disclaimer

*Each case is different. Prior results do not guarantee a similar outcome or indicate an expected outcome on your particular case. The information is not provided in the course of an attorney-client relationship and is not intended to substitute for legal advice from an attorney. The inspection results are provided from public government agency surveys. The state Department of Health conducts a survey of all nursing home facilities at least once every 15 months. The deficiencies listed on this page may have been corrected after the date of the inspection and date of publishing this material. Citations, ratings, statistics, fines, and deficiencies are current as of the date of this post (9/6/22) and will change later on. The inspection findings published are not complete. You may find the most up to date information at medicare.gov. This material is not endorsed by the facility noted or by any governmental agency. This page is a legal advertisement and a resource of information for visitors. This material is not endorsed by the facility noted or by any governmental agency. Senior Justice Law Firm does not have any affiliation with the facility. Speak with an attorney immediately if you believe you have a viable case against a nursing home, assisted living facility, or medical facility.
Abused or Neglected in a Symphony Care Network Nursing Home?
If you or someone you know was hurt due to neglect or abuse inside a Symphony nursing home, or any other Illinois facility, do not remain silent. Speak with our Illinois nursing home abuse attorney, Alex Campos, by calling us at (773) 739-8250 or fill out the contact form on our website to start the process. Our consultations are free and we work exclusively on contingency fee, so we do not require any out of pocket payment from you.
Learn more about your rights under Illinois law by contacting Senior Justice Law Firm today.