Fast Facts About our Chicago Nursing Home Abuse Lawyer
At Senior Justice Law Firm, nursing home negligence cases are our law firm's focus. This is all we do. Our Chicago nursing home abuse lawyer focuses his professional practice on cases involving bed sores, facility falls, physical abuse, and wrongful death inside Illinois nursing homes and assisted living facilities. If you are in need of an experienced, professional, and compassionate Chicago nursing home abuse attorney, contact Senior Justice Law Firm today.
We provide completely free case consultations, and we only get paid if your family wins the case. You will never be asked to pay us out of pocket. We receive our payment as a percentage of the settlement or verdict, if one is achieved.
If you suspect your loved one was not cared for properly inside an Illinois healthcare facility, contact our Chicago nursing home abuse lawyer today to learn more about your legal rights and the available compensation available to your family.
Free Chicago Nursing Home Abuse Attorney Case Evaluation
Call us now, toll-free, at 888-375-9998, submit your case facts below, or live chat with our office today. Let our years of experience prosecuting nursing home abuse and neglect claims help maximize your case's value, and impact.
Senior Justice Law Firm – Chicago Nursing Home Abuse Attorney
2260 N Elston Ave, Chicago, IL 60614
Local: (773) 739-8250
Chicago, IL Nursing Home Abuse & Neglect is Pervasive
Chicago, Illinois has a population of 2.7 million people—nearly a quarter of the population of the whole state. That makes Chicago a hub for nursing homes as well, with dozens of facilities located in the city center hosting hundreds of beds for older residents.
Unfortunately, whether due to understaffing, administrative practices, or other circumstances, Chicago nursing homes are oftentimes less than stellar in quality of care.
That means that someone you love could end up the victim of abuse or neglect inside a Cook County facility. In fact, a resident of a Chicago nursing home is twice as likely to suffer abuse or neglect as a resident of a downstate Illinois nursing home.
Another vital element of the nursing home negligence problem in Chicago is lack of support from neighboring locations. Illinois is unique in that staff from out of state are not allowed to work in Chicago without getting a new license to practice.
As a result, numbers of Chicago nurses are low since they must have been licensed within Illinois, keeping out nurses from nearby Indiana, Wisconsin, and Western Michigan.
Senior Justice Law Firm has worked for a combined total of 50 years to ensure that the elderly and vulnerable in nursing homes receive the justice they deserve. The hardest thing about elder abuse is recognizing it (more below on this), since oftentimes, the victim is non-verbal.
If you think that someone you love has suffered negligence or abuse inside an Illinois nursing home or ALF, contact our nursing home abuse attorneys in Chicago about your situation and we can help you determine what to do.
The Signs of Nursing Home Abuse & Neglect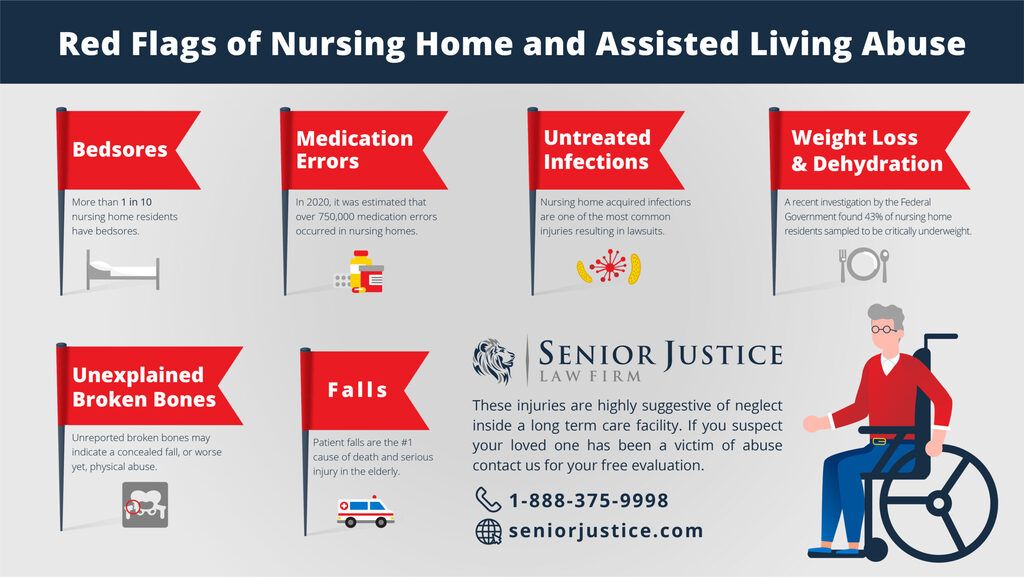 The abuse or neglect of residents in Chicago nursing homes is not limited only to physical violence. It can take other forms, which are not as obvious and, unfortunately, much more common. Negligence can lead to things like bedsores if staff do not spend the time required with each individual to attend to their needs.
If your loved one is suffering from such an injury (or any other kind of preventable condition), you should keep an eye out and make sure their long-term care facility is not causing them harm. Some forms of harm, like bedsores, have no medical cause aside from neglect and should always be investigated and treated seriously as negligence.
As a state, Illinois ranks as one of the lowest in terms of fall prevention—and this issue is only exacerbated in the busy metropolis of Chicago. Many of the deaths in Chicago nursing homes are due to falls, either from the immediate trauma of the accident or as a result of the resident's health deteriorating over time.
For example, studies have shown that those who experience broken bones after a fall rarely fully recover to their pre-fall wellness, and nearly a quarter will pass away within a year after the injury as their body struggles with recovery.
Physical assault on a nursing home resident is outright abuse. If a Chicago nursing home patient is beaten or attacked, this is a case worthy of investigation. Similarly, sexual assault and rape in a nursing home is never excusable. Any sort of unwanted sexual experience must be reported and investigated immediately.
Weight loss, unreported broken bones, and mysterious wrongful death are also strongly correlated with nursing home abuse and neglect. These injuries warrant a Chicago nursing home abuse lawyer's involvement, and investigation.
Call or live chat with us now to begin your free case consultation. We can help you understand your legal rights, and let you know if your loved one's injury warrants a Chicago nursing home abuse lawsuit.
How Nursing Homes Stack Up in Chicago
Out of the millions of people who live in Chicago, around 12.7% are older than 65. With so many elderly residents, the city has been forced to open more and more nursing homes in order to provide enough care.
However, that growth has corresponded to a similar decrease in the overall average level of care quality. Dozens of the city's nursing homes have earned a rating of only 1 star out of 5, and of these, nearly 50% have directly received criticism from inspectors for confirmed cases of abuse.
56 nursing homes in Chicago itself have achieved only the minimum rank of 1 out of 5 possible stars. Of these, 25 are located directly within the Chicagoland metropolitan area, and 13 of these—that is, nearly half—have been cited with Medicare's "red hand" indicator of confirmed abuse.
The following Chicagoland nursing homes have a 1 star rating, as per CMS in June 2022:
Kensington Place Nursing & Rehab, 3405 South Michigan Avenue Chicago, IL 60616
Symphony of Bronzeville, 3400 South Indiana Chicago, IL 60616
Community Care Center, 4314 South Wabash Avenue Chicago, IL 60653
Little Village Nursing & Rehab Center, 2320 South Lawndale Chicago, IL 60623
Woodbridge Nursing Pavilion, 2242 North Kedzie Chicago, IL 60647
Austin Oasis, 901 South Austin Blvd Chicago, IL 60644
Sheridan Village Nursing and Rehabilitation Center, 5838 North Sheridan Road Chicago, IL 60660
Villa at Windsor Park, 2649 East 75th St Chicago, IL 60649
Aperion Care West Ridge, 6450 North Ridge Blvd Chicago, IL 60626
Waterfront Terrace, 7750 South Shore Drive Chicago, IL 60649
Bethesda Rehab & Senior Care, 2833 North Nordica Avenue Chicago, IL 60634
Lakefront Nursing & Rehab Center, 7618 North Sheridan Road Chicago, IL 60626
Southpoint Nursing & Rehab Center, 1010 West 95th Street Chicago, IL 60643
Warren Barr South Loop, 1725 South Wabash Chicago, IL 60616
Estates of Hyde Park, 4505 South Drexel Chicago, IL 60653
Mado Healthcare – Uptown, 4621 North Racine Avenue Chicago, IL 60640
Symphony of Chicago West, 5130 West Jackson Boulevard Chicago, IL 60644
Disclaimer

*The CMS star rating of the above facilities is current as of June 20, 2022 and subject to change. The inspection results are provided from public government agency surveys. The state Department of Health conducts a survey of all nursing home facilities at least once every 15 months. You may find the most up to date information at medicare.gov. This material is not endorsed by the facility noted or by any governmental agency.
Injuries, hospitalization, agitation, changes in personality, and reduced quality of living should always be taken seriously. At Senior Justice Law Firm, we understand that you might not know what to do when presented with evidence of poor care, or a family member's injury.
Reach out and we can help you take the next steps to properly report the events and keep your loved one—and others at the same facility—safe from harm.
What a Chicago Nursing Home Lawsuit Can Do for You
If you believe a vulnerable adult has been victimized by nursing home negligence in Chicago, you should report the abuse or neglect to the appropriate Illinois authorities. Though all these organizations can assist you in various ways, administrative agencies are not capable of obtaining financial repayment for your loved one's suffering. Financial compensation can only be achieved through a Cook County nursing home abuse lawsuit.
Not all Chicago nursing home abuse lawsuits go to trial. In fact, more than 90% of these cases settle out of court, before trial. Due to the extensive amount of cases Senior Justice Law Firm brings against nursing home corporations, we know the players involved.
Leveraging the experience of our Chicago nursing home abuse lawyer, we can oftentimes get cases resolved if that is the family's desire. Alternatively, if you do not want to settle your case, we are happy to file a Chicago nursing home abuse lawsuit and pursue the case into litigation.
On top of securing financial compensation for the event, a lawsuit can also have dramatic effects for the others who live in a nursing home. When you deal a financial blow to a facility, you drive permanent change to practices as the nursing home attempts to avoid further payouts in the future.
This can mean better care for those who rely on that nursing home for their well-being. Your Chicago elder abuse lawsuit may change the lives of people you have never met so that other families can avoid the same pain and suffering that your loved one endured.
The details of your case will influence what kinds of damages you can seek. If your family member incurred hospital and medical bills, for example, the lawsuit may seek economic damages to recoup those payments. However, the majority of damages in nursing home negligence claims are pain and suffering damages. These are also called human losses. Illinois law defines "pain and suffering" as the physical and emotional anguish, distress, or turmoil caused by a physical injury or death.
Our 'No Fee Guarantee' on Chicago Elder Abuse Cases
Prosecuting a Chicago nursing home abuse lawsuit does not have to be a lengthy, costly ordeal. At Senior Justice Law Firm, we only accept payment on contingency—that means that we receive a percentage of anything that we recover for you and nothing else.
There is no retainer fee, and we will never ask you for out of pocket payment to pursue your case. We operate this way to make sure that anyone, no matter their financial situation, can seek the justice that they and their families deserve. Everyone deserves access to a qualified Chicago nursing home abuse lawyer, regardless of your ability to pay for one.
Chicago Nursing Home Abuse Lawsuits in the News
The Chicago area and Illinois as a whole is full of examples of successful lawsuits against nursing homes for abusive and negligent behavior. One resident broke his hip after repeated near-falls and trips in a facility outside Chicago. The location failed to implement any changes to his care or living space to mitigate the risk of further falls, and his family was reportedly not surprised to discover that he later fractured his pelvis. The nursing home later settled with the family for more than $150,000 as compensation.
However, falls continue to be one of the leading drivers behind legal action taken against Chicago nursing homes. In another similar case, a woman was awarded more than $800,000 in damages after she had repeatedly fallen within a facility. Though the facility did note each of her falls, they did not make substantive changes to prevent similar instances in the future. When one fall resulted in a broken hip that significantly impacted her mobility going forward, her case proceeded to legal action.
Falls are not the only problem that these nursing homes face in Chicago. In another incident, a man was admitted to Sherman Medical Center as a result of what appeared to be a fever. It was later discovered that he had not been properly cared for, with his oral hygiene neglected and his body wracked with bedsores. The Illinois Department of Health opened an investigation into the nursing home from which he had arrived, though unfortunately, he passed away before the case could be resolved. It is believed that his fatal staph infection arose at least in part from his open bedsore wounds.
Sadly, the Illinois Department of Health continues to rack up care violations against Chicago area nursing homes. There were numerous "AA" violations cited in the first quarter of 2022, including those resulting in pressure sores, improper catheter care, poor infection control, failing to provide assistance with eating to prevent resident choking, and failing to supervise a resident with known sexual behaviors to ensure protection of sexual abuse of another resident.
How to Report Nursing Home Neglect in Chicago
For residents of Chicago, your first step when you suspect nursing home abuse or neglect should be to get in touch with your ombudsman. There are multiple branches that serve the city, so you should contact the one associated with the area where your loved one is located. Since Chicago is so large, it has a dedicated ombudsman presence separate from the Illinois statewide branch.
After contacting your ombudsman, there are several organizations that can help you further. A useful tool in reporting nursing home abuse is the Healthcare and Family Services for Supportive Living Facility Complaints helpline, which you can call confidentially at 1-800-226-0768. This resource can help you learn what you need to know to report your case.
The Senior HelpLine, which you can call at 1-800-252-8966, can help you make sure your report reaches the right people. They can also connect you with others who can help you if you don't know where to take your report next. The Illinois Department of Public Health pays close attention to complaints about nursing homes submitted to their Central Complaint Registry. The best way to contact them is through an online report, as their hotline (1-800-252-4343 or 1-800-547-0466 (for TTY)) is often busy with other callers.
Though all of these services provide assistance essential to obtaining justice and ensuring better care for nursing home residents all over Chicago, they are not meant to deal with emergencies. If your loved one has a medical problem and needs immediate help, call 911. You can reach out to these other resources once your family member is being seen by a medical professional.
Illinois' police can also help you. They have a Medicaid Fraud Control Unit at 1-888-557-9503, which is intended for investigating possible fraud related to Medicaid billing from nursing homes. If your loved one has suffered abuse or neglect, has arranged an appointment but never received the visit, or has had their prescriptions given incorrectly or ignored entirely, this service may be just what you need.
If you need assistance with reporting nursing home abuse in Chicago, contact Senior Justice Law Firm today at (773) 739-8250. We are happy to assist.
Schedule a Consultation with a Chicago Nursing Home Abuse Lawyer
If you suspect that your loved one suffered abuse or neglect in a Chicago nursing home, it is imperative that you take action immediately. Contact your ombudsman and the other resources described above, and begin a conversation with a Chicago nursing home abuse lawyer today. Starting early with ensure that witnesses are contacted timely and crucial evidence is preserved.
At Senior Justice Law Firm, it is our mission to help right the wrongs done due to nursing home negligence. Since we have a combined total of more than 50 years of experience in this field, we succeed where other firms have failed. Our attorneys have recovered millions of dollars for families across Chicago and Illinois as a whole.
Contact us over the phone or using our online chat tool at your convenience. Consultations are completely free, and we would love to talk about what you can do following evidence of nursing home abuse or neglect in Chicago. You deserve justice, and at Senior Justice Law Firm, we are proud to offer our services to help you seek it.
Speak with an experienced Chicago nursing home abuse attorney by calling us at (773) 739-8250, or type your case facts below.