Yonkers Nursing Home Abuse Attorneys – Here to Help Your Family
Struggling with an injury or wrongful death inside a Yonkers, NY facility? Our compassionate and experienced nursing home abuse attorneys can help your family get justice. Let our Yonkers nursing home abuse lawyers fight for what is right. Do not let your loved one's injury go unpunished. Live chat with our office today, or call us at 646-969-5855. All consultations are free and we work exclusively on contingency fee, so no out of pocket fees or costs are ever required from you.
Yonkers Nursing Home Abuse Info
Yonkers, a city in Westchester County, located just two miles from the northernmost point of New York City, has a population of approximately 195,000.
There are five nursing homes located in the city itself, with over a hundred more in the surrounding areas.
Nursing homes are big business in New York State, and Yonkers is no exception. Unfortunately, not all of Yonkers nursing homes have scored highly on survey and state inspection results. This reflects the sad reality that, although nursing homes are supposed to be held to a uniform standard of care, the quality of care provided in Westchester facilities varies greatly.
Current Events Regarding Nursing Home Negligence in Yonkers
On May 16, 2019, lohud reported that 107 New York nursing facilities received a one-star rating, out of five star rating the Centers for Medicare and Medicaid Services uses to show a facility's "safety, staffing, and quality measures." Although none in Yonkers were in that one-star list, the Sans Souci Rehabilitation and Nursing Center received a two-star rating, which is still below average.
A year prior, the same news outlet had compiled a list of nursing homes in Westchester County that were cited for violations by the New York Department of Health, and the number of citations for each facility from April 1, 2014 to March 31, 2018. In Yonkers, every nursing facility in the city had received numerous citations for violations. Adira at Riverside Rehabilitation and Nursing received 36 complaints, Elizabeth Seton Pediatric Center received 53, Regency Extended Care received 195, Sans Souci Rehabilitation and Nursing Center received 35, and Yonkers Gardens Center for Nursing and Rehabilitation received 84.
In 2021, the Yonkers Times reported that many more nursing home deaths occurred from COVID-19 than were actually reported to the Department of Health. Yonkers Gardens Center for Nursing and Rehab, Regency Extended Care Center, Sans Souci Rehabilitation and Nursing Center, Hebrew Home for the Aged at Riverdale, Park Gardens Rehabilitation & Nursing Center, Adira at Riverside Rehabilitation and Nursing and the Methodist Home for Nursing and Rehabilitation all had reported positive COVID cases.
Less Staff, More Problems at Yonkers Facilities
A study has shown, however, that for-profit nursing homes generally provide the worst care in the country. Although New York state has been resistant to allowing national chains into its borders, it does have several regional chains that have continued to acquire new nursing homes despite a record of violations. One major problem with nursing homes is that lack of staff is typically correlated with lack of care.
As Dr. Charlene Harrington, professor emeritus at the University of California, San Francisco, who studies nursing home quality told City and State, "Nursing homes are labor intensive, so basically, they're about staffing. And the main place these companies can cut their cost is having fewer staff with wages and benefits and have less well-trained staff. They cut corners on all of that. That's the main way they make their money."
Less staff means less nurses and qualified caregivers, which consequently increases the incidence of bed sores, falls, general neglect, and abuse, both by staff and by residents. A study published in the Annals of Internal Medicine found that one in five nursing home residents experience abuse – verbal, physical, and sexual, among others – at the hands of other residents.
What is perhaps most disturbing is that, in the course of performing the study, "while researchers documented hundreds of cases of mistreatment and abuse, nursing home staff failed to record a single incident report, and just three incidents were mentioned in residents' medical charts." This essentially places the burden of protecting a resident's health and safety on family and friends, and precludes reliance on medical charts or the nursing home's records.
Diagnosing Yonkers Nursing Home Abuse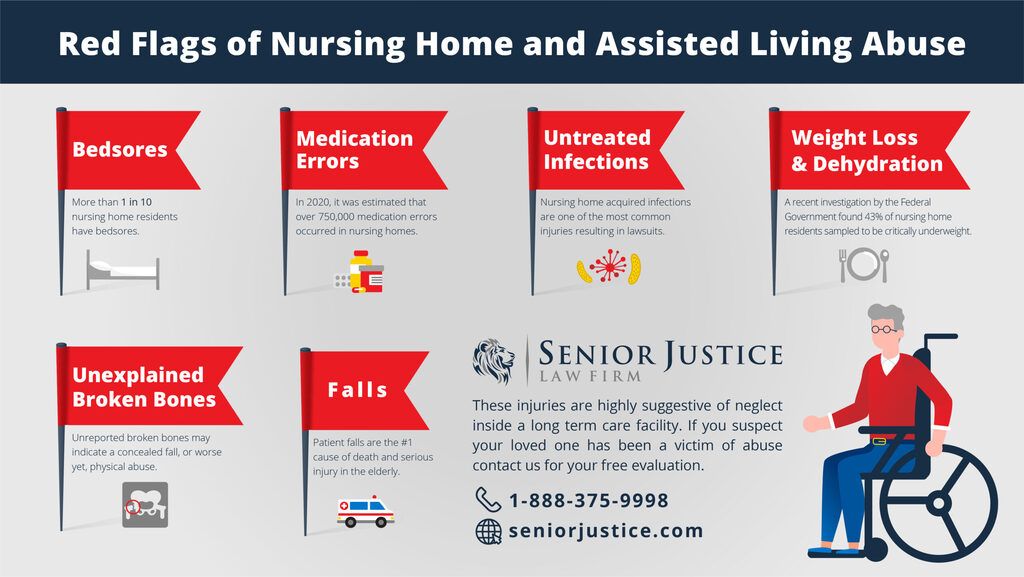 A nursing home is not going to call you and confess to neglecting your loved one. They certainly are not going to advise you to contact a Yonkers nursing home abuse attorney. So it is crucial that you keep your eyes and ears open for signs of nursing home negligence.
If you notice that a nursing home in the Yonkers area seems short-staffed, and that this is leading to residents being left in soiled clothing, call signs being ignored, residents left in bed or in wheelchairs for long periods of time, and/or that food intake is not being monitored, your loved one may be suffering from nursing home neglect. Consulting an attorney at Senior Justice Law Firm is one option – and we believe, perhaps the fastest and most direct option – to force nursing homes to stop putting their profits over your loved one's care.
It is well documented that state regulatory agencies do not hold nursing homes accountable for their bad care. While the New York Department of Health may cite a nursing home for violations, and at times fine those nursing homes, little incentives exist for nursing homes to permanently improve. Without proper oversight from the New York Department of Health, for many residents and their families, seeking legal action against nursing homes is the only way to get a nursing home to provide the care that they should be.
On attorneys narrowly focus on cases against nursing home abuse and have experience in litigating thousands of cases. If you decide that repeatedly attempting to discuss proper care with nursing home staff, leaving negative reviews of nursing homes, and complaints to the New York Department of Health do not adequately address the suffering inflicted on your loved one, please feel free to contact us for a consultation.
Yonkers Nursing Homes
You can find a list of the nursing homes located in Yonkers, below. If you or a loved one has experienced abuse or neglect at one of these facilities, you may want to consider speaking with an attorney.
| | | |
| --- | --- | --- |
| Facility Name | Facility Type | City |
| Adira at Riverside Rehabilitation and Nursing | Nursing Home | Yonkers |
| Elizabeth Seton Children's Center | Nursing Home | Yonkers |
| Regency Extended Care Center | Nursing Home | Yonkers |
| Sans Souci Rehabilitation and Nursing Center | Nursing Home | Yonkers |
| Yonkers Gardens Center for Nursing and Rehabilitation | Nursing Home | Yonkers |
Free Yonkers Nursing Home Abuse Lawsuit Consultation
Contact our New York nursing home abuse lawyers today for a completely free case consultation. Submit your information below, live chat with our office, or call us at 646-969-5855.
We want to help your family pick up the pieces after a preventable injury occurs inside a Westchester County nursing home.