ALBANY NURSING HOME ABUSE LAWYER
If Your Loved One was Injured in an Albany Nursing Home, our Nursing Home Abuse Attorneys Have You Covered
Albany nursing home abuse and neglect is inexcusable and unforgiveable. All residents at a nursing home deserve appropriate medical care, adequate supervision and protection from preventable injuries. If you believe you or a family member has suffered from abuse or neglect at a Capital District nursing home, call the Albany nursing home abuse lawyers at Senior Justice Law Firm. We can help your family get answers and justice for your loved one's suffering.
Our firm focuses on fighting for justice for seniors in long-term care facilities. This is all that we do.
Call Senior Justice Law Firm at 888-375-9998 now for a free Albany nursing home case consultation.
ELDER ABUSE IN ALBANY HAPPENS TOO OFTEN
It is difficult to ascertain how many vulnerable residents of nursing homes are assaulted, abused and neglected. While some abuse is clear, often neglect can be hidden from plain view and can go unreported due to a number of factors. In fact, according to the National Center for Elder Abuse (NCEA), over 80% of abuse involving adults goes unrecognized. Sadly, these shocking statistics will likely continue as baby boomers age and medicare and medicaid funding continues to be cut.
While each Albany nursing home is required to comply with state and federal law to ensure safe, comprehensive care for residents, many owners focus on profits over people. The significant amount of nursing homes around Albany, not to mention across the state of New York, makes it impossible for state and federal regulators to adequately oversee the long-term care industry alone. If you believe a loved one suffered neglect or abuse at an Albany long-term care facility, bringing a lawsuit may be the only way to ensure justice for your loved one, and to help prevent similar neglect from happening to other vulnerable residents.
WHAT IS NURSING HOME ABUSE AND NEGLECT?
Nursing home abuse and neglect happens when caregivers fail to properly care of vulnerable residents at a nursing home according to the appropriate standard of care. Abuse can be intentional or negligent. Intentional abuse is when a caregiver purposefully acts to hurt a resident (such as a nurse hitting a resident). Nursing home neglect is when staff members make mistakes without intent that leads to injuries in a resident (such as forgetting to reposition a resident leading to bedsores or ignoring a resident and allowing them to fall).
Nursing home abuse and neglect is arguably more reprehensible than abuse and neglect to average people, because nursing home residents are, by definition, vulnerable. Some residents are unable to move on their own to address their needs. Others require extensive assistance due to their physical limitations. Most residents are unable to be independent due to mental constraints, such as dementia. In situations where these residents are harmed, help must come from the outside, including through family members hiring a nursing home abuse lawyer.
COMMON FORMS OF NURSING HOME ABUSE
Nursing home abuse and neglect can come in many forms. In general, if nursing home staff are not treating your loved one appropriately, they are abusing or neglecting them. With that said, there are common types of abuse and neglect that repeatedly occur at Albany nursing homes.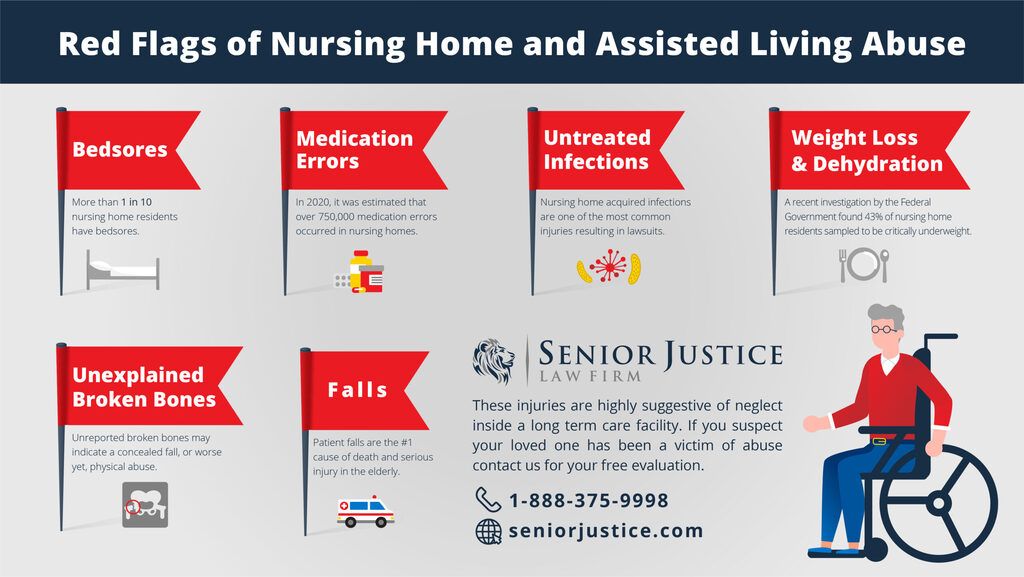 Bedsores – bedsores occur when there is prolonged pressure on an area of skin. Bony areas of the body, such as the sacrum, heels, shoulder and elbows are most vulnerable to bedsores. Residents who are incapacitated, paralyzed or too weak to reposition themselves on their own need staff to reposition them at least once every two hours. Offloading pressure throughout the day prevents the bony areas of skin from breaking down. An untreated skin tear cause by pressure can worsen to a Stage IV bedsore that goes all the way down to the bone. These bedsores are incredibly painful and can lead to MRSA, sepsis and other infections, or even death. If a loved one has any skin breakdown, it is a telltale sign of understaffing and facility negligence.
Falls – falls occur with alarming frequency at nursing homes. In fact, it is estimated that around 1,800 residents at long-term care facilities die each year from fall related injuries. While it is true that some falls are not preventable, many falls can and should be prevented from occurring. When a resident is admitted to a nursing home, he or she will be assessed for fall risk. This assessment should be rechecked with any change in mental or physical ability during a stay. If a resident is a known fall risk, and the facility is not putting into place common-sense, affordable fall precautions, they may be at fault for the resulting injuries. For example, if a resident is known to fall out of bed, or try to wander out of a chair, the facility should include bed alarms and chair alarms.
Malnutrition/dehydration – residents are sometimes unable to feed themselves due to mental or physical limitations. Staff members are required to provide residents the appropriate food, especially accommodating for special diets. Sometimes overworked staff fails to ensure residents are eating or drinking enough, leading to severe malnutrition or dehydration. Further, some residents are on tube feeding, and need total assistance with their nutrition. If staff fails to properly tube feed, this can lead to choking, infections or even death.
Choking/aspiration pneumonia – many residents at long-term care facilities have swallowing issues. Some have specific diets, such as a pureed diet, while other are NPO (meaning nothing by mouth). It is important that staff ensures residents get the right food to meet their specialized diets. Sadly, overworked staff makes mistakes and may provide the wrong food to the wrong resident, leading to choking or aspiration (where the food goes down the wrong pipe). If this happens, aspiration pneumonia can develop, which can be deadly in elderly vulnerable residents.
Physical abuse – sometimes, staff members who are overworked (or who were not properly background checked) will become violent with residents. Being a CNA at a nursing home can be a thankless, low paying job, but that is never an excuse to hit a resident. Sadly, physical abuse from staff members is far more common than one would expect. Many times these assaults go unreported because residents may have memory issues and no one believes them. It is also the job of staff members to protect residents from attacks by other known, aggressive residents.
Sexual abuse – shocking as it may seem, sexual abuse does occur at nursing homes. In fact, some sexual predators purposefully apply to work at nursing homes to prey on those who cannot defend themselves. It is legally required for nursing homes to perform background checks on their employees, but sometimes facilities choose cheap labor and fail to investigate warning signs in order to make higher profits. Rape in nursing homes also occurs between residents.
Unexplained fractures – because residents may have difficulty communicating, and because staff members may cover up mistakes, sometimes a resident will have unexplained injuries. If a loved one has a fracture or broken bone, especially a sturdy bone such as a femur, this can suggest an unreported fall or injury.
Subdural hematomas/brain bleeds – if a resident hits their head, they may develop a subdural hematoma, also known as a brain bleed. These brain hemorrhage injuries can affect mental status or lead to death.
WARNING SIGNS OF ABUSE AND NEGLECT
You should always be on the lookout for signs of abuse an neglect when visiting your loved one in a nursing home. The following are some red flags that should alert you to potential abuse and neglect occurring at a facility:
A lack of staff (especially understaffing on weekends)
Skin breakdown and pressure ulcers
Slow responses to call bells/inability to get help when needed
Unexplained bruises
Falls
Significant changes in behavior
Noticeable weight gain
Noticeable weight loss
New bandages in areas with no previous wounds
Unclean rooms
Broken A/C or Heating Units
Complaints from other families
Withdrawn personality or unresponsive residents
WHAT DAMAGES CAN BE RECOVERED IN AN ALBANY NURSING HOME ABUSE CASE?
Damages in a nursing home case can fall into two categories: compensatory and punitive.
Compensatory damages are supposed to "compensate" the injured party to make them whole.
Obviously, this is never enough to bring back the loss of a loved one, but this is a jury's (or arbitrator's) answer to how much an injury is worth.
Compensatory damages include items such as:
Pain and suffering
physical disfigurement
loss of consortium
loss of capacity (both physical and mental)
loss of enjoyment of life
emotional distress
medical bills (both past and future)
loss of earnings (both past and future)
funeral costs (if a wrongful death case)
Punitive damages, on the other hand are designed to specifically "punish" the defendant for their conduct. Generally, punitive damages are awarded when the defendant's actions rise to a level beyond mere negligence, but to actions that are "grossly negligent".
ALBANY NURSING HOMES
Facility Name
Address
City
Zip
Location
Atria Shaker
345 Northern Boulevard
Albany
12204
345 Northern Boulevard
Albany, NY 12204
Atria Delmar Place
467 Delaware Ave
Delmar
12054
467 Delaware Ave
Delmar, NY 12054
Loudon ville Assisted Living Residence
298 Albany Shaker Road
Loudonville
12211
298 Albany Shaker Road
Loudon ville, NY 12211
Atria Crossgate
140 Washington Avenue Extension
Albany
12203
140 Washington Avenue Extension
Albany, NY 12203
Marjorie Doyle Rockwell Center
421 West Columbia Street
Cohoes
12047
421 West Columbia Street
Cohoes, NY 12047
Atria Guilder land
300 Mill Rose Court
Slingerlands
12159
300 Mill Rose Court
Slinger lands, NY 12159
Kenwood Manor
141 Rockefeller Road
Delmar
12054
141 Rockefeller Road
Delmar, NY 12054
Terrace at Beverwyck
41 Beverwyck Lane
Slingerlands
12159
41 Beverwyck Lane
Slinger lands, NY 12159
Promenade at University Place
1228 Western Avenue
Albany
12203
1228 Western Avenue
Albany, NY 12203
Millview of Latham, LLC
514 Old Loudon Road
Cohoes
12047
514 Old Loudon Road
Cohoes, NY 12047
Elder wood Village at Colonie
626 Watervliet-Shaker Road
Latham
12110
626 Watervliet Shaker Road
Latham, NY 12110
Massry Residence at Daughters of Sarah
182 Washington Ave. Extension
Albany
12203
182 Washing ton Ave. Extension
Albany, NY 12203
Peregrine Senior Living at Colonie
5 South Family Drive
Colonie
12205
5 South Family Drive
Colonie, NY 12205
ALBANY NURSING HOME NEWS
Lawmakers in Albany are crafting a bill that would require 'safe staffing levels' at New York nursing homes. This would mean more hands available to help residents in need. Undoubtedly, this would be helpful in preventing the common nursing home neglect injuries we see, such as bed sores and falls.
A recent complaint filed against the Albany County Nursing Home specified allegations of resident neglect and widespread negligence. The child of an elderly resident claimed that his mother was routinely found sitting in her own urine and feces, and as a result, suffered repeated UTI's. Another family member of a different resident filed a complaint as well, alleging that his father wrongfully died at the Albany nursing home due to neglecting to feed, clothe, wash and medicate the patient.
Government agencies have launched a probe into nursing home funding and COVID19 deaths. Further, the Colonie, NY nursing home formerly known as Ann Lee Home was demolished and cleared for new development. The shuttered nursing home has not housed residents since 2008.
REPORT ALBANY NURSING HOME ABUSE & NEGLECT
There are ample ways you can report elder abuse in the Capital district. The State of New York's Department of Health has a robust investigatory wing which investigates and audits skilled nursing facilities. To learn more, click the link on How to Report New York Nursing Home Abuse.
FREE ATTORNEY CONSULTATION FOR AN ALBANY NURSING HOME ABUSE AND NEGLECT LAWSUIT
If you believe you may have a case against a nursing home in Albany, NY or the Capital District region, contact Senior Justice Law Firm now for a completely free case consultation. Our lawyers work solely on contingency fee, which means you pay no up front fees or costs.
Nursing home abuse is our firm focus. We are experienced, compassionate and knowledgeable. Let our legal team assist you following a serious injury inside an Albany area skilled nursing facility.
Call, chat or submit your information below to begin the conversation. 888-375-9998