Augusta Nursing Home Abuse Attorney
Searching for the right Augusta, GA nursing home abuse lawyer? Our Georgia nursing home abuse attorney focuses his practice on elder abuse cases. We are not car wreck lawyers that will occasionally handle a nursing home case. This is literally our law firm's focus.
If you would like to receive a completely free Augusta nursing home abuse attorney case consultation, live chat with our office today and share as much case facts as possible. If you prefer to talk over type, that is perfectly fine. Call us now at 888-375-9998.
At Senior Justice Law Firm, we understand the nuances of nursing home litigation. We want to help your family on your journey to justice. Call us today if you are in need of an Augusta Georgia nursing home abuse lawyer.
Red Flags of Nursing Home Abuse in Augusta, GA
Elder abuse in any form is inexcusable. However, our Augusta Georgia nursing home abuse lawyer routinely sees the same ugly nursing home neglect injuries pop up in most cases we handle.
The below nursing home injuries are highly suspicious of neglect.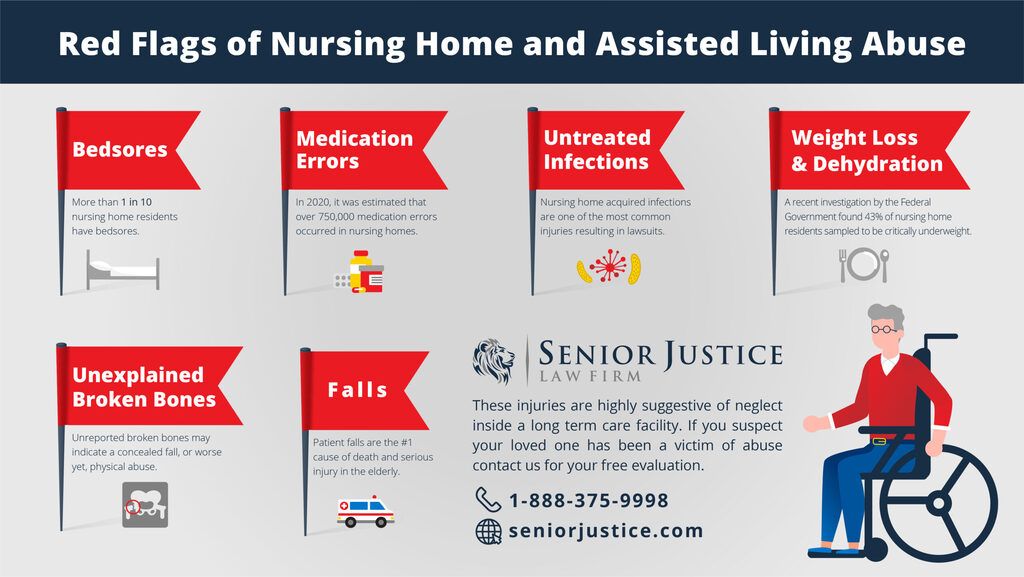 Augusta Nursing Home Background Information
Atlanta may come to mind as the premier city location in Georgia, but don't forget Augusta! As one of the top 100 largest metro areas in the United States, Augusta's footprint stretches across a large portion of the state of Georgia and across the border into South Carolina. With a population of just under 200,000 in the city itself, Augusta is bustling year-round—and for good reason, with its temperate weather and beautiful scenery drawing crowds on the daily.
Of course, this environment is also one of the greatest elements of appeal for the aging population, many of whom have chosen to make Augusta their forever home. Nursing homes in the metro area continue to serve the older segment of society, but unfortunately, their care remains largely troublesome not only statewide, but in the city itself as well.
Medicare has noted that Georgia struggles as a whole to provide high-quality nursing home care, which is why if you believe that someone you love has been abused or neglected while a resident at a long-term care facility, you should act quickly.
If you suspect elder abuse or neglect inside an Augusta healthcare facility, call us at 888-375-9998. Our law firm can help your family achieve justice after the unthinkable happens inside a Georgia nursing home. At Senior Justice Law Firm, our firm focus is on nursing home negligence litigation. This is all we do. Let our narrow firm focus help your family get answers.
Lower Rated* Nursing Homes in Augusta
If you were the one responsible for choosing a nursing home for your loved one or family member, you likely put a lot of consideration and research into the location that you chose. Or perhaps a specific facility was selected for you following your loved one's hospitalization and subsequent need for continued care.
Whatever the situation may be, know that even the best rated nursing homes are not immune from abusive and negligent behaviors. It is important that you remain vigilant for signs of negative conduct, such as bedsores, broken bones, and weight loss. If your family member lives in any of the following low-rated* nursing homes, be aware that their evaluation by Medicare has been as Much Below Average or Below Average:
*ratings change and these are facility ratings as of July 2021. Please visit Medicare.gov for a current facility rating.
Azalea Health and Rehabilitation Center

1600 Anthony Road
Augusta, GA 30907

University Extended Care

561 University Drive
Evans, GA 30809

Pruitthealth – Augusta

2541 Milledgeville Road
Augusta, GA 30904

Amara Healthcare & Rehab

2021 Scott Road
Augusta, GA 30906

Harrington Park Health and Rehabilitation

511 Pleasant Home Road
Augusta, GA 30907

Gracewood Nsg Facility (Unit 9)

100 Myrtle Blvd., East Central Reg Hosp
Gracewood, GA 30812

Brentwood Health and Rehabilitation

115 Brentwood Drive
Waynesboro, GA 30830

Gibson Health and Rehabilitation

434 Beall Springs Road
Gibson, GA 30810

Warrenton Health and Rehab

813 Atlanta Highway
Warrenton, GA 30828

Pruitthealth – Bethany

466 South Gray Street
Millen, GA 30442
Past performance can be a good indicator of future outcomes for residents at any nursing home, including the ones above. And while any Augusta nursing home can be negligent, if a facility has frequent violations, you should keep an eye on staff to ensure they are providing appropriate care for your loved one.
For example, Pruitthealth – Augusta has received more than 10 health inspection citations, resulting in $24,229 in fines. Azalea Health and Rehabilitation Center has not fared much better, exceeding the Pruitthealth facility's citation number at 20; however, the Azalea location has been fined slightly less, at $23,390. Amara Healthcare has been subject to 14 citations, and Windermere Health and Rehabilitation Center—despite scoring higher than the other facilities on this list—has been fined nearly $10,000 after a string of 18 violations.
Fines are common in just about every facility, but you can use ProPublica and Medicare's tools to see how your facility does relative to others in the Augusta, Georgia metro area.
What the Nursing Home Scene in Augusta Looks Like
As one of the top ten largest states in the United States, Georgia is naturally home to a significant number of retirement-age folks. Only a third of the state's nursing homes manage an above average rating, and this is reflected via ratio in Augusta's nursing homes as well.
The average size of a nursing home in Augusta is approximately 100 beds; this number is reduced due to a few small non-profit facilities that buck the average at just 40 to 50 beds. The highest rated facilities in Augusta are also those with the fewest beds; this is commonly correlated to non-profit ownership vs. for-profit ownership, but each facility is unique.
Coming in at the greatest number of beds in a single facility is NHC Healthcare – North Augusta, with almost 200 certified beds in its for-profit corporate owned location. While only about 25 nursing homes occupy the very center of the Augusta area, a large number are spread throughout the greater metropolitan spread.
Common Health Inspection Issues in Augusta
Nursing homes are susceptible to a wide variety of issues regarding resident care, quality of life, and staffing. In Georgia—as is the case with much of the United States—facilities have seen a shift toward fewer staff in an effort to cut costs by reducing payroll expenses. This typically results in less time spent with each resident, which can cause issues with quality of care provided in some circumstances.
In Augusta, some nursing homes have been shown to struggle with proper documentation, including one instance in which a resident's wishes for life support, DNR (do not resuscitate) orders, and other end of life care were not properly documented. Similarly, the same facility failed to maintain a care plan for a resident that resulted in that resident's grooming needs being unmet.
Another facility failed to implement a fall prevention plan for at-risk residents, and as a result, a resident sustained a laceration to the face during a fall.
Staffing remains an issue, with residents at some facilities being allocated only two minutes, on average, for a physical therapist each day and less than 1.75 hours with nurse aides—down from 2.5 hours as the national average. Residents spend approximately half as much time with registered nurses as the national average, even when the resident count for the entire facility is also below the national average.
While each individual facility has its own strengths and weaknesses, it is important to understand the issues that are currently being faced by nursing homes in the Augusta area so that you can make an informed decision about where to entrust your loved one and the types of problematic indicators to be aware of.
How an Augusta, GA Nursing Home Lawsuit Impacts Patient Care
If you have discovered that abuse or neglect has occurred to your loved one while in the care of a nursing home, you are likely already overwhelmed enough. The prospect of adding legal troubles to the situation may seem fruitless. However, a lawsuit against the nursing home can serve a wide variety of benefits, including damages that create a wake of long-term impacts on the facility.
Lawsuits cost money for the facility, who must choose to settle or fight in court. In an effort to prevent them from becoming a reoccurring expense, many facilities will address the issue that originally led to the lawsuit—meaning that you can affect permanent change in the nursing home by engaging legally.
In addition, you may need to consider issues closer to home, such as paying for medical care as a result of the abuse or even covering the cost of a funeral. Your legal team can help you seek compensatory damages to remedy the abuse and help you cover these expenses so that the financial burden of the nursing home's negligence does not fall on you.
Pain and suffering damages can also be awarded to help you get back on your feet and discourage the nursing home from exposing other residents to the behavior.
Thus, you can have a lasting impact on a nursing home by filing a lawsuit, and attorneys experienced in abuse and neglect cases can take the legal burden off of your shoulders.
How to Report Elder Abuse in Augusta, Georgia
One of the most common reactions to discovering that a loved one has been abused in a nursing home is to confront the nursing home directly. You may storm into the office and voice your complaints in person, or you may submit a complaint form or even participate as part of a community council to bring your issue to the nursing home's attention.
Unfortunately, it is generally in the facility's best interest to diffuse the situation as quickly as possible, not necessarily in a way that awards you and your family the justice that you deserve.
This is why Ombudsman programs are federally mandated. Each state must maintain an Ombudsman program whose sole purpose is to advocate for the rights and wellbeing of the elderly and those who rely on long-term care.
As one of the biggest states in the US, Georgia is replete with Ombudsman resources, including the statewide office managed by the Division of Aging Services in the Department of Human Services. Their website, found at https://www.georgiaombudsman.org/contact-us/, should be your first stop for reporting nursing home abuse in Augusta, Georgia. This is the simplest as well, since it can be done from your home or office.
However, if you would like to make the complaint in person, you will need to locate the office that is closest to you. A map of the area around Augusta is available at https://www.georgiaombudsman.org/locations-east/ if you need assistance in finding which office is the right fit for you.
The statewide office is a great first step, but you can also get in touch with the local Augusta branch when making a report. The Augusta office can be reached at 706-369-3002 or by fax at 706-608-8362.
While it serves a number of locations in the area in addition to Augusta proper, any nursing home in Barrow, Burke, Clarke, Columbia, Elbert, Glascock, Greene, Gwinnett, Hancock, Jackson, Jefferson, Jenkins, Lincoln,, Madison, McDuffie, Morgan, Oconee, Oglethorpe, Richmond, Screven, Taliaferro, Walton, Warren, Washington, or Wilkes can be reported here.
The helpful staff at the Ombudsman office will be happy to direct you to the correct resource to assist in your situation. At this time, you should also consider seeking legal advice from an attorney experienced in this field.
Our Augusta Nursing Home Abuse Attorney Can Help
When we fail to do something in the face of elder abuse, we are dooming the next vulnerable resident to suffer the same fate.
At Senior Justice Law Firm, we can handle your Augusta nursing home abuse lawsuit for you so that you can achieve justice and compensation. We would be glad to speak with you during a free consultation to discuss whether you have a case, possible means of proceeding, and what you can expect as the legal component of this unfortunate situation progresses. Your claim deserves the attention of a qualified and experienced Georgia nursing home abuse attorney.
You can reach out at 888-375-9998 to speak with our staff to schedule a consultation or use our online message tool to get in touch at a time that is convenient for you.