Lawsuit Against PruittHealth?
If your loved one suffered injury, broken bones, bed sores, or wrongful death inside a Pruitt Health nursing home, contact Senior Justice Law Firm today. Nursing home negligence cases are our firm focus, and our attorneys have experience suing PruittHealth for nursing home negligence.
Let our firm fight for your family. Call us at 888-375-9998 or live chat with our firm today for a completely free case consultation.
Pruitt Health Liability Cases
Nursing homes are a critical part of aging care for a large number of elderly individuals. It stands to reason that you should be able to trust a facility that promises to give your older loved one a good quality of life, in spite of the challenges that come with aging. Unfortunately, as more and more nursing homes and long-term care facilities make the move to for-profit ownership, staffing and quality of care tend to suffer. This lackluster nursing home care has spread across America, and facilities everywhere are increasingly being cited for abuse and negligence.
Even a well rated nursing home is not immune from incorrect behavior, and if you have discovered that someone you love has been abused or neglected at a PruittHealth nursing home, you may feel lost on what to do next. It is important to know that you have legal rights and, if a loved one was wrongfully harmed, the offending facility can be held accountable.
Even though PruittHealth facilities enjoy above average ratings, family members should still remain vigilant in watching over their loved one. Remember, no facility is perfect. Any signs of abuse in a Pruitt nursing home should be reported immediately. Additionally, if your loved one wrongfully dies or is hurt inside a Pruitt Health nursing home, you should consult with an experienced elder abuse law firm right away.
The prospect of taking legal action can seem overwhelming. This is why working with an experienced legal team is crucial after something bad happens in a facility. We can shoulder much of the burden for you and your family.
At Senior Justice Law Firm, we believe that coping with the abuse or neglect of your family member is hard enough. You should not have to weather this storm alone, and you certainly should not be required to conduct your own investigation into what happened.
We would be happy to speak with you during a free consultation to determine what your strategy should be going forward.
You can reach us at 888-375-9998 or fill out our online form to schedule an appointment with our narrowly focused nursing home negligence law firm.
Red Flag Injuries Suggestive of Pruitt Nursing Home Negligence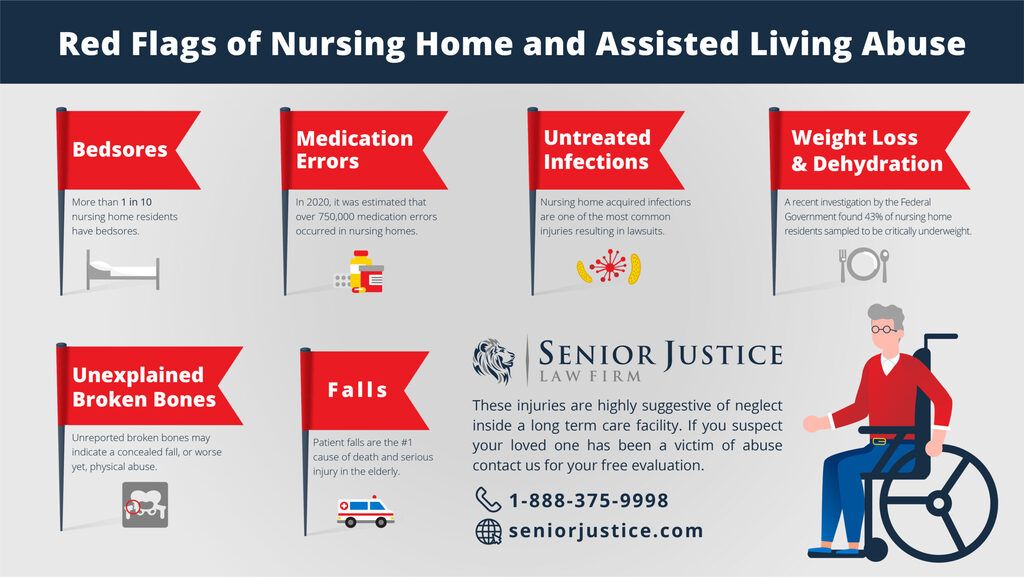 If your family member developed any of these injuries, contact Senior Justice Law Firm to investigate a potential Pruitt Health nursing home negligence lawsuit.
Pruitt Health, a Nursing Home Conglomerate
Pruitt Health—often written as PruittHealth—is a company offering nursing and health care on the eastern seaboard of the United States. Pruitt has facilities in Georgia, North Carolina, South Carolina, and Florida. Toccoa Nursing Center was the first location to operate under the Pruitt umbrella, opening in 1969. Now, the Pruitt name has grown to include more than 90 facilities, with plans to expand outside of the currently served states.
Each facility is somewhat unique in its layout and services, but Pruitt Health maintains locations that serve upwards of 200 beds at a single facility; its original location in Toccoa is home to 181 certified beds. A number of trusts in the Pruitt name comprise a significant portion of its ownership, with much of the rest of the ownership interest dispersed in sections greater than a minimum of 5% to United Health Services Inc. For this reason, it can be difficult to determine whether the nursing home that you are considering is owned and operated by Pruitt, since it may do business or have lawsuits filed under a different name.
Pruitt Health is headquartered in Atlanta, Georgia, managing almost 15,000 employees across its business network. The company's revenue has been estimated at approximately 685.8 million dollars, though its 2020 profits dropped the company's holdings by 137 million. After COVID, in 2022, Pruitt Health has been shifting more towards the private room model in its skilled nursing facilities. PruittHealth recently partnered with LTC Properties in a $62 million joint venture to acquire North Florida nursing home facilities.
Nursing Home Abuse Lawsuits Against Pruitt Health Facilities
Pruitt Health Lawsuit for Bed Sores
The Bulloch family of Augusta, Georgia filed a lawsuit in 2019 against a local Pruitt Health facility after their 56-year-old family member passed away as a result of complications from a bedsore (also called a pressure ulcer or decubitus ulcer). More than a dozen similar cases at other Pruitt locations were also uncovered as a result of a media inquiry surrounding the case, and the lawsuit alleges that the poor quality of care arise directly due to the facility's choice to prioritize "operational and budgetary" decisions over the "nursing needs of the residents."
The PruittHealth wrongful death lawsuit claims the nursing home chose to make "budgetary, and administrative decisions that were determined more by the financial needs and goals than by nursing needs of residents."
Pruitt Health Lawsuit Alleging Scabies
A few years before the Bulloch family's case, Rebecca Zeni—a resident of a Pruitt Health facility in LaFayette, Georgia—was alleged in a lawsuit to have been "eaten alive" by scabies, a skin disease caused by an infestation of mites that burrow into the skin to lay eggs. Ms. Zeni passed away at the age of 93 as a result of the scabies infection, and a subsequent investigation into the facility revealed that over a three-year span encompassing Zeni's passing, the Pruitt Health location had amassed more than 30 citations for issues such as medication errors and failure of medical equipment. Nearly half of Pruitt's nursing homes in Georgia rate significantly below average in terms of Medicare's expectations; despite this, these low-rated facilities earned more than $220 million from the program between 2016 and 2017.
Sexual Abuse Allegations at a PruittHealth Nursing Facility
In Albany, Georgia in 2019, a Pruitt Health nursing home allegedly failed to report multiple incidents of sexual abuse after staff witnessed one resident of the dementia ward inappropriately engaging with another resident. State and federal law dictate that such situations must be reported within two hours after they have been discovered, but the Pruitt facility—Pruitt Health Palmyra—failed to disclose the events until 24 days later. The nursing home received seven separate citations for this behavior, as well as a fine in the amount of $186,564 from the U.S. Center for Medicare and Medicaid Services. The citations ranged from failure to report the incident to failure to safeguard the wellbeing of other residents after no protective measures were enacted to ensure that the behavior did not continue.
Wrongful Death Lawsuit vs. Pruitt Health Nursing Home in Georgia
In 2017, the Georgia Supreme Court heard a case involving the wrongful death of Lola Norton, who passed away at the original Toccoa location of Pruitt Health following a sudden and allegedly preventable decline in health. The lawsuit—brought by Lola's husband Bernard alongside his son, who held power of attorney—alleged that Lola's injuries, such as fractures as a result of falls, were preventable and that the nursing home was negligent in its failure to address these risks. Additionally, Lola experienced severe weight loss while at the facility.
Pruitt Health Lawsuit for a Resident's Fall From Bed
A lawsuit in South Carolina went largely unnoticed in its relation to Pruitthealth due to the aforementioned use of the business name United Health Services of South Carolina in 2016. When Eula Davis transferred to a new nursing home facility, she passed away just five hours after her arrival as a result of falling out of a bed that did not have the safety railing that was supposed to be installed to prevent such an accident. The victim's daughter filed a lawsuit against Pruitthealth as United Health Services; however, Pruitt fought back by attempting to compel arbitration—or, in other words, to force the case to be resolved during arbitration instead of in court. A circuit court ruled in favor of the resident's daughter, denying Pruitt's appeal to arbitrate the case.
Additional Struggles at Independent Franchise Locations
The many locations of Pruitt Health nursing homes across the eastern and southeastern seaboard are each unique, and have received varied star ratings from Medicare. However, in many lawsuits filed against PruittHealth, the complaint alleges that Pruitt has failed maintain adequate levels of care in their facilities.
While we cannot speak on this fact specifically for Pruitt Health, our nursing home abuse attorneys do commonly find a link between profit-focused decisions and understaffing. One of the primary reasons behind this widespread phenomenon is the for-profit administration of these nursing homes.
Medicare and Medicaid, which is the most common form of payout issued on the behalf of residents in nursing homes, provides nursing homes with a razor-thin margin for profit. Thus, management commonly elects to cut costs where possible—most commonly in staffing and other areas related to patient care. All facilities, including those operated by PruittHealth, deserve higher reimbursement rates to provide better patient care.
Examples of Care Issues & Citations at Pruitt Health Nursing Homes
Medication Issues at Pruitt Health
This process can be seen in citations received by Pruitt Health nursing homes such as the staff's failure to provide appropriate medication at Pruitthealth – Santa Rosa in Florida. The same facility also failed to discard medicine that had exceeded its expiration date, and opened insulin pens stored with other medication were not properly labeled.
In North Carolina, Pruitthealth – Carolina Point received the lowest possible scores in both quality of care and health inspection rating as of June 2021. The most recent inspection report details issues with properly using catheters for patients who needed them, including failing to anchor the catheter properly. Additionally, this location also had issues with expired medicine; staff did not discard 64 individual vials or tubes of expired medication from the medicine administration carts, which go out to residents.
Pressure Ulcer Concerns at Pruitt Health Nursing Homes
Similarly, Pruitthealth – High Point received 13 citations, including criticism for the staff's treatment of developing pressure ulcers on a resident who was at high risk following transfer into the facility. Upon review, no documentation of any scheduled skin condition assessments had been completed. In an earlier health inspection report, the facility was cited for its failure to timely report an allegation of abuse in which one resident punched another resident in the face. The administrator of the facility did not submit a report until six days after the event, even though state and federal law requires the report to be filed no more than two hours after the incident. Three residents were found to have active pressure ulcers that were not being treated in accordance with physician ordered intervention.
Sanitary Issues at Pruitt Health's South Carolina Facility
The Pruitt Health locations in South Carolina are not exempt from these negative health inspection scores. Pruitthealth – Aiken received seven citations in its most recent report, including for failing to clean urine and remove mold. The location also did not ensure that residents were able to complete their documentation and engage in continuing communication with their medical facilities for dialysis in the case of three patients who required the procedure. Numerous reports alleged that the Aiken location also had a consistent issue with roaches, which was later investigated and resulted in a citation for the facility.
PruittHealth Florida Citations
Pruitt Health's Florida facilities have also been cited for deficiencies and rule violations. Pruitt Health Fleming Island was cited for failing to provide prompt and appropriate care for a resident complaining of chest pain with a history of a heart attack. Allegedly, 911 was not called even though the resident was yelling, pale in color, stating "I feel like I might be having a heart attack."
Pruitt Health Fleming Island was also cited for failing to ensure a resident's environment remained as free of accident hazards, failing to adequately monitor for the use of antipsychotic medications, and failing to follow proper sanitation and food handling practices to prevent the outbreak of foodborne illness.
During the Covid outbreak, Pruitt Health Panama City was cited for failing to ensure staff conduct coronavirus testing in a separate location and apply appropriate personal protective equipment (PPE).
PruittHealth – Southwood, a Pruitt nursing home located in Tallahassee, was issued a deficiency for failing to ensure staff followed the facility's policy for dressing changes of peripherally inserted central catheters (a PICC line)
Next Steps in Your Pruitt Health Nursing Home Wrongful Death Lawsuit
The thought of undergoing a legal battle with a nursing home after you have lost someone important can feel like a lost cause. You may feel like filing a nursing home abuse or neglect lawsuit is not worth the energy or expense. However, it is important to remember that your lawsuit can dramatically improve the lives and quality of care of other residents in the facility.
At Senior Justice Law Firm, we want to remove as much stress as possible during this challenging time, which is why we are happy to speak with you free of charge during a consultation. We work exclusively on contingency fee, so we only get paid if we make a financial recovery on your case.
Free Pruitt Health Case Consultation
If you have lost someone to nursing home abuse or negligence, or if you your family member has sustained injuries as a result of inadequate care at a nursing home owned and operated by Pruitt Health, our experienced team of attorneys would be happy to help you seek the justice that you deserve.
You can reach us at any time via our online form, and we will respond as soon as possible. You can also get in touch at 888-375-9998 to discuss your options.
Disclaimer

*The above does not mean your loved one would be in harm at this facility. Each facility gets inspected often. Almost all facilities have deficiencies. Many face civil lawsuits. You should not make a facility placement decision based solely on the above information. Each case is different. Prior results do not guarantee a similar outcome or indicate an expected outcome on your particular case. The above prior lawsuit information is for informational purposes only and does not constitute legal advice. The information is not provided in the course of an attorney-client relationship and is not intended to substitute for legal advice from an attorney. This individual case information above is publicly filed information gathered from the publicly filed complaint. This information and these cases are not the work of this law firm. The inspection results are provided from public government agency surveys. The state Department of Health conducts a survey of all nursing home facilities at least once every 15 months. The deficiencies listed on this page may have been corrected after the date of the inspection and date of publishing this material. Citations, ratings and deficiencies are current as of the date of this post and will change later on. The inspection findings published are not complete. You may find the most up to date information at medicare.gov. This material is not endorsed by the facility or by any governmental agency. Speak with an attorney immediately if you believe you have a viable case against a nursing home, assisted living facility or medical facility.