Need a Charleston, WV Nursing Home Abuse Lawyer?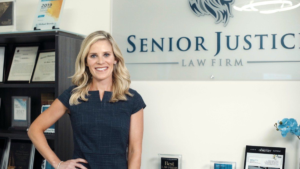 At Senior Justice Law Firm, nursing home abuse and neglect cases are all we do. Partner Avery Adcock practices in West Virginia and holds negligent Charleston nursing homes accountable for the harm they caused. Ms. Adcock's entire legal practice is focused on elder abuse and neglect cases.
Common injuries associated with negligence inside Charleston West Virginia nursing homes include:
Bed sores and pressure ulcers.
Falls resulting in broken bones and brain injury.
Rapid weight loss, dehydration, and malnutrition.
Ignoring a resident's infection until it is too late.
Wrongful death.
If your loved one suffered a tragic injury inside a Charleston WV nursing home, our law firm can help. We gather medical records, investigate what really happened, and hopefully, deliver justice and answers to you and your family.
Call, live chat, or send in a submission to Senior Justice Law Firm now. Share as much case facts as you can, so we can let you know if we can help your family. You should not suffer in silence, and neglecting your loved one should not go unpunished. Demand accountability. Demand Senior Justice.
We want to be your Charleston West Virginia nursing home abuse lawyers.
Free Case Consultation: 888-375-9998
Charleston, WV Nursing Home Abuse & Neglect
West Virginia is a state where beautiful mountain views are never far away, even from the biggest cities like Charleston. With its low cost of living for its residents, Charleston has become a popular location for older folks who are looking for the ideal place to spend their later years. Citizens and tourists alike can enjoy live music such as bluegrass, and the city also offers food and various types of recreation for all ages.
West Virginia as a whole is a great place to retire. According to the US census, about 20% of the population is 65 years of age or older. In terms of rankings, WV sits at a comfortable third place in the nation for retirement. Contributing to this ranking are factors such as quality health care, low taxes, and affordable living in assisted living facilities and nursing homes. West Virginia is home to 123 nursing homes, and Charleston itself houses more than 15. However, despite the wide variety of choices within the city itself, it is important to remain vigilant; even the highest rated homes are not immune from subpar care standards.
If your loved one lives in a nursing home in Charleston, it is important that you take the time to ensure that they are properly cared for. If you suspect that someone you love is experiencing abuse or neglect in the nursing home that you are entrusting with their care, you do not have to navigate this challenging situation alone. Attorneys who focus on elder abuse and nursing home negligence like those at Senior Justice Law Firm are happy to help you understand your options.
Nursing Home Abuse in Kanawha County West Virginia
Nursing home abuse is a common occurrence nationwide, and that does not change within the borders of West Virginia. Unfortunately, the Charleston area has higher than average incidents of nursing home negligence. Additionally, there are more nursing home abuse lawsuits filed in Kanawha County than almost any other West Virginia location.
Nursing homes often violate the rights of patients, causing both bodily harm and undue stress and mental hardship. Your loved one has rights as a person and as a nursing home resident in Charleston. These include:
The right to be treated with respect, individuality, and dignity
The right to be informed of services and fees of the nursing home
The right to manage their own money or set up a trust with someone else
The right to privacy and the ability to keep personal belongings
The right to be informed about medical conditions and medication
The right to have a say in scheduling
The right to a home-like environment
If you believe that your family member has been denied one of these rights, or if they have been physically or emotionally harmed as a result of their care, it is important to discuss these concerns with a lawyer who can determine whether this mistreatment may warrant a case.
Nursing homes in the state of West Virginia have seen more than 3,693 deficiencies, resulting in penalties of $2.9 million—and that number is constantly climbing. In West Virginia, about one in four nursing homes has had a serious deficiency at some point. Almost all nursing homes in Charleston have had deficiencies of some kind, ranging in severity from serious "K" violations that involved patterns of significant threats to patients' health to "C" violations that had potential for harm and widespread deficiencies. These statistics mean that it is very likely that your loved one lives in a nursing home where some type of abuse or negligence has occurred.
Medicare gives nursing homes star ratings based on health inspections, staffing, and quality of care as their primary metrics. Of the 16 nursing homes within 25 miles of the city center in Charleston, over half have ratings of two stars or less. Below average ratings such as these mean that if your loved one resides in an area nursing home, it is important to be vigilant about their care.
Injuries Suggestive of Charleston Nursing Home Neglect
Nursing home negligence is not commonly reported. In fact, it is usually concealed. Further, the victim oftentimes cannot say what happened. So to prevent elder abuse and neglect, we need to examine the injuries sustained and work backwards from there.
The most common types of injuries that residents experience in Charleston nursing homes generally match what troubles nursing home residents nationwide:
Why Do Charleston, WV Nursing Home Injuries Occur?
Often, these preventable nursing home injuries arise because nursing homes fail to staff their facilities properly. In an effort to benefit as much as possible from the razor thin margins afforded by Medicaid payments, many nursing homes elect to cut payroll and staffing costs while boosting the number of residents. This results in too few staff to care for the number of older folks living in the home—a critical factor behind violations and a driver for lawsuits when residents are neglected.
Basically, corporate cuts staff to make the company more profitable. The corporate boardroom puts its profit margin over patient safety. And since it is dollars that motivated the nursing home's misconduct, the only remedy to fix the problem is to take money away from the negligent nursing home. This is exactly why the West Virginia legislature has given your family the legal right to seek justice and money damages when a nursing home has failed your loved one.
Charleston, WV Elder Abuse Cases in the News
Often, when residents suffer or even die as a result of abuse endured in a nursing home, family or loved ones seek to improve conditions in the facility by bringing the issue before staff. However, cases in which staff do not document such events are not uncommon, and this is only one of the many reasons why a lawsuit can be a valuable tool. Not only does it force the nursing home to face the consequences of its actions, but it encourages the facility to implement better practices that safeguard residents in the future. This is one way to use the events that have befallen your family to make lasting change and protect others' beloved family members for years to come.
The city of Charleston is no stranger to legal action taken against at-fault nursing homes. One woman brought a lawsuit against an HCR ManorCare facility, now known as ProMedica, for poor treatment of one of her loved ones. This unacceptable treatment included bed sores—a completely preventable and potentially deadly injury—malnutrition, dehydration, and infections. This resulted in a West Virginia jury awarding the family $90 million. Just a few months later, a different family brought a similar lawsuit against another HCR facility after their family member died as a result of pressure ulcers and a fall. Negligent care and understaffing were common problems across a chain of HCR facilities in West Virginia. Pressure ulcers are a "never" event—they are never caused by a medical condition and are always the result of inadequate care within a nursing home.
HCR ManorCare is not the only culprit when it comes to negligent care in Charleston nursing homes. A lawsuit brought against Sweetbriar Assisted Living claimed similar resident mistreatment. Along with pressure sores and falls, the resident also suffered recurrent urinary tract infections, which grew so severe alongside her other injuries that she passed away as a direct result. Plaintiff alleged that Sweetbriar administrators were aware of staffing issues and the danger that this caused to residents, but the facility did nothing to resolve the issue.
Two lawsuits have also been filed in recent years against Riverside Health and Rehabilitation Center in Charleston. In one case, falls and pressure sores allegedly led to a resident's death. In another, a resident allegedly died from a communicable disease, and a loved one filed a lawsuit claiming that the nursing home allegedly failed to take proper infection control measures. In both cases, plaintiffs claim that negligence on the part of the nursing home led to suffering and death that may have been preventable.
Nursing Homes in Charleston, WV
In the Charlestown area, several nursing homes have consistently demonstrated a low quality of care that has resulted in numerous citations and even deaths among residents. Others rank higher, but most have some deficiencies or citations on their survey inspections.
While even the best Charleston facility can house abuse and the lowest rated does not guarantee subpar treatment, it is important that you remain aware of facilities that pose a higher risk of negligence. Some of these Charleston, WV nursing homes may have already faced lawsuits in the past or have performed poorly in other areas. Others may never have been sued for neglect. If you have cause for concern, no matter the rating of the nursing home, discuss these concerns with a West Virginia nursing home malpractice lawyer.
Columbia St. Francis Hospital
333 Laidley Street
Charleston, WV 25322
Complete Care at Oak Ridge LLC
1000 Association Drive
Charleston, WV 25311
Arthur B Hodges Center, The
300 Baker Lane
Charleston, WV 25302
Stonerise Charleston
3819 Chesterfield Avenue
Charleston, WV 25304
Meadowbrook Acres
2149 Greenbrier Street
Charleston, WV 25311
Dunbar Center
501 Caldwell Lane
Dunbar, WV 25064
Valley Center
1000 Lincoln Drive
South Charleston, WV 25309
Riverside Health and Rehabilitation Center
6500 MacCorkle Avenue SW
Saint Albans, WV 25177
Marmet Center
One Sutphin Drive
Marmet, WV 25315
Cedar Ridge Center
302 Cedar Ridge Road
Sissonville, WV 25320
Glasgow Health and Rehabilitation Center
120 Melrose Drive, Box 350
Glasgow, WV 25086
Putnam Center
300 Seville Road
Hurricane, WV 25526
Teays Valley Center
1390 North Poplar Fork Road
Hurricane, WV 25526
Montgomery General Elderly Care
501 Adams Street
Montgomery, WV 25136
Montgomery General Hospital
401 6th Avenue
Montgomery, WV 25136
Hillcrest Health Care Center
462 Kenmore Drive
Danville, WV 25053
Should I Pursue a Charleston, WV Nursing Home Wrongful Death Lawsuit?
Families with loved ones who have suffered nursing home abuse may hesitate to contact a lawyer for various reasons. If you believe that abuse has occurred, remaining silent will only allow the issue to continue. You have the power to effect lasting change.
If you loved one resides in a Charleston nursing home, a good first step is simply to collect evidence. Talk to your loved one and note any recurring complaints that they have about their care. Also talk to nurses and administrators at the home. Discuss any issues that your loved one raises. Sometimes raising questions or issues early on may cause staff to fix them before they cause harm.
If you believe that an issue exists at your loved one's long-term care facility, it is best that you reach out for legal assistance as soon as possible. Reporting the events to staff may not be sufficient to resolve the problem, putting your family member at risk. Research the nursing home, including its Medicare star rating and possible past lawsuits against it. Take notes on instances of abuse that you have observed. These instances may include harm to your loved one, as well as abuse to other nursing home residents.
Be sure to talk to a Charleston lawyer about your options. It is important that you select a firm such as Senior Justice that has years of experience specifically in elder abuse and nursing home neglect cases.
Though the idea of a lawsuit is often an unpleasant thing, a lawyer can make the process much easier. We understand that this is a challenging time for your family, which is why we do as much as we can to lighten your burden. This includes accepting no fees unless we secure a monetary settlement for you. By doing this, we ensure that you can file a suit regardless of your financial situation so that you can achieve the justice that you deserve. A lawsuit may also prevent future harm to other nursing home residents.
Trust Senior Justice Law Firm to Help Guide You on Your Next Steps
Bed sores, falls, malnutrition, and dehydration are common causes of injury and death in Charleston, West Virginia. The majority of the time, these issues are preventable, but they continue to occur due to nursing home abuse and negligence from staff and facility administration. You have the ability to seek the compensation that your family deserves with the help of a legal professional skilled in the realm of nursing home abuse law.
At Senior Justice Law Firm, we know that discovering abuse is a traumatizing and overwhelming experience. We will handle as much of the proceedings as possible so that you can focus on healing for yourself and your family. The lawsuit that you file can have lasting consequences—which could even end up saving the lives of others in the future. If you are interested in learning more about whether you may have a case or how to proceed, reach out to our attorneys at a time that is convenient for you. We would be happy to speak with you during a free consultation.
Free Case Consultation: 888-375-9998