Decatur Nursing Home Negligence Attorney
Do you need a Decatur nursing home abuse attorney to examine a case of elder neglect? Let our Decatur nursing home abuse lawyer help your family get justice after a fall, bed sore, infection, or wrongful death has upended your life.
Senior Justice Law Firm is solely focused on elder abuse cases. Attorney Tom Pleasant's legal focus is on nursing home negligence litigation. Let our narrow focus on this practice area guide your family to justice.
Call to receive a completely free Decatur nursing home abuse attorney case consultation: 470-598-1515.
Decatur Nursing Home Landscape
When it comes to the pinnacle of cozy, chic living, few people would argue that Decatur sits among the greats. At only 4.7 square miles, this small but homey city in Georgia is famous for its dining, art, and history scenes. It's this beauty and tranquility nestled among sections of lively activity that draw people in their later years to call Decatur home—which means that the city continues to make space for more nursing homes to provide care for its aging population. Unfortunately, despite the burgeoning number of long-term care facilities supporting this small but busy area—in part boosted by the resources located in nearby Atlanta—the overall quality of the locale's nursing homes continues to decline. With issues ranging from for-profit corporations seeking to maximize profit to cuts in staffing and simply housing too many residents in one facility vis a vis the number of staff, the odds that you or your family will need to take action to protect your loved one in a nursing home continues to rise. If you suspect that someone you love has been a victim of abuse or neglect, you should understand what steps to take.
Red Flags of Nursing Home Abuse in Decatur and DeKalb County
Nursing home abuse bears many ugly faces. However, some of the more common injuries we litigate involve bed sores, falls, untreated infection, and wrongful death.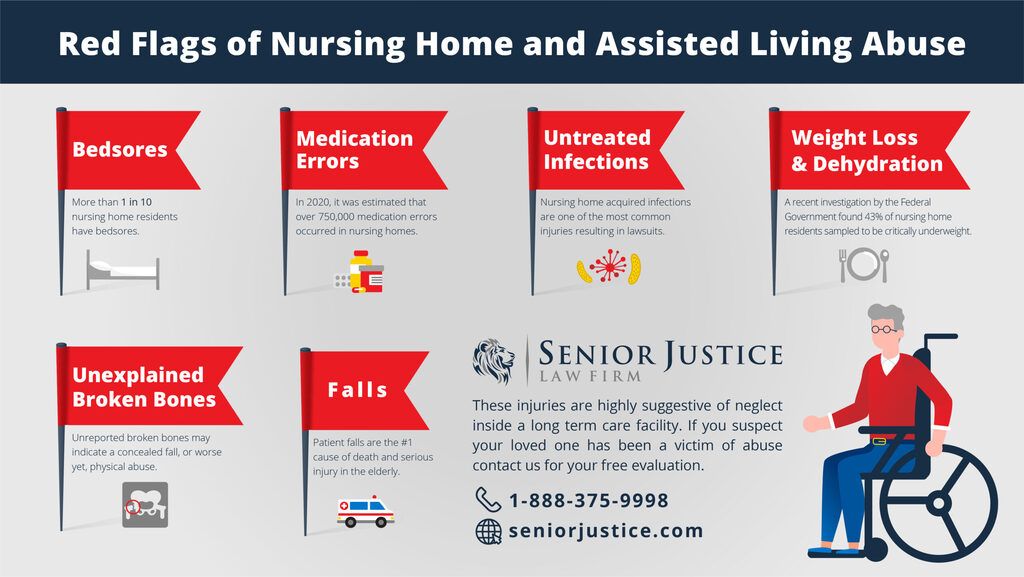 Nursing Homes in Decatur
Decatur in some ways benefits from its proximity to Atlanta, just a short hop away—the metropolis area is naturally heavily populated, which means that your family should have more choices than average when it comes to deciding which facility to trust with continuing care. However, Decatur is home to a wide variety of well rated, and poorly rated nursing homes. In fact, more than half of the 70 facilities within 25 miles of the city center have scored at or only slightly above the bare minimum acceptable rating as determined by Medicare. This means that many residents at multiple facilities are at risk of experiencing negligence. While even a five star nursing home can make mistakes, some of the facilities with a history of abuse or neglect citations in the Decatur area are more likely to provide negligent care.
Decatur's nursing homes, regardless of rating, include:
| | | |
| --- | --- | --- |
| EAST LAKE ARBOR | 304 FIFTH AVENUE | DECATUR |
| GEORGIA REGIONAL ATLANTA LTC | 3073 PANTHERSVILLE RD, SNF BLDG. #17 | DECATUR |
| GLENWOOD HEALTH AND REHABILITATION CENTER | 4115 GLENWOOD RD | DECATUR |
| MANOR CARE REHABILITATION CENTER – DECATUR | 2722 NORTH DECATUR ROAD | DECATUR |
| NORTH DECATUR HEALTH AND REHABILITATION CENTER | 2787 NORTH DECATUR ROAD | DECATUR |
| PRUITTHEALTH – DECATUR | 3200 PANTHERSVILLE ROAD | DECATUR |
Decatur Area Assisted Living Communities
| | | |
| --- | --- | --- |
| ARBOR TERRACE DECATUR | 425 WINN WAY | DECATUR |
| BENTON HOUSE OF DECATUR | 2711 LAWRENCEVILLE HWY | DECATUR |
| HOLBROOK OF DECATUR, THE | 1882 CLAIRMONT ROAD | DECATUR |
| MADELINE OF DECATUR, THE | 475 IRVIN COURT | DECATUR |
| SUNRISE OF DECATUR | 920 CLAIRMONT AVENUE | DECATUR |
Where Decatur Facilities Struggle: Staff Numbers
Each nursing home will have its own weaknesses when it comes to resident issues and care, but in general, the facilities serving Decatur share some similarities. Our Decatur nursing home abuse attorney sees a common theme in most Georgia nursing home malpractice cases: the facility is understaffed.
Staffing is key to providing appropriate care, supervision, and assistance to vulnerable seniors residing in Georgia facilities. A lot of times, management will cut on staff in order to maximize costs.
Instances of Decatur Nursing Home Neglect
One location in the area was cited for a severe violation after it failed to properly clean glucometers (which test blood sugar) for seven residents; this deficiency violated the Georgia Practical Nurses Practice Act, which is in place to ensure professional standards for medical care. Failure to properly disinfect medical equipment that comes in contact with blood can contribute to the risk of HIV transmission. Other locations have shown a consistent pattern of failing to assist residents with activities of daily living when they are unable to do so on their own, such as trimming their nails or engaging them in meaningful activities. In addition, some locations were not able to keep their medication errors rates below the 5% standard, with the rate of error for medication distribution sitting at approximately 13.79%.
The East Lake Harbor facility in Decatur has received a total of 36 citations for deficiencies, of which 17 were considered serious, resulting in fines of $13,523. North Decatur Health and Rehabilitation Center has been cited 17 times, with the Glenwood location coming in at 18. Manor Care Rehabilitation Center's Decatur facility has seen 15 citations for deficiencies, and Pruitthealth follows close behind at 12.
Resources in Decatur That You Should Know About – Reporting Nursing Home Abuse in Decatur, GA
In Georgia, the Division of Aging Services (which is part of the DHS) is in charge of providing an ombudsman program, which is a service that advocates for residents of nursing homes and assists families who believe that they may have a case for abuse or neglect. If you are concerned about the state of care for your loved one, an ombudsman is a good place to start. The Georgia state ombudsman can be contacted online or by phone. However, you can also check which office is closest to you if you would like to go in person using the ombudsman's statewide map at https://www.georgiaombudsman.org/locations-east/.
Because Decatur is so close to the central Atlanta metro area, it also benefits from Atlanta's specific local ombudsman branch as well. The office at 225 Cameron Road, McDonough, Georgia 30253 is available at (404)-627-1057 or by fax at (404)-627-1064. If you are unsure who to contact, Melanie McNeil is the general state ombudsman and can direct you to the right place; you can reach her at (404) 657-5327 or via email at Melanie.McNeil@osltco.ga.gov.
Get Help from a Decatur Nursing Home Neglect Lawyer
Discovering that your loved one has not received the care they deserve can be shocking and leave you feeling helpless and confused. At Senior Justice Law Firm, we understand that this is a stressful time, which is why we are dedicated to this specific area of law and helping the families affected.
Reach out to us at any time at 470-598-1515 or toll-free at 888-375-9998 to discuss whether you may have a case and how to proceed.
Our Decatur nursing home abuse attorney can help you to seek both damages and accountability from the at-fault facility. Best of all, you only pay if we succeed in getting a settlement or judgment for you. We require no out of pocket retainer for our legal fees or case costs.
You deserve justice when nursing homes are negligent or abusive. Speak with our Georgia nursing home abuse lawyer to learn more about your legal rights. Give us a call or utilize our online contact form to get in touch for a free consultation.