Delray Beach Nursing Home Abuse Attorneys: Experience Matters!
As a Delray Beach nursing home abuse law firm, we focus our law practice on representing victims of nursing home negligence. Unlike many local car accident law firms, at Senior Justice Law Firm, nursing home abuse is our primary focus. We have a combined 50+ years of Delray Beach nursing home litigation experience. Let our unique experience with Delray's negligent nursing homes help you along your journey to justice.
Every case consultation is free. Contact our Delray Beach nursing home abuse attorneys now to learn more about your rights under Florida law. Call, live chat with our firm, or submit your case facts below.
Speak with our Delray nursing home injury lawyers today for free at 561-717-0817.
Senior Justice Law Firm: Your Delray Beach Nursing Home Negligence Attorneys
At Senior Justice, our primary firm practice area is nursing home abuse. We help families across Florida struggling with loss find justice via a nursing home injury or wrongful death lawsuit. Although our reach is statewide, we are conveniently based in the Delray Beach area, with our office on the Delray Beach / Boca Raton city line.
We approach each nursing home negligence case with compassion and vigor. Our lawyers have some of the largest verdicts and settlements in Florida in this sub-specialty. We are one of the only law firms in Delray Beach to focus on elder abuse cases. We have successfully sued just about every nursing home and assisted living facility in Delray Beach.
If you have the unfortunate reality of contemplating a nursing home neglect case, go with a firm with experience in this subspecialty. Call our Delray Beach nursing home neglect attorneys now to learn more about your legal rights following a facility injury or wrongful death.
Experience Matters. Our Nursing Home Abuse Attorneys Have It.
Which Delray Nursing Homes are Bad? Which are Good?
Our loved ones, once independent and strong, become weak and unable to make rational decisions with age and cognitive decline. We are unable to care for them at home due to their underlying conditions. Oftentimes, a local Delray Beach doctor will demand they enter a long-term care facility. There are no LTAC hospitals in Delray, so Delray's nursing homes are the highest level of care available besides Delray Medical Center. There are also a number of Delray Beach assisted living facility options off of Linton Boulevard and Atlantic Avenue.
It is hard to define a nursing home as 'good' or 'bad.' Nurses can leave, ownership can change and policies can be created; all of which radically effects the care provided to residents. That being said, some Delray Beach nursing homes are rated higher than others. This does not mean that a highly rated Delray facility is incapable of neglecting a resident, nor does it mean that a lower ranked skilled nursing facility is always guilty of nursing home abuse. For example, if the best nursing home in Florida happens to be short-staffed on the night shift, and that is when your husband suffered a preventable fall, this may be nursing home negligence. It all depends on the individual facts.
General Nursing Home Abuse Statistics
Suspect your loved one was neglected inside a Delray facility? Sadly, you are not alone. Nursing home neglect statistics indicate we have a systemic problem in our long term care industry:

Delray Beach Nursing Home Negligence
Delray Beach has 5 nursing homes within its city limits and over 32 facilities within 10 miles. Most of Delray's nursing homes are located close to Linton Boulevard and not Atlantic Avenue. The majority of Delray's nursing homes are highly rated and provide the appropriate level of care to their residents. In fact, on average, Delray's nursing home facilities are ranked higher than the state average. However, when certain Delray Beach nursing homes are understaffed with untrained, unqualified nurses, injuries occur. When a preventable injury occurs to a resident, this is considered Delray Beach nursing home negligence.
Delray Beach Nursing Home Law Firm
At Senior Justice Law Firm, our lawyers specialize in prosecuting nursing home abuse and neglect claims. We regularly handle cases of negligence against nursing home facilities in Delray Beach and the surrounding areas. Below is a list of common injuries which result in a nursing home lawsuit.
Our experienced nursing home abuse lawyers in Delray Beach are available to seek justice for your injury. Call us now at 561-717-0817 for a free consultation.
Delray Beach Nursing Home Injuries
Some of the more frequent injuries we encounter Delray Beach nursing home neglect cases are as follows: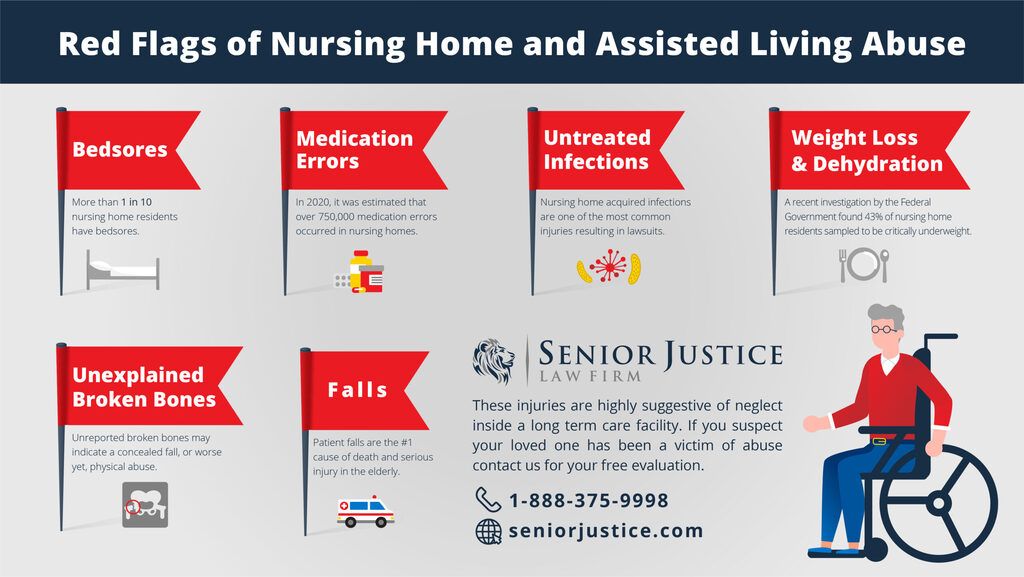 If you suspect your family member was abused or neglected inside a Delray Beach nursing home, report the abuse now. Once you have secured your loved one medically, speak with our Delray nursing home negligence attorneys at 561-717-0817.
---
Damages Claimed in a Delray Beach Nursing Home Neglect Lawsuit
We are often asked, 'what is my Delray Beach nursing home lawsuit worth?' Unfortunately, there is no magic formula to determine the value of a nursing home neglect lawsuit. However, we can usually claim the following damages:
medical bills both past and future,
lost wages and missed earnings opportunities,
pain and suffering of the decedent and or the survivors.
Each Florida nursing home case is different and they cannot be treated in a one-size-fits-all fashion. For this reason, to determine what your Delray Beach nursing home lawsuit might be worth, call for your free Delray nursing home claim evaluation today.
Delray Beach, We Live Here Too
Delray Beach is a city in Southeast Florida located north of Fort Lauderdale but south of West Palm Beach. Downtown Delray Beach's famous Atlantic Avenue is home to trendy bars, restaurants, and a vibrant shopping district. The western portion of Delray Beach (west of Military Trail) is home to a predominantly elderly population. Delray is home to more than 77 active-adult senior communities and has numerous nursing homes, assisted living facilities, and independent living facilities.
We live here. We work here. And protecting Delray's vulnerable senior citizens is our firm mission. We are here to help you get justice for the trauma you went through following a nursing home abuse incident. Contact us today to begin the conversation.
Delray Beach Nursing Home Facilities
Delray Beach has the following nursing home facilities within its city limits:
| | | | |
| --- | --- | --- | --- |
| Name | Type | Street Address | City |
| ABBEY DELRAY – 95051 | Nursing Home | 2105 SW 11TH COURT | DELRAY BEACH |
| ABBEY DELRAY SOUTH – 95052 | Nursing Home | 1717 HOMEWOOD BLVD | DELRAY BEACH |
| HARBOUR'S EDGE – 95050 | Nursing Home | 401 E LINTON BLVD | DELRAY BEACH |
| Terrace of Delray Beach Nursing and Rehabilitation – 95012 | Nursing Home | 5430 LINTON BLVD | DELRAY BEACH |
| MANORCARE HEALTH SERVICES – 35960928 | Nursing Home | 16200 JOG ROAD | DELRAY BEACH |
Delray Beach Assisted Living Facility (ALF) Injuries & Negligence
Delray Beach has the following assisted living facilities within its city limits:
Name
Street Address
City

A BELLA VITA PLACE ASSISTED LIVING, LLC – 11968721

2143 DORSON WAY
DELRAY BEACH

ABBEY DELRAY HEALTH CENTER – 11965708

2105 SW 11TH CT
DELRAY BEACH

ARDEN COURTS OF DELRAY BEACH – 11964664

16150 JOG RD
DELRAY BEACH

ASHLEY MANOR, INC – 11968609

3815 NW 10TH ST
DELRAY BEACH

GRAND VILLA OF DELRAY EAST – 11910377

14555 SIMS ROAD
DELRAY BEACH

GRAND VILLA OF DELRAY WEST – 11968466

5859 HERITAGE PARK WAY
DELRAY BEACH

SONATA DELRAY BEACH – 11965516

8020 W ATLANTIC AVENUE
DELRAY BEACH

SOUTH COUNTY MENTAL HEALTH CENTER, INC – 11966028

16158 S MILITARY TRL
DELRAY BEACH

VILLA OF KINGS & QUEENS OF DELRAY INC – 11967224

13415 BARWICK ROAD
DELRAY BEACH