Reporting Nursing Home Neglect to the Illinois Department of Health & Ombudsman
Wondering where you can report nursing home abuse in Illinois? Our Illinois nursing home abuse attorney can assist you in pursuing justice for nursing home negligence in Chicago and Downstate Illinois.
If your loved one was abused, neglected, or wrongfully injured inside an Illinois healthcare facility, Senior Justice Law Firm can help. Call 773-739-8250 for a free case consultation.
How Can I Report Nursing Home Neglect in Illinois?
Fill Out The Form Below and We Can Help You On Your Journey to Justice
Protecting Your Loved Ones from Abuse and Neglect in Illinois Nursing Homes
As uncomfortable as it may be to consider the possibility of your loved being abused in a nursing home, the fact is that such cases are not uncommon in Illinois, and they can happen even in the most highly rated facilities. Fortunately, you can take steps to prevent wrongful nursing home injuries, or even death, by understanding how to identify and report mistreatment. This page will provide you with the information and resources you need to report nursing home abuse or neglect anywhere in Illinois so you can keep your elderly loved one safe.
Illinois's Nursing Home Residents Face Growing Risks
Illinois's senior population is growing faster than any other age group in the state, and while there are more than 1,000 nursing homes in Illinois, the state is straining to contend with the rising demand for elder care. Many facilities are understaffed, leaving countless Illinois nursing home employees exhausted and on the brink of burnout as they are asked to work longer shifts with meager allowances for time off. High quality patient care is simply incompatible with such poor working conditions. Complicating matters further, Illinois is one of the few states in the region that does not allow nurses from other states to come and work under their own state's license. This makes hiring qualified new nursing home staff members more challenging in Illinois than in many other states.
Due to no fault of their own, Illinois's nursing home residents are forced to suffer the negative consequences of these colliding trends. Of course, a nurse's job is highly demanding, and when he or she is overtired and fails to properly care for a patient, it may not be intentional. But regardless of a caretaker's intent, it is never acceptable for a nursing home resident to suffer from neglect or abuse in any way, and responsible individuals and institutions must be held accountable. Otherwise, mistreatment will continue to pervade Illinois's nursing homes, unleashing further pain on residents and their families.
Fortunately, the state has recognized the susceptibility of its nursing home residents to abuse and has enacted legislation to safeguard them from unnecessary harm. Familiarizing yourself with the state's elder abuse laws will shed light on what to look for in identifying nursing home abuse or neglect in Illinois, which is a crucial first step in reporting it to the proper authorities and preventing it from happening again.
Nursing Home Residents' Rights and Legal Protections in Illinois
The Illinois Nursing Home Care Act is a statute that outlines nursing home residents' rights in Illinois, as well as the responsibilities of nursing homes themselves. Understanding these rights and the state's definitions for "abuse" and "neglect" as laid out in the Act is foundational in being able to properly identify and report mistreatment. Any facility found to be in violation of the Act is undoubtedly putting the safety of its residents at risk.
The rights guaranteed by the Act include, but are not limited to:
The right to be free from abuse and neglect
The right to manage one's own financial affairs
The right to retain the services of one's own personal physician, at one's own expense
The right to refuse medical treatment and to know the consequences of doing so
The right to access, review, and copy one's own medical records
The right to be free from unreasonable restraint
The right to wear one's own clothing within one's immediate living quarters, unless deemed medically inappropriate by a physician
The right to the free exercise of religion and to attend religious services
The right to present grievances on behalf of oneself or others to the authorities of one's choice
Regarding grievances, all nursing homes are required to formalize a written internal grievance policy that outlines the grievance process and provides for a timely response within 25 days by an impartial third party. Nursing home residents should be well-aware of this process as it is a vital tool in self-reliance and being able to protect themselves from harm.
How Illinois Defines Nursing Home Abuse and Neglect
The Illinois Nursing Home Care Act defines "abuse" as physical or mental injury or sexual assault inflicted on a resident other than by accidental means in a facility. It defines "neglect" as a failure to provide adequate medical care, mental health treatment, psychiatric rehabilitation, personal care, or assistance with activities of daily living that is necessary to avoid physical harm, mental anguish, or mental illness of a resident.
Since these definitions are so broad and abuse or neglect can manifest in a variety of ways, it is important to acquaint yourself with the most common "red flags" of mistreatment. As you will see, some common indicators are not necessarily obvious. If you are not proactive in looking out for these warning signs, then may go unnoticed.
Common Indicators of Nursing Home Abuse or Neglect in Illinois Facilities:
Lack of basic amenities
Unsanitary or cluttered living space
Sudden unexplained behavioral changes
Unexplained sexually transmitted diseases
Unpaid bills, new credit cards, and/or increased cash withdrawals
High white blood cell count, fevers, change in skin color, and signs of infection
Uncommunicative about care or individual(s) responsible for care
New injuries or suspected injuries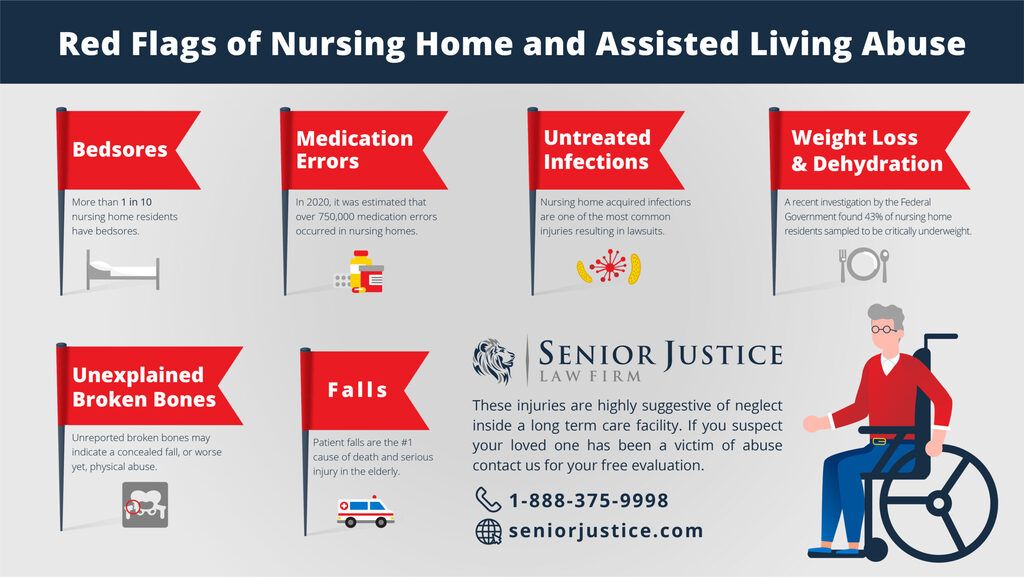 Keep in mind that you should not always expect victims to be openly communicative about their experiences. They may suffer from shame, or fear, or simply a lack of awareness of what happened due to cognitive decline or confusion. So, if you suspect wrongdoing, then you have a responsibility to report it, and you should do so in as timely a manner as possible. Anyone making a report in good faith in Illinois is immune to civil or criminal liability, so do not distress over negative consequences depending on the result of the investigation.
The following section will guide you through the resources available in Illinois for reporting nursing home abuse or neglect. If you still have questions, our Illinois nursing home abuse attorneys are available to get you the answers you need. We can support the investigation into the events leading up to a loved one's wrongful injury or death inside an Illinois facility and ensure that justice is served.
Resources for Reporting Nursing Home Abuse or Neglect in Illinois
There are a variety of options for reporting suspected nursing home abuse or neglect in Illinois. The best resource may vary depending on the type of crime you suspect is taking place and where you are located, all of which is fully explained below. But the following entities are not emergency responders. If you believe your loved one is facing an immediate health risk or danger, then call 9-1-1.
Adult Protective Services in Illinois
The Illinois Adult Protective Services (APS) Program oversees the prevention of abuse, neglect, and financial exploitation of the state's elderly and disabled residents. As such, if you are only familiar with one resource for reporting nursing home abuse in Illinois, then your local APS unit is a safe choice. The agency employs case workers located in regions throughout Illinois who work with the state's senior citizens and are responsible for conducting investigations into reported abuse, neglect, and financial exploitation.
Report Nursing Home Abuse in Chicago
Report Nursing Home Abuse in Aurora: 630-897-4035
Report Nursing Home Abuse in Naperville: 630-682-7990
Report Nursing Home Abuse in Springfield: 1-800-609-4000
To report abuse to APS at any time, you can call the statewide, 24-hour APS Hotline at 1-866-800-1409 or contact your local APS agency.
The Senior HelpLine
The Senior HelpLine is a resource offered by the Illinois Department of Aging that connects seniors with community services, links them with local care providers, and helps with many other common needs. The team is trained to process suspected abuse and neglect reports and will ensure each report is properly investigated.
Call the Senior HelpLine at 1-800-252-8966.
Long Term Care Ombudsman Program of Illinois
Each region or county in Illinois has an Ombudsman office that is responsible for advocating for the high quality care of its nursing home patients and elderly residents. The highest priority of these offices is to process complaints made by or on behalf of its residents. This page provides a contact list for each of Illinois's regional Ombudsman offices. Be sure to contact the regional office that is in the region or county of the nursing home where your loved one resides. If you have any trouble getting connected with the right office, the Senior HelpLine can help you get in touch.
Illinois Department of Public Health
The Illinois Department of Public Health (IDPH) is responsible for regulating, inspecting, licensing, and certifying all the state's long-term care facilities. It oversees compliance with all mandatory state regulations and ensures facilities accept Medicare and Medicaid payments for services rendered to program beneficiaries. The agency conducts approximately 1,300 nursing home inspections annually and responds to approximately 6,000 complaints. IDPH operates a Central Complaint Registry where reports of suspected abuse or neglect at nursing facilities, hospitals, and home health agencies are recorded and investigated.
To make a report to IDPH, call the Central Complaint Registry, also known as the Nursing Home Hotline, at 1-800-252-4343. Alternatively, you can submit your report electronically at http://www.dph.illinois.gov/topics-services/health-care-regulation/complaints.
Supportive Living Facility Complaints: The Department of Healthcare and Family Services
In Illinois, the Supportive Living Program (SLP) was developed to provide an alternative option to nursing home care in the state, specifically for low-income elderly individuals and those with physical disabilities under Medicaid. It is administered by the Illinois Department of Healthcare and Family Services (DHFS). If your loved one is a Supportive Living Facility resident, and you suspect abuse, then you should contact DHFS directly to file a report.
To report abuse at an Illinois Supportive Living Facility, call DHFS's Complaint Hotline, at 1-800-226-0768.
Medicaid Fraud Complaints: Illinois State Police Medicaid Fraud Control Unit
With so many elderly nursing home residents suffering from dementia or other forms of cognitive decline, they are particularly vulnerable to financial exploitation schemes such as Medicaid fraud, which comes in many forms. If you are unfamiliar with what it looks like, here are some common examples to be aware of:
Billing for a medical product or service that was not actually provided
Billing for a more expensive medical product or service than what was provided
Billing multiple times for a product or service that was only delivered once
Providing redundant or unnecessary medical services
Receiving financial benefits or "kickbacks" for patient referrals to specific healthcare providers
Report Medicaid fraud to the Illinois State Police Medicaid Fraud Control Unit by calling 1-888-557-9503.
How to Prepare to Report Nursing Home Abuse in Illinois
To ensure that your report can be efficiently processed and acted upon quickly, it is important to be prepared to provide the information that investigators will need. Be ready to at least answer the following questions:
What is the alleged victim's name, address, telephone number, sex, age, and general condition?
What is the alleged abuser's name, sex, age, relationship to victim and condition?
What are specific reasons leading you to believe that the alleged victim is being abused, neglected, or financially exploited?
When is the best time to contact the alleged victim, and do they know of the report?
Is there any risk of danger for the case worker if they visit the alleged victim as part of the investigation?
You may submit your report anonymously if you do not wish to share your name. The most important point to remember is to always report suspected abuse as soon as you can.
Reach Out to Senior Justice Law Firm for Elder Abuse and Neglect Lawyers in Illinois
All nursing home residents deserve to be treated with compassion and respect. The fact that mistreatment is such a pervasive problem in Illinois facilities is a travesty that must be fiercely combatted. By taking advantage of the resources available to you in Illinois for reporting nursing home abuse and neglect, you can make a real difference in ensuring those responsible for misconduct are held to account and undue suffering is put to an end.
If you have questions, you can always reach out to our Illinois nursing home abuse attorneys at Senior Justice Law Firm to discuss your loved one's specific situation. Our team is solely focused on nursing home neglect and elder abuse. This is all we do. We are available for a free consultation to review your concerns and provide guidance on your best strategy moving forward.
Call our elder abuse law firm today at 773-739-8250 or live chat with our office now. The consultation is free and we never require any out of pocket payment. Learn more about your rights under Illinois law by contacting Senior Justice Law Firm today.