A Lexington, KY Nursing Home Abuse Attorney, Here to Help
At Senior Justice Law Firm, we are nursing home abuse attorneys. When you visit our website, you will not see 10 practice areas. Nursing home abuse and neglect is our firm focus, and we only represent families impacted by elder abuse.
Bed sores, broken bones, weight loss, and wrongful death are not an acceptable outcome of a stay at a Kentucky healthcare facility. If you suspect your loved one was wrongfully injured, speak with our Kentucky nursing home abuse attorney today. Receive your free case consultation now by chatting with our office, submitting your case facts below, or calling us at 888-375-9998.
Understanding Lexington Nursing Home Neglect
Situated in the heart of the state's bluegrass region, Lexington is Kentucky's second largest city, and it is known as the "horse capital of the world." It was founded in 1775 and named after the famous Revolutionary War battle that had occurred only a few months prior. This rich history and the area's scenic views draw people from across the country who are looking for the ideal place to retire. Out of Lexington's 325,330 residents, approximately 43,000, or 7.5%, are over the age of 65. And just like in every city, many of these seniors live in nursing homes.
However, if your loved one lives in a Lexington nursing home, it is important that you remain particularly vigilant. Kentucky's long-term care facilities are some of the lowest rated in the nation, and some homes struggle consistently with neglect and outright abuse of their residents. On one list of nursing homes with the worst deficiencies, the majority of the top contenders were all Kentucky locations.
There is an underlying reason for this particularly notable track record. When nursing homes are short on money or want to turn a bigger profit, their first step is often to downsize their staff so that they have to pay fewer well-trained workers. This leads to too many residents and too few caregivers, which means less than ideal care.
Another cause of Kentucky's nursing home problems is a tangle of money and politics. To protect abusive facilities from facing consequences, the nursing home lobby is getting financially involved with state elections. This leads to legislation which protects nursing homes from accountability.
If your loved one was injured or has passed away, pay attention and report what is going on. After that, investigate a lawsuit to learn your options. The silver lining to this horrible situation is that you can effect change; maybe it's financial compensation or fines to the facility, or maybe it's ensuring this will never happen to someone else. Whatever your motivator, the attorneys at Senior Justice Law Firm are happy to help you explore your options.
What Is Nursing Home Abuse, Anyway?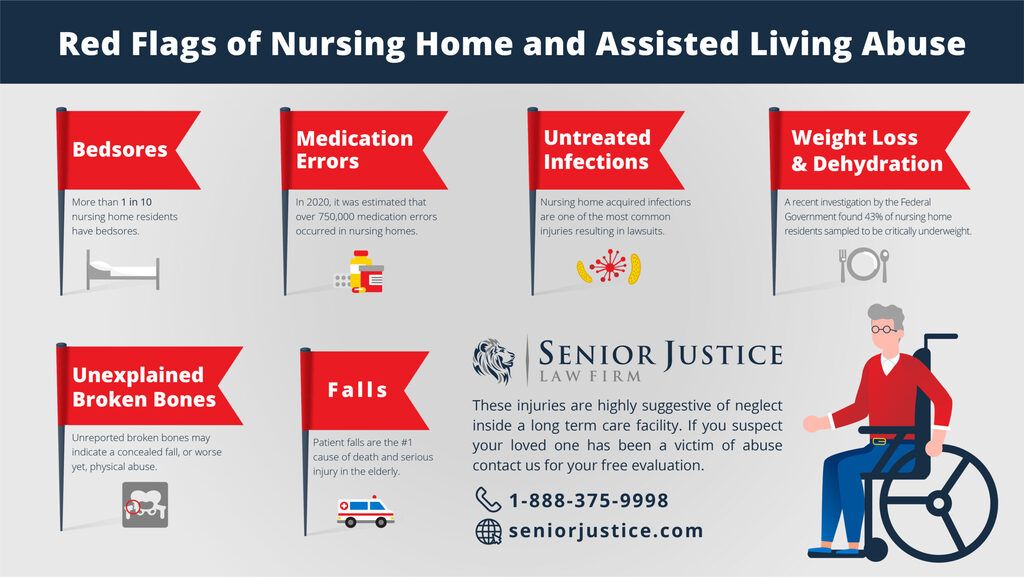 Nursing home abuse can take many forms, ranging from failing to provide enough care to intentionally injuring someone. Failure to perform an action can be just as abusive as taking an inappropriate action, so do not let a nursing home convince you that any particular behavior is normal if you have reason to believe that it causes harm. Abuse, neglect, and exploitation are the most common umbrella terms, under which certain types of behavior fall.
Abuse is directly causing someone pain, whether physical or psychological. Physical abuse consists of roughly handling or outright injuring someone, and even unintentional harm can still be categorized as abuse. For example, if a nurse assisting your family member pushes your loved one into bed too hard and causes injury, this would still be categorized as abusive behavior. Psychological abuse is anything from ignoring someone to intimidating or threatening a person. Sexual abuse is also included in this category.
Neglect occurs when a person's care is substandard or protocols are not being followed. This can happen intentionally or unintentionally. Neglect often leads to things like poor hygiene, which can quickly progress to an infection; loss of mobility and general deterioration because of a lack of movement; and all the effects of over- or under-medication. Dehydration, bedsores, malnutrition, unsupervised falls, and depression are also common effects of neglect.
Exploitation is essentially theft. It occurs when a caregiver takes advantage of their patient to get their money or other valuables. Nursing homes often have lackluster rules when it comes to protocols and consequences for items or money not being returned to residents.
No matter which type of mistreatment your loved one may face, the first step in dealing with nursing home abuse is prevention. Whenever you visit the facility, keep a close eye on your family member and their surroundings. Look for anything that seems amiss—a subpar environment or care, a change in your loved one's personality, or any injuries you might discover.
Make sure you know the warning signs. Evidence of physical abuse includes injuries like bruises and broken bones. A change in personality or a sudden withdrawal may indicate emotional abuse. Exploitation could be signaled by an unexplained financial change. Things like bedsores or poor hygiene can be evidence of neglect. A tense relationship with the caregiver is another possible sign of abuse.
What to Know About Lexington's Nursing Homes
Kentucky's nursing homes have been rated by many reputable sources (Medicaid, the AARP, and Families for Better Care, to name a few) as some of the nation's worst, with the federal government ranking as many as 43% of them at a rating of below or well below average. The city of Lexington follows this same pattern experienced at a statewide level.
Lexington's metropolitan area includes 22 nursing homes, or 29 within a radius of 25 miles from city center. Fourteen of these facilities were reported as having at least one serious deficiency. This means that nearly two-thirds of Lexington's nursing homes have caused a resident to unnecessarily suffer in some way.
While any nursing home—even one rated at five stars—can be the source of abuse or neglect, some locations are more prone to citations than others. Based on a consistent track record of citations, certain facilities in Lexington stand out. Do your research and check a facility's rating prior to admitting your loved one. Ratings and citations constantly change.
The following Lexington nursing homes have a 1 or 2 star rating, indicating a below average rating per Medicare's Care Compare page, as of September 2022:
Homestead Post Acute
1608 Versailles Road
Lexington, KY 40504
Mayfair Manor
3300 Tates Creek Road
Lexington, KY 40502
Northpoint/Lexington Healthcare Center
1500 Trent Boulevard
Lexington, KY 40515
Nicholasville Nursing and Rehabilitation
100 Sparks Avenue
Nicholasville, KY 40356
Harborview Dover, LLC
112 Dover Drive
Georgetown, KY 40324
Bluegrass Care & Rehabilitation Center
3576 Pimlico Parkway
Lexington, KY 40517
Sayre Christian Village Nursing Home
3775 Belleau Wood Drive
Lexington, KY 40517
Telford Terrace
1025 Robert L Telford Drive
Richmond, KY 40475
Of course, these Lexington nursing homes are not the only ones that have citations. No matter where your loved one or family member lives, it is critical that you keep an eye out for signs of abuse or neglect. If you suspect that someone you love is a victim, you have options. Contact a Lexington nursing home abuse attorney to learn more about your legal rights.
Disclaimer

*The inspection results are provided from public government agency surveys, and based on information published as of July 1, 2022. The state Department of Health conducts a survey of all nursing home facilities at least once every 15 months. The deficiencies listed on this page may have been corrected after the date of the inspection and date of publishing this material. Citations, ratings, statistics, and deficiencies are current as of the date of this post and will change later on. The inspection findings published are not complete. You may find the most up to date information at medicare.gov. This material is not endorsed by the facility noted or by any governmental agency. Speak with an attorney immediately if you believe you have a viable case against a nursing home, assisted living facility, or medical facility.
Reporting Nursing Home Abuse in Lexington, KY
While nursing home abuse is certainly something to approach with a legal professional, if your loved one is in immediate danger, act as soon as possible. Call 911 if someone you love is injured or being harmed—you do not need permission from the nursing home to call for emergency medical services or the police.
If the situation does not present immediate harm to your loved one's life, your first step should be to talk with them about what they are experiencing. Ask them about your suspicions regarding their care. Unfortunately, sometimes those who are being abused are afraid to speak up or unable to speak. Be sure to record any evidence that you note for yourself as well.
Make sure you document the abuse situation. Take photos of injuries and any other evidence of negligence. Write down everything that happens—the date and time you discover any of these things, how frequently or infrequently care is given, and so on. Then, file a report by contacting Kentucky's Adult Protection Branch of the Department of Health and Family Services. They can be reached at (800) 752-6200.
Additionally, you can also reach out to the state's ombudsman program, which is put in place specifically to safeguard older individuals who live in nursing homes. The office of the ombudsman is located at 275 E. Main Street, 2E-O in Frankfort, KY 40621, but you can reach them by phone at (502) 564-5497.
Lexington Elder Abuse in the News
Because so many of Kentucky's nursing homes find themselves on the receiving end of 1 or 2 star ratings from Medicare, it is unsurprising that some Lexington facilities have faced media scrutiny for their practices. Just outside Lexington's metro area, Salyersville Nursing and Rehabilitation Center has received multiple headlines for its repeated mistreatment of residents across a time frame spanning more than six years.
In February of 2019, the facility began to flood. However, administrators had not properly prepared a flood evacuation plan ahead of time, and no action was taken until water began to infiltrate the building. Staff began to exit the building with residents in whatever manner they were able to, without following any protocol. As a result, many residents were placed into movable beds with their liquid oxygen tanks. Staff were not aware that liquid oxygen is routinely stored at -300 degrees, and at least one resident was reported to have suffered severe cold burns due to lying in bed touching the oxygen tank for an extended period of time.
This same location came under scrutiny again shortly after this incident when it overdosed a resident on pain medication. Medical personnel were not called until the resident's daughter took action upon her mother becoming incoherent. The resident was not able to recall or say her own name or other identifying information.
Salyersville Nursing and Rehabilitation also faced a citation for a near-fatal incident in which they improperly treated a catheter placed into his abdomen. This type of catheter poses a more significant risk of injury due to its placement and requires experienced staff to address. However, the workers at the Salyersville facility acknowledged that they did not understand how to care for the catheter. Despite this, they neglected to seek help from a medical professional. Possible complications from improper care of an abdominal catheter include draining too much fluid, improper cleaning, and the risk of potentially fatal hemorrhaging, among others.
Should You File a Lawsuit Against the Negligent Nursing Home?
Finding out that the nursing home you entrusted with the care of your loved one has in fact harmed them—or potentially even resulted in their death—can feel like nothing short of a betrayal. For some people, this burden is immense and makes the thought of taking further action seem overwhelming. For others, the need to seek justice for the behavior is a motivating factor that pushes them onward toward a lawsuit. No matter how you are approaching the situation, your experience is valid, and we are here to help you take the next steps.
Directly confronting the facility about their issues is critical, but equally important is reaching out to a legal professional. If you can build a case for a lawsuit, you may be able to make a big impact—not only in your own family, but for the other families who rely on that facility to care for people they love.
First, of course, is the potential financial compensation. If your loved one's mistreatment resulted in steep medical bills for you to pay or funeral costs, you could receive that money back in court. You can also recover damages for a range of injuries such as loss of consortium and even pain and suffering. However, we understand that no amount of money can undo what happened to your mother, father, sibling, or other family member.
However, filing a lawsuit against an abusive nursing home can turn the spotlight on the facility, forcing them to change either because of a bad reputation or even fines being levied against them. Facilities that make changes as a result of the fines (to avoid further fines in the future) can lead to a lower risk of the same thing happening to someone else's loved one. You can dramatically improve the lives of many nursing home residents through your actions.
Free Consultation with a Lexington, KY Nursing Home Abuse Attorney
After everything that you have already gone through, a lawsuit should not be on your list of worries. This is why at Senior Justice law firm, we offer a free consultation to discuss your situation with our Kentucky nursing home abuse attorney, Benjamin Carter, Esq.
Mr. Carter is a Kentucky native that focuses his professional practice on liability cases against nursing home and assisted living facilities. Mr. Carter has been admitted to the Kentucky Bar since 2010, and has extensive experience suing Lexington nursing homes for negligence and malpractice.
Share your case facts with our firm so that we can learn more about what happened to your loved one and strategize about what next steps may be possible for your family. We do not want a lawsuit to be out of reach for anyone who deserves justice—which is why we work on contingency fee. You will not have to pay us anything unless you win your case. If we do settle your Lexington nursing home abuse case, we simply accept a percentage of the settlement as payment for our fees, plus recover our costs.
If you are ready to begin the legal process after nursing home abuse or neglect in Lexington, reach out via phone or our online contact form to get started. Get your free Lexintong nursing home abuse attorney consultation today by submitting your case facts below or calling us at (888) 375-9998.