Life Care Services Nursing Home Neglect Lawsuit
Every year, families across America are shaken to learn that a beloved family member living in a nursing home suffered from abuse or neglect. Sometimes, that loved one even passes away as a result of the unacceptable treatment. If you have found yourself burdened by this situation because of negligence at a Life Care Services related facility, it is important that you reach out as soon as possible for legal help.
Senior Justice Law Firm narrowly focuses on nursing home abuse cases. In fact, elder abuse cases are our main practice area. We routinely sue negligent nursing homes for bed sores, broken bones, weight loss, infection, and wrongful death. We also have experience handling cases against nursing homes connected with Life Care Services. Our narrowly focused nursing home negligence litigation experience can assist you in bringing a legal claim against nursing homes, memory units, or long-term care facilities that have committed abuse.
If you have reason to suspect that abuse or neglect occurred while your loved one was living in a facility owned or operated by Life Care Services, reach out as soon as you can. We will be glad to consult with you at no cost to discuss what steps to take. Our compassionate and experienced attorneys are ready to help. Chat with us now at 888-375-9998 or via the Free Case Consultation form.
How Do I Know if I Have a Case Against a Life Care Services Nursing Home?
Even the best nursing homes cannot prevent accidents. However, some injuries and illnesses have a high correlation with abuse and neglect. They include: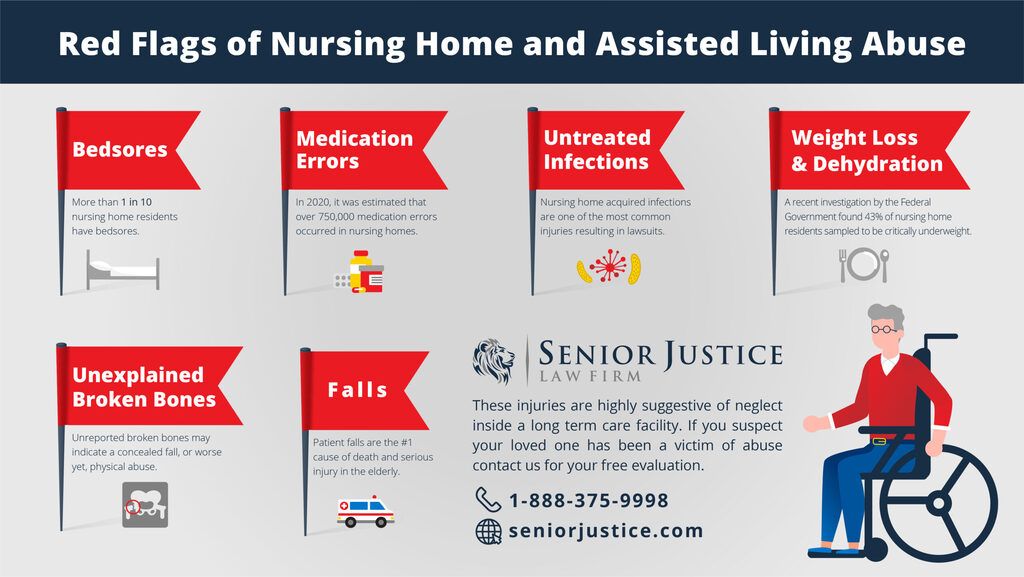 Decubitus Ulcers (Often Called Bedsores or Pressure Sores
Very few if any indicators of abuse are as clear-cut as bedsores. The reason for this is usually due to staff failing to turn and reposition an at-risk patient. These pressure sores rarely appear on their own because of a medical condition. Instead, they are almost always caused by nursing home staff not performing their care duties as they should. They are responsible for shifting each resident in bed every few hours to ensure that pressure does not build up from lying in the same position. If they fail to do this and bedsores develop, a facility can be held liable for the resulting wounds.
Whether the reason is from poor record keeping or simply failing to do their duties, the staff at a nursing home may not give your loved one the correct medication or the dose they are prescribed. This can be dangerous or even deadly and leaves the nursing home responsible in the eyes of the law. Dosing the wrong meds or overdosing a resident is an inexcusable form of medication mistake.
Falls, Broken Bones, and Brain Bleeds
Injuries like broken bones or bleeding in the brain are common in nursing homes with a history of allowing residents to fall. While some incidents like falling are genuine accidents, facilities are responsible for reducing fall risk by avoiding slippery floors and other trip hazards. Fall risk residents must also receive additional assistance when walking, and increased supervision.
Unexplained Sudden or Wrongful Death
While anyone who is advanced in age may pass away after a long life, sometimes, a resident of a nursing home may pass particularly unexpectedly. This can be a cause for further investigation into issues such as dehydration, malnutrition, or neglect.
Who is Life Care Services?
Life Care Services is a senior living community conglomerate that provides management for nursing care across the country. Based in Des Moines, Iowa, the organization manages more than 140 independent communities in which nearly 40,000 seniors reside. Also known as LCS, it is the second largest single manager of senior care communities that make rentals available, and it boasts a wide variety of services for older folks who make use of the facilities. They manage locations that offer independent living, assisted living, memory care, skilled nursing care, or any combination of these services.
It is important to note that most Life Care Services managed facilities are rated above average and provide good resident care. However, even good facilities can make mistakes.
Confusingly, Life Care Services differs from Life Care Centers of America. Although both corporations control hundreds of elder care facilities across the U.S., there is no connection between Life Care Services and LCCA.
As a resident-oriented company, Life Care Services has been working in the nursing home field for the past 25 years. Their mission claims to serve residents "first and foremost" in everything that they do. President and CEO Joel Nelson is responsible for the management not only of the nursing homes themselves, but also of the Real Estate and Development divisions.
Lawsuits Against Life Care Services for Nursing Home Abuse
Life Care Services remains one of the largest nursing home administrators in the United States in terms of revenue, reported in yearly financial statements in excess of one billion dollars. Unfortunately, due to the sheer size of Life Care Services, some facilities have faced negligence lawsuits. Many of these originate out of allegations of resident neglect and poor resident to staff ratios. These allegations are contained in civil lawsuit complaints filed against the company and the facility licensee entities.
Individual Nursing Home Negligence Lawsuits Against Life Care Services Facilities
We understand—the prospect of filing a lawsuit and going through the legal process to hold a nursing home accountable may seem arduous, expensive, and fatiguing. Remember that when working with a skilled nursing home abuse law firm, we take care of the work for you. Leave your case to us and we will pursue justice against the nursing home and reach out to all necessary resources to acquire evidence and witnesses.
Thanks to our years serving this sector of individuals who need legal help, we have built strong relationships with expert witnesses and other professionals who are skilled in analyzing the cost reports published by Life Care Services related facilities to CMS. These critical documents can give us an explanation about issues such as staff to patient ratios, related entities, and management fees.
As you decide who should prosecute your lawsuit, remember to check attorneys' experience in dealing with this very specific nursing home negligence niche.
Senior Justice Law Firm Can Help!
You are now faced with the challenge of filing a lawsuit, and you may feel overwhelmed about having to deal with this process while also coping with the events that your loved one endured. Senior Justice Law Firm would be glad to remove this burden from your shoulders. Whether you want to be sure your case reaches a courtroom or you would simply like to settle as soon as possible, our attorneys will work to achieve your goals. Get in touch with no obligation at 888-375-9998 to discuss your options for filing a suit against a Life Care Services nursing home.
FAQs on Suing Life Care Services for Nursing Home Neglect
How long will it take to settle my Life Care Services nursing home abuse lawsuit? Just as each individual person is unique, so are the cases they bring before the court. We cannot determine exactly how many days or weeks your case may take, but we can do our best to give you an educated guess once we know the details of your situation. If you choose to settle outside of court, your case may resolve more quickly. You can review a more detailed timeline below.
How do I know if I have a viable nursing home negligence case against Life Care Services? Our firm only serves nursing home abuse victims. This means that we would be happy to take a look at the details of your case and let you know if you have grounds on which to proceed. We can offer advice on what options to consider and how your case may evolve if you choose to pursue a lawsuit. You can reach our office at

888-375-9998

.
My family member was injured inside a Life Care Services nursing home. What should I do? If someone you lived counted on Life Care Services facilities and did not receive the care and attention that they required, the first and most important step is to seek any necessary medical treatment. If your loved one needs medical care, be sure that you rely on professionals who are not associated with the facility in any way. After receiving medical treatment, or if your beloved family member has passed, the next step you should take is to decide which legal counsel you would like to have representing you. You should also take time to file reports to agencies such as ombudsman programs or the state health department. Senior Justice can help you make these reports as soon as possible. Please click the link if you need assistance with where to report a nursing home injury.
I cannot afford a lawyer right now. How much do you charge to pursue a lawsuit against Life Care Services? During this challenging time when you are faced with the injury or even death of someone you love and care for, it can be hard to consider the financial implications of hiring legal counsel. We understand this, and so Senior Justice Law Firm works based on contingency fees. You will never be billed by our firm simply for working with us, and we will not charge you anything if we do not secure monetary damages for you in your case. We care about your financial health, so as our contingency, we simply take between 33.3% and 40% in attorneys fees of the amount we recover for you. If a recovery is made, we also get reimbursed for our case costs off of the gross sum recovered.
What is My Life Care Services Lawsuit Worth? Planning for your financial future in the wake of nursing home negligence and abuse can be a challenge. How can you plan when you don't know what sort of settlement you might receive? It is impossible to know ahead of time how much a nursing home will agree to settle for or how much a jury will award. However, many of the suits that we pursue end up settling in the low six figures. This is no guarantee on your individual case, and all cases differ in value based on the case facts. You can speak to our attorneys if you have further questions about what to expect at 888-375-9998.
Suing a Life Care Services Nursing Home for Abuse: What to Expect
So you have decided to begin the process of filing a lawsuit to hold an LCS facility liable for its behavior. What happens next? The legal process can seem convoluted or difficult to understand, but Senior Justice is here to make it simple. Here is a general timeline of what to plan for as your case progresses:
Pre-Suit Investigation: 10-45 days. The investigation stage occurs before a lawsuit is filed, and its purpose is to learn more about the details of your case. We may view reports that explain the injuries or death of your loved one, hire experts to review the file, as well as any further information that may be of use. This will enable us to determine if you have a case that can hold water.
Notice to Life Care Services: 30-90 days. After we have conducted an investigation to discover details about your case and you have agreed that you would like to move on with the process, we will formally send a notification to Life Care Services that you intend to file a lawsuit.
Litigation and Discovery: 6 months to 4 years. If one of the parties in the case decided not to settle, the process of carrying on with the formal lawsuit will begin. This lawsuit, officially started by filing a Complaint, initiates further fact-finding so that your lawyers have information to bring to court. This might include documentation and financial statements from Life Care Services, as well as speaking with witnesses such as staff at the facility in question.
Trial: 3 days to 2 weeks. The trial is the in-court portion of the lawsuit. In this phase, your attorneys go to court on your behalf against Life Care Services. Cases with greater nuance may take longer.
Life Care Services Facilities in Florida
CYPRESS VILLAGE, Jacksonville
FREEDOM PLAZA, Sun City Center
FREEDOM POINTE AT THE VILLAGES, The Villages
FREEDOM SQUARE OF SEMINOLE, Seminole
FREEDOM VILLAGE OF BRADENTON, Bradenton
GLENVIEW AT PELICAN BAY, Naples
LAKE PORT SQUARE, Leesburg
LAKE SEMINOLE SQUARE, Seminole
REGENCY OAKS, Clearwater
SANDHILL COVE, Palm City
SOUTH PORT SQUARE, Port Charlotte
SINAI RESIDENCES OF BOCA RATON, Boca Raton
WINDSOR AT CELEBRATION, Celebration
Abused or Neglected in a Life Care Services Facility? Take Action Now!
If a family member or loved one was abused, neglected, or even passed away as a result of poor care in a Life Care Services nursing home, memory care unit, or other facility, you may not feel confident in what to do. The professional lawyers at Senior Justice Law Firm can guide you on your next steps. Reach out at at 888-375-9998. You may also fill out the case evaluator form below to start the conversation. We are happy to help you through this challenging time, so consulting with us is free of charge.
Disclaimer

*Each case is different. Prior results do not guarantee a similar outcome or indicate an expected outcome on your particular case. The above prior lawsuit information is for informational purposes only and does not constitute legal advice. The information is not provided in the course of an attorney-client relationship and is not intended to substitute for legal advice from an attorney. This individual case information above is publicly filed information gathered from the publicly filed complaint. This information and these cases are not the work of this law firm. The inspection results are provided from public government agency surveys. The state Department of Health conducts a survey of all nursing home facilities at least once every 15 months. The deficiencies listed on this page may have been corrected after the date of the inspection and date of publishing this material. Citations, ratings and deficiencies are current as of the date of this post and will change later on. The inspection findings published are not complete. You may find the most up to date information at medicare.gov. This material is not endorsed by the facility noted or by any governmental agency. Speak with an attorney immediately if you believe you have a viable case against a nursing home, assisted living facility or medical facility.