Narrowly Focused Louisiana Nursing Home Abuse Lawyer,
Fighting for Your Family
At Senior Justice Law Firm, our firm focus is on elder abuse and neglect cases. Our lawyers routinely handles cases involving bed sores, broken bones, medication mistakes, physical abuse, and wrongful death in long term care settings. If you suffered the unfortunate fate of losing a loved one due to facility negligence, contact our Louisiana nursing home abuse attorney today for a completely free case consultation.
Louisiana affords its frail nursing home residents certain rights under the law. Call Senior Justice Law Firm today to learn more about your rights, from our experienced and compassionate Louisiana nursing home abuse attorney.
Free Case Consultation with Senior Justice Law Firm: (888) 375-9998
Areas Served: New Orleans, Baton Rouge, Shreveport, Metairie, Lafayette, Lake Charles, and Natchitoches.
Louisiana Nursing Home Abuse Attorney: Defending the Vulnerable
As Louisianans age, nursing homes become an inevitably for many that require assistance with activities of daily living. Whether the reason is short term rehabilitation, assistance with walking, or help supervising due to dementia, more than half of Louisiana's elderly population will spend at least some time in a long term care facility.
These facilities are meant to be safe havens, offering supervision, assistance, professional care, compassion, and dignity to residents. However, instances of Louisiana nursing home abuse and neglect continue to plague the elderly community, leaving vulnerable residents traumatized and in dire need of justice.
This is where Louisiana nursing home abuse attorneys step in, dedicating their expertise to protecting the rights of the elderly and holding negligent parties accountable for their actions.
Understanding Louisiana Nursing Home Abuse Injuries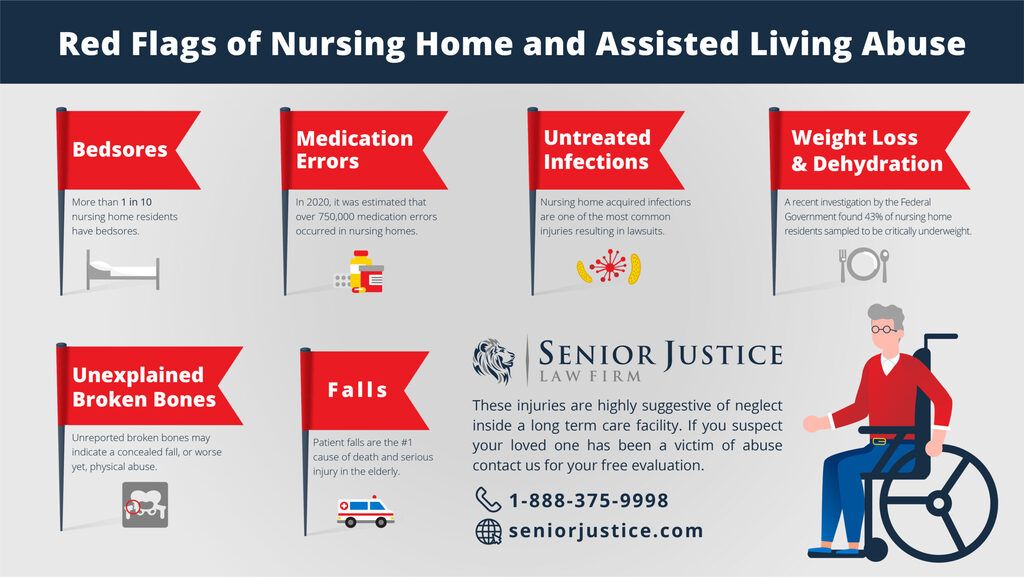 Nursing home abuse can manifest in various forms, including physical, emotional, sexual, financial, and neglectful acts. Sadly, many victims suffer in silence, either due to fear or because they are unable to communicate the abuse effectively. The role of a Louisiana nursing home abuse attorney begins with recognizing the signs of abuse and ensuring that victims receive the necessary attention and care.
Contact Senior Justice Law Firm if your family member suffered any of the below 'red flag' injuries consistent with abuse or neglect:
Free Case Evaluation with an Experienced Louisiana Nursing Home Abuse Lawyer
When a potential case of nursing home abuse comes to light, the first step for a Louisiana nursing home abuse attorney is to conduct a comprehensive initial consultation. This usually occurs with the injured party's adult child, or their Power of Attorney. During your free case consultation, make sure to share the most important information with our intake specialist. Specifically, we need to know: your contact info (cell phone and email so we can get in touch with you), the victim's name, the at fault facility that caused the harm, and the injuries sustained.
To submit your case facts our Louisiana nursing home abuse attorney, call us toll free at 888.375.9998 or live chat with our office now.
Next Steps: Investigating Your Potential Louisiana Nursing Home Negligence Claim
After we sign up your case, our Louisiana nursing home abuse lawyer begins investigating what happened. This usually starts with requesting the relevant medical records, and police and/or state agency investigations if they were conducted.
One of the critical responsibilities of a nursing home abuse attorney is to gather relevant evidence to support the victim's claim. At Senior Justice Law Firm, our in depth investigation before filing the lawsuit ensures the case is viable before being brought in court.
Identifying Responsible Parties & Nursing Home Ownership
Did you know that most nursing homes are part of a larger corporate chain? Most of our clients are unaware of the corporate shell game involved in nursing home ownership.
Nursing home abuse cases can be complex, as it is often difficult to pin down which party is at fault for the harm caused. An experienced Louisiana nursing home abuse attorney examines the evidence to identify all responsible parties, which may include nursing home staff, but also the corporate owners.
Oftentimes, we find that the root cause of many nursing home injuries is intentional understaffing by the facility owners. It is well established that understaffed nursing homes cause the majority of preventable injuries.
Settling Your Claim: What is the Value of a Louisiana Nursing Home Abuse Case?
We prepare every case like it is going to trial. However, the reality is that most cases settle out of court. A skilled attorney understands the importance of fighting for a fair and just resolution while prioritizing the well-being of the plaintiff. If the victim's family wants to resolve the case without going through the trial process, we try in earnest to accomplish this for the family.
Many of our clients ask, what is a nursing home negligence lawsuit worth in Louisiana? However, this is a very complicated question that is entirely fact driven. One case we accept may be worth $40,000. The next case we take on might be worth more than $1,000,000. It truly depends on each individual fact pattern.
If you are curious about what your potential Louisiana nursing home claim might settle for, contact our law firm now for a completely free case consultation. Call us at 888-375-9998 or use the live chat button to begin your case evaluation.
Litigating a Louisiana Nursing Home Abuse Lawsuit
If your case does not settle for a sum approved by you, our Louisiana nursing home abuse lawyer will file a public lawsuit on behalf of the victim. The lawsuit will succinctly describe the legal duty owed by the nursing home, the breach of that duty (the nursing home neglect), how the breach or negligence caused the victim harm, and the actual harm caused to the victim (damages).
This initiates the formal litigation process, during which your attorney presents the case in court. Throughout this process, your attorney serves as a strong advocate for you, providing legal expertise, evidence, and compelling arguments to support the victim's claims.
Justice for Louisiana's Elderly
Our Louisiana nursing home abuse lawyer prides herself on fixing a broken long term care system. Each lawsuit filed is another brick in the wall towards change.
By fighting against nursing home abuse and neglect, Senior Justice Law Firm sends a powerful message to the nursing home industry: bad behavior will not be tolerated.
We try to make it expensive for nursing homes to neglect and kill residents, in the hopes that they stop doing it. Each case we bring, including yours, contributes to enhancing the overall quality of care within the nursing home industry in Louisiana and across the U.S.
An Emotional and Empathetic Approach
These kinds of cases are about much more than money. This is why our narrowly focused nursing home abuse attorneys chose this field over traditional car wreck litigation.
We promise to approach each Louisiana nursing home abuse case with compassion and empathy. We know how hard this is on you and your family.
Our compassionate Louisiana nursing home abuse attorney understands your loss, and will provide you a safe space to voice your concerns, fears, and expected outcomes. Because of our extensive experience in this niche, we understand and empathize with what you are going through.
Begin the Conversation Today – Receive Your Free Louisiana Nursing Home Abuse Lawyer Consultation Now
Elder abuse and neglect continues because we allow it to. If we reported each instance of neglect, the bad actors would be run out of the industry and the vicious cycle would stop.
Louisiana nursing home abuse attorneys play an indispensable role in protecting the elderly from mistreatment and holding those responsible for abuse accountable. The cases we bring not only compensate the family impacted by the harm, but more importantly, a Louisiana nursing home abuse lawsuit deters this kind of bad nursing home behavior from happening in the future.
We are here to help. We remain solely focused on seeking justice for victims and their families that have been harmed by long term care neglect.
We understand that hiring a law firm is expensive. This is why our law firm operates on a contingency fee basis; we only get paid if we recover money for your family. If so, we receive a percentage of the settlement or judgment as payment for our fees. You are never required to pay us out of your own pocket.
Begin the conversation today. Let our Louisiana nursing home abuse lawyer help you along the journey to closure, compensation, and justice.
Submit your detailed case facts below, call us at 888-375-9998, or use the live chat button to begin your case evaluation.