Nashville TN Nursing Home Malpractice Lawyer
Receive a completely free consultation with a Nashville nursing home abuse attorney by calling Senior Justice Law Firm at 888-375-9998. You can also live chat with our office via an electronic case consultation.
Fast Facts on our Nashville Nursing Home Abuse Attorney
Here are some fast facts about our Nashville nursing home negligence lawyer:
You pay nothing, no fees or costs, unless we make a financial recovery for your family.
Our Nashville nursing home abuse attorney, Tom Pleasant, Esq., focuses his practice on nursing home and elder abuse claims.
The most common Nashville nursing home abuse lawsuits we handle include claims for bed sores and patient falls.
A Nashville nursing home abuse lawsuit does more than put money in your pocket. It sends a message to the negligent facility that this cannot happen again.
Nursing home abuse is difficult to detect, so we always provide free case consultations to determine if you have a case.
If you suspect neglect in a long term care facility, contact our Nashville nursing home abuse attorney now. Live chat with our law firm today, or call us at 888-375-9998.
Recognizing Nashville Nursing Home Abuse & Neglect
Elder abuse and neglect oftentimes flies under the radar. Because most victims are non-verbal, it is crucial that family members report abuse as soon as they become suspicious. Below are some of the most frequent 'red flag' injuries, which commonly result in a Nashville nursing home abuse lawsuit.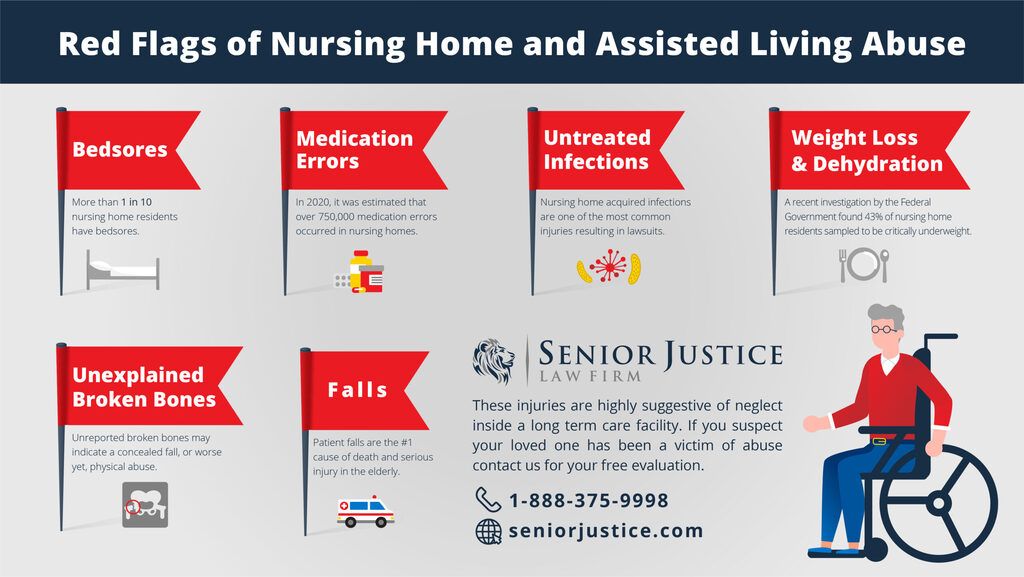 If your family member sustained any of the above injuries, contact our Tennessee nursing home neglect lawyer immediately.
Understanding Nursing Home Negligence in Nashville
Nashville, Tennessee is a popular retirement area due to its wide variety of attractions, fair weather, and affordable cost of living. In rankings of America's top places to live, Nashville is always near the top, which has resulted in an increased elderly population seeking to retire in a relaxing environment. The city's nursing home scene has bourgeoned as a result; unfortunately, quantity does not necessarily equal quality. If someone you love is currently living at a nursing home in Nashville and you are concerned about the quality of their care, it is important that you keep on hand the resources who can help you to report abuse and neglect. Keep reading to learn what to do about such behavior in a Nashville nursing home, as well as some of the city's most common elder-centric issues and which long-term care facilities are struggling more than average.
How to Report Nursing Home Abuse in Nashville, Tennessee
Reporting abuse or neglect directly to the nursing home does not typically result in the outcome that you may have liked. Thankfully, each state in the US is mandated by the government to maintain an ombudsman program, which is a specialized resource dedicated to advocating for the elderly who rely on nursing homes for their quality of life.
You may view the closest ombudsman to your location at the Tennessee ombudsman's website. However, it is also wise to contact the statewide office in addition to your local branch. Tennessee's statewide ombudsman is currently Quiteka Moten, whose office is located at 502 Deaderick St. on the 9th Floor of the Andrew Jackson Building in Nashville, TN 37243. You can reach this office by phone at (615) 837-5112, or if you would prefer email contact (or if you have documentation to send), you can reach out to Quiteka directly at quiteka.moten@tn.gov.
The greater Nashville area also has its own local branch since the metropolitan area stretches across multiple counties. Melinda Lunday serves Davidson, Sumner, and Wilson counties at 615-218-5221 or mlunday@mchra.com, while Marchell Gardner works with families in Davidson, Houston, Humphreys, Montgomery, Robertson, and Stewart counties and can be reached at 615-571-3430 or mgardner@mchra.com.
Fines, Citations, and Other Issues in Nashville Nursing Homes
Because of the high number of nursing homes in Nashville, the number of facilities cited for abuse is also high. Nashville Center for Rehabilitation and Healing has been fined $70,000 after 28 citations were issued, and the Bethany Center location was fined $76,246 for 6 serious violations. Nashville Community Care & Rehabilitation at Borde came in with more than 30 citations, and even AHC Cumberland amassed 27, alongside $8,128 in fines.
One facility in the city was cited after its staff exhibited undignified behavior toward residents by calling those who were unable to feed themselves "feeders" and providing food to them last. In another location, a patient's orders from their doctor were not followed, resulting in the resident not participating in mealtime as intended with assistance from staff. And though another location received a five star rating in quality of resident care, it was still cited for the presence of bedsores in a resident; these skin lesions are entirely preventable and are always the result of negligence on the part of staff, who failed to assist the resident in shifting their bodyweight every few hours. Many facilities in the Nashville area have been put on the federal government's list of long-term care homes that have been cited for direct instances of abuse. These are only a few of the many citations that area facilities have received in recent years.
Evaluating Nursing Homes in Nashville
As Nashville's population of elderly individuals continues to rise, both for-profit and non-profit entities have raced to keep pace with the need for more nursing homes and long-term care facilities. As the margins for profit on Medicaid payments become thinner, many facilities are incentivized to cut costs where possible in order to maximize profit—and this often comes at the expense of residents, who see less time with staff, less attention overall and poorer conditions. Concerns such as serving food at unsafe temperatures or not having enough staff to monitor each resident continue to arise, but some nursing homes are more consistently problematic. In the Nashville area, some of the lower rated nursing homes as of August 2021, as defined by Medicare include:
Nashville Center for Rehabilitation and Healing
832 Wedgewood Avenue
Nashville, TN 37203
---
Trevecca Center for Rehabilitation and Healing
329 Murfreesboro Rd
Nashville, TN 37210
---
The Health Center at Richland Place
504 Elmington Avenue
Nashville, TN 37205
---
Green Hills Center for Rehabilitation and Healing
3939 Hillsboro Circle
Nashville, TN 37215
---
Lakeshore Heartland
3025 Fernbrook Lane
Nashville, TN 37214
---
Signature Healthcare of Madison
431 Larkin Spring Rd
Madison, TN 37115
---
Bethany Center for Rehabilitation and Healing
421 Ocala Drive
Nashville, TN 37211
---
Good Samaritan Health and Rehab Center
500 Hickory Hollow Terrace
Antioch, TN 37013
How Nashville Nursing Home Abuse Lawyers Can Help
When your loved one has been abused or neglected, you do not need to shoulder the burden alone. Senior Justice Law firm would be happy to help you navigate not only the process for reaching out to report the incident but also how to hold the nursing home accountable and seek compensatory damages, punitive damages, or both.
If you are in need of legal guidance to alleviate the stress of the situation after a facility injury or death, you can reach our narrowly focused nursing home abuse law firm at 888-375-9998. You may also take advantage of our online contact system to get in touch at a time that is convenient for you. We can speak with you during a free consultation to discuss your options.
Nursing Home Abuse Attorney Tom Pleasant Proudly Serving Nashville, TN
Senior Justice Law Firm – Narrowly Focused on Elder Abuse Litigation